10 Ways to Clothe Stylish Kids on a Budget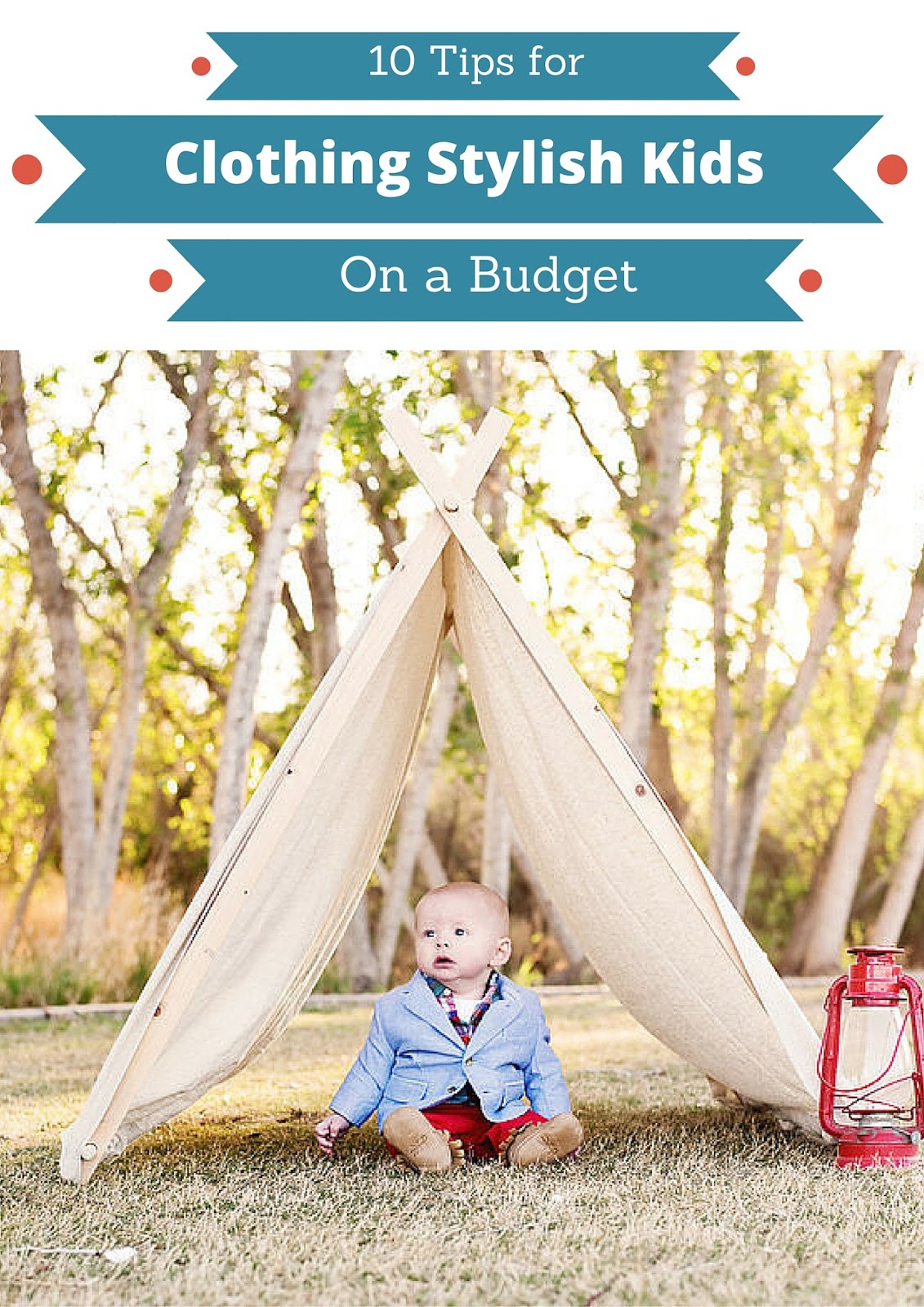 I have had a few friends remark that I must have spent a small fortune on Mack when I was pregnant because he has some really stylish pieces! I'm flattered, and I must admit that one time I was guilty of dropping almost $100 at one store, but aside from that sale I did a little damage on, I've been very frugal clothing my child.
I'm 100% disclosing this isn't a post about how to get the cheapest clothes or how to clothe your child for practically nothing, but this is one about finding stylish clothes, quality clothes, and even name brand clothes for less than you'd pay for most full-priced items at Walmart or Target. I do care what my child is wearing, I do like him to have some style, and until this post I wanted the world to think I'd spent that small fortune.
I've discovered a few tricks, a few places, and a few pieces of advice that have really worked for us and made that having to buy a new wardrobe every 2-3 months a little easier to swallow. And forgive me here, I wanted to share just how often he wears some of these steal finds, so a lot of candid cell phone pictures I take and send to Jacob or Jacob sends to me are going to be included.
1. Don't just shop used, shop the right kind of used. I think most people know there are several second hand kid stores that carry great things, but there's more to it than just shopping at one of these that often take the original price tag down by 50-90% off for mostly gently used items. You have to find the right one in your area. For example, I know there are a few Kid-to-Kids in the Phoenix metro, but I also know that in Scottsdale most people typically have 1-2 children at an older age. What does that mean? Less hand-me-downs and more disposable income. I often find that store to have the largest selection, the highest quality stuff, and the name brand items are more abundant. I also know Gilbert, AZ has the highest children population, so I frequent that one for more variety. It typically puts more stuff on sale than the others too, so if money is extra tight I know I can still buy a few great things on the cheap! Research your area and find the right one that matches your style and puts on the best sales.
2. Shop online at ThredUp. My friend Janssen introduced me to ThredUp, and I've never looked back. It's an online consignment shop that 1. has great prices 2. takes out the having to dig through dirty racks 3. has amazing selection 4. has amazing prices. They also offer a $10 credit for signing up, if you do it through my referral link, we both get $10 when you make your first purchase! They do more than children's clothing, so readers without kids you can get in on this too!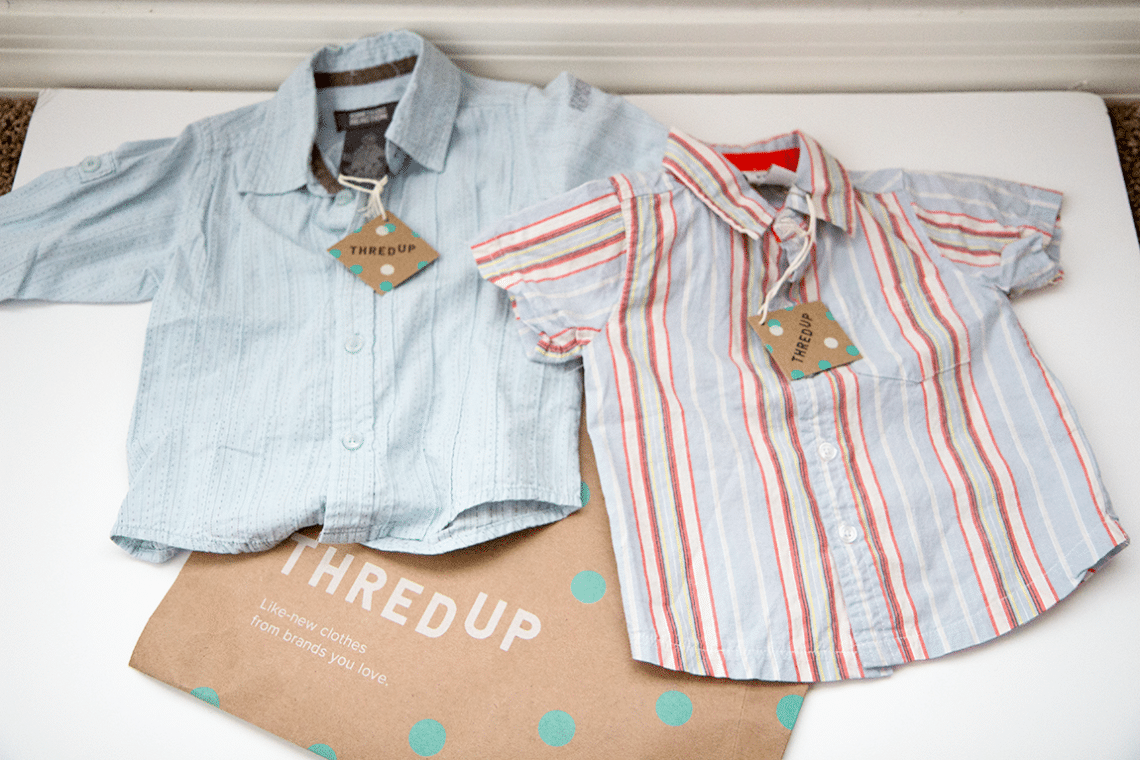 But seriously, I got my first order practically free with two darling shirts for Mack! I loved them so much I went ahead and bought some more. They often have free shipping and promo codes, so it's hard to pass up finding really nice stuff on the cheap!
Here's some great stuff we've found there:
 Mack's "Date Shirt" that we've been asked if it comes in adult size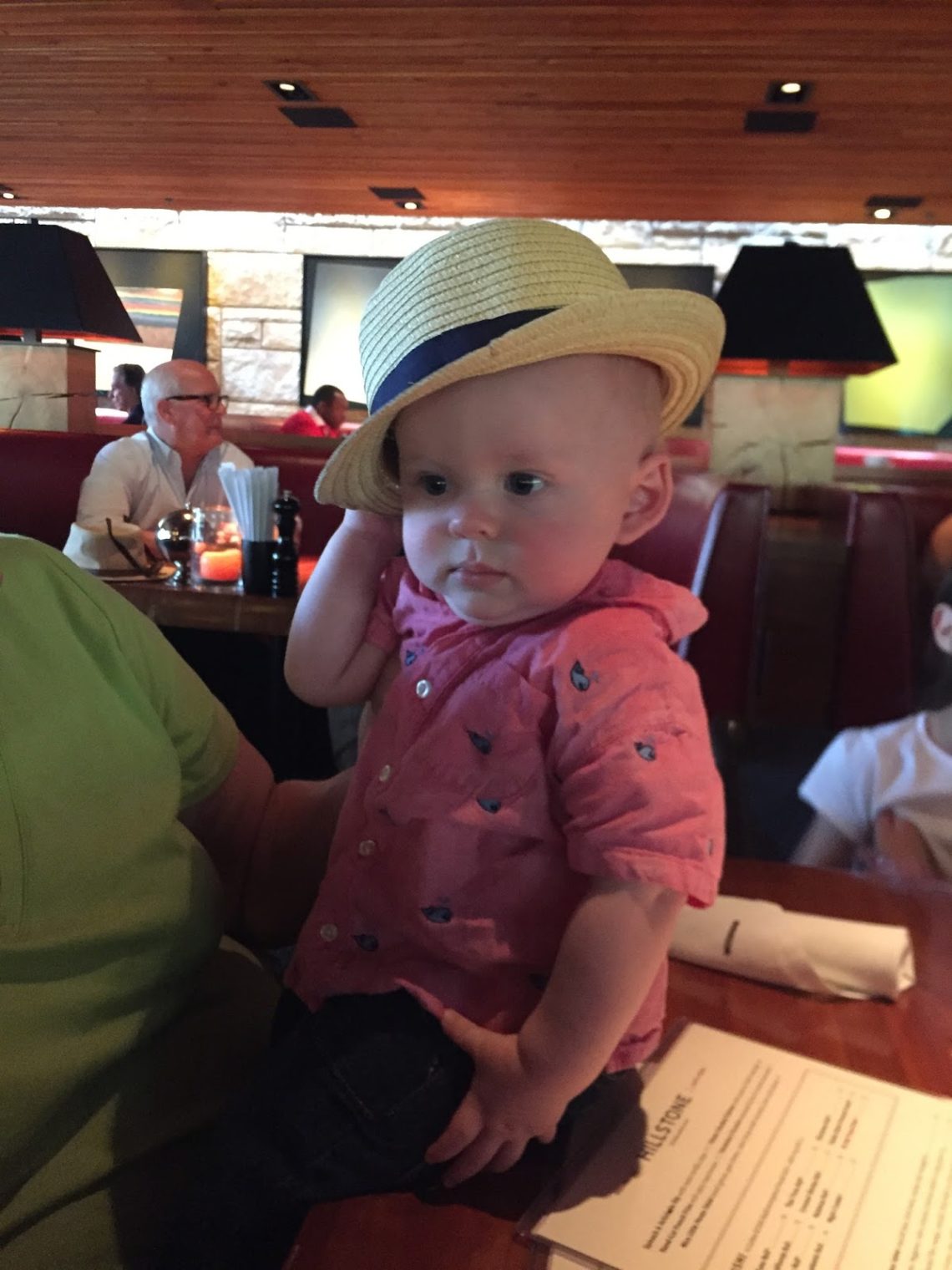 This awesome Land's End preppy shirt unlike anything I've found in stores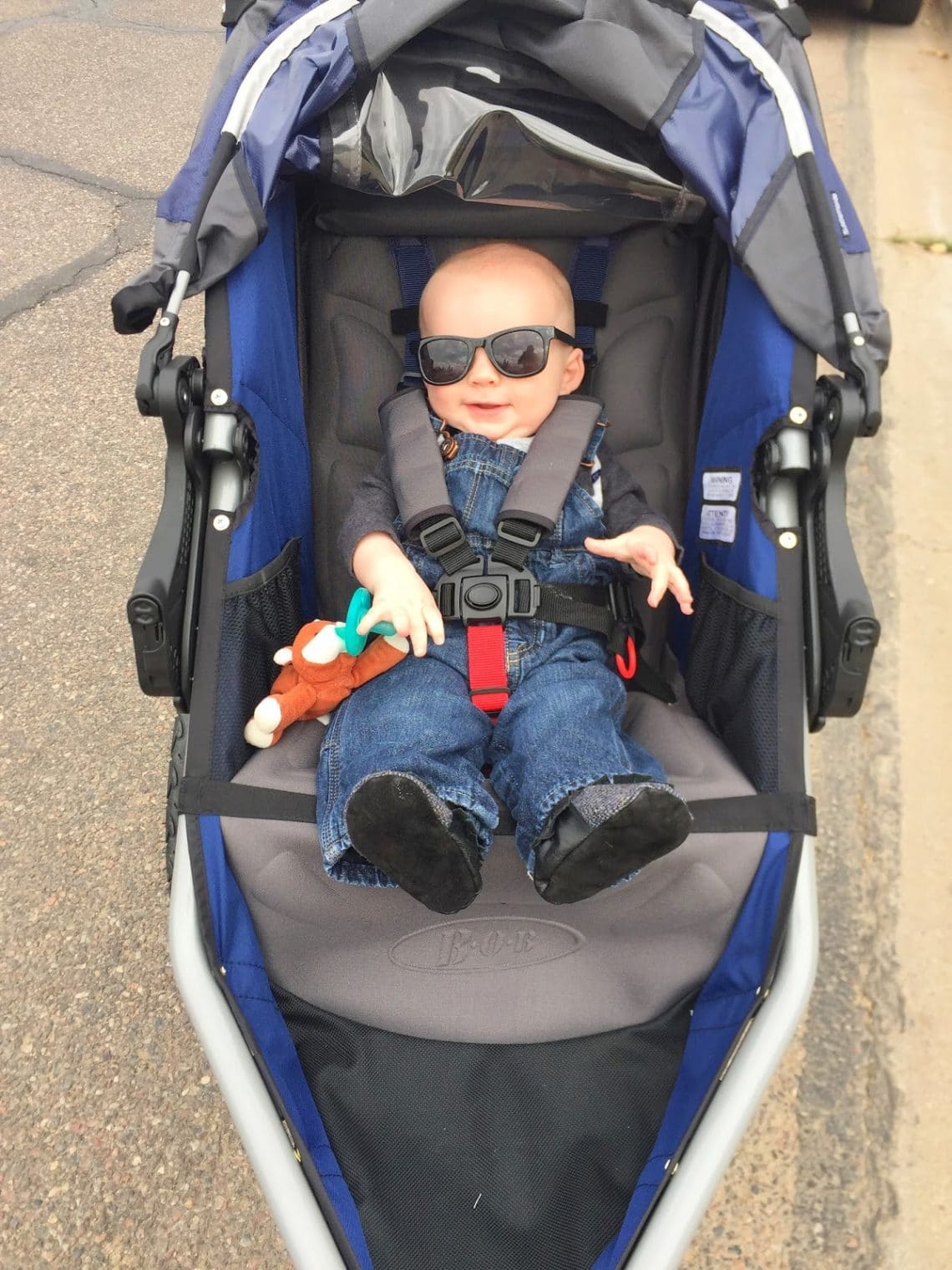 Gap overalls, barely used, 1/3rd of the price tag plus promo code used!
Ralph Lauren shirt new with tags, $12 splurge for family pictures
And lots more but I'm not going to bore you will every cell phone picture I take 🙂
3. Shop when a season is ending. My Near $100 day happened at Baby Gap the week I found out we were having a son. Easter had just ended and Heaven only knows I am obsessed with Easter clothes for babies. I got everything for about 70% off, and had I waited another week I would have got 80% off. Mack had an outfit for the big day at church, several spring items as he hit bigger sizes, and an Easter shirt to wear during the egg hunt. This can get tricky with sizing, but do your best to guess a year ahead and your wallet will reward you big time!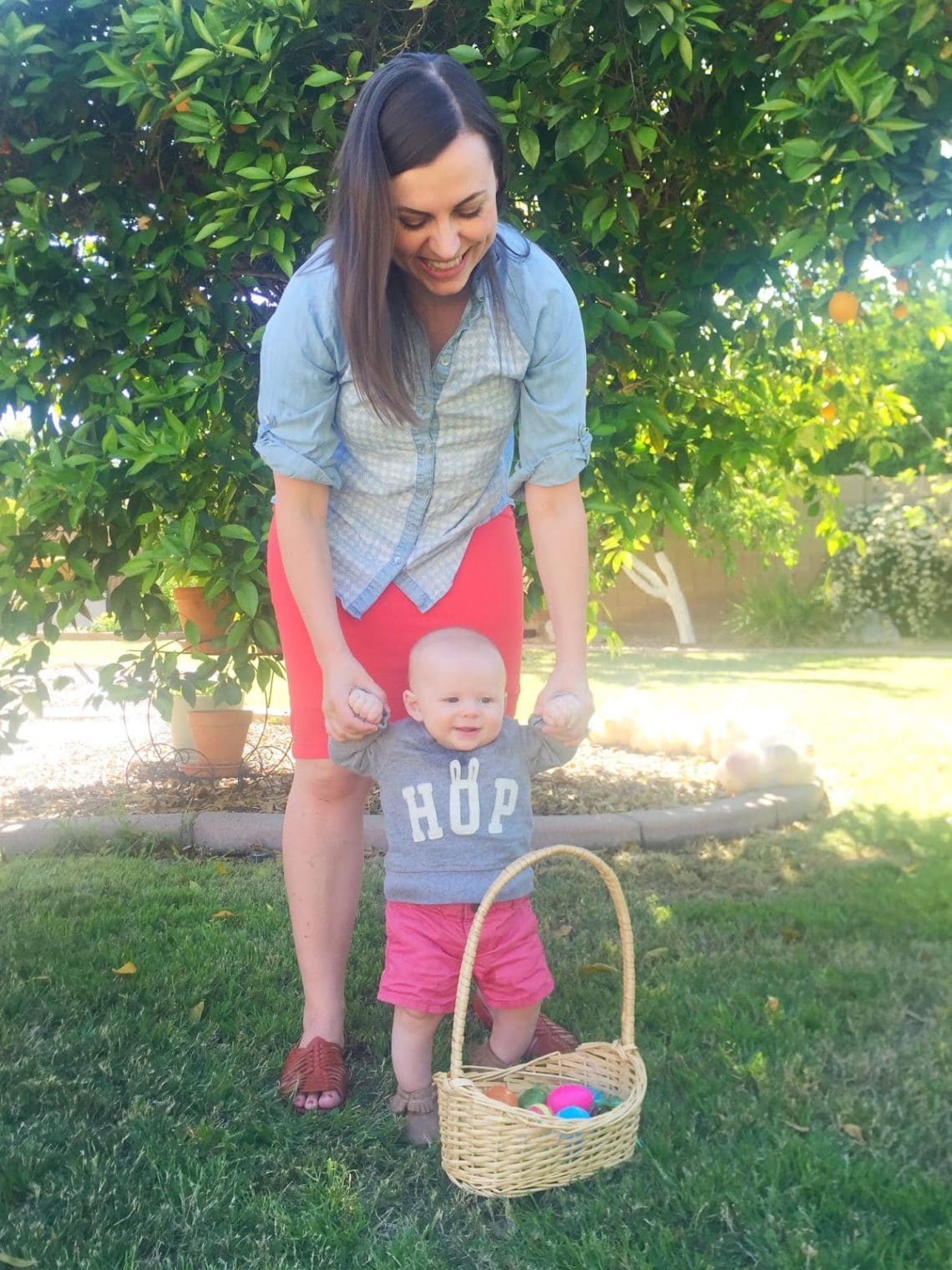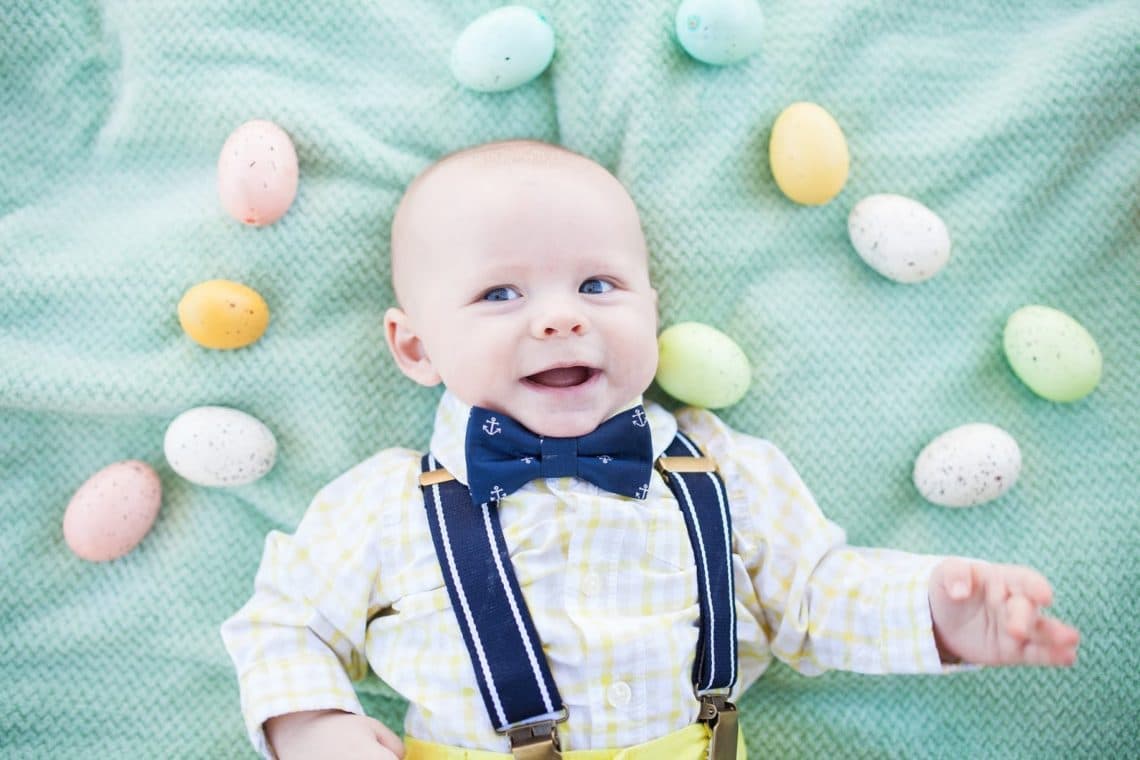 4. Find a friend with a baby just older than yours, and graciously accept hand-me-downs. Can I tell you that I may be the luckiest girl in the world in this remark? I am friends and neighbors with the lovely Reachel of Cardigan Empire who just so happens to have three boys older than Mack. As a stylist she has the best taste and outfits for her entire family, and lucky for me she often assesses what will fit her baby and if she isn't feeling stuff from her last two children, she shows up with a bag of clothes that we are thrilled to receive! Even if you don't live near a professional stylist, there are people willing to pass of their clothing and it's often just a matter of expressing your interest! I plan to pay this forward when my kids are grown, I know there's some good stuff that may not be my taste or I may simply not use again that I will bestow on others when the season is right.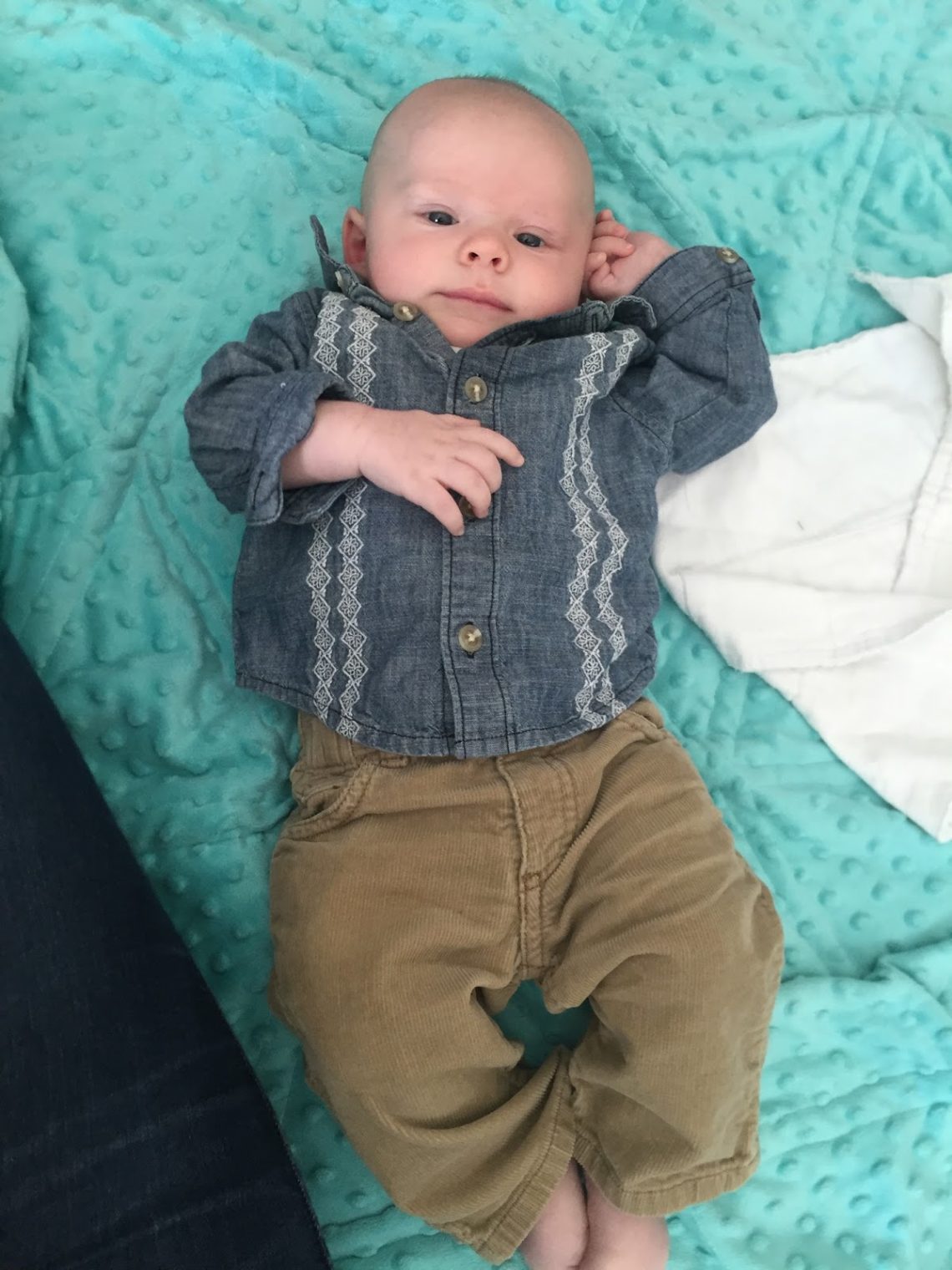 5. Clothing swaps. The concept is you gather friends/neighbors and all bring items you don't want, trading for others. It's amazing how baby clothes typically look new until they learn to crawl, and often some things get missed in a closet and never worn no matter how cute. Showing up with your old stuff in exchange for new items for your little can be amazing and totally free!
6. When in doubt, eBay. I love that it's an auction even if it often causes a minor panic attack. I can't believe how many items people find for next to nothing, never used, or only wore once and are sold in mint condition. My other favorite thing is buying in bulk. You can search "6 month baby boy lot" and you'll get someone trying to sell half their child's wardrobe in one bundle. I love that all the pajamas we could want can be purchased for the price of 2-3 pair.
7. Stack Coupons/sales. I love Baby Gap and admit a lot of Mack's clothes are from there. They often have a coupon that goes out through email and/or Gap cash to be redeemed. I keep a calendar notification of when these happen and watch for a sale during the window of time I can use the deal. Just today I found several items freshly marked down to close to my cheapskate price, and then 40% off with a promo code. I also earned Gap Cash, so I have $25 towards $50 coming my way next month. I'm buying the really nice items that he'll wear like crazy such as jeans or jackets for about 1/4-1/8th of the original price. This is something I know I'll use more of as he gets active, I've heard finding used jeans little boys didn't trash at certain sizes is like finding a unicorn.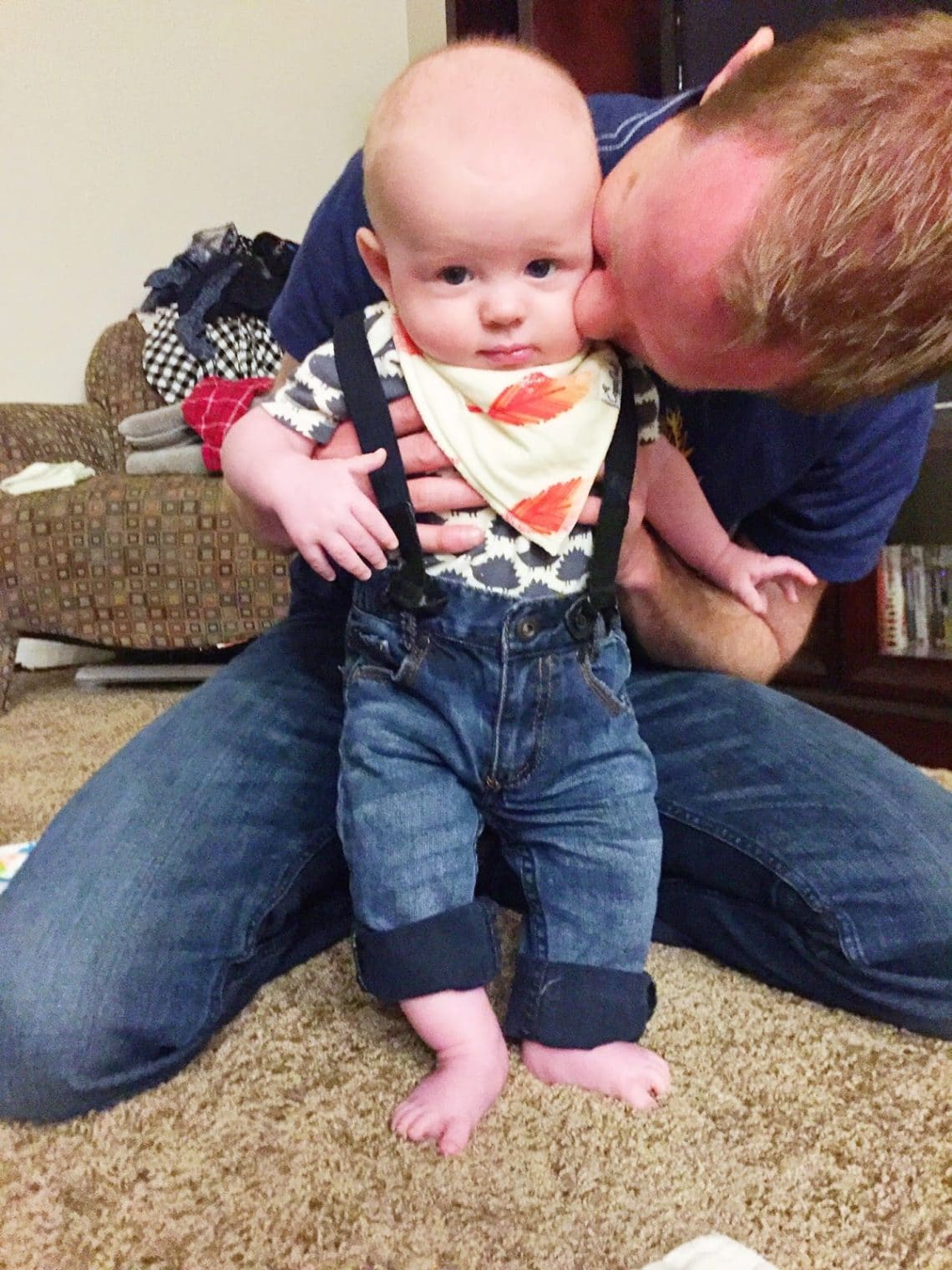 8. Thrift store deal days. Some days Kid-to-Kid has everything marked down- we just bought tons of their winter inventory as they were swapping out for summer finding name brand jeans and shirts for about $1 a piece. Goodwill has 50% off Saturday, as do many other thrift stores. I couldn't make it to any the first few months due to Jacob's marathon training, but my mom diligently went and sent me pictures of the good stuff, and sure enough, there was always something!
9. Buy one name brand item you really want, but watch for the sale! It felt like the biggest splurge when I dropped as much on a pair of shoes for baby as I would on myself, but now that he's worn them every day for almost 3 months I'm actually really glad we purchased them! Some name-brand mocs purchased on one of the few sales they offer made the shoes much more doable, and I feel like this fancy big-spender every time I look at those cute feet. There are few days I don't get compliments on his cute shoes, and I'm amazed how one big ticket item that I knew would get a lot of wear keeps him looking super stylish.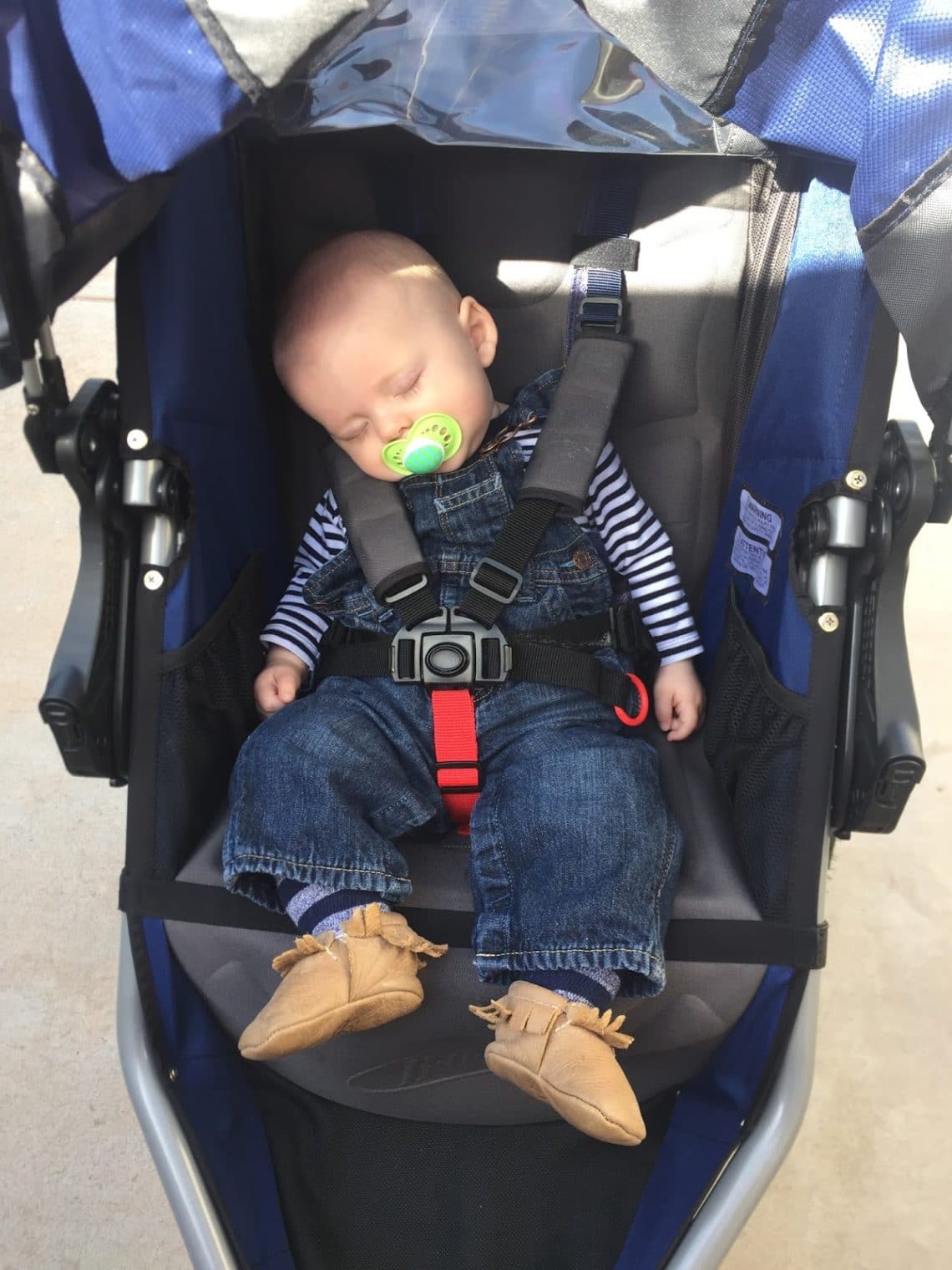 10. Buy one trendy item each season item at a more affordable store. Neon pants? Check! I know they are darling right now, but they may not be a thing for the next kid, and I'd hate to think I spent more than a few dollars on them. I may spend more here than I do on my $1 Gymboree jeans at most stores in the right season, but having that one trendy item I can mix in his wardrobe keeps him looking super cute and in-season. I do this one for the vanity mostly, but I make sure to do it as cheaply as possible! Hello Target, thank you for always having trendy stuff on the cheap and Cartwheel App for having additional children's deals every other week!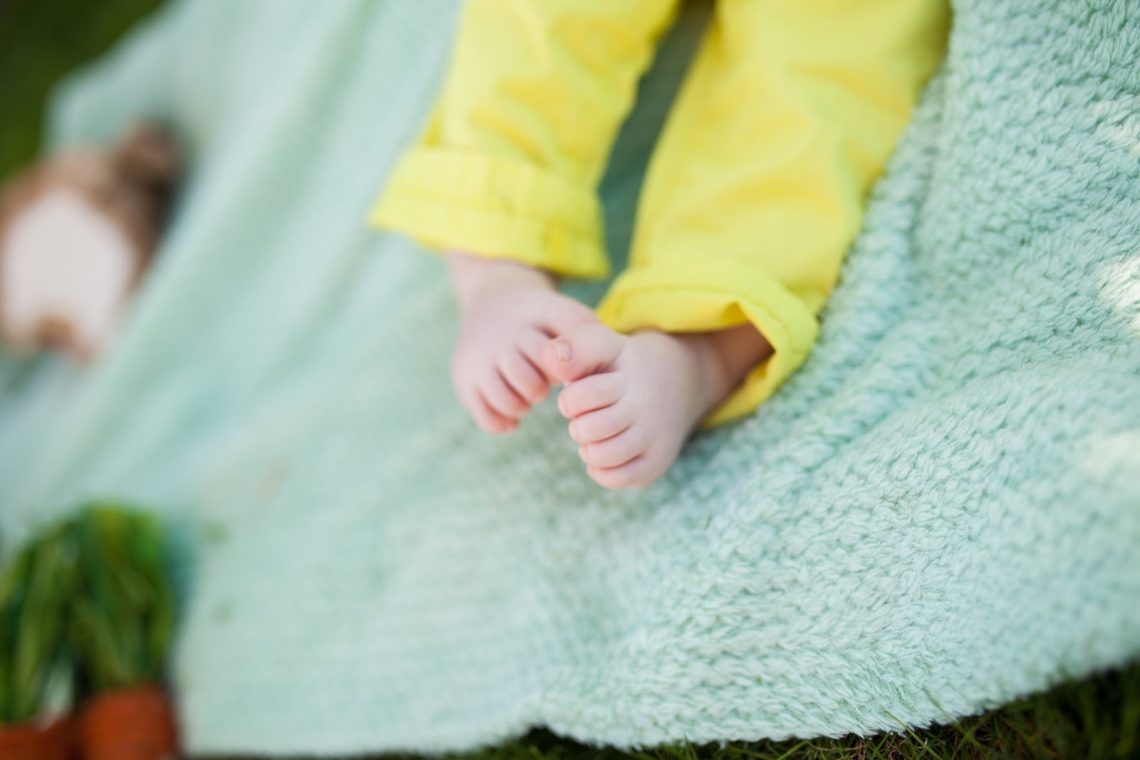 Did I miss any other ways to save? Please feel free to share any additional tips you have in the comments!
*This post contains affiliate links and I may make a small commission if you purchase/register with these links
Get 365 Date Ideas!
We want to help you have the best date nights ever! Grab this FREE printable with 365 date ideas, a date for every day of the year so you never run out of ideas!