2020 School Year Options: What Our Son is Doing for Preschool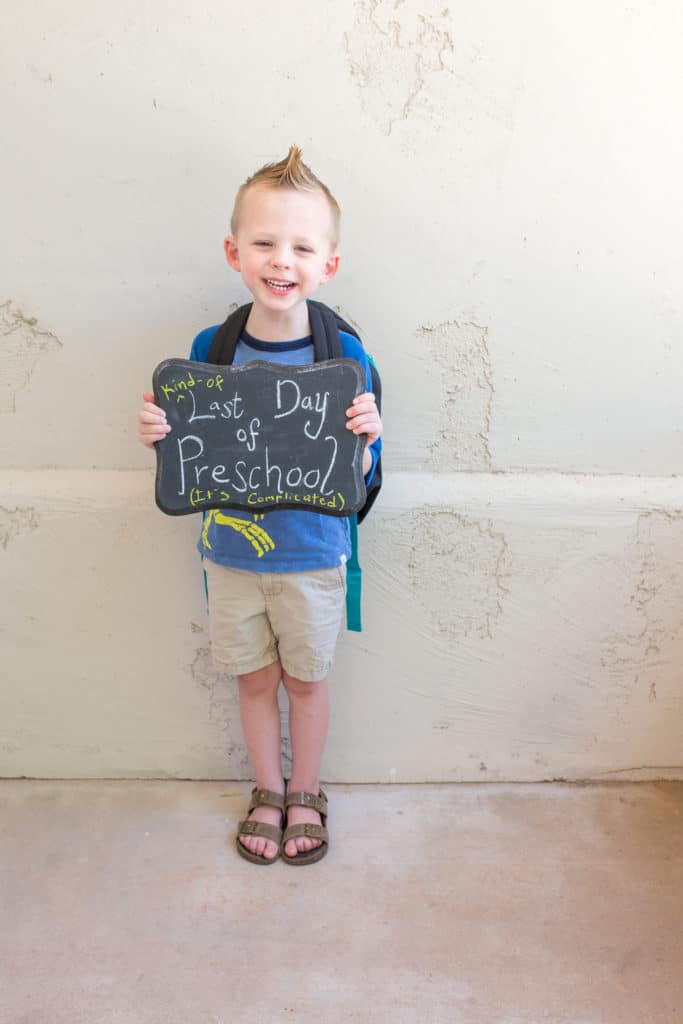 I have seen more parents share their agony over weighing their 2020 school year options and decisions than possibly any other decision of their lives! It's a tough one!
Having A Choice vs. Not Having a Choice
On one hand, some parents don't have a choice or an option. They are struggling with remote learning, or the feel really uncomfortable sending kids to school in person. Some schools are requiring masks, others aren't. And some are given choices to do remote learning, in-person, or some form of hybrid.
Arizona schools typically start super early (like mid-July or early August), and almost all started remote. There are now some schools offering in-person learning. However, because our numbers have seriously decreased and we're at "safe" levels most schools are planning to offer hybrid options in the next few weeks or months.
We almost send our son to early Kindergarten this year. I shared how we made our decision and what made us change our minds to keep him in preschool for the 3rd year.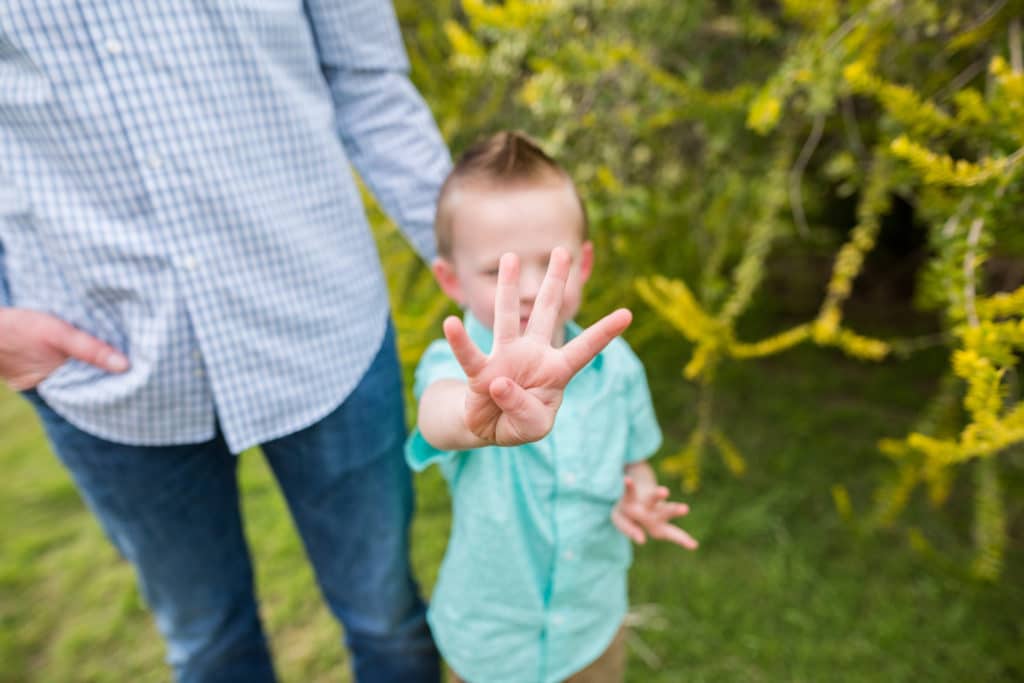 Preschool 2020 School Year Options
I've also shared our tips on how to choose a preschool that's the right fit for your family. We have done preschool already for two and a half years! I never intended to start him so early, but it fell in our lap and I shared our story and how he's been to three different preschools already in his short life in this post.
After we decided we'd do one more year of preschool I had no doubt we'd keep him in his Montessori preschool for another year. His teachers are so great, and they taught him how to read in less than a year! He loves them, they love him, and I knew he'd love being the oldest and getting to be a helper and a leader this year. I signed him right up when enrollment opened in February!
When All Your Plans Change
And then a pandemic hit. And the preschool was closed. We paid to do private reading lessons with his teacher via Facetime calls. It worked well and I couldn't believe how responsive my little guy was to a remote learning system!
I kept our deposit for preschool in the fall, and touched base with teachers every month. I still kept saying "I just don't know what we're going to do, we're going to have to see when we get closer!"
Arizona became the hotspot of the world for the month of June and early July, and in-person anything just felt like such a bad idea. I didn't see how things were going to get better, and I felt so much anxiety every time anyone talked about school. I couldn't see us sending our kid into a public environment like that, and the anxiety was so high!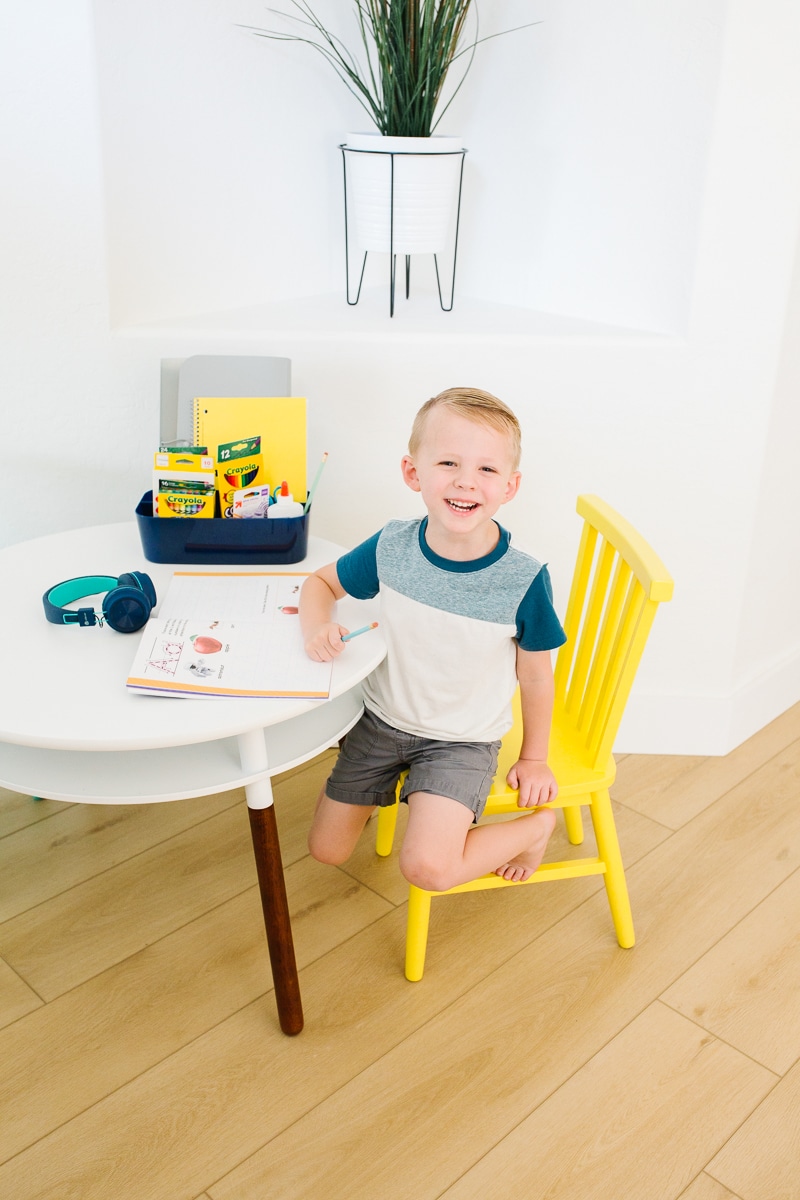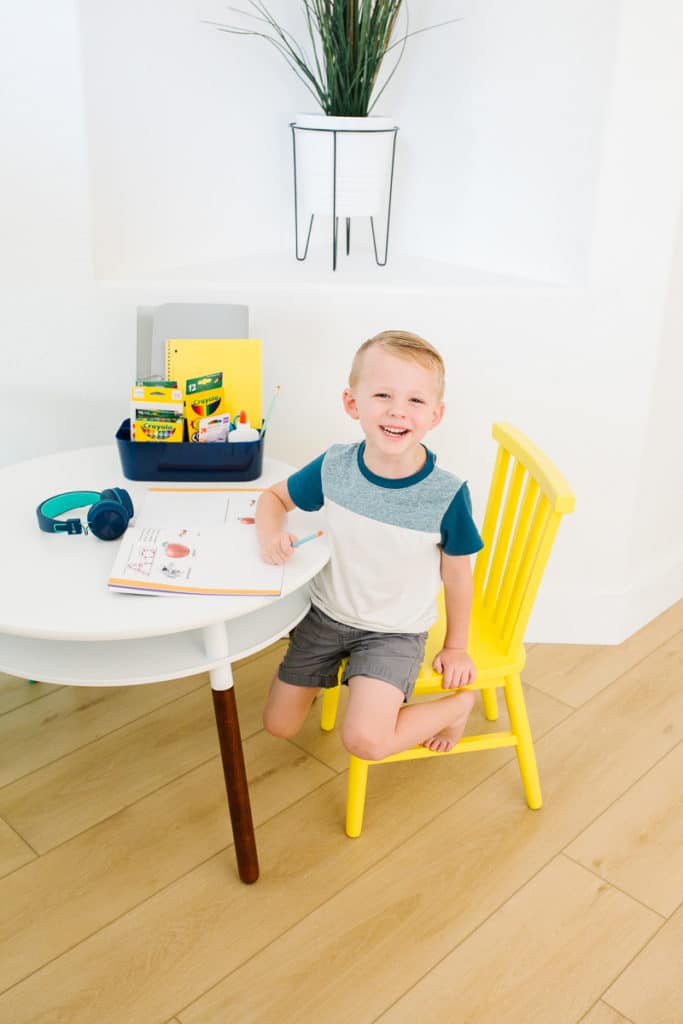 Homeschooling
Then it hit me, I do have a valid teaching license. I actually have some qualifications to teach my already bright child! And maybe, this was a sign that homeschooling was in the cards for our family.
I talked to my mom, who just retired as a reading specialist and a special ed teacher. She told me she'd help with reading! Also, my mom reminded me I do a lot to supplement my children's education already. We get Kiwi Crate boxes monthly and talk about science. Jacob builds with him and teaches a lot of hands-on engineering skills. He built an IKEA table this week all my himself. We practice math and numbers and do some music at home too.
As a working mom, I already sleep so little, I'd never truly considered it. But the July problems in my state made it feel like this was going to be the right choice. I was 99% certain we'd be setting up a homeschool learning station and started looking into the curriculum options.
I also have to add, he's had a lot of school and socialization already! We feel like we've had a unique privledge to know he'd be okay even if we opted to do very little this year!
Rethinking Our Decision
All of the sudden, Arizona numbers started dropping significantly. I couldn't believe how a few weeks of wearing masks later, our numbers went right down. Just as the science behind masks predicted, the timing was right on track.
Just as the numbers seriously declined, our preschool teachers let us know they were planning to open for in-person learning in September. Our teachers were coming up with plans to keep kids safe but wanted us to know they'd offer in-person learning. They gave us a week to decide if we still wanted our spot.
Talking to Our Pediatrician
The same week, my baby had his 2-year-old checkup. I am friends with our pediatrician and asked him about a billion questions. He completely complies with HIPPA and privacy, but he shared what he could.
Q: Have you seen cases in children? How bad as it been in AZ?
A: Yes, only a couple dozen total as an entire practice. No children have been hospitalized, and one care provider has been very public sharing he did get it and had to be on oxygen in the hospital. But the cases in children are indeed low.
Q: Have you known anyone to get it twice?
A: Yes. One patient tested positive in April, and again this week. We think they either have a second wave strain that seems to be what hit Arizona hard (less deaths, more infectious). This patient could also still have enough of the strain in their body that they simply tested positive again and had a mild resurgance.
Q. My brother got it, and they think his one-year-old baby had it too. Why wouldn't he have been given oxygen? They never tested the baby, have you seen baby cases?
A. His oxygen levels (I shared numbers with him) were too high to be too worried. It felt like he needed it, but I don't think he did. (My brother is almost recovered but it took two months for anyone curious).
Babies have tested positive! But the symptoms in babies and younger children are typically a fever and diarrhea. Younger kids really get it mild for the most part, luckily!
He proceeded to tell me that different age groups have completely different symptoms. It truly manifests itself differently in different age groups. For younger kids (like toddlers and preschoolers) they typically don't get the droplets like other ages since they don't get the congestion. There's a lot of research to do, but it really appears kids are not the carriers we worried they may be.
We talked about going back to church, taking kids in stores, and even school.
If you have any doubts, I'd recommend talking to your doctors about their thoughts for your family.
I left ours and gave the preschool teacher a call.
In Learning Preschool Plans and Safety Measures
She let me know they have three major rooms and plan to separate kids in groups of five in each room and rotate. Montessori is very self-starting and self-learning doing works. There's a huge amount of instruction that can be done with a distance between kids. They'd wash hands, they'd ask families to keep any sick kids home. But they really felt in-person learning could be done safely by September. I told them we'd decide by the next day.
Making Our Preschool Decision
Jacob and I are pretty faithful people, but I admit we don't pray over decisions as much as we should. But this was one thing we talked through and decided it mentally made sense. But we really needed to feel it was right.
The next morning, an absolute peace came over me. We both just knew our kid needed to go back to preschool in-person.
He's only going two days a week, and he'll be going early in the week. I know symptoms can show up 7-14 days later, but it seems like most people see them after two-three days. He'll have a buffer of days to make sure he feels okay before we do any family dinners, go anywhere on family adventures, or attend church.
I'm Still Shocked This is Our Decision
So here's our shocking news. We are all about safety and science. However, we felt the right choice is sending our kid back to school in person. We'll watch him. He will likely take a bath/shower and change clothes after school every day. He's only going two days a week instead of the three-four we were planning. And I'll continue to supplement his education
And I have to add how lucky we are to even have had a good option through a private school, let alone a choice at all! Our hearts go out to all the parents making a really tough call right now.
But if we've learned anything through this, you know what's best for you family! And where you live, what your family makeup looks like, all matter so much! At the end of the day, your gut feeling will lead you to make the right choice when the time comes.
Like this 2020 school year post? You may like these posts too:
How to Choose a Preschool: 10 Things to Consider to Find the Best Fit
The Post I Never Thought I'd Write: Falling In Love
Get 365 Date Ideas!
We want to help you have the best date nights ever! Grab this FREE printable with 365 date ideas, a date for every day of the year so you never run out of ideas!