2020 Trends: 20 Date Ideas for 2020 Based on Trends
A list of 2020 trends that would make for a fun date idea! Try one of these trends in 2020 that will create fun memories as a couple.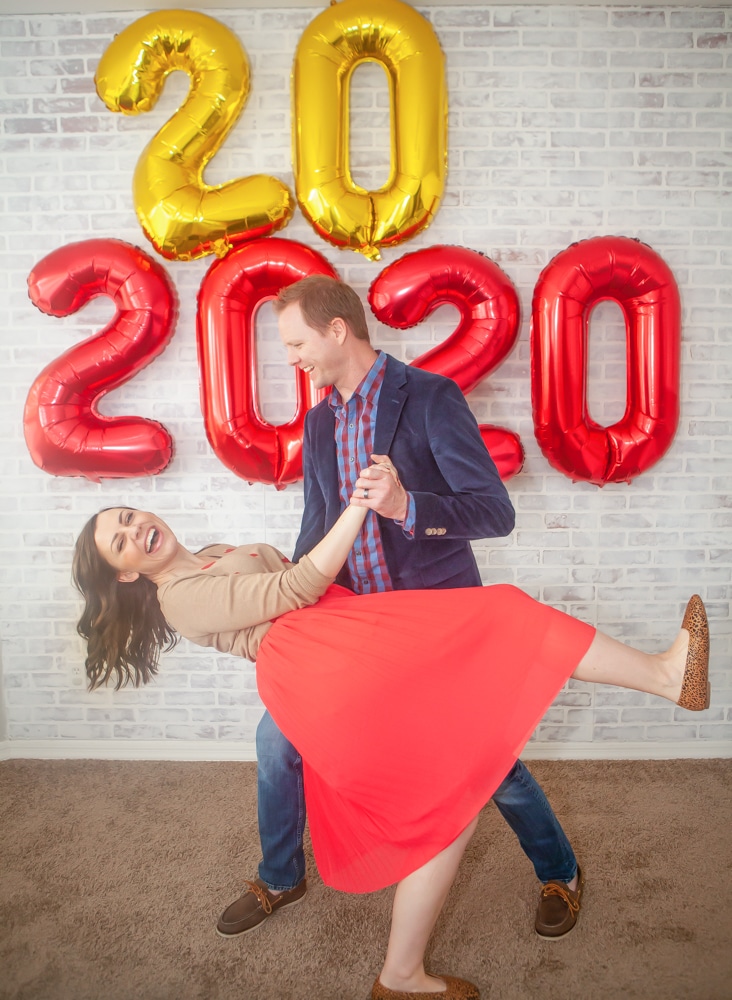 I have to out myself as a huge marketing nerd. I love looking at marketing data reports and what's trending from year to year. Recently, I had a chance to look at some trending topics in 2020 and I couldn't believe how many I looked at and thought "That would be such a fun date idea to try!"
So guess what, in honor of our 20 Dates in 2020 Challenge, it was time to share 2020 trends and 20 date ideas to try this year!
2020 Trends That Make Perfect Date Ideas to Do in 2020
Axe Throwing
This date is taking the world by storm and for good reason! We just went axe throwing this year and couldn't believe how much fun we had!
Roaring 20's Party
A 1920's themed party is all the rage this decade! Find one, host one, do a murder mystery party, or just dress up 20's style. The 20's made a comeback this year, and that deserves a party theme you'll always remember!
Create a TikTok Video
TikTok isn't just for the kids anymore- and it's a fun way to goof off and pretend you can dance! I love the low-pressure setting and the tagline that's it's there to make you smile. Find one of the trending hashtag challenges and come up with your video. You can keep it private, or you may be the next TikTok viral movie! Come find us- we're @fridaywereinlove over there!
Find Our Your Enneagrams
Move over color-code personality test, the Enneagram test is taking the world by storm in 2020! I'm giving you a huge peak into one of our next date night blog posts. There are so many fun resources on this, stay tuned this next week where I share all!

2020 Eco-Friendly Trends

Tackle an Eco-Friendly Home Project
I love when trends actually do a lot of good, and the trend to reduce your carbon footprint I hope continues to catch on! After going to Amsterdam last year I came home a changed woman more aware of our waste than ever. It can take time and sometimes a little money to tackle an eco-friendly project. But it's a great way to treat the planet well for a date night and likely save a lot of money in the long-term.
Think: swapping out paper towels for reusable rags, building a compost pile, setting up a recycling system in your home, or making a list of one-time-use items you could swap out as a couple or a family.
Thrift Store Date
Speaking of being eco-friendly, reusing clothing and thrifting is on the rise! Head to a thrift store and pick out outfits for each other. I guarantee you'll laugh through this experiment. But hey, you may also score a great deal with a fab find too!
Go Antiquing/Visit an Estate Sale
French antiques are majorly trending right now, see if you can find one! We like to go guess how much an item is worth and look them up online to see who is the closest. You could make an entire game out of an estate sale. Bonus points, it's a completely free date! a
Free 2020 Date Ideas
People Watch on The Metro/Train/Subway/Lightrail
Public transportation use is on the rise in 2020! It's one of the most fun places to just people watch. We did this as one of our first dates on the blog! It's so entertaining to try to imagine where people are headed and their background story. We found ourselves with several sitcom plots ready to be written after imagining the backstory of the lives of those on the light rail. It's a fun cheap date that's so easy to do!
Binge Watch a 90's Show
The '90s are huge in the '20s (even if that mathematically doesn't make sense). It's a great time to dig up one of the most popular series from the 1990s and have a binge-watching night. You just may learn the Carlton or start saying "Yada yada yada" in your regular conversations as a result.
Create a 90's Playlist Together
While we're on the 90's return, let's not forget the music! The grunge era, the truly amazing hip hop and R&B music, boy bands, and the Spice Girls deserve their own category! Come up with the ultimate 90's playlist together. I'd highly recommend shooting for "The Top 50 songs of the 1990's" so you have plenty of room to add all the best songs.
Play a Game with Siri, Alexa, or Google Home
Did you know you can ask your home voice assistant to play games? You can have a full trivia night, dance party, or interactive game night with it! The other day my son asked me if I had an Alexa or Google in my room growing up and I burst out laughing! What a different world he's growing up in!
These devices are becoming more common, smarter, and more fun with each update! Plan a game night, and put whoever lives in your room to work!
TRENDING DATE IDEAS
Mean Girls the Musical
2000's children are rejoicing that the cult classic of their era was turned into a musical! It's written by Tina Fey and has rave reviews. Best of all, it's on tour this year so you don't have to be in NYC to make this date night happen. And once again, I've leaked something on our date night calendar that we'll be sharing soon!
Try a Cuisine You've Never Tried Before
With increasing global awareness, more and more ethnicities are being represented in the restaurant world. It's a good time to pseudo-visit a country by supporting a restaurant with cuisine you've never tried before.
Create a Couple's Journal
Self-discovery journals are on the rise! We love the Promptly Journal for married couples (Use Promo Code FridayLove) if you want to write your love story. It gives great prompts to capture your history! If you want to facilitate discussion and focus on your present relationship, the Loom Love Journal (promo code FRIDAYLOVE20) is a great option!
Star Gaze
Space everything is a huge trend in 2020! As much as we'd love to do a space camp together, a more low-key FREE date idea is more in our cards. Queue a stargazing date night! Download Google Sky and head far away from the city lights. You'll learn a ton and turn up the romance with this date night.
Visit a Cat Coffee House
This is a trend on the rise that would make a truly entertaining date night! Search for cat coffee cafes (there's dog coffee shops too) and go enjoy a drink while you pet cats. I've heard this is a hilarious experience watching so many cats interact.
Art Therapy Date
With stress levels at an all-time high, many are turning to art therapy to try to unwind. I think that's why we love a paint night date night so much! We've also done a splatter paint date night, and we have ceramics on our agenda this year for our date night plans too.

Reconnect With Nature Trends 2020

Nature Travel
Do you live near a natural wonder? Is there something amazing about the great outdoors near your area? I'm looking at your The Grand Canyon! Maybe it's a hot spring, a wildflower field, perhaps a lake, the beach, or a great hiking trail. There's always something amazing in your area, and the idea of nature being a travel destination is something Gen X and Gen Y-ers are loving. Find a great spot for nature travel, and book a day date there.
Lake Fishing
Speaking of the 1920s comeback, lake fishing is actually a huge date trend right now! Maybe it's the need to disconnect online and reconnect with nature. Perhaps that it facilitates tons of time for conversation. But either way, a good fishing trip is apparently good for the soul and good for a date night!
Staycation
If you're looking for a vacation without the price tag, a staycation may be just what you need! These are perfect for a couple's getaway. It's also a great way to explore where you live while reducing your travel carbon footprint.
Hot tip: find a Groupon deal for a bed and breakfast or hotel in your area during the offseason. You'll get a great price and make a lot of awesome memories in one date!
Pictures by Mary Jordan
Like these social trends? You may like these ideas too:
Random Acts of Kindness Ideas for Random Acts of Kindness Week
Date Boxes: A Roundup of the Best Date Night Subscription Boxes for Couples
Get 365 Date Ideas!
We want to help you have the best date nights ever! Grab this FREE printable with 365 date ideas, a date for every day of the year so you never run out of ideas!