Ready for a New Year's Resolution that will add more fun and meaning to your relationship? Join us for the 21 Dates in 2021 challenge! We have a free printable template and all the date ideas to make date night happen this year!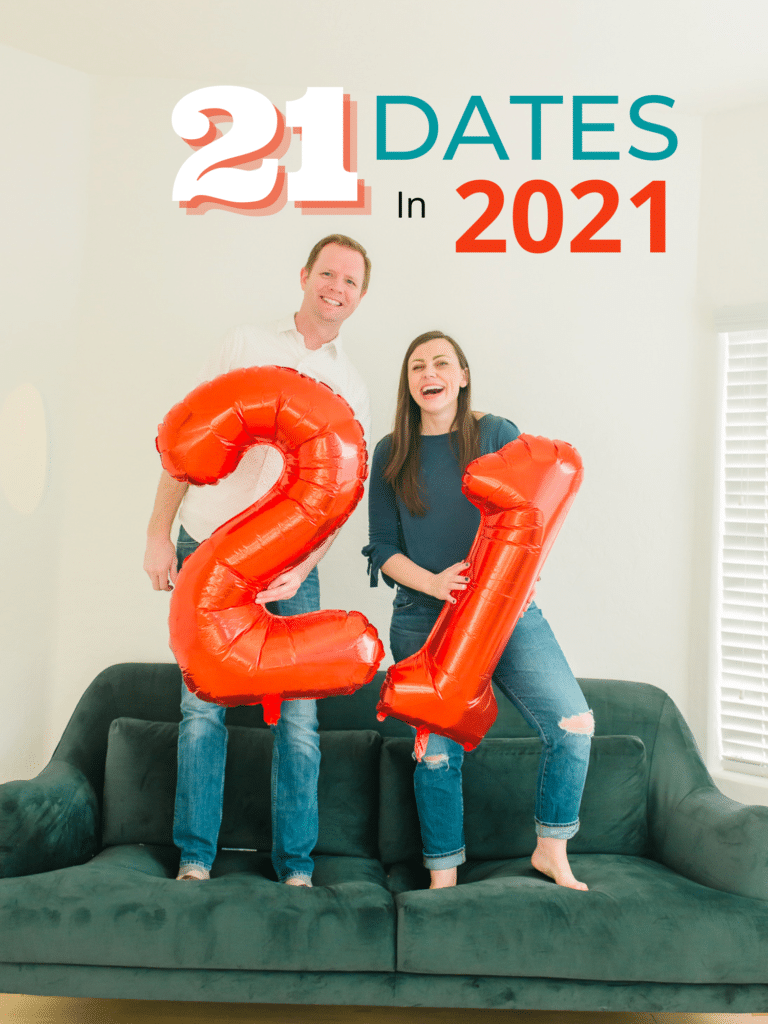 I love to think of how I can better my life and make improvements, naturally, New Year's Resolutions are right up my alley! But as I've aged, it's become less of just let's make productivity goals and more about how do I cultivate a life I want to live? I've learned to add in fun goals, creative goals, vacation goals, and goals that make me happier.
The ultimate, for me, is when I can combine a truly meaningful goal with something that's fun and happy too! That's why I will forever be a fan of setting goals to make date night happen!
Related: 10 Reasons Your Relationship Needs Regular Date Nights
Making Marriage a Priority in 2021
I know marriage has been a tough thing for so many couples this year. The responsibilities, the isolation yet always together feelings, the unusual circumstances, and the daily stress take their toll on every area of life! I've heard so many say it's been a challenging year, and they couldn't be more ready for some more fun and more romance!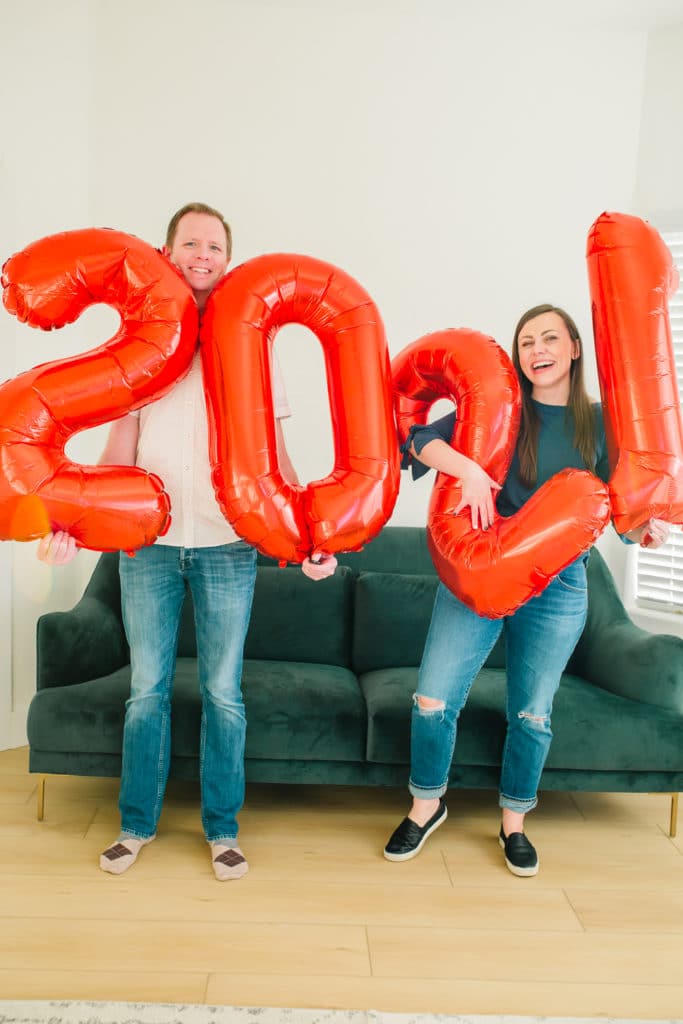 Even on years that don't include a pandemic, I'm constantly told by other married couples and readers they have a strong desire to make more date nights happen, and the struggle to do just that. We've been there too, I know how hard it is to find a great babysitter, get your budget in order, and make date night happen when you've been out of the habit.
2021 Date Night Challenge
If there's one thing we know and stand for, it's that there a special connection and joy that comes from overcoming the barriers, and the deep love we've felt in our marriage stems from making regular date nights a priority! It's become our mission to help other couples find their next date night idea and get out and create memories together!
Last year we launched the 20 dates in 2020 challenge and so many people jumped on board ready to make date night happen! I literally had a year's worth of content planned to help this happen before the world shut down. And I had this deep feeling I couldn't shake that I needed to scrap those plans and put a greater priority on helping moms find a little more joy and help create a little more fun for their kids. It was a pivot, but one I knew was the right thing to do.
Reconnecting With Date Nights This Year
This year, I've had this feeling I can't shake that marriages need help more than ever! Even those who are feeling in sync and connected and enjoying more time together still need an amazing connecting date (and maybe a couple's getaway) more than they've ever needed it!
This is why we're here to ask you to join us in the challenge we started last year, and commit to 21 dates in 2021! And this time, we're pandemic ready for a lot of dates you can safely, do from home, and plan to enjoy together in the near future.
Join Us for the 21 Dates in 2021 Challenge!
WHAT IS IT?
A challenge to go on 21 dates this year! You choose what type, what budget, and what dates and times work best for you. But make sure at least 22 date nights happen in 2021.
HOW OFTEN IS THAT?
I'm going to tell you to think about this as a date every other week, with a lot of buffer room for super busy months. I'd try for a date night in and a date night out each month. Even if date night out is just getting takeout and enjoying it in the car these first few months. We're fans of a weekly date no matter what (hey that's how this site started!). However, we know sometimes it's harder to make date night happen in seasons of life. So shoot for those two a month and know you have a little wiggle room if plans fall through or there's a busy month you can only make one work.
If you plan to go out twice a month and leave buffer room for emergencies or busy seasons, you'll still make the goal! Plus why not aim to be over-achievers and go out 26 weeks and truly hit that every-other-week mark? And if you make all 52 weeks happen, we'll send all the digital high-fives in the world!
HOW DO WE JOIN?
Just make the commitment! We'd love to have you share your dates over on Instagram using the hashtag #21datesin2021 so we can follow along!
You can also email us any time to share a date: we live for those! Snap a picture, and start to collect the memories of 21 dates this year.
ANY TIPS FOR SUCCESS?
Make it a habit and spend your first date night just planning dates for the year. You can do it at home after the kids go to bed, or head out to dinner and plan it over a nice meal.
We have so many date ideas to help you, and our email list Beyond Dinner and a Movie sends a weekly date night idea or seasonal list to your inbox each week. It's a great resource to help you stay inspired!
Of course, we want to help you get started planning, and also get started writing down your date night list. That's why we're here to hook you up with a free 21 dates in 2021 printable set! They are sleek, modern design pages you can print on a black and white printer at home. Grab one for your first date night, and come up with some fun, connecting dates you'll both enjoy this year!
Free Date Night Planner
NEED SOME IDEAS TO GET YOU STARTED ON YOUR 21 DATES IN 2022 RESOLUTION? CHECK OUT THESE POSTS:
365 Fun Date Ideas to Do This Year
Year of Dates Gift Budgeting Tips: Date Night Budget