7 Ways I Turned Blogging Into My Official Job
"This post was inspired and sponsored by Domain.ME, the provider of the personal 
domains that end in .ME. As a company, they aim to promote thought leadership to the tech world. All thoughts and opinions are my own."
I never thought I was particularly entrepreneurial, in fact I had a friend who was a very wealthy serial entrepreneur make fun of me while in business school when I told him I wanted to go corporate. At the time I was about as risk averse as they come, and the recession was about at its height. I was not naive to the fact that business owners work ridiculous hours, and never seem to shut it off. I was also career transitioning from high school English teacher to digital marketer- kind of a big leap, and I felt like I needed some training before I could even wrap my brain around the idea of owning my own business or being in charge of anyone of anything outside of education.
Life is a funny thing, and it's amazing how we change. While loving my life in corporate America and really enjoying my last corporate gig, I seemed to always think of new business ideas I'd share with Jacob. On our first anniversary we answered our questions we ask on our anniversary each year (and post and share, search it if you haven't read these!) and he said his biggest surprise was how entrepreneurial I am. At the same time I was blogging as a Sunday hobby while Jacob worked at our church, and after a few months I found traffic and readership in my blog was increasing in ways I never expected! I knew people made money blogging, and I aways wondered how. I did a few key things that set me up to start making some money, and the more I put into certain efforts the more payoff I saw. Anyone who has read for at least the last year knows I had a gut wrenching decision to leave a job I loved for more time at home with my baby, and decided to pursue blogging and freelance consulting instead.
So here I am, six months later, and I get asked often how it's going and what exactly I do almost every week. Without fail when I mention blogging is indeed a job, and a job I hire a nanny a few hours a week for me to accomplish, people's jaws drop and instantly ask, "So how do you make blogging a full-time job?"
Well friends, it's technically just a part-time job for me, I'm still spending a lot of concentrated time being a mom, but with what I've learned I honestly believe it could be my full-time job if I dedicated 40+ hours a week to it! The concept is the same, and I wanted to share that yes, it's working and it's going better than I even expected! And also, I wanted a share a few thing to know to make blogging become a job and people can make the leap to start working for themselves!
Turning Blogging Into Your Full-Time Job

1. Write good content 
Call me crazy here, but as someone who does consulting in website strategy and content marketing I have to tell you that the phrase "Content is king" is 100% accurate. I've seen people pay a lot of money to build beautiful sites and then they don't write much, they don't write particularly well, or they don't take very good pictures, and I've even seen the plagiarism game happen with some legal issues- yikes. You don't have to be perfect, I'm certainly not! But you need to have something that attracts people in some form- writing, visuals, useful information, etc. The more you can do D) all of the above, the more success you'll find. That may mean honing in writing, taking a photography class, hiring a photographer, etc. First find something you really care about that you'd gladly share with the world for free! Honestly, if you're in it just for the money almost everyone can smell it a mile away and it's clear in your writing too. You need to want to share something important to you; there should be a story, a passion, a problem you're solving, something that makes life more fun or beautiful, or at the very least, a visual to share.
So find what that is, do it, and do it better than anything! Good content is what makes a website and all social media, and you need to have good content.

2. Make it official 
Content is first, but the setup and design isn't far behind. Choose a brand and stick with it. The moment I picked colors, hired a designer, got business cards, and went with a font and brand guidelines I saw a lot more attention. Part of this means setting up a business email, and getting an official URL that matches your brand name. Since a lot of URLs are taken these days, one great option to to consider going with .ME domain name to grow your business. Did you know .ME holds the same SEO benefits of .Com or .Org and provide you with the space you need to build your personal brand and create an online persona that's a direct reflection of you and your brand? .ME domains are great for personal websites, blogs, online portfolios, or aliases for social network profiles. Just one more option to consider for anyone looking to build a brand and feeling they want another option and another personal touch!
3. It is about traffic. 
We've all heard the classic movie quote, "If you build it they will come" which may work for baseball stadiums, but not always the case on the web. You need readers, social followers, and you need it pretty consistently. Don't let it get you down if it's a gradual climb, and don't be shocked if it takes a while for a breakthrough. I have a friend who is a YouTuber who spent a lot of time doing it daily before the big break and steady growth came. She learned to hone her craft and fine tuned a lot to win over people when her big break came. Still, that traffic is what brings in money. You can do this lots of ways, but Pinterest, social media, and regular sharing are great organic ways to go! I'll admit I've never done paid ads for my blog, but I know some people find success there too! It's okay to share your own content, and it's okay to ask friends for help. Eventually something takes off, the word gets out, you get on a news segment, or your random recipe becomes the next big trend people are searching for on Google. Work for the traffic and put up regular posts sharing through social media, feed readers, and newsletters.
4. Attend a major blog conference 
This one was the game changer for me. I'm fully owning I've been lucky, which I admit is part of the equation too. Traffic was something that came completely unexpected thanks to Pinterest launching around the time I launched my blog and people being interested in date ideas. If you've found me that way, I'm so glad you did! Thanks for helping build and shape this community!
I realized one day after something went viral that people made money off their blogs, but aside from a Google ad that brought in enough money to pay for some dates here and there, I had no clue what to do. I splurged and made the investment to go to Alt Summit for the first time and I was blown away at the benefits! I really had no idea what I was doing at the time, and although the conference was great, the connections I made and friends who taught me some ways they were making money with sponsored content and specific advertising networks were a game changer for me! I went home and applied to several and got to work immediately with some sponsored posts. There is no exact formula to make it big and make money blogging, I'm learning that more the more I dig in deep, but making connections and learning industry trends give you the tools to stay ahead of the curve and always find new revenue streams. It's worth the time and money for sure!
5. Network like a maniac 
I firmly believe everyone is worth meeting. Blogger, reader, random guy on the street- everyone has a story! I've been so amazed how many job opportunities have come to me through random conversations or friendships, and this includes blogging jobs! Blog conferences offer a great place to network with brands and talk about paid collaborations that may be a good fit, they also offer a place to meet other bloggers who may help with paid opportunities too! I can't tell you how many times I've had brands contact me and after I've finished a post they've asked if I have any friends with similar traffic or styles who may be interested. I do have a few amazing friends who I pass along, and I've been really fortunate in life to have a few who do the same! Making legit friends and connections is really the key to being an entrepreneur, and I've found the more people I meet the more I seem to get recommended for opportunities to work with companies I love who naturally fit with my content I'm already planning on writing.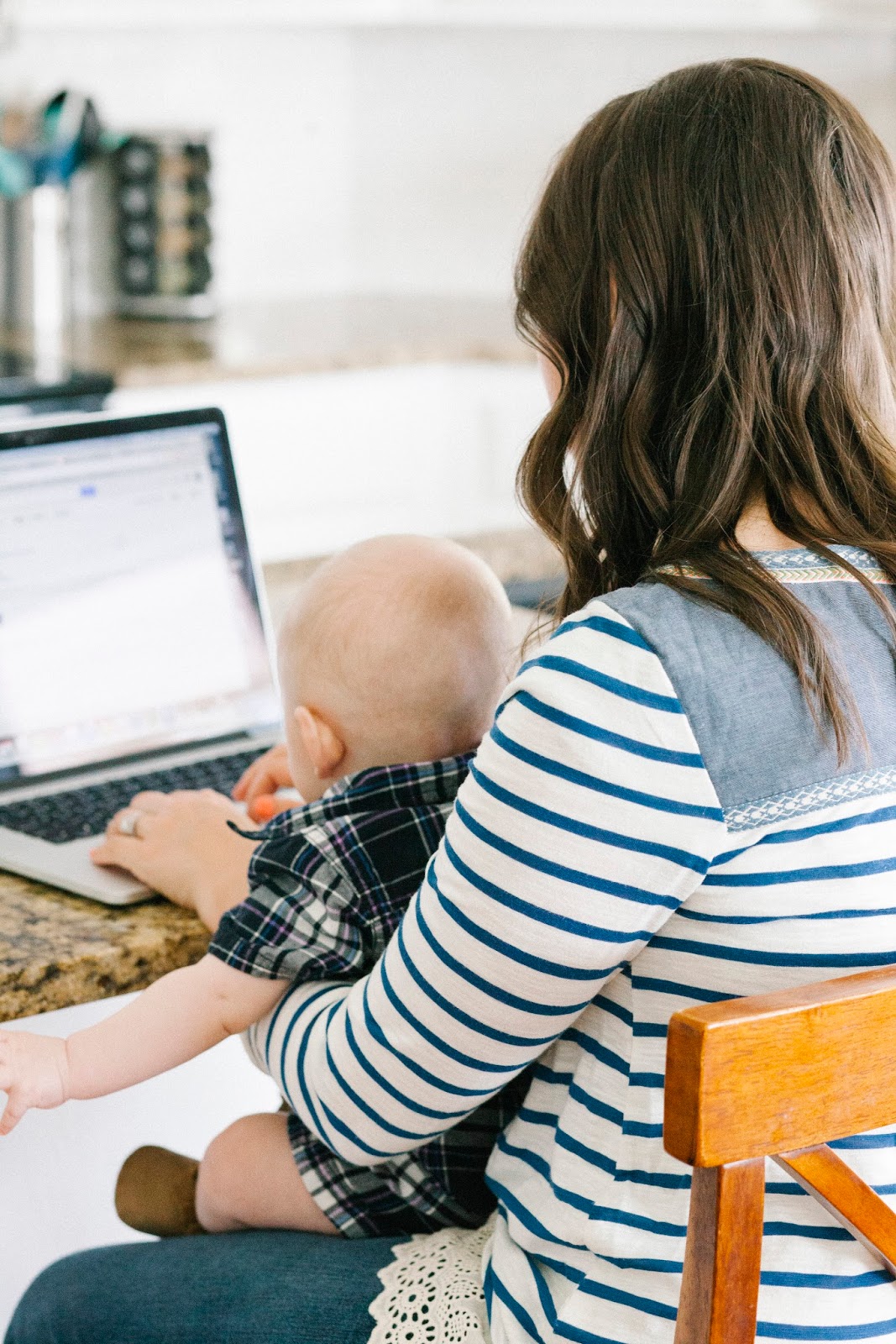 6. Treat it like a job 
When I was full-time corporate it was a hobby, and occasionally perks happened. When I made the decision during maternity leave to get a little more serious and dedicate a little more time (mostly for my own sanity as an extrovert home with a non-verbal baby) I was amazed at the opportunities that happened. I spent a little more time applying to jobs with ad networks and had a little more opportunity come my way. When I decided to write 4-5 posts a week I saw a jump in traffic, a warm response (thank you lovely readers who care enough to actually read my long winded rambles), and more brands contacting me than me contacting them. It was amazing!
But I have to say it takes discipline too. Sometimes I'm up until 1:00 editing pictures from a family activity. I probably have more back pain not only due to a 20 lb toddler always on my hip, but also to a DSLR always in my bag. I do have a nanny who comes a few hours a week which forces dedicated work time. I have one nap time each day I set aside for emails, pitches, and scheduling. I have to get real about it and treat it like work, because it is work! If you want it to stay your job you have to not fire yourself, you have to show up every day and keep vacation times reasonable.
7. Be professional 
In addition to putting in time like a job, you have to take yourself seriously and be professional. I often think about all the professional development I did as a teacher and in the corporate world to help me be a better employee and representative of the school/company, and I think it's equally or perhaps more important to keep learning and growing when you're doing your own thing! I try hard to attend webinars, conferences, and local meetups. I read social media updates and Google updates too. There's a lot more I could do, but I know the more I put in the more I get out of it. I also think it's important to treat your business and your relations with other with respect. Make sure you take it seriously and act like you want to be promoted at all times, that's a motto that's really made a difference for me!
Apparently I had a lot to say about this, and I feel like I could write a lot more about each one (hey maybe I will someday if it's of interest) but for now there are my tips! Feel free to share any others you have in the comments, and be sure to go get a .ME domain name if you're in the market!
Get 365 Date Ideas!
We want to help you have the best date nights ever! Grab this FREE printable with 365 date ideas, a date for every day of the year so you never run out of ideas!