Anniversary #3: The Night of the Anniversary Flop
The actual date of our anniversary fell on a Monday this year. Ah, Monday, I should have known you'd be out for us! We are Friday people after all, or pre-Friday (Thursday), or post-Friday (Saturday) kinds of kids.
The day before our anniversary I woke up with a lot of sharp pain that I've never felt before. I went to urgent care, missing out on church, which I hate doing. I was diagnosed with not one, but two very serious infections and it honestly made me cry to try to sit in their hard chairs. No bueno. Lots of antibiotics later, we had high hopes I'd be on the mend.
Jacob had made reservations for a steak house in Chandler weeks before, and when he got home from work on Monday night I told him after working from home quietly all day I was pretty sure I was still up to it!
We got ready, tried to get a little fancy, and even snapped a couple pics before we headed out the door.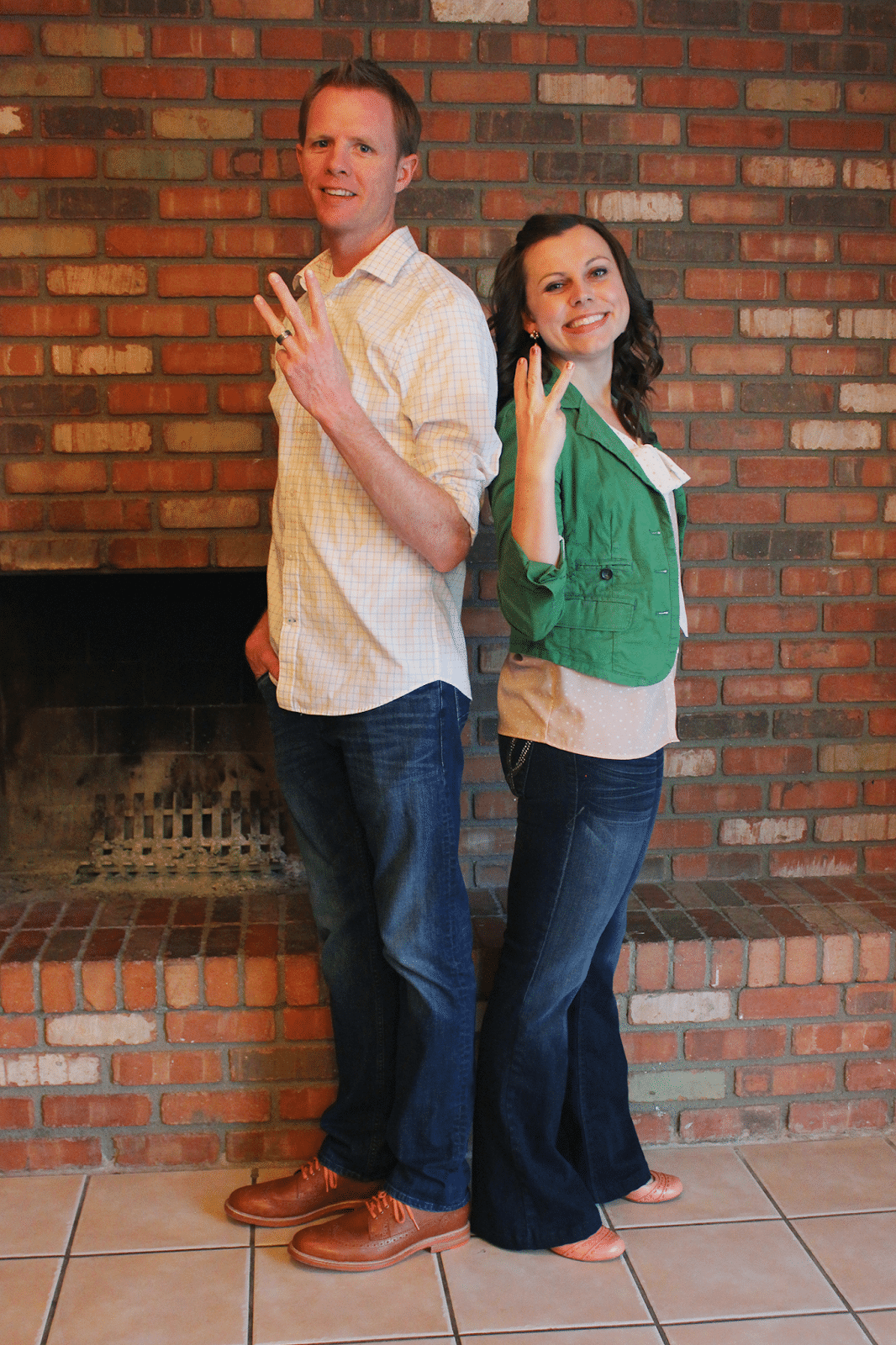 With high hopes the night would be great, we drove to snag our reservations. We enjoyed the bread, it really was delicious, and ordered the same wedge salad. At this point I was full from a shrunken stomach of being sick and not eating much. It was good, and we had fun reminiscing about what time we were married, what time we had our reception, and some of the funny events from the day.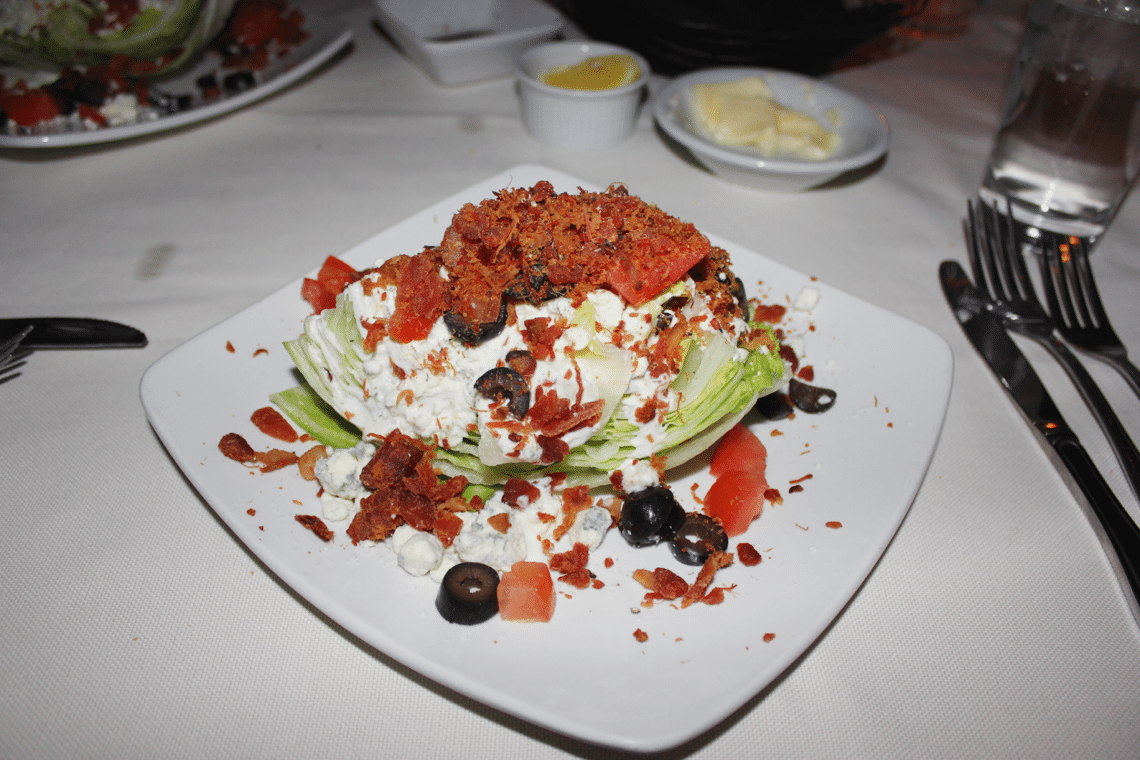 This was about the point things started to turn- I realized I was wearing out pretty fast, and a migraine was starting to take over. When our steak came, we were both pretty disappointed. It was as pricey as any other steakhouse we'd been to, and we both felt like we could make much better steak at home.
And could we get a picture of the night to save our lives? Definitely not! We take most our shots at night with hardly any natural lighting, but this night we just couldn't get anything to work with our camera, try as we did. Here's the best pic we got, in all its blurry glory.
We decided we'd try outside by the sign, but not a soul came by and we were without tripods. I can't even get our attempt to load into this post, so let's just call it the cursed shot and leave it at that.
That's when the worst migraine really hit me hard and I had a hard time standing. Not to mention the rich food and heavy steak were starting to make me feel a little queasy. Poor Jacob was like- well, happy 3 years to us, a wife that's way to sick to celebrate and an overpriced not amazing dinner.
We were on our way home feeling pretty down, when I suggested we take a detour and get some cupcakes to celebrate birthday style. I've had a few friends tell me they do a large cake and celebrate their "family birthday" on their anniversary with their kids. I kind of love that trend, and decided why not start now? So I toughed it up, decided to hold my head up for another 30 minutes to try to make my husband happy and enjoy at least part of the night.
The Sweet Tooth Fairy did not disappoint! We loved the Thin Mint and the creme brulee cupcakes. Things started to look up!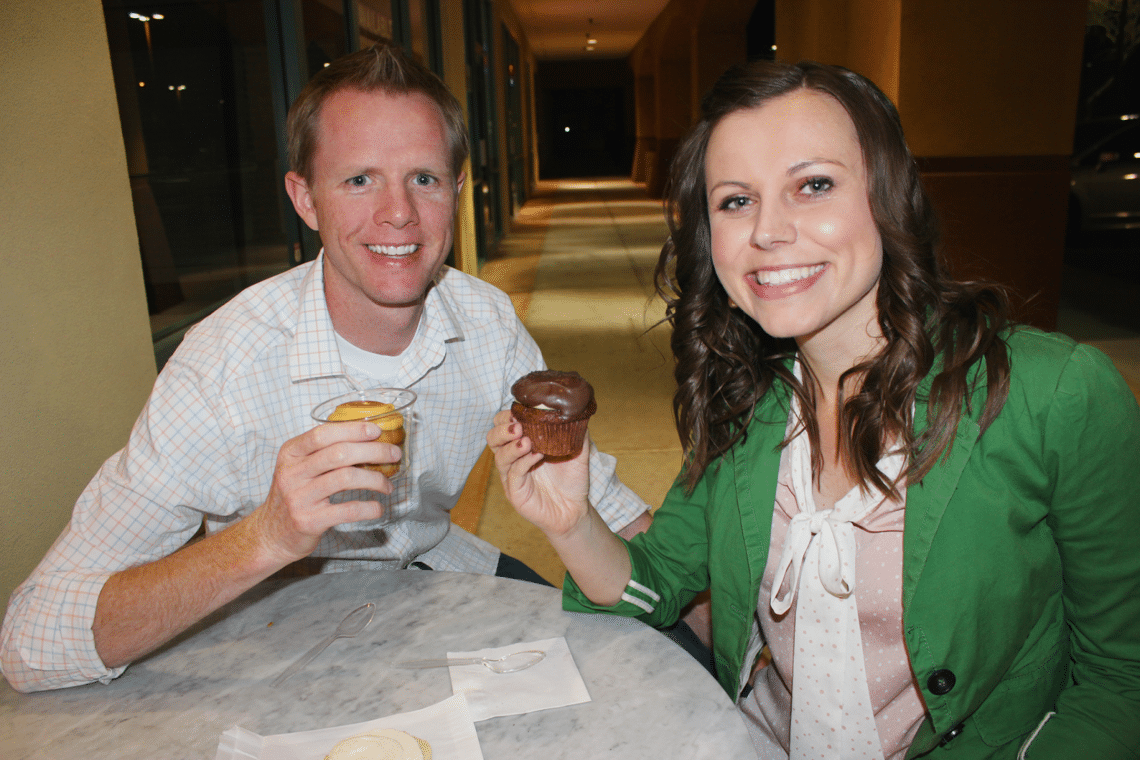 After Jacob apologizing for "a super lame anniversary" I thanked him for trying and apologized for being the one to make it so lame. Between sickness, Monday, crazy schedules, lots of working, marathon training, and everything else life brings, we had our anniversary sneak up on us with little time to prepare or plan anything. No weekends were available to take pictures for at least a month, and we didn't think to print our questions this night.
We talked about our Sedona trip last year, our cruise on our 1st anniversary, and our honeymoon and how great those trips were. We had both been so busy with work putting in some late nights and serious travel that we were shocked we'd get to be together the night of our anniversary at all. I then turned to him and said, "Wanna buy tickets to go somewhere when things lighten up at work for both of us?" We looked, it was one month away, and we decided right then and then we'd do an anniversary redo. We proclaimed for this year only April 11th would be the new date, and we would do all we wanted to do/have as a tradition during the month of April.
I think that night reminded me of something pretty great, I didn't marry this man for perfect nights and illustrious vacations. I married him because we can sit and laugh about anything, even a few hours later. We can enjoy being together, even if I am holding my stomach and head and ready to cry with sharp pain. We can say "Redo?" and make sure a redo happens. I just couldn't have got luckier, and sometimes it takes a pretty big fail of a date to make you realize that.
Get 365 Date Ideas!
We want to help you have the best date nights ever! Grab this FREE printable with 365 date ideas, a date for every day of the year so you never run out of ideas!