Arizona Blogger Meetup + Say Hi Society April Meetup #PamperedByPampers Meetup
There's nothing like a good collaboration that benefits several parties, and I have to say that last week the Arizona Blogger Meetup partnering with the Say Hi Society for the #PamperedByPampers event was something really remarkable!
It still involved a lot of background work, and maybe even having to work a mic.
But the good news was in addition to having Chrissy as a long time sidekick and photographer (all these photos are by Chrissy of Let Me See You Sparkle Photo), and having Kayla to help the day of and support as her last blogger event, I got to work with my friend Janssen to make sure a quality, professional, affordable event happened in Phoenix. We're loving this partnership and we're excited for more events to come! And luckily she took a turn behind the mic too!
There was so much amazing swag! We've had the swag be worth more than the ticket price at all AZ Blogger Meetup events, and it was pretty excellent to have that still ring true! Thanks BabyLit, Bob's Red Mill, Happy Socks, and Kern & Flourish.
I love all the party pieces, but I really enjoy the learning part of these events- the speakers had everyone engaged and I think they had content that applied to influencers of all levels.
Jaime and Sarah of Mommy Mailbox shared a lot about their rapid growth, how they choose partnerships, who to partner with, how to pitch, how to grow social, how to know what social to really go after, and lots more! I love these beautiful mamas who started their own company after leaving corporate America to spend more time with their kids- women after my own heart!
Matt from Tanga is one of the most entertaining and engaging speakers I've ever heard- I can't believe he doesn't speak for a living! This is really saying a lot too since he went right before lunch and everyone was ready for food. Matt talked about newsletters and why you need one (it's more than just sharing out posts), and what value you need to offer readers. It really had me thinking and I plan to implement one very soon!
There was note taking for sure! And maybe a little bit of Internet stalking to view examples and speaker profiles. What can I say, once in marketing, always researching the crap out of everything!
We had activities to keep things fun too, and to get #PamperedByPampers. Harley Chapman did some amazing hair styles and talked braids with attendees.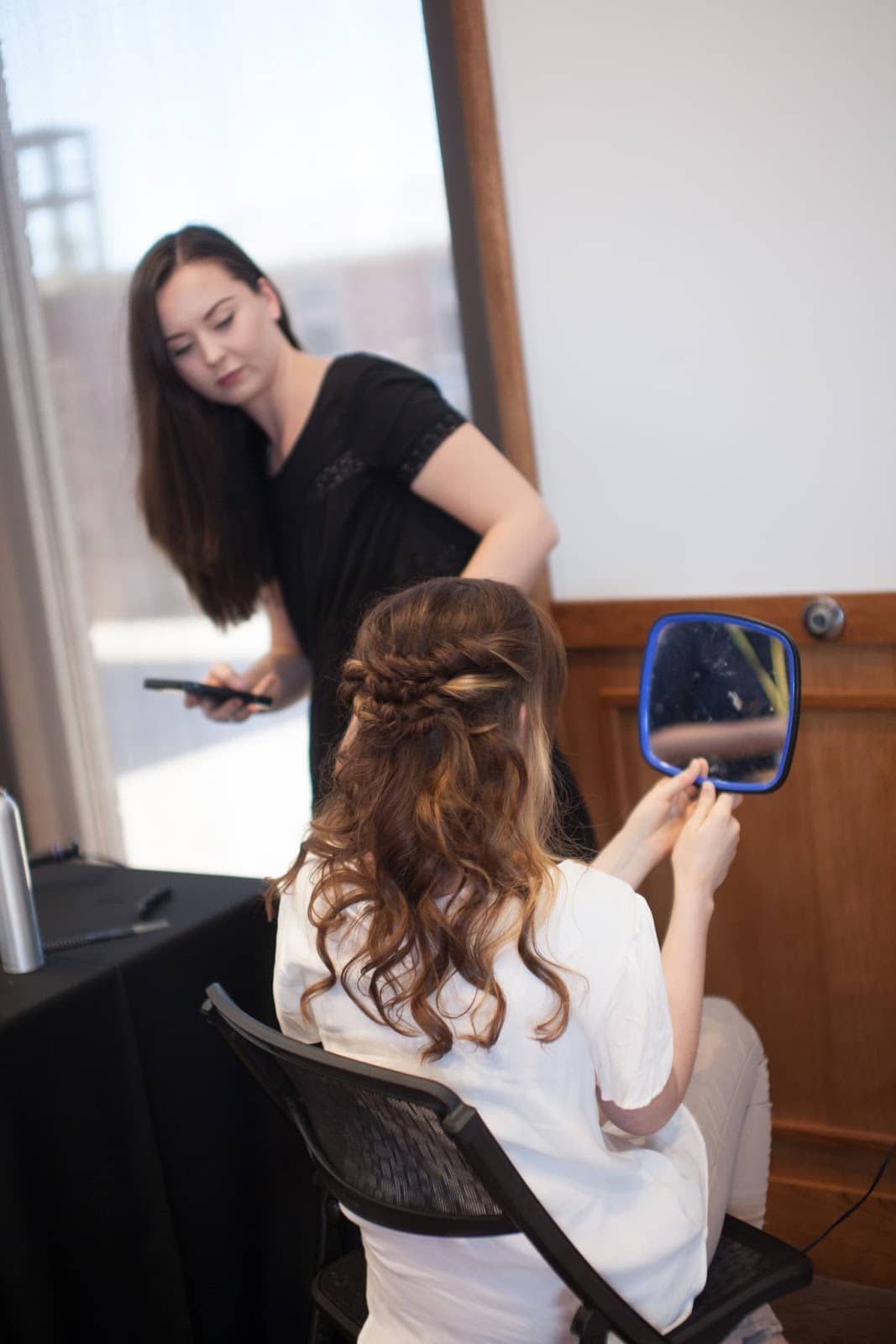 Reachel Bagley of Cardigan Empire talked style profiles based on coloring and body type- and seriously, hire this girl for a digital consult if you aren't lucky enough to live in Arizona- it will change your life and how you feel about yourself!
Kneader's Bakery sponsored lunch, and there food never disappoints! We got to try their catering and let me tell you if you have a large (or small) event you need to look into them! Such delicious food, and something for everyone!
Admittedly, my favorite part is networking and catching up with old friends and meeting new. I love this community. I love how welcoming and supportive and kind the Phoenix influencer community is. If they didn't have weddings to prep for, I'm sure we could have stayed at The Falls for hours longer than we did chatting and cheering each other on.
Thanks to Pampers for sponsoring such a wonderful event! We can hardly wait for August for our next meetup!