Baby Wearing With Nesting Days and a Giveaway!
A great option for newborn babywearing: A review of the Nesting Days carrier and why it's a great option for newborn and parent bonding
As a marketing girl there are a few things that I can't look at with a normal lens- packaging, sidebar ads (who is retargeting me and what the?), sporting events, and baby products.
I was kind of amazed at how much stuff is listed as MUST HAVE items. I kept thinking about how I'd visited third-world countries with babies and they all seem fine without a certain high chair, electronic swing, or fancy stroller. Of course, there were a few things on our list that I knew were luxury items, but I really tried to keep this list small.
A baby carrier was one thing I knew I'd likely splurge on. I'm a mover and a doer, and it's hard to sit still- even when only a few days postpartum. I started the search. It seemed like everyone had strong opinions on what were the best and what were the worst and why.
I have a fancy carrier ready for a bigger baby. However, I think there's a huge hole in the market for newborn options outside of wraps. In all honesty, I didn't think I needed a newborn carrier. Admittedly, I figured they were small and easy to carry in one arm while I went about some chores and everyday life.
Nesting Days
I have a friend who works with Nesting Days and reached out asking if I'd be willing to review a carrier. She told me they were different and meant for newborns and the first few months only. If you haven't noticed I'm not a huge review person blogging,. They often feel too sales-y and a lack of authenticity. However, since it was a friend and since I already knew babywearing would be a thing for me I figured I'd go ahead and try a Nesting Days carrier out. She also let me know to be brutally honest, even if I hated it.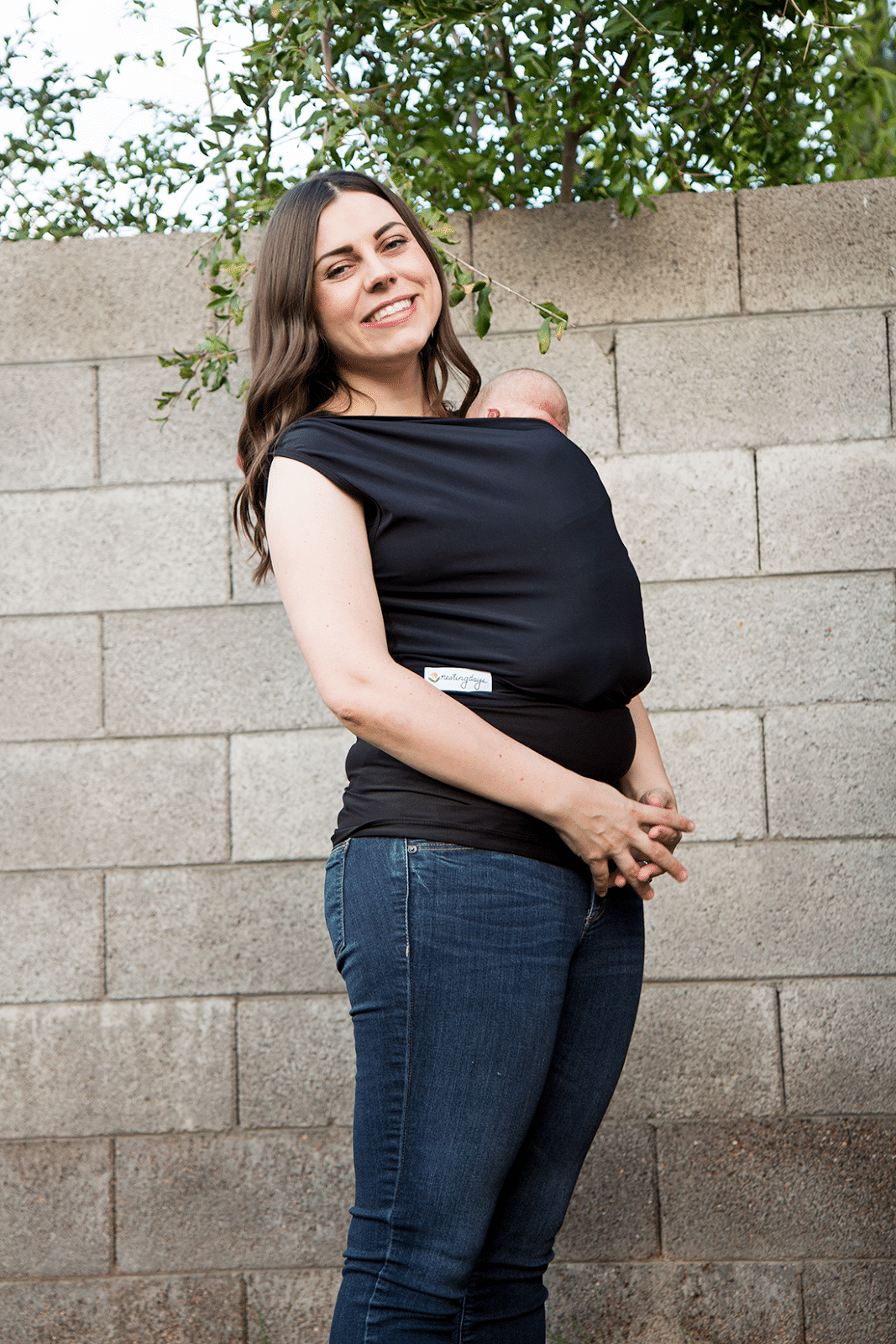 Hands-Free Features of the Nest Days
First thought when it arrived- skepticism. What makes a Nesting Days carrier different from the rest? A shirt that's a carrier? Promoting skin-to-skin contact? It seemed a little odd to me and I feared pretty quickly I wouldn't be helping my friend out doing a review.
One week after our little guy was born I pulled it out and put him in. The head should be tucked in, but he has strong feelings against that so we pop it out and go with it. I was actually in shock the first time I wore it. I made waffles- WAFFLES! From scratch with homemade syrup, and sat down to eat with a snuggly baby that always wanted to be held happy to snooze and snuggle up to me while awake- calm and happy. I realized I could get things done, and it was amazing!
Skin to Skin Baby Carrier
I'm sure lots of carriers feel that way. I have to say the skin-to-skin was what was really amazing. It started cooling off the week after he was born, and suddenly he was cold all the time. In the carrier, I could regulate his temperature and help him feel secure. I could calm him down quickly. Best of all, I could bond with him. I seriously loved how easy it was to throw on a bra and my carrier and still look like I was fully clothed.
I've had a snuggly baby since day one. He's held my hand nursing since the first time he latched. He loves to be held and often gets fussy when I haven't held him for a while. Also, he calms down when I pick him up.
Sometimes that's at the time we need to get dinner on the table or I'm trying to finish some other pressing task. He loves my heartbeat, he has always positioned his head to have his ear over my heart. I couldn't believe how much he loved being in this carried right up against my heart.
So in all honesty, I don't think I'd looked at a Nesting Days carrier as an option before trying it. However, after trying a few different babywearing options, this honestly ended up being both mine and baby's favorite by far! I'd actually move this to the necessity list! If you're someone like me who is on the go and still has a baby who really needs their snuggles and close time with their mommy!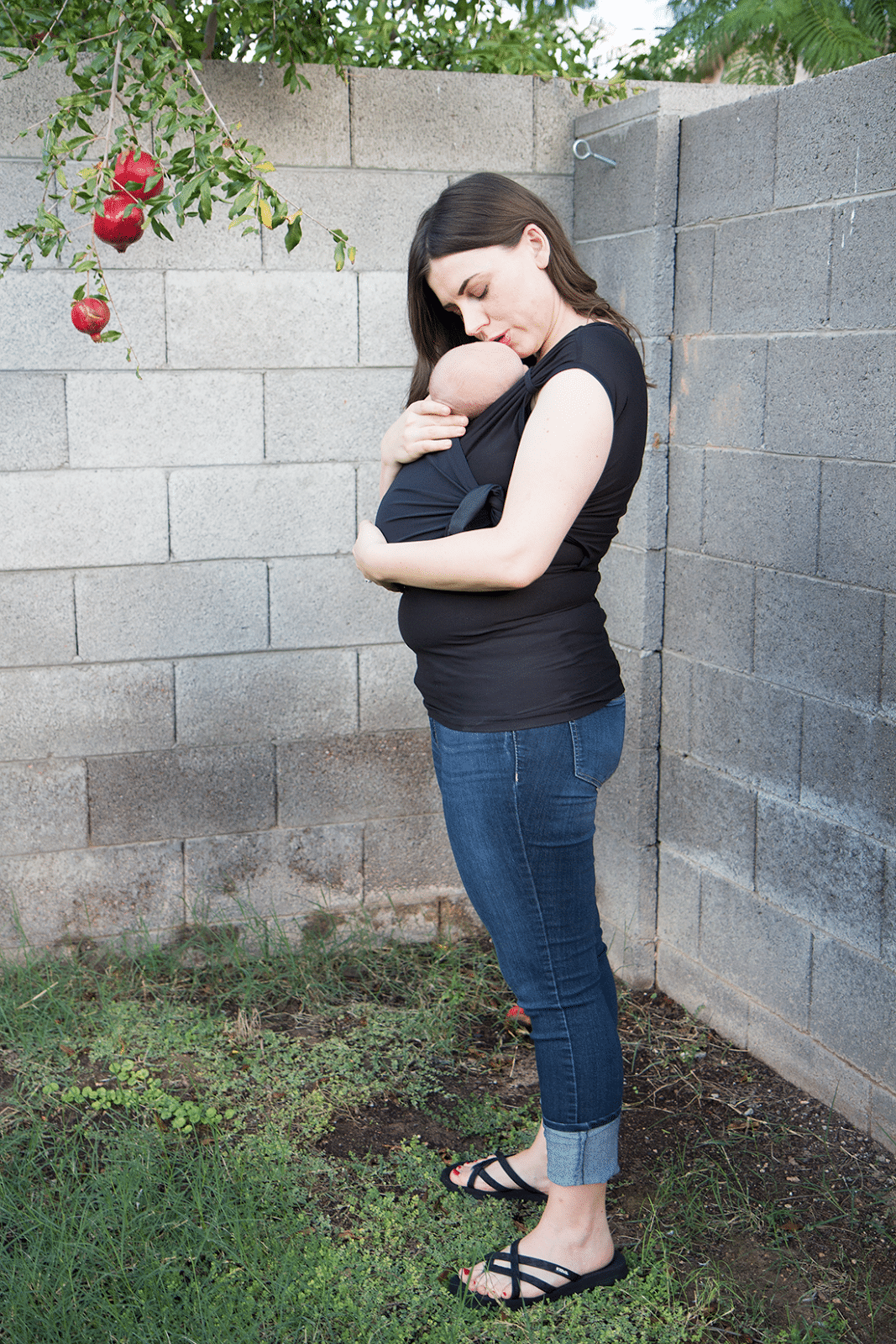 And I have some really exciting news! They rarely do any kind of discount or a promo. But, they are offering a Nesting Days discount code for $5 off any carrier to Friday We're in Love Readers. Use this Nesting Days promo code for the discount: FridayLove.
And even more exciting- they are going to give any carrier of your choice to one lucky Friday We're in Love reader!
*This giveaway is closed and the winner has been contacted.
Get 365 Date Ideas!
We want to help you have the best date nights ever! Grab this FREE printable with 365 date ideas, a date for every day of the year so you never run out of ideas!