Beating the Back-to-School Blues
We loved having a holiday season filled with our large families and lots of family activities on my side! We really got to spend a lot of time with each of our nieces and nephews and get to know them a little better with some really fun activities. I baked cookies with two of them and had lots of personal conversations, we have a family dance party where I spent time with one niece prepping her outfit, I talked books with several nephews, and I made several freezer meals to help ease me back into working full-time with my sister and my oldest niece. I heard the same thing from each of them, they really weren't looking forward to the fun ending and having to go back to school after break.
Of course the younger ones feel this way mostly due to their toys being left behind, but I felt the worst for my oldest niece who is an honors student in high school. This poor girl was out of school the last two weeks before the break due to an emergency tonsil removal that kept them from their winter wonderland trip up North and stuck at home in Arizona with the rest of us.
She was ordered by a doctor to take it easy after an ER trip and some complications and to wait to take her finals until the week after the holiday break. She's about the most responsible, witty, fun, amazing girl out there, and it's hard to see such a hard-working kid stress about the fun ending and final taking coming back to bite her her during the already dreaded first weeks back. When we heard about this, Jacob and I knew we needed to do something to help make her excited about back-to-school and help her feel more excited to face those first few weeks ahead.
Is there anything that gets someone more excited to head back-to-school than new school supplies? Seriously, we do this every fall and often by spring semester it's just time to refresh and engage in restocking school supplies. Even as an adult long out of school, I still get all excited to go refresh my supplies. I decided this was just the key to help our sweet niece. I headed to Staples in search of the perfect supply updates to give her for the new year- you can always find excellent school supplies at Staples.
Some PaperMate pens, pencils, and my personal favorite, the Flair marker pens in fun colors were just the ticket to make her a back-to-school bouquet. Luckily Staples has darling supply holders so we got her a cute pencil holder for her new room.
I built a bouquet that's about the most easy DIY, which is what a not-so-crafty girl like me needs. A cute pencil holder, some wooden craft dowels, tape, colored rocks, and your supplies are all you need. And bonus- the entire week of January 17th you can save 40% off all regular priced PaperMate products while supplies last!
Place the rocks in the container, tape the dowels to the supplies in their packages- making sure to tape at different levels, and put them in the rocks for the final product ready to gift.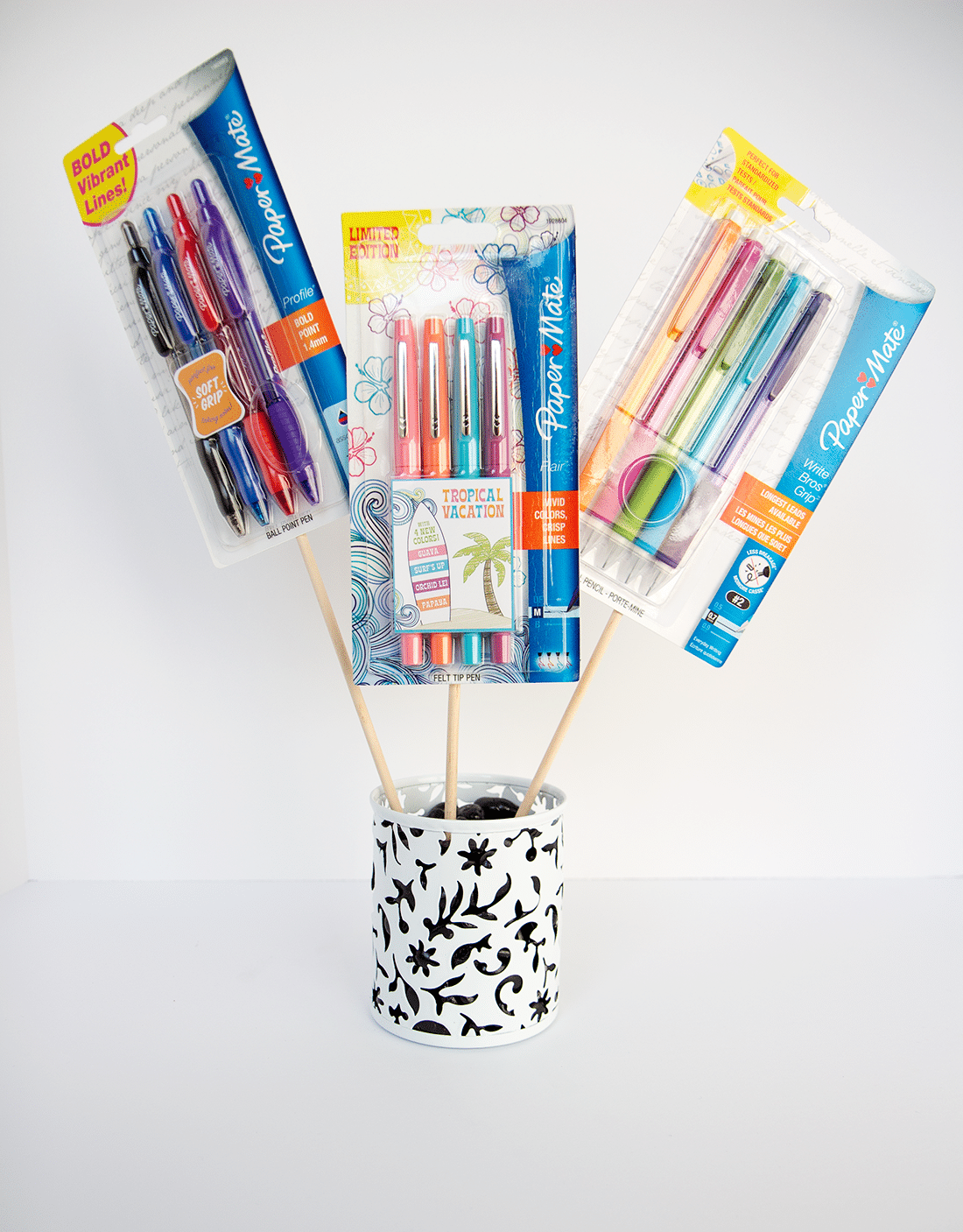 Arrange the bouquet to look balanced, add a card, and you have the perfect back-to-school bouquet to beat the back-to-school blues!
Get 365 Date Ideas!
We want to help you have the best date nights ever! Grab this FREE printable with 365 date ideas, a date for every day of the year so you never run out of ideas!