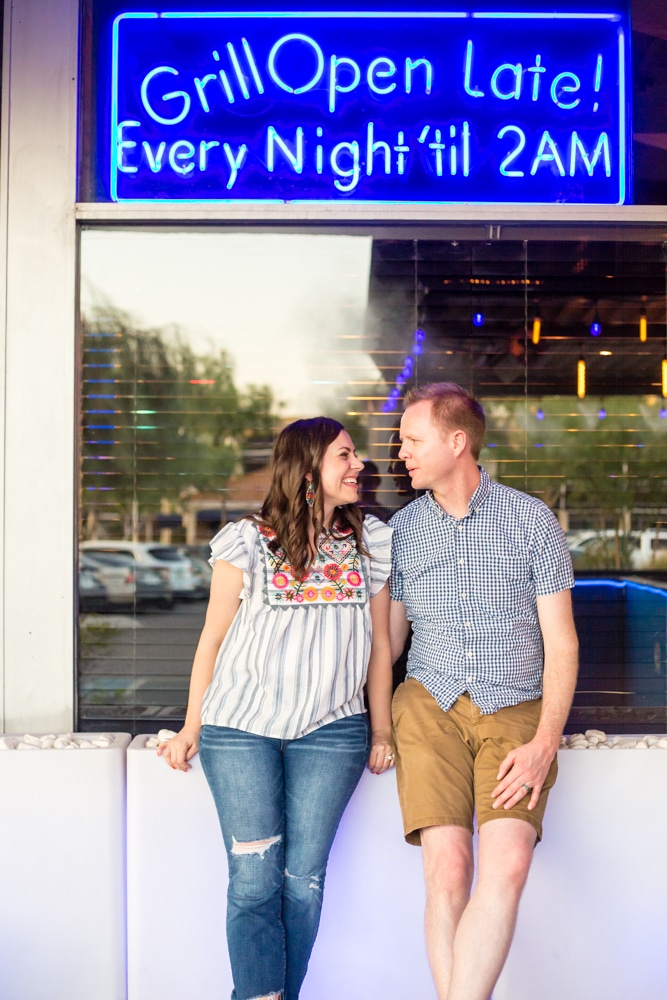 Sentimental Date Spot Dinner At Delux Burger

Date Info: The best burger in Phoenix/Revisiting a sentimental place in your relationship

Price: Plan about $50 for two
Location: Delux Burger Phoenix
Time: 1-2 hours
Tip: They get REALLY busy, so if you can go early or later, you won't have the same wait times
There's nothing like trying a restaurant voted "The Best ____" for date night! You know you're in for great food, and hopefully even the best food!
The Best Burger in Phoenix
A friend introduced us to Delux Burger in Phoenix long before Jacob and I were even dating. It had been voted The Best Burger in Phoenix several years in a row. She gathered a group of people together to go try this supposed best burger.
Let me give a spoiler alert early: we indeed thought it was the best burger in Phoenix! Jacob and I have had so many gourmet burgers at this point and it's still in our top three! Apparently super quality ingredients and fresh burgers grilled to perfection do wonders for a burger!
Don't even get me started on the fries. They come in shopping carts, which somehow gives magical taste powers. I love the regular and sweet potato equally. But the real treat is the Delux sauce. It's like magic. If you've ever thought a fry sauce was good, you really need to try the twist on the aioli blend that is Delux! Whenever a waitress brings out ketchup I kindly let her know it's a waste of time and resources and please let Delux Sauce flow through every container!
And for the record, I often love my friends plain. But this sauce, it's what french fry dreams are made of!
Even if this isn't a sentimental spot for you, it's a place we highly recommend if you ever come to Phoenix!

A Sentimental Restaurant for Date Night
Let me tell you why this place means so much to us.
There are places that bring up an emotion that reminds us how we chose each other. The night we first tried Delux Burger there were so many amazing people. We went out with 20 singles, and everyone was so fun to talk to!
And somehow, even with so many great options, we found ourselves only wanting to talk to each other. Our wise friend knew there was something there long before either of us did. And she always found these events to get us together. It was a night where others competed for our attention, and it was one of the first times we so clearly chose each other.
I always laughed until I cried with Jacob. He was always this familiar feeling when I was around him. And some nights just solidified that even with other options, we so clearly chose each other. First as friends, and a few months later, as two people exclusively dating.

I guess carts full of french fries, magic fry sauce, and the best burger in Phoenix will do that for you!
Like this date night? You may like these posts too:
Murals in Phoenix Walking Tour
Get 365 Date Ideas!
We want to help you have the best date nights ever! Grab this FREE printable with 365 date ideas, a date for every day of the year so you never run out of ideas!