The Best Jeans For Women that Changed Me From a Blue Jean Hater to a Blue Jean Lover- and All on Sale!
Infertility and Weight Gain
Can I tell you a deeply personal infertility story that happened four years ago to the date? I guess I'm typing it no matter what, so hopefully the answer was yes and you won't be too shocked when you learned it has everything to do with the best jeans for women, and how infertility relates.
We were in the midst of infertility treatments and I was getting all kinds of different cocktails of hormone pills and shots and my body wasn't responding to many very well. I was zapped of energy, but still running and eating healthy in hopes I would stay fit and get through. I was having acne and other fun side effects from artificial hormone surge your body isn't used to being experimented with regularly, but the acne didn't feel all that bad compared to one side effect that really got me down. There was a week we tried a new option and a new shot and I'm not kidding when I say I gained 10 lbs in one week.
Now I'm a pretty reasonable girl, 10 lbs isn't too much to balk at, but since I'd gained another 10 lbs the few months prior to other treatments, this was the one that had me going to get dressed and feeling like nothing was working anymore. I had a lot of rough mornings trying to get ready for work, particularly at a place with a casual dress code where jeans are the norm and I faced the reality that I couldn't get into my jeans anymore.
I'm so grateful to be a mom that I really glaze over a lot of these details of infertility. Truly, the joy is so worth the constant pain and discomfort you face almost every day of treatments. I try really hard not to be a complainer, there are so so so so SO many worse things in the world than infertility treatments messing with your body and putting on some weight practically overnight.
But I still can't discount these experiences so many women go through, you lose any control and norm of your body and begin to be a petri dish trying to find the next thing that may work while you suffer a lot of pain emotionally and physically.
The Need for Some Feel-Good JEans
One Friday I went to get dressed and broke down crying that my clothes looked so bad, and my sweet husband told me how hard it was to watch the struggle, and asked if I would like to reallocate some budget and go to the Nordstrom Anniversary Sale and get fitted for a pair of jeans or two that I could feel better about myself in.
Oh, what a gem I married! Any guys reading take note, this is absolutely the right thing to say and do for your significant other struggling with weight or self-esteem, splurge a little on something that will make them feel like a million bucks.
The timing was excellent in a way because Nordstrom is a great place to go for jeans, but boy can the price tag of amazing jeans sting! If you read any blogs, and I really mean ANY, you've likely had a lot of people mention the Nordstrom Half Yearly Sale.
It's one of those sales people get excited about because it's completely different than your normal sale, instead of markdowns as a season ends it's mark-downs on the latest and greatest items that are new arrivals and should be around all fall and into winter. Instead of buying last year's boots for next year, you're buying this year's boots for this year. Add amazing prices onto this and that's the reason everyone is so crazy about this awesome sale!
Before this moment I was a pretty straight-up $40 jeans kind of gal. I couldn't see spending more than that, and I've only ever bought two expensive designer pairs in my entire life. Both for the record were amazing. So when Jacob said go for it and buy a pair, and if you change sizes again hey it's Nordstrom, you can return it!
So we went, and I learned a lot about jeans, I had a $200 (ish) budget, and I walked out with three pairs I looked and felt amazing in with free alternations and repairs, for about $155.
Let me share that I still own this pair, I wore them for years and they still look great. I broke the button off two pairs I wore them so much and Nordstrom fixed them totally for free. They worked for the first half of my pregnancy, they were there for my during post-partum phases, and I'm still hanging onto them if weight gain or pregnancy comes my way again.
The Magic Jeans I Love
So what did I end up with? Guess what friends, they are still in stores with almost the exact same pairs four years later! That's a testament to me of quality, value, and that getting pairs that made me look and feel amazing was one of the best things I ever did for my self-esteem!
First up, I wanted a pair of boyfriend jeans since AZ is hot and even a cuff with one more inch of skin feels amazing in the triple temps. I had the help of a stylist to find some NYDJ boyfriend jeans. Kind of known as a mom brand, and as someone who wasn't a mom, I had to swallow the idea they weren't for me and try them on. Wow, the sucked in all the right places, they did make me look a size smaller, that's their claim, and I still wear this pair regularly and love them! And when you get about 35% off their newest and latest style and they are under $100, it's a great time to buy!
I've learned to love NYDJ, I've bought two more pairs since then, and they all suck me in and make me look great. I just talked my mom into a pair this weekend and her darling response was, "I've never looked like THAT in jeans before!"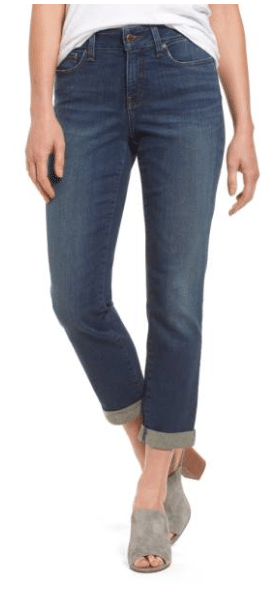 The Pair I've Bought Every Year Ever Since
I tried on so many other pairs that fateful night, but I fell in love with a brand that makes a lightweight jean, perfect for summer/fall and those of us who live in warmer climates, and they are a price point during the Nordstrom Anniversary sale you can't beat! $44 a pair for Wit and Wisdom made me nod my head even harder after trying on a pair of skinny jeans that felt amazing, looked amazing, and had a little more stretch for anyone fluctuation sizes. I bought them in dark wash skinny and decided I was such a fan I needed a pair of black too. These are the pairs worn so much I needed them fixed, which Nordstrom did for free!

Since this event, I've turned into a name-brand and upscale jean enthusiast! As someone with large thighs, a decent rear, and a smaller waist, jeans have never been my jam and I've never felt great in them. But that night, things changed. And then again after I had a baby, my friend Reachel took me jean shopping to help me cope with my postpartum body woes and my eyes got even wider as we grabbed $250 jeans. But as I tried them on, I fell head over heals at the cuts and styles that sucked in my postpartum pooch and made me look good in a t-shirt again.
The AG Farrahs in high rise dark wash won my heart, and I've bought several pairs of AG jeans at any sale I can find because of the cut, the fabric, the just enough stretch that never stretches out, has my heart. They are my absolute favorite, and I can tell you buying one pair is worth their weight in gold and will make even the lest jean-loving person into a jean lover!

I've also found the high-rise skinny and mid-rise cut works with other brands too. Plus, there are so many having amazing sales at 30-40% off which is as good as it gets friends! I'm sharing links to several pairs I know will make you feel better about your body no matter what state it's in. Plus, they work great for a curvy girl of all sizes too! No small feat for jeans!

So friends, as much as I'm a dress/skirt fan and always will be, I've learned that jeans are the best piece to splurge on, and now is the time to jump and get a pair, and I can promise you the $40-$120 you may spend on one of these pairs will be a jeans game-changer!
First two images by Chrissy Blake
Like this Jeans guide? You may like these posts too:
Nordstrom Anniversary Sale for Cheapskates
Fall Denim Trends and How to Pull Off a Color You Didn't Think You Could Wear
Best Women's Walking Shoes for Travel
Christmas in July: Christmas Prep Checklist for a Stress-Free Christmas
Get 365 Date Ideas!
We want to help you have the best date nights ever! Grab this FREE printable with 365 date ideas, a date for every day of the year so you never run out of ideas!