A Birth Story Blog: Kempton's Birth Story
Our second baby's birth story with the ups and downs of labor and delivery, the experience welcoming a baby to the world, and how different every birth story can be in this birth story blog.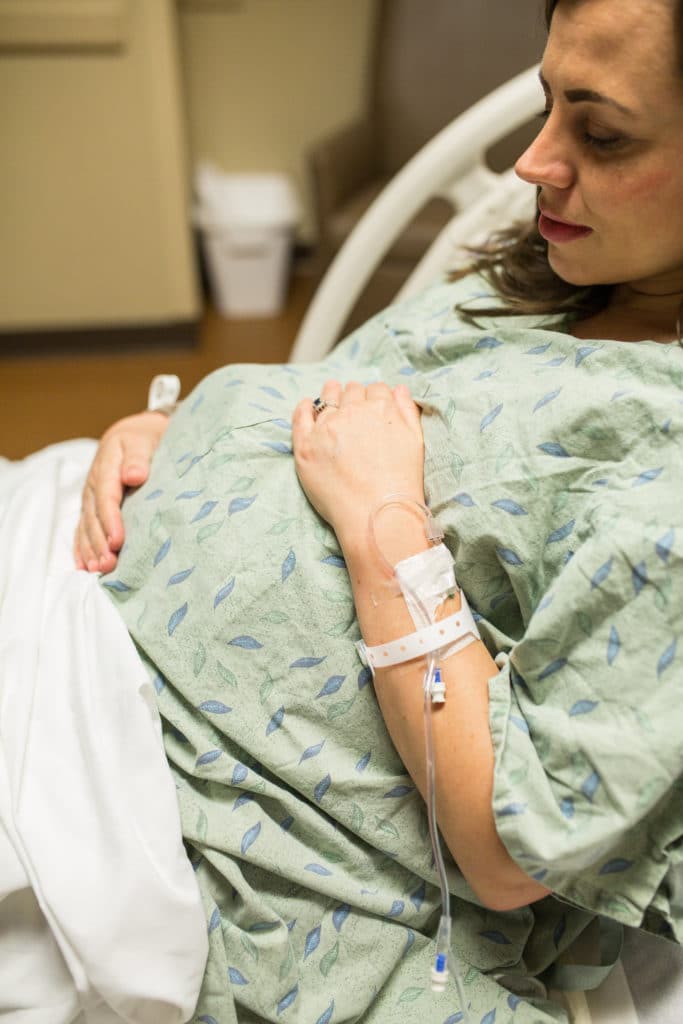 Birth Story Blog
In Arizona, we have monsoons: a storm that hits suddenly with a lot of pressure changes and usually a lot of rain in a small amount of time. July and August can be crazy weather months, and those monsoons are frequent! They are also known to throw women into labor. This entire month I have had contractions and been in a slow labor, just waiting for the baby to make his debut.
I've always wished I'd get to join the club of sharing my awkward water-breaking story and going into the hospital with other moms. But the funny thing about infertility is the lack of hormones often seem to carry through to other aspects of pregnancy.
This baby exists because of hormone therapy during the first trimester. This labor is also the tale of needing some medical intervention to get things moving! Even with monsoons causing regular, painful contractions that should have meant head to the hospital the month prior to the birth, I somehow knew deep down I'd never experience what actual spontaneous labor feels like for others.
Infertility and This Birth Story
My doctor and I decided I just likely wouldn't dilate on my own. I can have every other symptom and be totally ready, but I just need help to dilate so I can actually have a baby.
After monsoon craziness and a really hard final month of pregnancy, we decided it was time to schedule an induction. I know that's a terrible thing to some people, but to a girl who needs medical help, it's heaven sent! Not to mention the planner in me has zero opposition. And the baby coming a few days early meant my husband could be there and not miss a big work project he needed to be at.
We went in on Sunday afternoon. With our first, our induction was pushed back several hours and we headed to brunch to try to pass the time. With this baby, we were called and asked if we'd like to come in early. WOULD WE! I told the charge nurse it's like Christmas had come!
We put our toddler down for a nap and explained grandma would be here when he woke up and what would happen. We'd told him the drill before, but this time it was for real. He happily went to bed while I finished packing the last few things, and off we went.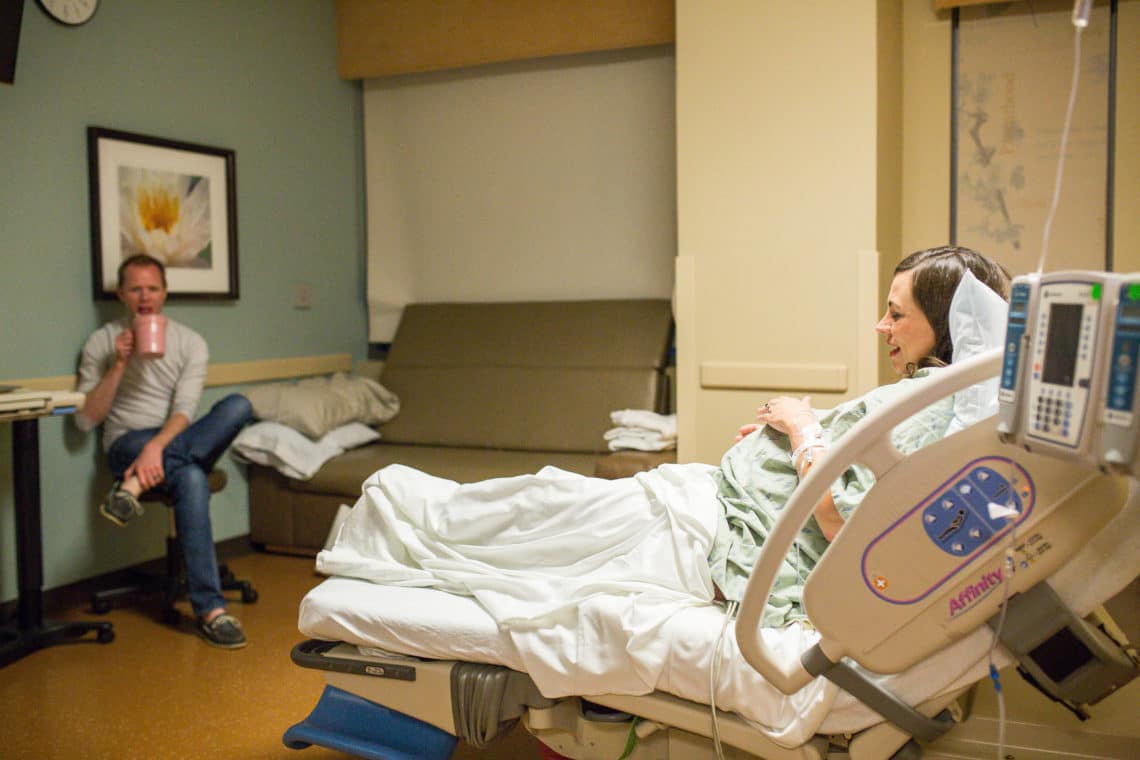 Hospital Arrival for Birth
I hobbled in with sciatic nerve pain that wouldn't let me walk on my right leg without shooting pain. I was queasy from what I'd ate and popped what I hoped would be my last Zofran for a long time, possibly forever. I hurt everywhere and I just kept thinking how excited I was for labor and to meet this little human!
Things went quickly when we registered and got into the labor and delivery room. I asked Jacob do something I did with our last baby: take one last picture of me as big as I'd get feeling like a whale in the hospital gown. I did this reluctantly last time, and I love that picture now. It's a reminder of the amazing things the human body can do! I wanted this baby documented too.
We had the most delightful nurse we were laughing and joking with. She started the misoprostol to see if they could get me to dilate. Things picked up quickly and everyone was hopeful we'd have a baby in a few hours! They even opted to not give a second dose like they had to with our first baby.
The Birth Story Shock
As her shift ended, and our new nurse came everyone was in shock things had slowed down and not picked up last minute. We decided to wait an hour and see where I was. I sent Jacob to find some food before Pitocin happened if it was going to happen. My hospital doesn't allow you to eat on Pitocin so we tried to fill up the best we could despite the fact I wasn't hungry.
I'll forever be grateful for that acai bowl! Had I known how much I needed it I would have had two! But I enjoyed the time with Jacob talking and going through scenarios. My family had a bet on times baby would arrive, with the latest being early the next morning. We joked that was absurd, and 5:00 am would mean over 12 hours of labor. My first was 11 hours and figured this little guy would come in the middle of the night just like his brother with a slightly shorter labor.
The nurse started Pitocin and my body sprang into action. We were all sure we'd have a baby before midnight, and we were so excited Chrissy made it to photograph the birth. Oh if only we'd known then the night we were in for!
Birth Story: Labor
My body had had so many regular contractions with the storms I knew what a hard strong contraction was. As they hit I decided not to make the mistake I made with my first labor. I asked for an epidural far earlier! They had to cut back the Pitocin to get my contractions to slow down enough to get one. I was grateful for the relief, and once again figured this would be just like my first labor and delivery.
The funny thing is babies aren't the same, and this labor and delivery were definitely different! The epidural did not instantly put me to sleep like the last one. I was feeling the relief but also knew my body was getting the workout of its lifetime! The contractions were a minute long, and happened every other minute. We kept checking sure I'd dilate any minute and have a baby.
The Birth Story: A Long Labor
But alas, each check yielded no more than a small dilation, if any. The nurse did everything she could to keep my body moving, and the contractions were so hard and so strong they kept having to adjust the Pitocin drip.
When it came 6:00 in the morning, the nurse came in after hours of no checking sure we'd be close. I hadn't dilated one bit since the middle of the night check, and my body was just going crazy with contractions like it had all night. I said a little prayer of thanks for the epidural. I don't know how I would have survived that night without it! I was exhausted and in shock that I'd been in labor for 14 hours, long past the time anyone had bet!
The Birth Story Low Point
As she prepared to leave my doctor came in to check on me. I had mentally lost it. The tears flowed.
I started crying and told Jacob I just wanted to have the baby and sleep. I wanted than to just get out of that bed. Low blood sugar is a real issue for me, I always keep snacks on hand. I was so hungry and emptied of any calories my body had. I was sure I'd worked off at least a couple pregnancy pounds- ha! But I was overwhelmed and felt like they were going to send me home for some reason.
My doctor checked and told them to keep me on the strong drip. I begged for food, he told me juice was okay. I've never been more thankful for apple juice in my life! My blood sugar was so low, and I could feel it rising within minutes of drinking it. I still felt defeated, and I still cried and cried when Jacob kept reassuring me I was doing this, I had it, it was going to end eventually!
Positive Birth Stories
The nurse change happened and the new nurse brought me a large glass of apple juice instead of the small half a cup container. She was hilarious, she was perky, she was positive. I could feel the change in the air of defeat by one person!
We also had Chrissy come into the room as we got close. She had slept in her car that night, and I can't tell you enough how amazing that girl is for doing that! She's also one of those bubbly positive people of the world who raises everyone's spirits! Between our amazing nurse and our amazing friend ready to capture the images, I felt a new sense of hope and faith that I could do this! These two meant the world to me, and I'll attribute their positive attitudes, Jacob's encouragement and love, and apple juice as the true MVPs that got me through what ended up being 18 hours of a very hard labor.
Patiently Waiting for a Miracle Baby Birth Story
The struggle of patiently waiting for this baby during delivery actually felt so symbolic. When you've been through infertility it's amazing how shocking it is to become a parent. This baby had a lot of struggle to keep him alive and growing when my body failed to make enough progesterone in the first trimester. This baby also felt like he wasn't going to happen without IVF after a long wait.
We prayed for him. We wanted him so badly. We'd been through a miscarriage and watched that due date come and go without a new pregnancy. And as I cried and plead to God to give me another baby, and we prepared to start the IVF screenings when Jacob returned from working abroad, he just came. We blinked and discovered a miracle pregnancy had just happened. I kept the IVF screening to make sure this pregnancy was real and monitored and I"ll forever be glad I did. It saved him.
But we waited and waited and hoped for a rainbow baby. And then we blinked and he seemed to be here.
His birth was almost exactly the same. Toil and tears and pain and prayers, and then suddenly, a miracle baby.
Birth Story: The Baby Arrives
When we were at almost 17 hours I felt a lot of pressure, and I knew what that meant. My nurse was trying to juggle two labors happening at the same time. She came in and checked and made me laugh hard joking about a head of hair and a baby who was coming. And she had great news- I was finally dilating!
She left and came back a few minutes later to tell me I was there. I was at a nine, and they were calling the doctor.
I was laughing at this point because I had an appointment to come to the office just in case my induction didn't get me in as scheduled, and he got to come to deliver the baby the same time. It just moved the appointment over to the hospital!
Our first child had a relatively short labor, and an hour of pushing that was really hard on my body. Kempton didn't want to come out and held on for almost an entire day and night, but the pushing was something so quick and amazing to experience!
I had to change doctors for this baby, my first doctor I adored but she quit delivering babies this year. I wasn't sure how this new doctor would be, but I'd heard great things. He's so experienced and so calm it's really amazing to see him in action! He stepped right in ready to go. He coached me on how to push and timing. I felt so ready for it this time, unlike my first.

A Hard Labor, and Easy Delivery
I pushed three times during contractions. I stayed focused and tried to do just how he coached. And to my surprise, in only 10 minutes there was a crying baby on my chest. There it was, the miracle so easily with an easy delivery after a hard labor.
He had amazing alertness, amazing muscle tone, and was perfect in every way. The one thing in his birth story that is like my first baby was the moment I held him and started talking to him, I swear he smiled at me. It was like a moment of sheer joy that we've finally met and we survived a hard pregnancy and labor together.

Birth Stats
Kempton was a half ounce shy of 8 lbs, and they decided to round up and give it to him!
He was 20 3/4 inches, just shy of tying big brother for the same height.
And we knew it was nothing shy of a miracle he was! He name means fighter, and we gave it intentionally knowing the fight we had to have a pregnancy. It was a fight to keep the pregnancy. It was a fight every day to stay afloat with morning sickness and pain.
And just like that, the fighting was all worthwhile.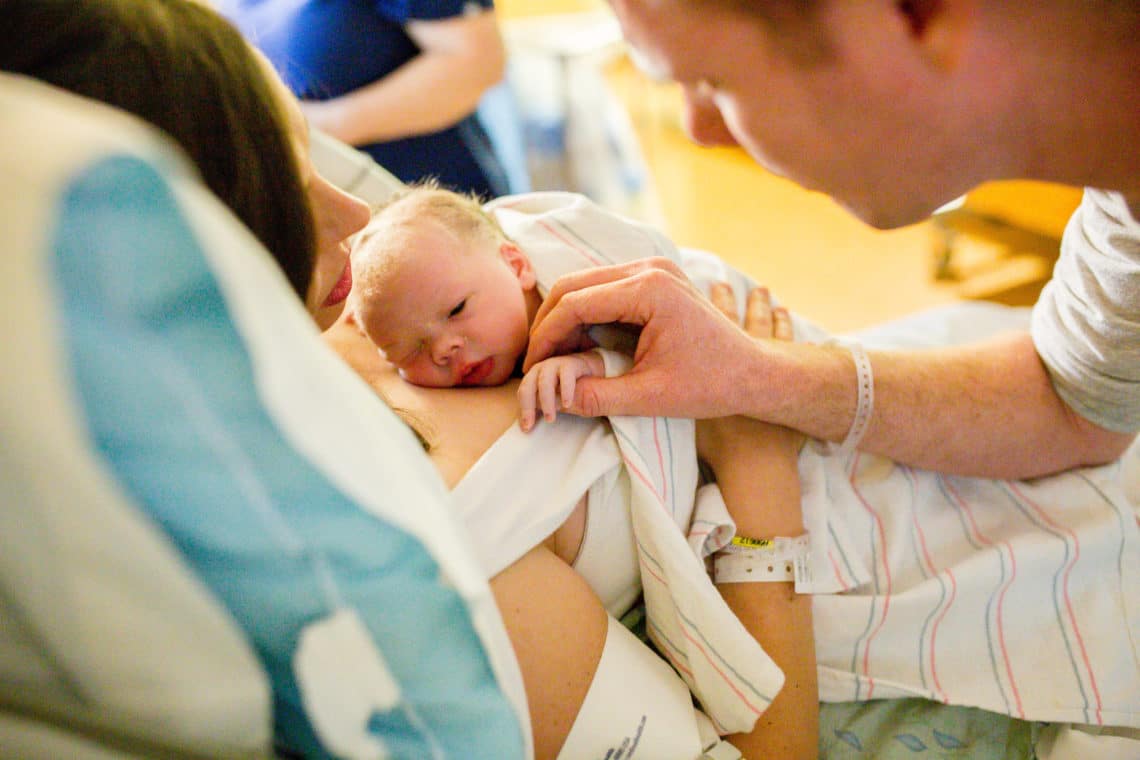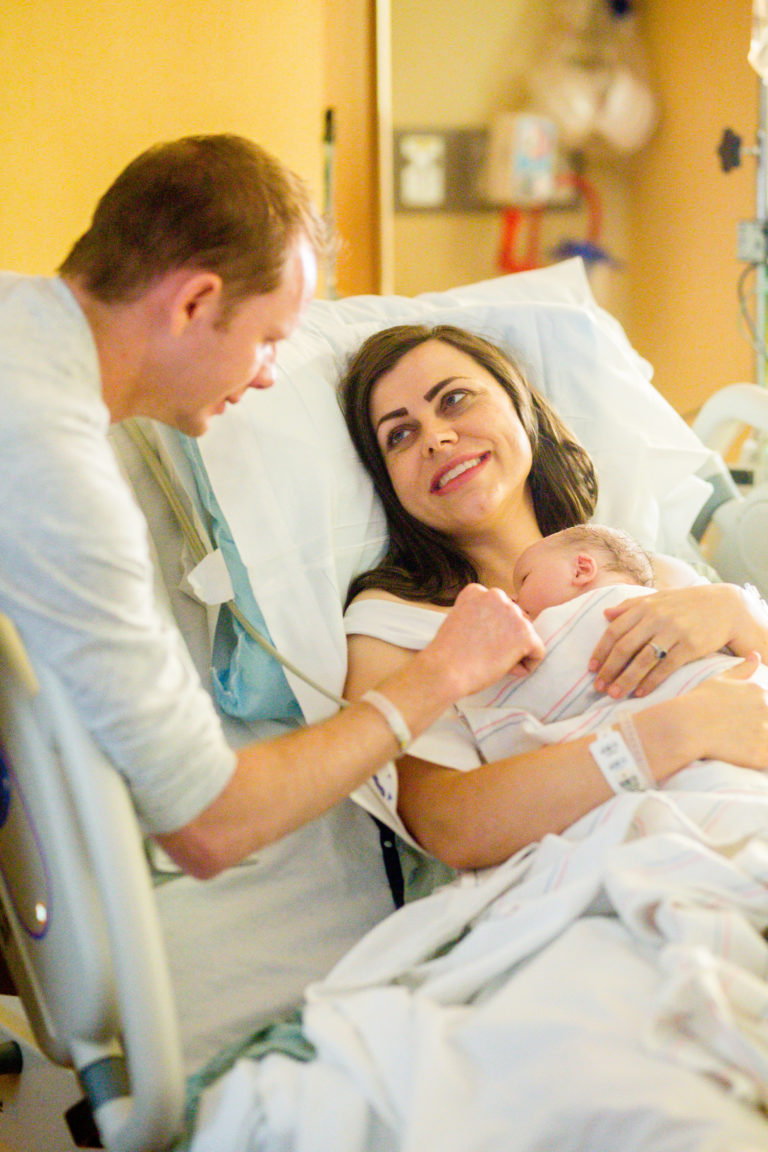 Like this birth story? You may like these posts too:
Naming a Baby: A Task We Don't Take Lightly: Baby #2 Name Reveal
Preparing for New Baby's Visitors
Get 365 Date Ideas!
We want to help you have the best date nights ever! Grab this FREE printable with 365 date ideas, a date for every day of the year so you never run out of ideas!