Birthday Play and Lots of Sweaters
Date Info: 
Mesa Arts Center Play 
Price: $25-$80 per ticket (look on deal sites, that's how we found ours) 
Location: Downtown Mesa 
 The end of January brings my birthday, and I kind of love that Jacob takes a lot of initiative to plan something great and surprise me. 
A few weeks before my sister informed me of a monster truck event in Phoenix the weekend of my birthday. I sent the link to Jacob instantly as a joke, and then immediately after was like- WAIT, that would be awesome! There were some great concerts, great plays, and other great events this weekend. Jacob asked if I really wanted to pick or if he should surprise me. I told him surprises were the best! I also told coworkers about this plan, and while many were routing for monster trucks, one of my male coworkers made the comment, "I know you like doing all kinds of things, but for your birthday I would definitely think you're a nice dinner and a play kind of girl." 
He nailed it, That's what Jacob had in mind too! 
I went to get dressed for the night and Jacob told me to go "kind of nice but not too fancy." I was baffled, he could be setting me up for monster trucks overdressed or a dressy night slightly dressed down. I kept grabbing a few options to get his thoughts, and when I finally said, "How about my fancy floral sweater and a skirt?" He told me he thought it was perfect. This detail is important friends, stay with me.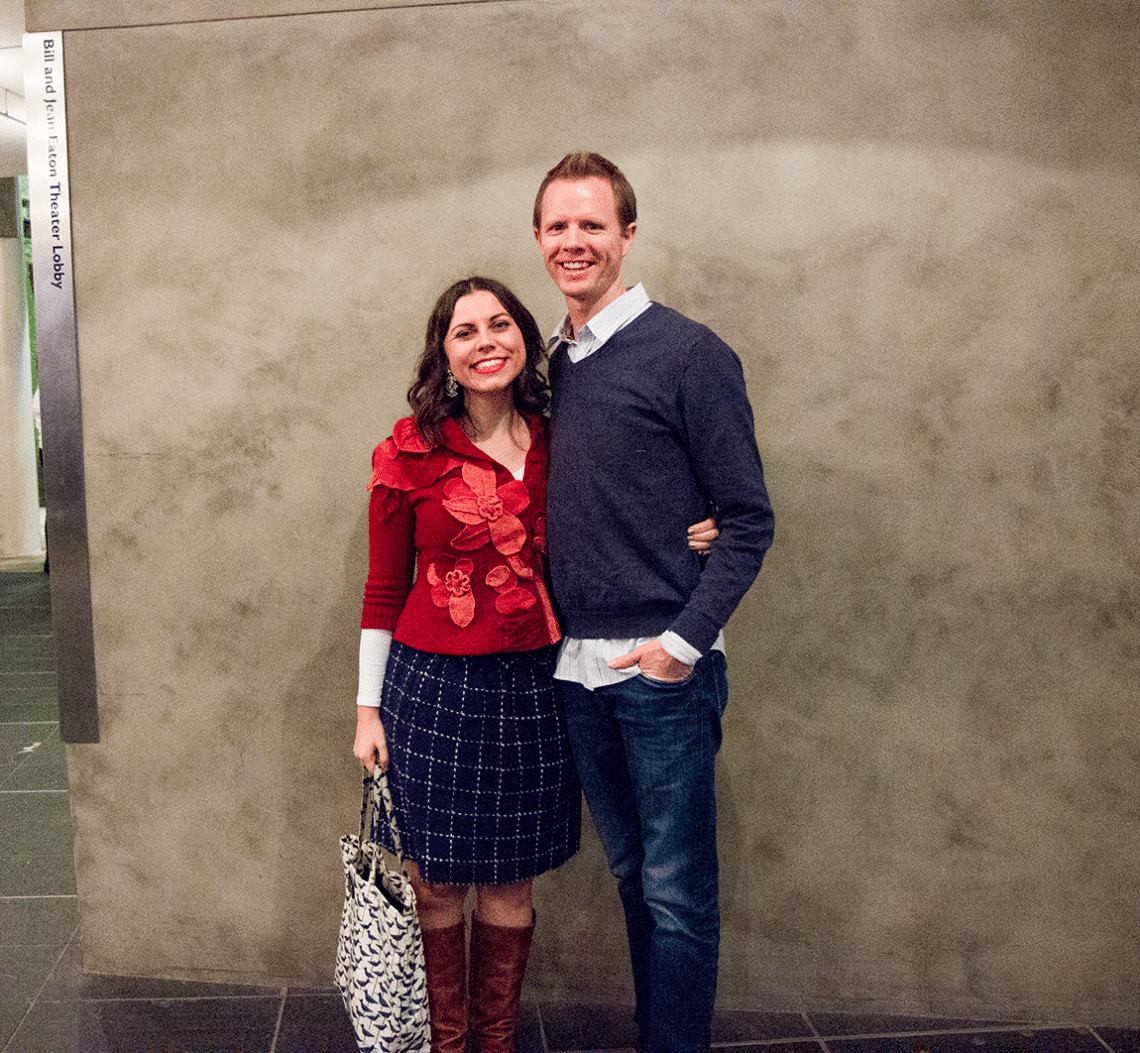 So we went to dinner and he drove around to confuse me a little, then we stopped at The Mesa Arts Center and he pulled out tickets letting me know he'd got an incredible deal on killer seats to see Camelot. Due to the Super Bowl in AZ some venues had been moved around to accommodate other entertainment and consequently tickets were found so cheap that Jacob couldn't justify spending four times as much on monster trucks. I was fine, happy even, I love plays, I love great deals, and I love that guy for always finding awesome things to do on a budget.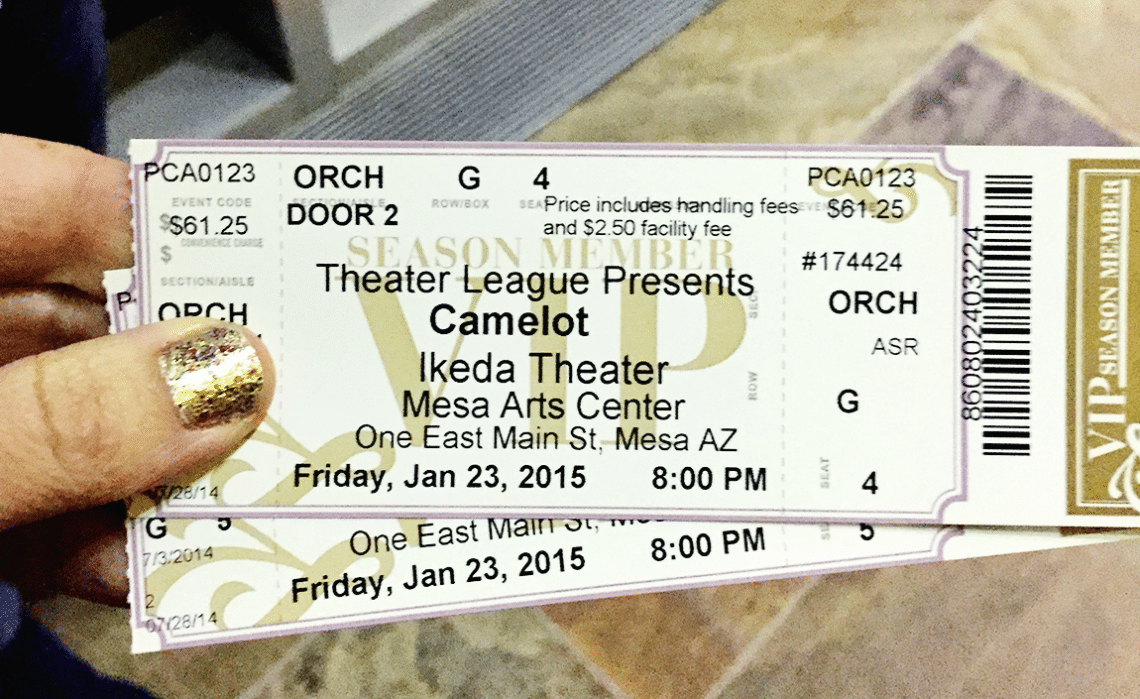 The play was excellent, but I think more interesting is the sweaters element. I really needed to use the bathroom after dinner and waited until we got to the venue. I went in, used the restroom, and once I knew it was a nicer date I decided to pull out red lipstick. I was applying a bright red lipstick to match my red sweater when I looked over to see a woman about 70 years old in a pink eccentric sweater covered with large multi-colored sequins and an embroidered collar, also applying lipstick. She was applying a bright pink that matched her sweater perfectly. I turned back to my own reflection and smiled. I felt like I got a peek of myself in my 70's. It was hilarious we both had on bright sweaters applying matching lipstick.
I left the restroom and told Jacob about my funny incident and thanked him for helping me pick the right outfit, apparently eccentric sweaters and matching lipstick were perfect for a night at the theater.
We walked in to take our seats to find a pattern, the bathroom was only a small microcosm of the evening- it seemed all the women had bright sweaters or jackets and a coordinating lipstick in their ensemble. The three that came and sat by us were no exception!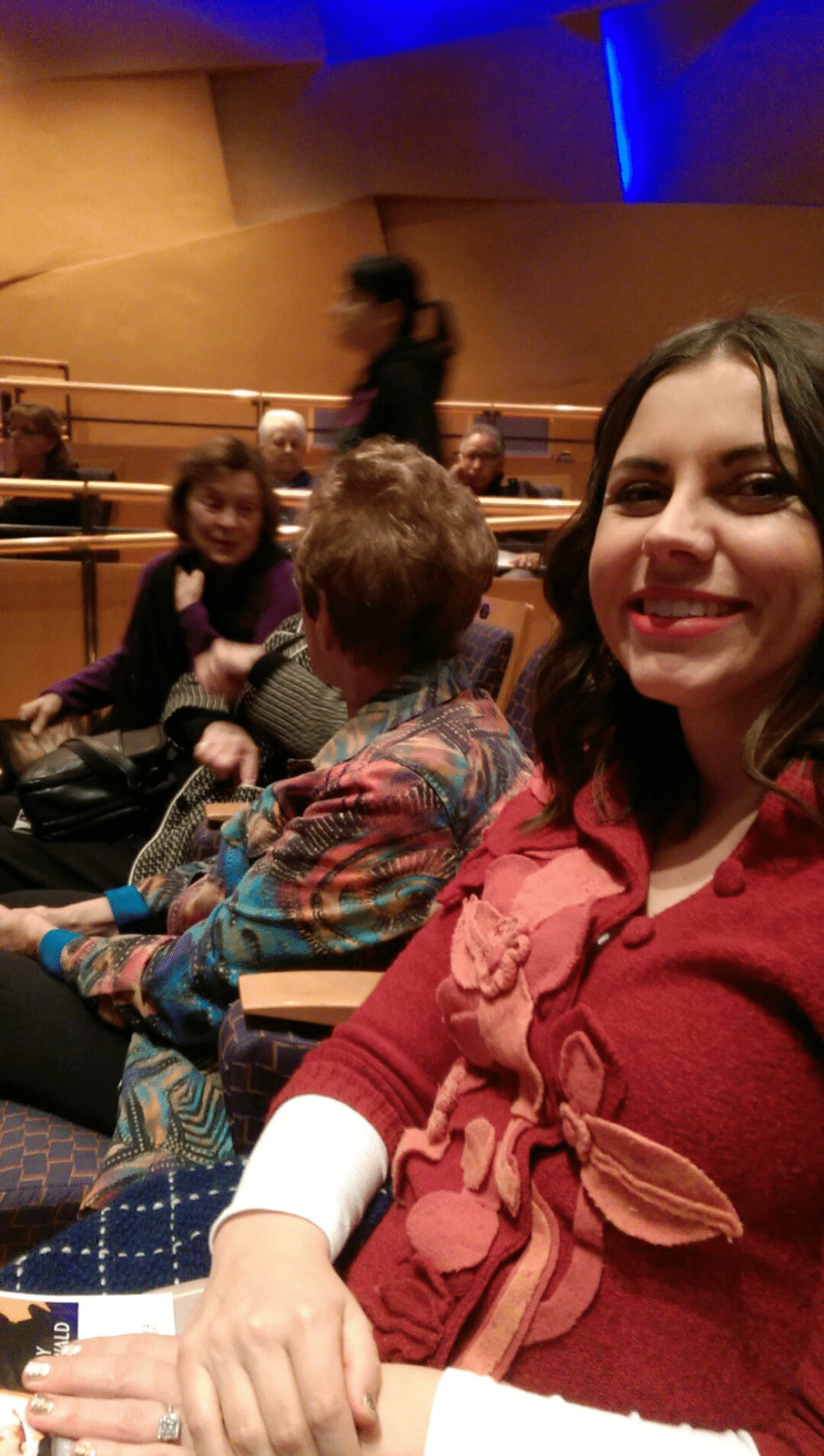 We thought it would be funny to snap a few random shots of some of the women to prove our point. Sending texts of images at intermission has never been so funny!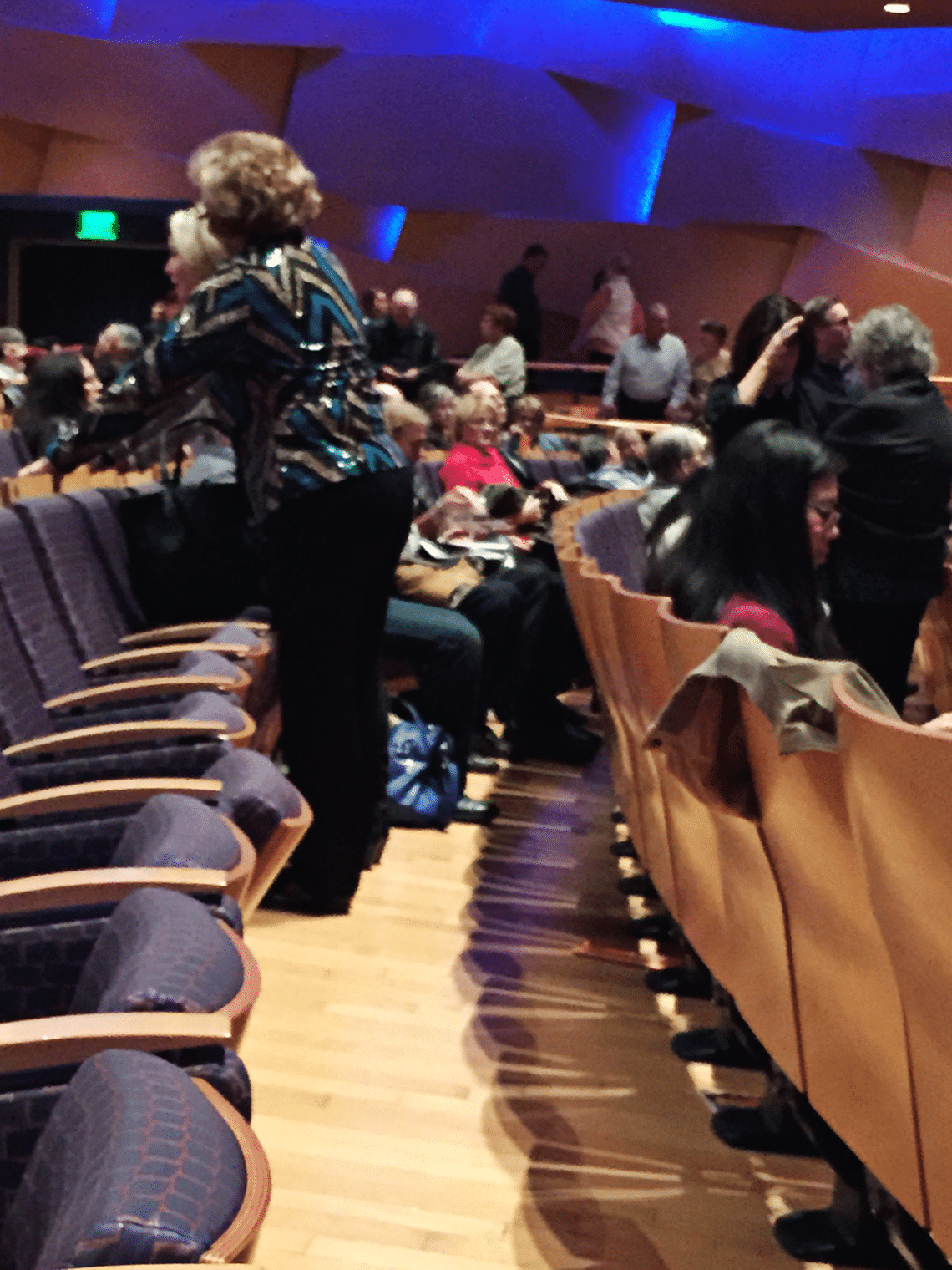 Nor has snapping a date selfie on your phone. Even that proved to have women full of eccentric sweaters.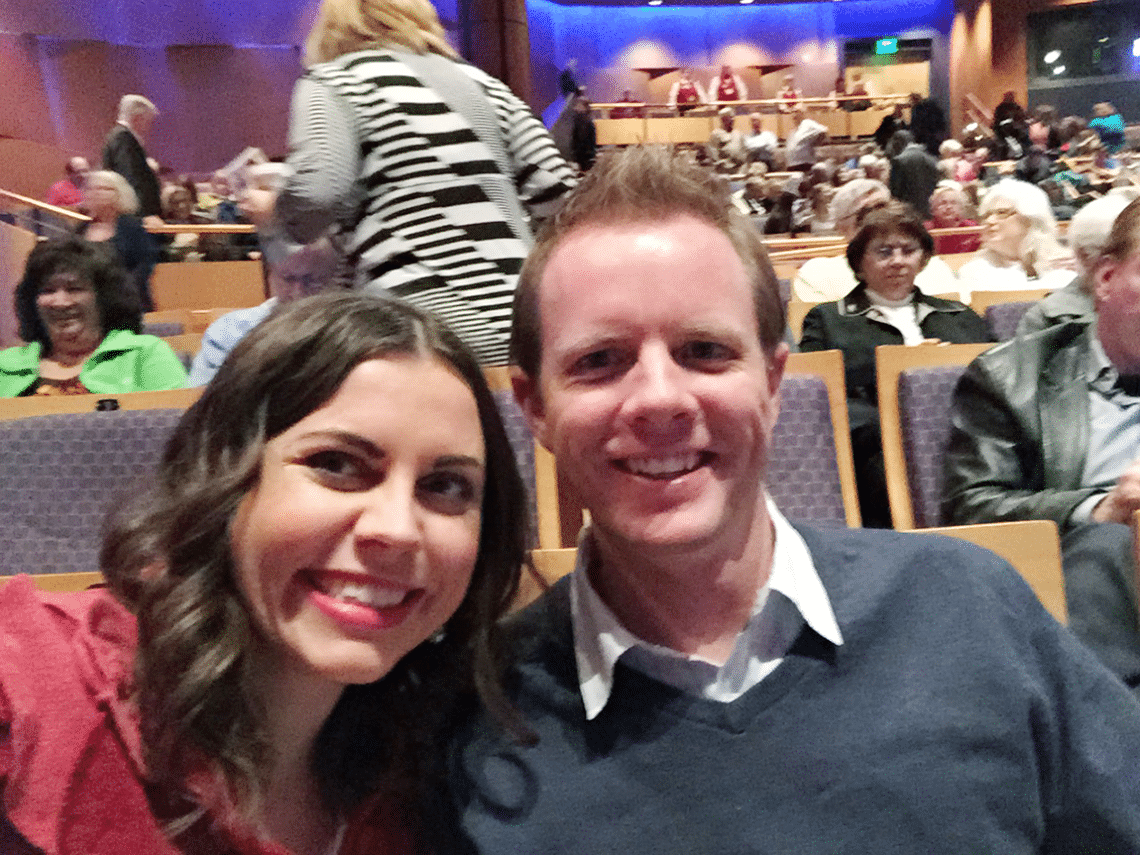 Aside from a classy and wonderful play, I'm glad we always find some extra fun on our dates. I'm happy we fit so well with the mature theater-going audiences. I'm also glad to know there will be other monster truck rallies.
Get 365 Date Ideas!
We want to help you have the best date nights ever! Grab this FREE printable with 365 date ideas, a date for every day of the year so you never run out of ideas!