Bodies the Exhibition and LGO Date Night

Date Info: Bodies the Exhibition

Price: Around $30 a person, but you can often find a BYGO free

Location: Science and Event Centers- traveling exhibit
Website: Bodies The Exhibition
When Groupon did a buy one get one free, we knew that seeing Bodies The Exhibition was a must for a date night! We've both seen it before, thought it would be gross, but ended up loving it, learning a ton, and wanting to learn more. We thought sharing this date together to make it positive would be awesome, since the first time we saw it we were both on bad dates. It was really cool to spend some time listening to our headphones and looking at all the exhibits. We loved the fetal development section, it's so fascinating to see how life is formed and what a miracle it is! I think even if you think this grosses you out it's a big MUST do in life! Check out their website to see when they are in your town, the info on why this isn't a scandal (all bodies are donated to science), and learn something about the human body!
They don't let you take pictures in the exhibit, so here we are after standing happily in front of the Arizona Science Center Sign.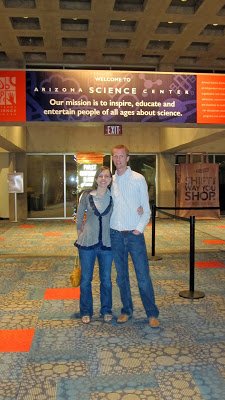 Aside from it being cool and learning so much, we laughed our heads off at the signing book at the end asking for people to record their thoughts. Most write how amazing it is or what they learned, but our favorite stated, "Abortion is sin- HE WILL SMITE YOU!" That's probably someone who should have read the website about donations to science.
And nothing puts you in the mood for amazing food like plasticized bodies! Err…maybe not, but it was late and we were hungry!
One of the places in Phoenix that all the hipster-type trendy people love to hit is Le
Grande
Orange. We went on one of our first dates here for lunch but weren't super impressed. Everyone told us we ordered the wrong food- sandwiches are a no, pizza and salad are the big things. We opted to give it a try again when in the area!
We had a good time in our 40-minute wait taking pics.
We also had a good time people-watching. I mean the rich, the famous, the wannabes swarm this place. It's healthy, and natural, and the food truly is amazing (just get the pizza).
We had a great time making up what everyone did for a living, why they were there and analyzing how their dates were going. Our best spotting: two elderly women with two middle-aged men who were dressed to the hilt like trendy 20-somethings (studded jeans, tight embroidered shirts, the works). It looked like a double date but both women had rings, both men did not. Our story: male escorts. There was no other explanation!
In addition to laughing about this and the irony of running into some girlfriends who had just recommended we go back and try the pizza and the to-die-for red velvet cake, we talked about the madness of Charlie Sheen and Jacob could not believe I hadn't seen the 20/20 interview.
Naturally, we got the amazing cake to go- side note, I hate red food coloring, I can taste it for some reason, and thus hate red velvet cake. But, my friend Catherine was right, it is amazing! You go
LGO
, way to make something gross and amazing!
So we ordered this to go: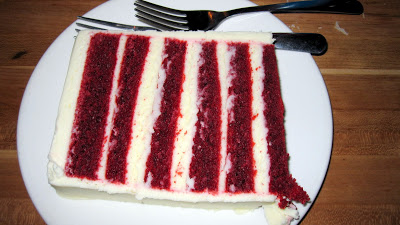 I think we both agreed this was one of the funniest, most educational, entertaining, dates we have ever been on!
Get 365 Date Ideas!
We want to help you have the best date nights ever! Grab this FREE printable with 365 date ideas, a date for every day of the year so you never run out of ideas!