Bonfire and Grilled Pizza
After some quality alone time on last week's date we decided it was time to get a group together. When Camille's parent's told us they would be out of town for the weekend we knew that their newly remodeled home with one amazing kitchen, grilling station, and fire pit needed some attention. Yes, it still feels sketchy to send a text that says, "My parents are out of town, want to come over to their place for a date?"
We started with one of our favorite dinners- grilled pizza. If you haven't tried it you need to. Seriously, right now put it on you list of things to do this week. It's so easy and will change the way you see pizza! Just make your normal dough, roll out thin crust personal pan pizzas, place directly on the grill (no oil needed) and flip when you start to see bubbles. Place toppings on immediately after the flip and give about 3 minutes for all toppings to bake on there with the grill closed. It won't disappoint, guaranteed.
We had a feast of pizzas and garlic cheese bread. I don't recommend the garlic bread for a first date, but we have a garlic deal- we can do it, but we have to do it together. And oh how we enjoy the bread!
And have we mentioned we have good-looking, smart, funny, talented friends? I don't know how we tricked these cool people into hanging out with us, but we definitely enjoyed their company for dinner.
PS- isn't that guy on the right super hot with his new b-day shirt that matches his eyes perfectly???
After dinner it was time to get down to business and build a fire. Having at least 2 members of your party from small towns in the mountains pays off, it was one awesome fire!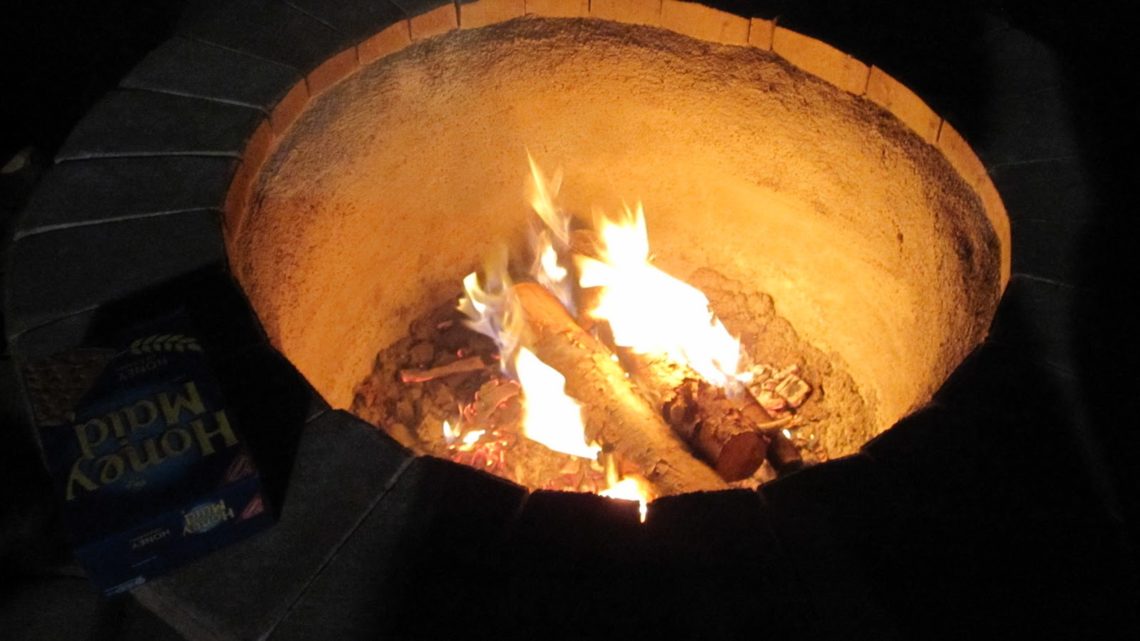 This was the night we realized a tripod for Christmas would be a great gift. Propping your camera up on a twig doesn't work well. Particularly when on auto setting and it catches the twig perfectly.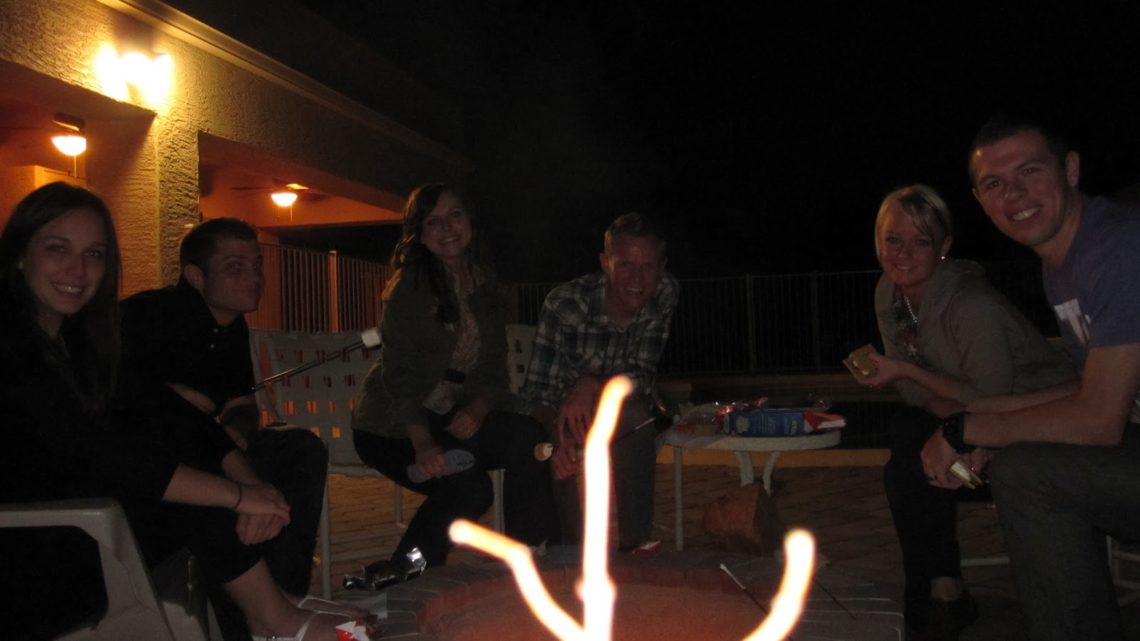 But we finally figured it out and got a couple somewhat decent shots. Roasting s'mores is something that always seems fun and delicious, so long as you have the fire to back it up. It's even better when your friend works for Hersheys and brings lots of chocolate. And triple awesome when you have funny people to roast your mallows with.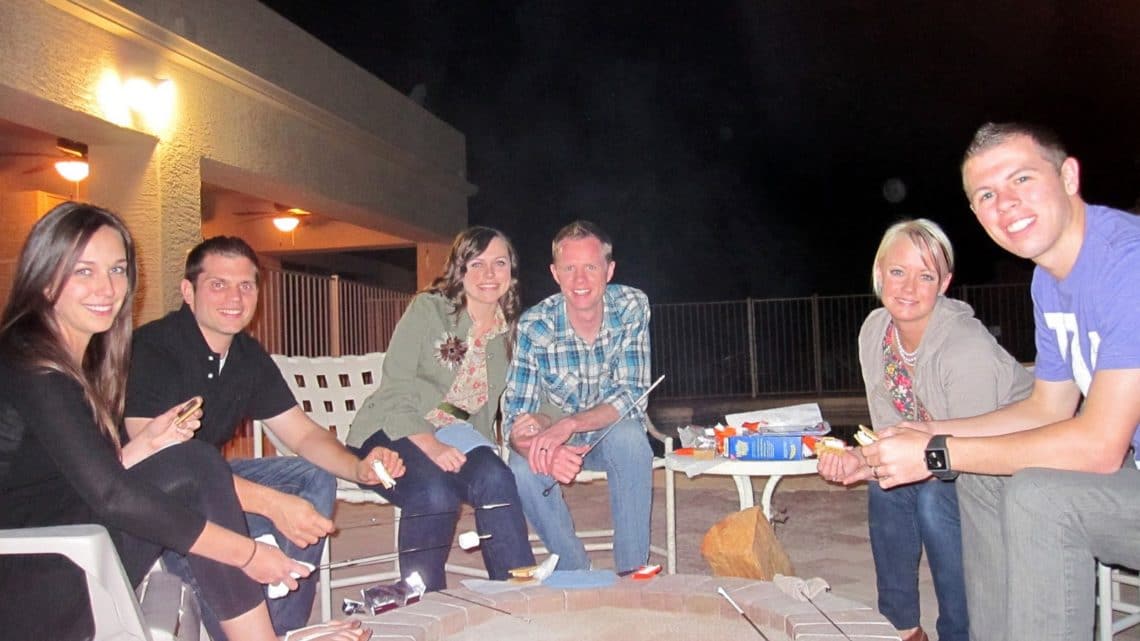 And BTW have you had a Reeses peanut butter cup instead of chocolate in your s'more? If not, you are missing out! Our lives will likely never be the same again! This was probably the world's most delicious s'more and a secret and date we just couldn't keep to ourselves!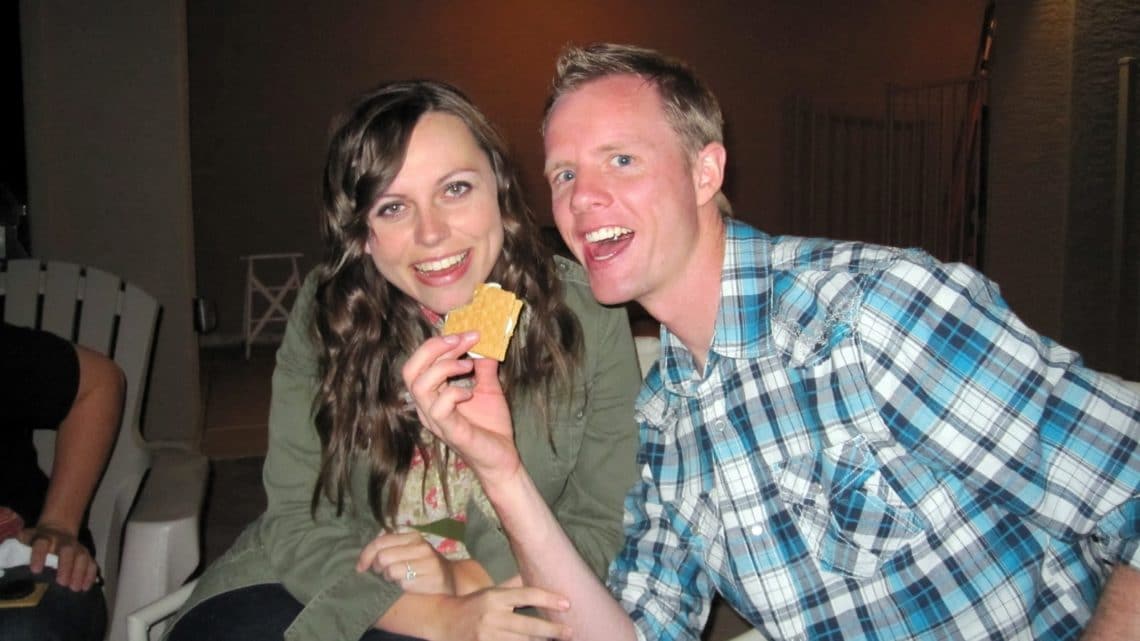 Get 365 Date Ideas!
We want to help you have the best date nights ever! Grab this FREE printable with 365 date ideas, a date for every day of the year so you never run out of ideas!