BYOB Painting Class: Matisse's Room at the Beau-Rivage
Date Info: 
Art of Merlot- BYOB Painting Class
Price: $45 per person- but we wait for the quarterly Groupon for BOGO Free.
Location: Scottsdale, Arizona
We're still thrilled about baby Whiting, but we had a very real conversation this week about he has kind of taken over more aspects of our lives than we think he should at this point, and that he's been the focus of this blog the past two weeks. It's a big deal years in the making, but at the end of the day we still feel like our marriage is #1, going out once a week is still our main goal, and we were ready to make sure there were many conversations, activities, and blog posts about more than just our little guy on the way. I'm still going to do a few more posts a regular update, and obviously as our lives change we'll change some too. However, we are still a lifestyle blog focusing on dates and fun activities and memories, and boy does it feel good to jump back into that!
I don't want to say we've been in a dating funk, I think we've still dated a lot lately, but we realized that most of our dating has been either been going on double or group dates, traveling, or grabbing a quick routine dinner out and heading home early to go to sleep after a long week and a very tired pregnant lady. I believe there are times to take it easy, and weekends where you really do just need some extra sleep. I believe in double dates and group dates, they are tons of fun and totally energize me! But, at the end of the day, I think we've found the best formula is to make sure the majority of date nights take place just the two of you, with a fun activity or exciting new place to eat.
When a Groupon showed up recently for our favorite date, and most repeated date, we knew it was just what the doctor ordered to get us out together having a very intentional date night with quality one-on-one time together. And with that, a BYOB painting class at Art of Merlot was booked!
We painted Henry Matisse's "My Room at the Beau-Rivage" which was full of detail and impressionism, just the way we like it!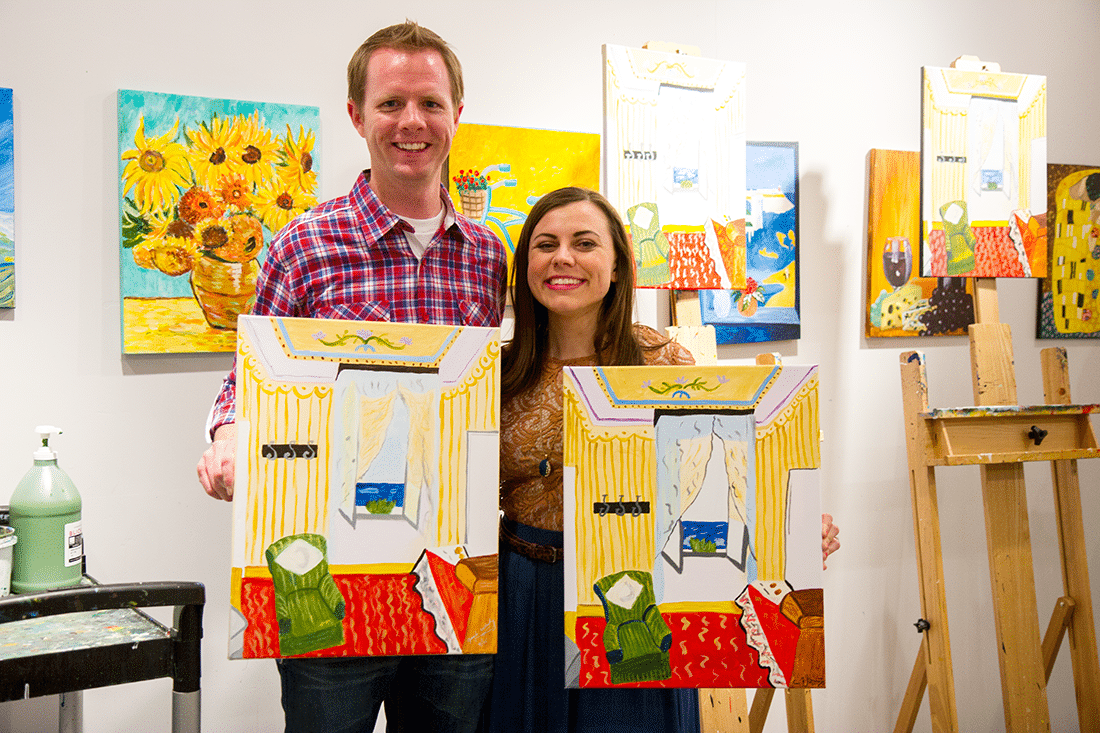 These classes include a template penciled on a canvas and step-by-step instructions of how to mix colors, what sections to paint in what order, and some free interpretation too so no two paintings are exactly alike!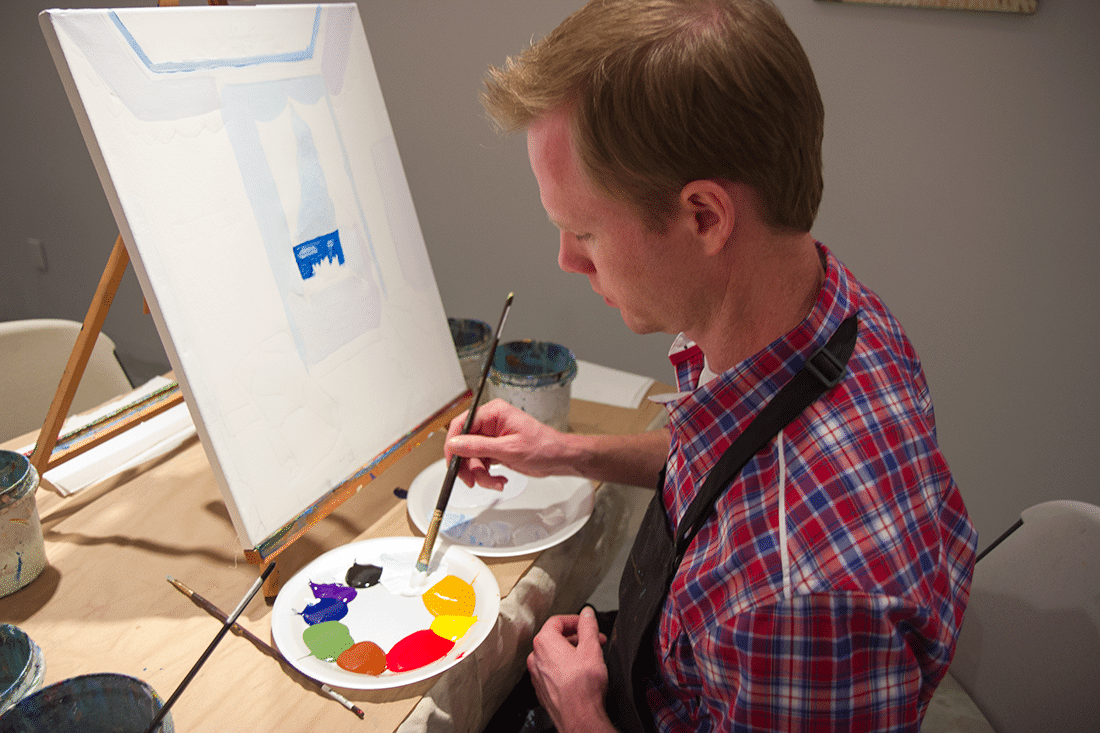 The more we paint the more freedom we feel to try our own thing, stop and laugh at the paint on our hands and arms, and taking our own breaks to snap pictures and just talk. I was having the worst pregnancy day I've had so far, and the lovely distraction of a class and my favorite guy cracking me up the whole time was just what I needed! Maybe that and the huge burrito he bought me before the class, that may have helped me feel better too!
Whatever the cause, we both walked out to the car holding our shiny new paintings and remarked how this date was just what we needed. And, once again, we reminded ourselves that it is still the best part of our week, still the thing we look forward to the most, and still the thing we're always going to do no matter what stage of life we are in.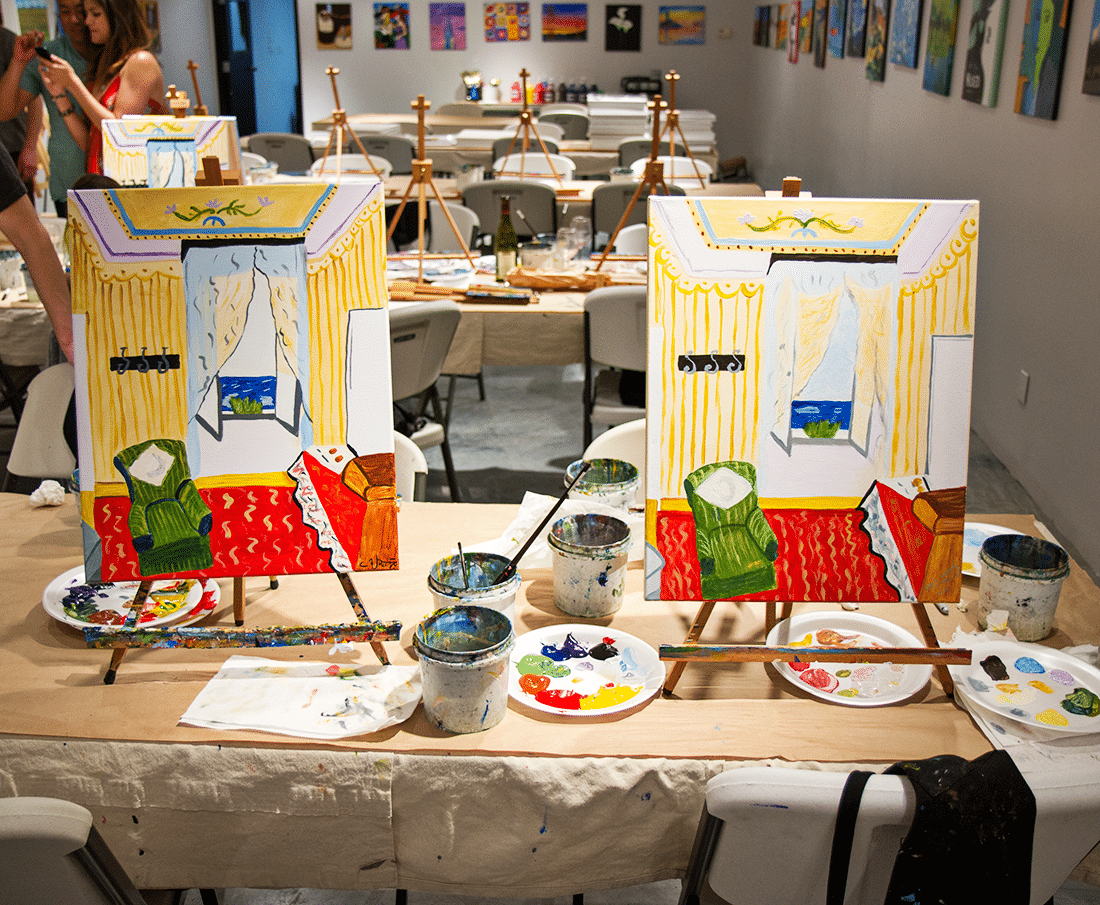 Get 365 Date Ideas!
We want to help you have the best date nights ever! Grab this FREE printable with 365 date ideas, a date for every day of the year so you never run out of ideas!