Casual Date Night Looks + The Perfect Gift for The Busiest People in Your Life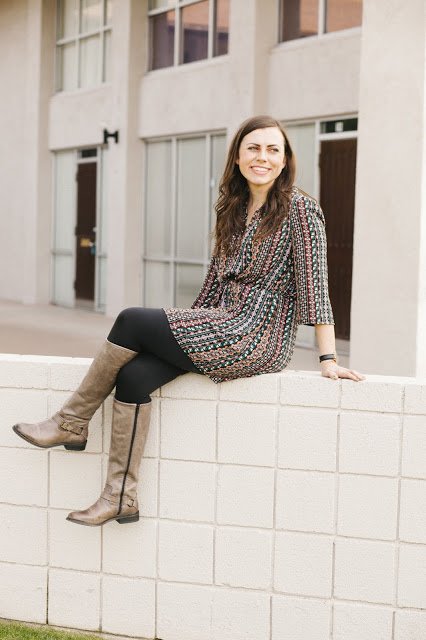 Ever since I was a teenager, shopping and fashion have evolved around Friday and my weekend plans. I guess my awkward teen self somehow knew this would one day be my job and I was prepping for the constant need to dress for date night! But in all seriousness, I did always think through what I wanted to wear on Friday, for my weekend plans, and when I'd be at social outings or dates, and I bought clothes for those purposes. I even saved my favorite pieces or new items for Friday so I could feel extra great that day. What can I say, it's always been the favorite day of the week for me. As an adult most of my "date night" wardrobe has been repurposed for the office attire, for mom life, and for everyday wear after it's made its debut as a date night look.
A few months ago I talked to my sister who asked me why I don't offer more ideas for date night fashion specifically here on the blog. She let me know as a fashion-blog consumer she feels like she just doesn't see enough of it and it's something that fits well with what we're already doing and sharing. I've thought about that a lot, and I've been planning to share a more fashion around here and give date night look ideas to help people get dressed for the fun outings in their life.
I've been getting more serious about this on Pinterest too! If you aren't following me over there, you should! I've been pinning a lot of casual date night fashion inspiration, dressy/romantic date night fashion inspiration, and even men's date night looks too!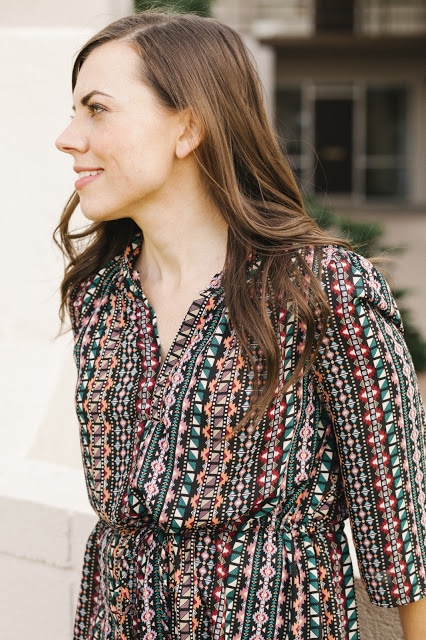 As I was feeling this inspiration to share more date night fashion, Stitch Fix reached out and asked if I'd like to try a box this December at a discounted rate. I was feeling the pain points of needing some fun new date night shirts, and they've been so good to me in the past when I just needed a few unique maternity pieces, when I didn't know what to wear as a nursing mom, when my body was a weird in-between size postpartum, and when I've just been too busy to shop for myself, and figured this was a great time to try them again!
My favorite part of Stitch Fix is that you can be as specific as you want. You can tell them you only want dress options for a holiday party, and a stylist will send five piece tailored to your taste and preferences you fill out in your style profile that you fill out when you register. They really do their research too asking about Pinterest boards and style/color/price preferences. This time I told them I wanted date night tops, specifically more fun ones I can dress up or dress down, or casual tops with unique elements for the casual dates and mom life I'll balance this holiday season, and oh boy they delivered! I love that this stylist read my blog for a lot of recent dates to get a feel for my style and new trends she thought I would love to try for upcoming dates, and I was so pleased with all the selections!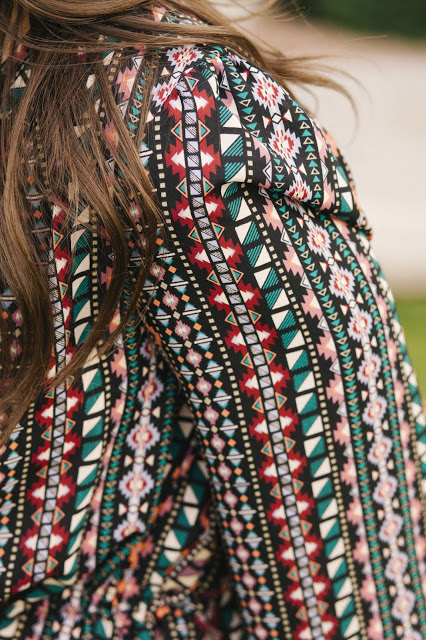 Look #1 included this fun geometric tunic they sent my way. I love the bright colors, the flattering cut, and if nursing friendly was still a must, it would work too!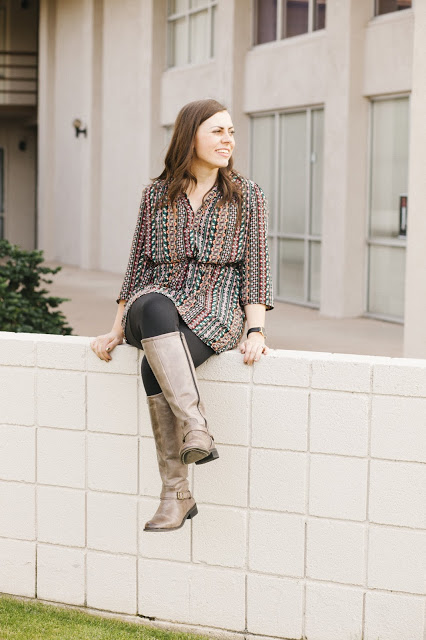 This outfit would be perfect for a casual dinner, dinner with friends, holiday shopping, or a fun night in baking Christmas treats.
Look #2 went with a more casual and cozy vibe, and one that really made the classic sweatshirt fun and cute for a casual date night out or a mom and me date.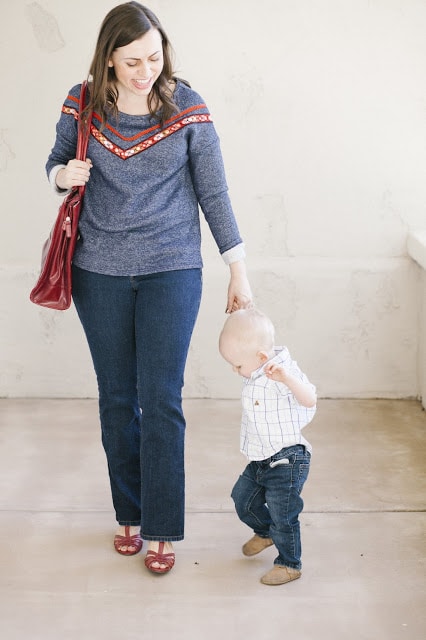 I love embellished anything, and the fun details on this sweatshirt made it go with jeans and comfortable shoes effortlessly while still looking polished.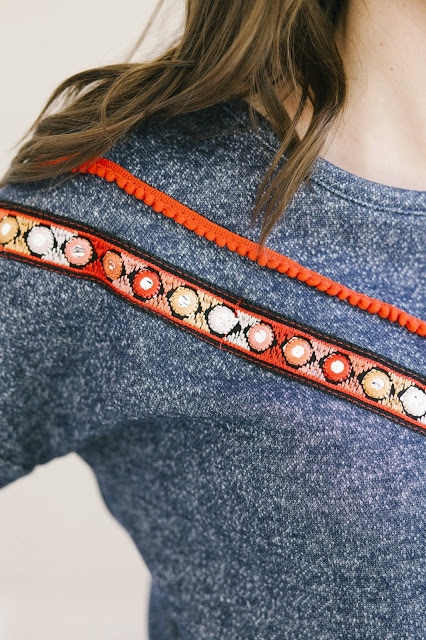 I'd wear this one to the movies, putting up the Christmas tree, wrapping presents, after a day of skiing or another outdoor winter date, or to enjoy some hot chocolate together snuggled up by the fire.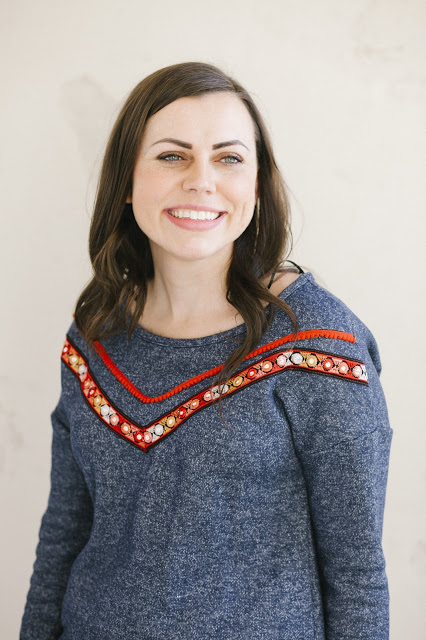 Look #3 involves the most comfortable and fun and sweater that's ever touched my skin! I'm a sucker for navy, I'm a sucker for dots, and I love that this one had those fun details with contrasting sleeves for even more fun ways to style it.
I paired it with some subtle pattern mixing with a striped skirt, some comfortable boots, and my current favorite necklace and watch from Daniel Wellington (which are doing 15% off with code WEREINLOVE right now)!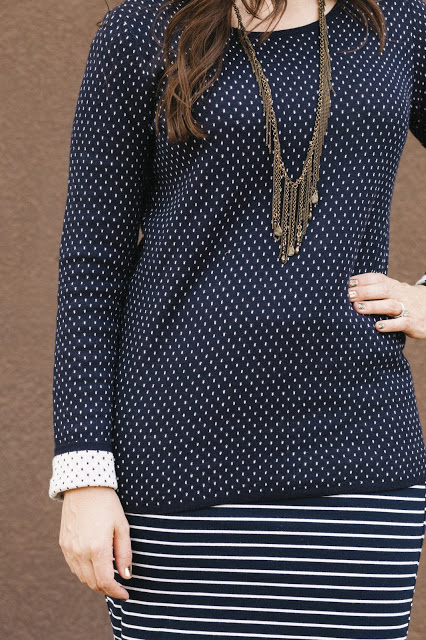 This one is perfect for a date to go see Christmas lights, for a casual Christmas play, or a neighborhood or church holiday party.
I can't wait to share my dressy date night looks later this week! Stitch Fix was such a great idea to help me feel more stylish, to do something for myself, and to think outside of the box with date night looks this winter.
If you know a busy woman (or man, they do men's fixes too!) in your life, you should think about giving a Stitch Fix gift card this holiday season. It's something they are guaranteed to love, and it fits anyone who needs to get dressed with tailored items for them to try with no obligation to buy! And if you want to buy it for yourself as a gift, I'd totally recommend that too!
Okay friends, I usually let myself keep 1-2 pieces. Let me know in the comments, what's your favorite look?
*This post contains affiliate links which means I may make a small commission if you buy something from of the links referenced in this post.
Get 365 Date Ideas!
We want to help you have the best date nights ever! Grab this FREE printable with 365 date ideas, a date for every day of the year so you never run out of ideas!