There's something so magical about Christmas Eve. Particularly when you look at the tree with all presents (finally) wrapped and stockings full. No matter how old I get I still think the sight of Santa having visited your house and all items remaining untouched is the most magical thing in the world.
This was kind of an unusual year for us, Jacob woke up feeling as sick as could be. He decided he was going to head to urgent care. He didn't want me to drive him, so I went for a run instead. I was already in my clothes ready to run when he woke up, and he insisted I do. He came back just as I finished my run to let me know they were all closed, even if their websites said otherwise. I let him know we could postpone Chirstmas for a day if needs be. He told me no way, and that he'd sleep another hour and be fine. So, our pictures this year are kind of funny to me because I had time to shower, get ready, clean a little, and take pictures of presents and the tree while he slept. The poor guy is so sick and right out of bed in these pictures. What a trooper for still making it through Christmas Day! It just cracks me up that I'm ready for the day and he's ready to go back to bed.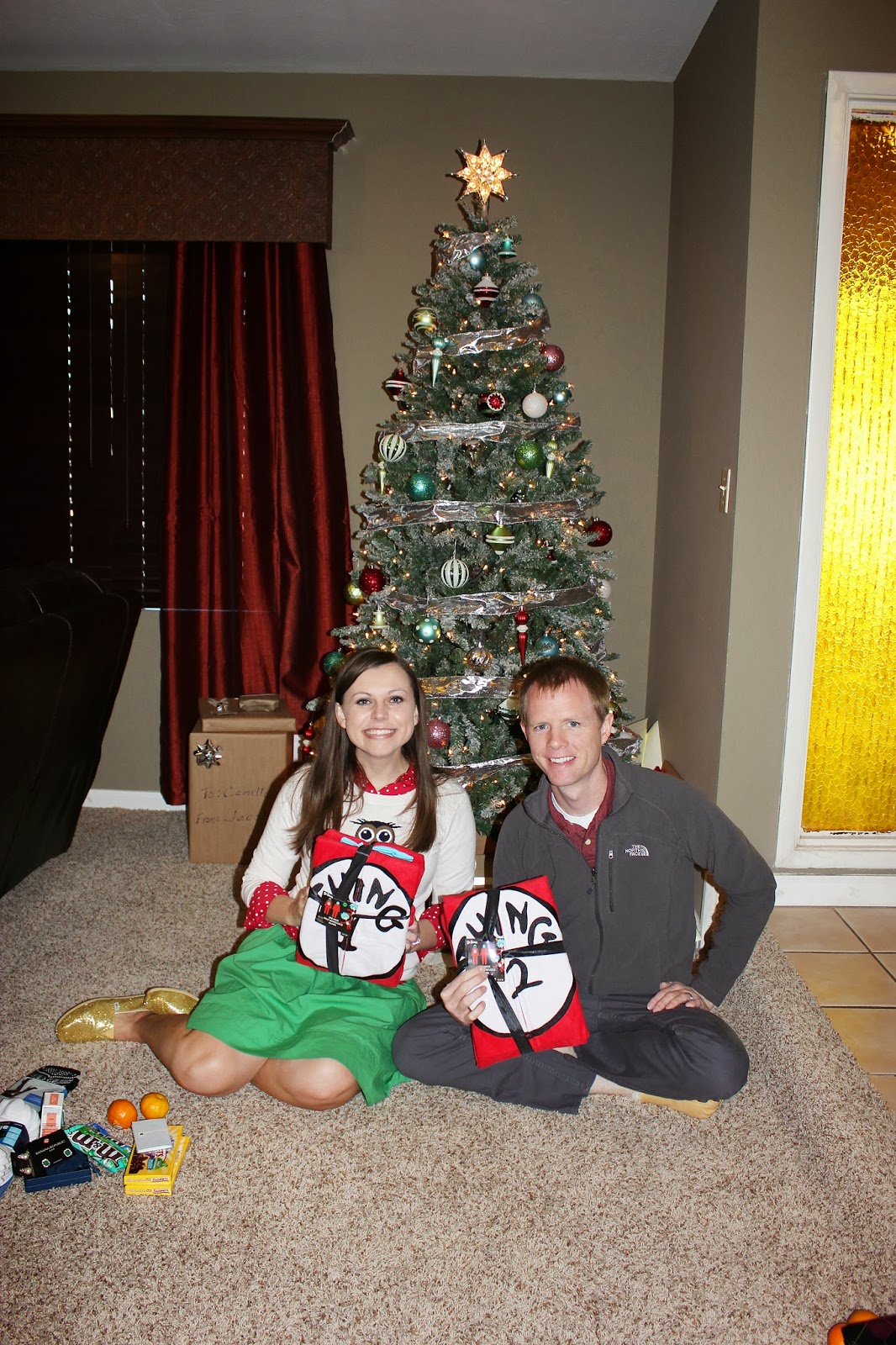 We had so much fun
wearing footed pajamas last year
we decided to try funny pajamas again! However, Jacob just didn't feel like changing until after we opened presents. No worries, my family had a good laugh when we headed over to the parent's house. I was also able to snap a pic before we left!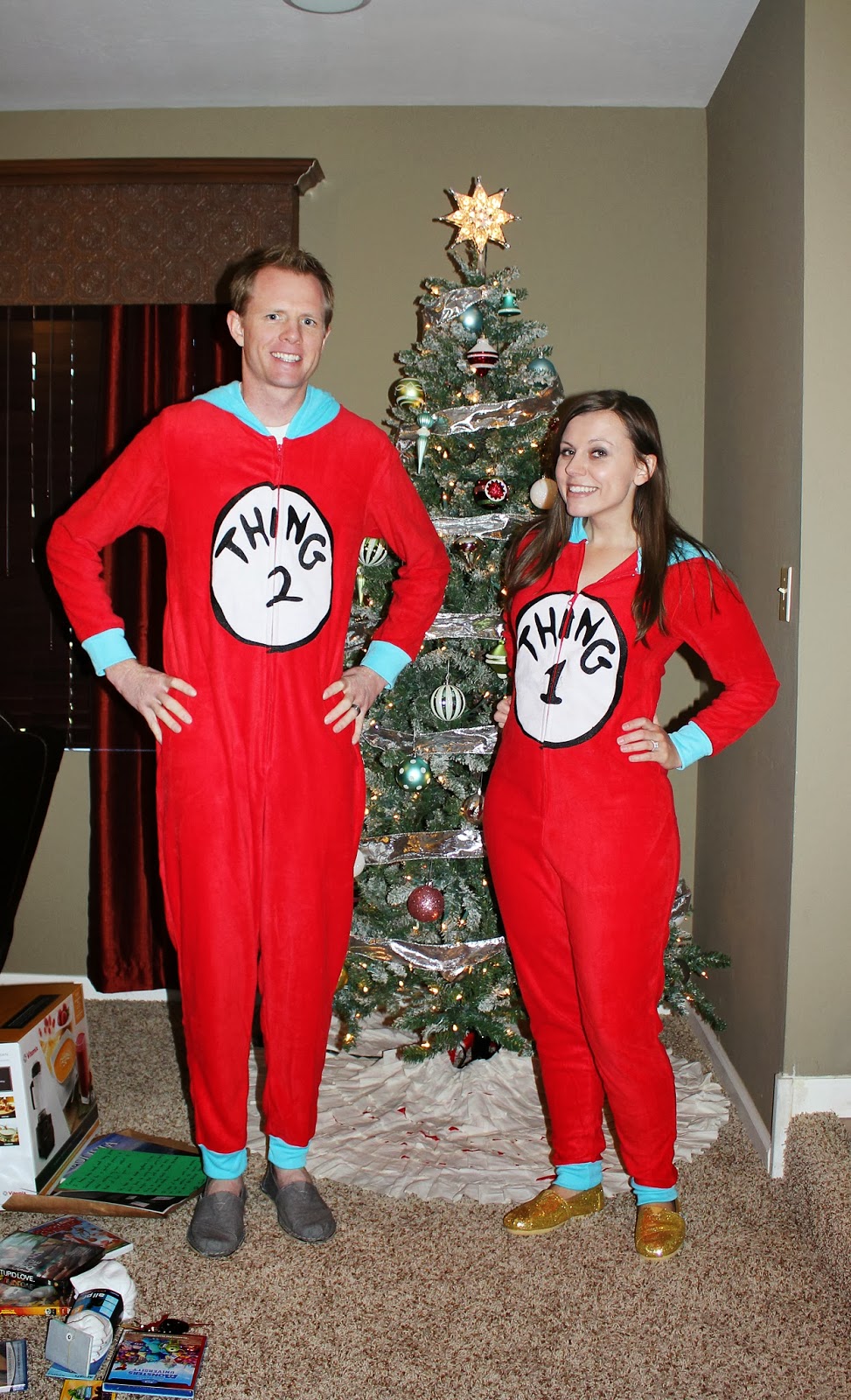 This was our 3rd Christmas as a married couple, and ever since year 1 we've spent the morning in our home alone together. I have to admit that is a tradition we didn't plan and have ended up loving! I know to each their own, but there is just something special about not having parents gifts or clinging to one family's tradition overshadow the special joy you share as a couple. We like having our own traditions, we like the intimacy of just the two of us, and I really enjoy that I can tear up when Jacob gives me the most thoughtful gift and not feel too self-conscious. (That may or may not have happened three times this year).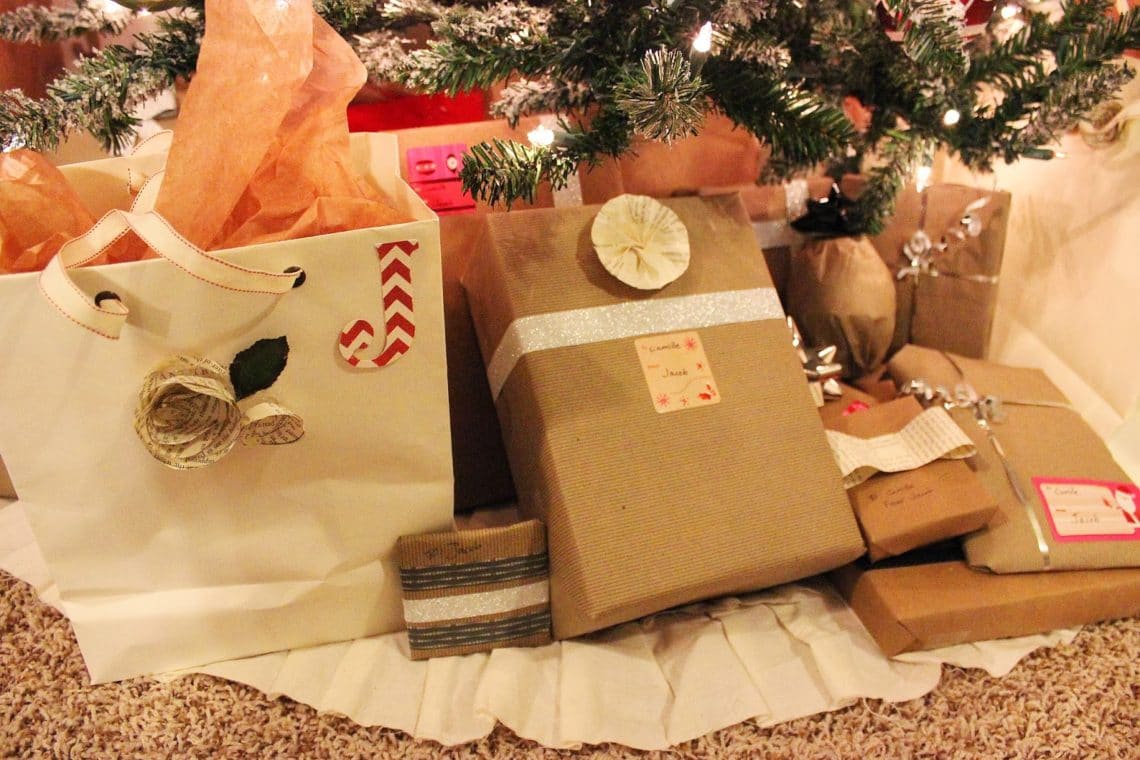 Another favorite thing is the way Jacob wraps presents. He always tries to hide what things really are and comes up with some clever additions/configurations to several wrappings. They always crack me up! Here's a few favorites this year: 
See the oval shaped present in the previous picture (top right side) with a black bow on top. I guessed a pineapple, I was way off!
And earrings are never just small squares to unwrap, there's always some manipulation- this year some hardware was added to make it a strange shape. I guessed a puppy. Pearl earrings are a better gift for me anyway!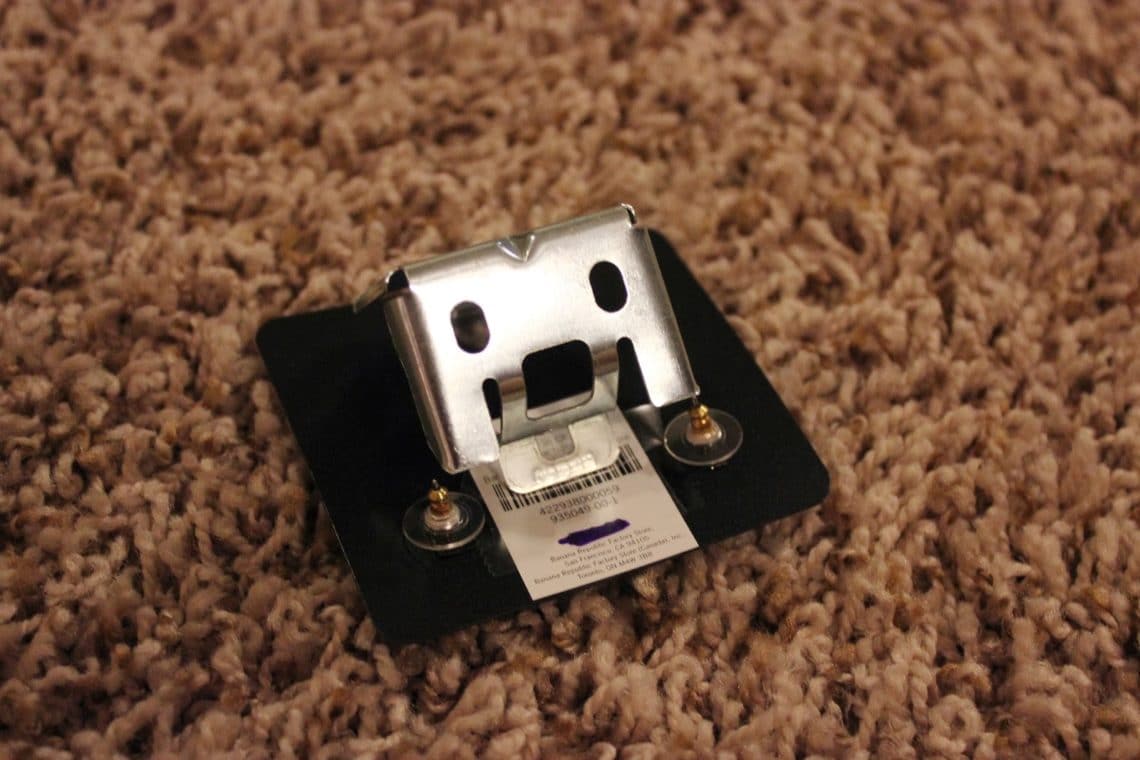 Can I tell you where this boy scored BIG this year? I love to cook, he does too. I'm also a big advocate for green smoothies for breakfast (and not prejudice against lunch or dinner for that matter). When our blender's base started cracking and there was a minor green explosion we started chatting about getting a better blender. Weeks later we started talking about getting a food processor that could hold more than 2 cups (ours is tiny!). It dawned on us that we could splurge and probably get one machine that would do that and more. I knew it was a big ask, and I told Jacob no pressure whatsoever! 
When I saw this box under the tree I had a pretty good feeling about its contents. The giddiness and un-posed reaction likely tells it all.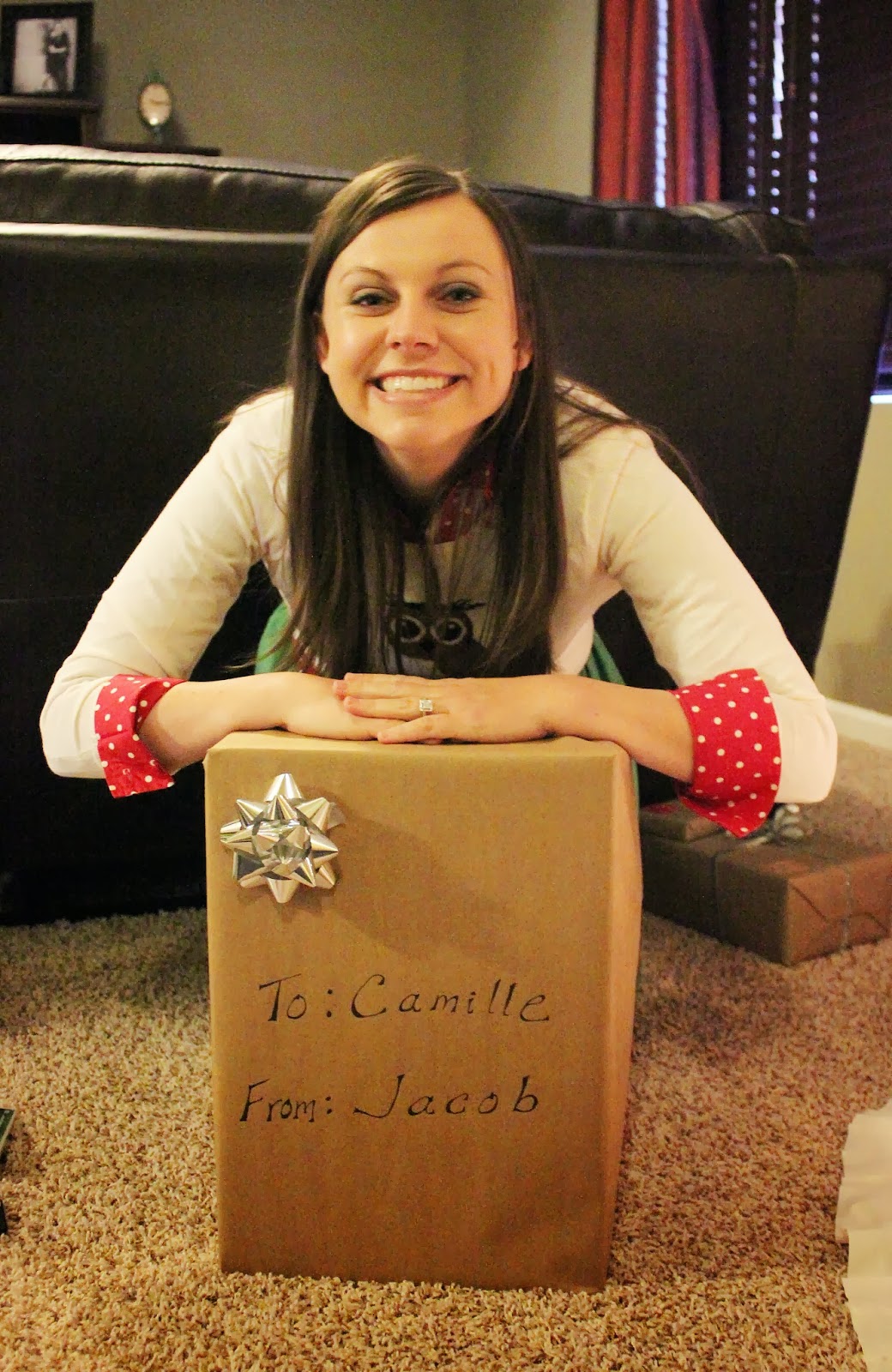 Definite love at first sight!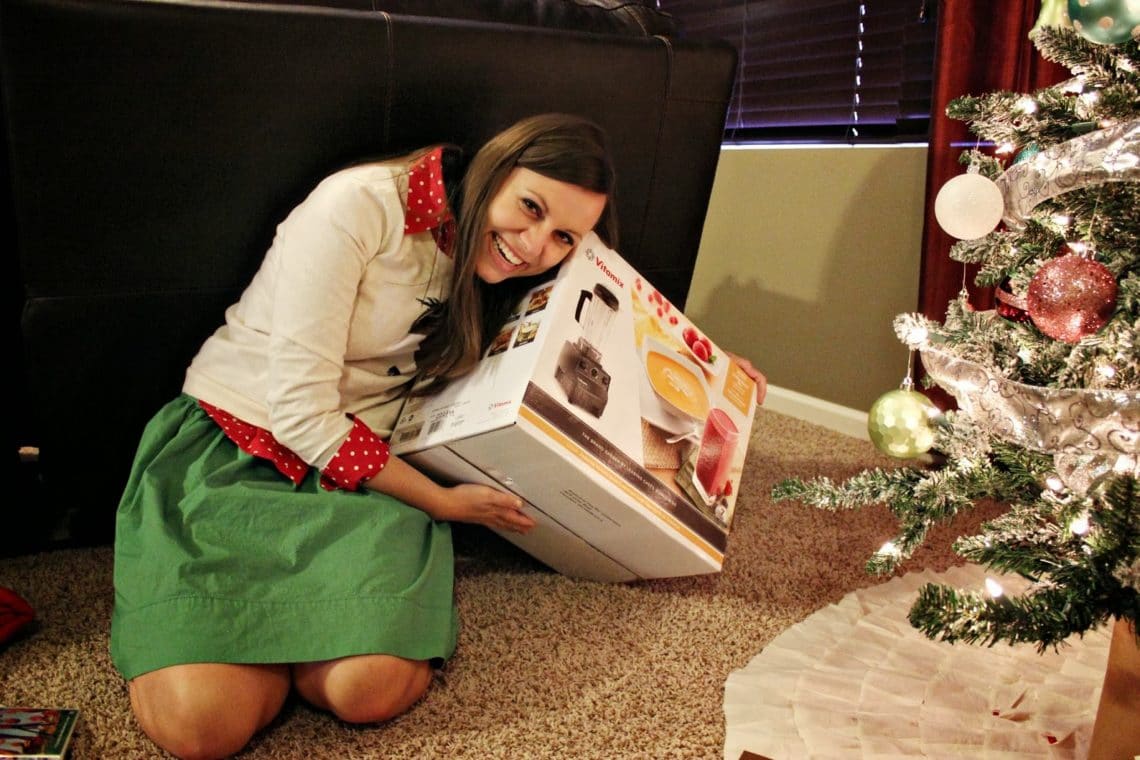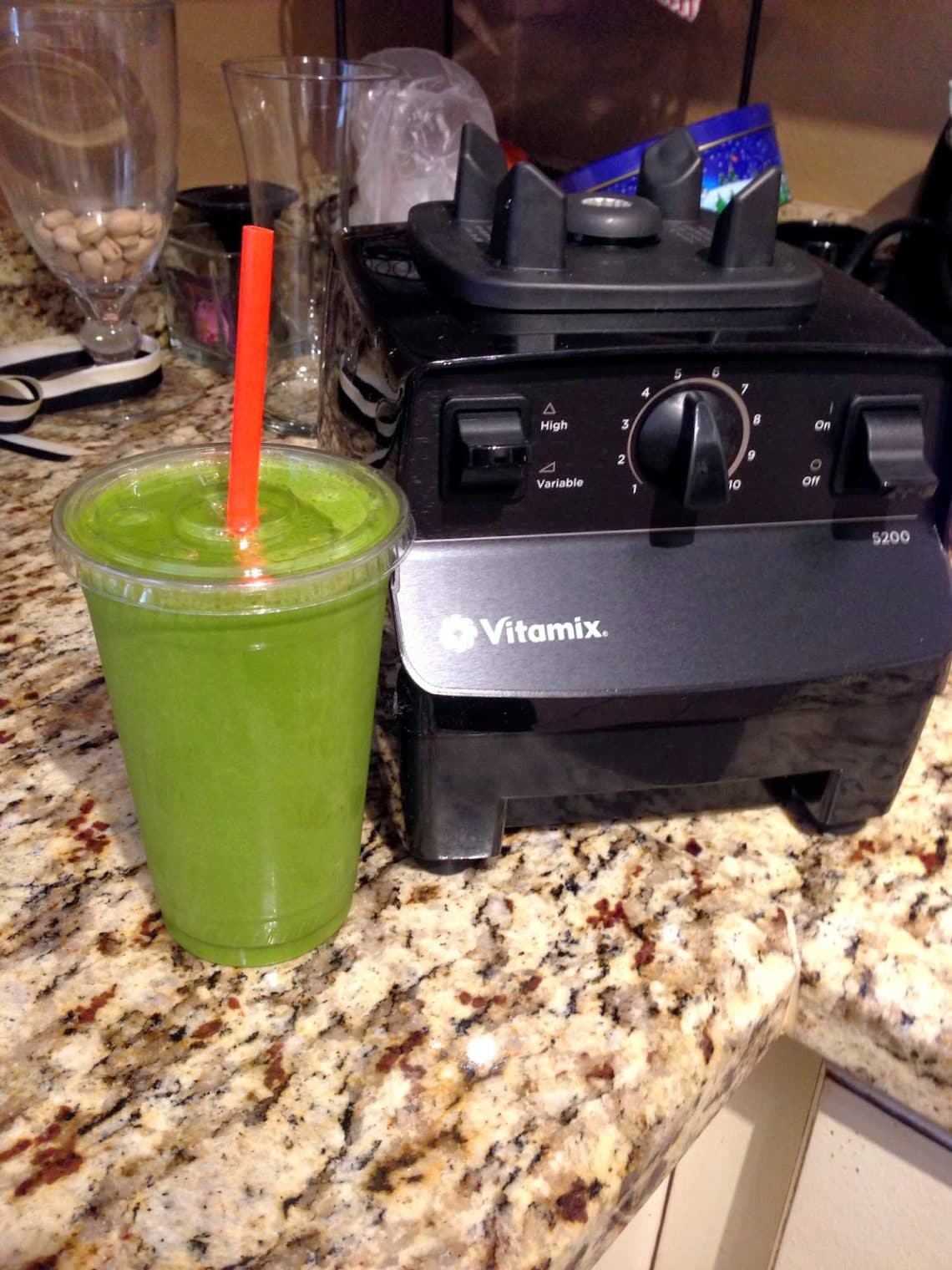 Only 2 days later I've made 4 smoothies for myself, and 3 for Jacob. I think I'll finally cook that pumpkin from Halloween now that I can puree it too. Our kitchen counter and my pumpkin addiction would both appreciate it I'm sure. 
I did well up with happy tears on this gift! 
I guess now is as good as time as any to announce a life update to our blogging readers and friends. I'll go into more details in another post, but Jacob will be starting a new job in January, one that requires a dress shirt and tie every day. He's been paranoid about dressing himself to fill this fancy new consulting role, so we made sure a new work wardrobe happened for him this Christmas. I'll be spending the next few days taking pics of shirt and ties that match so he can rest easy and feel confident. It's an exciting time for him, and I wanted him to dress the part!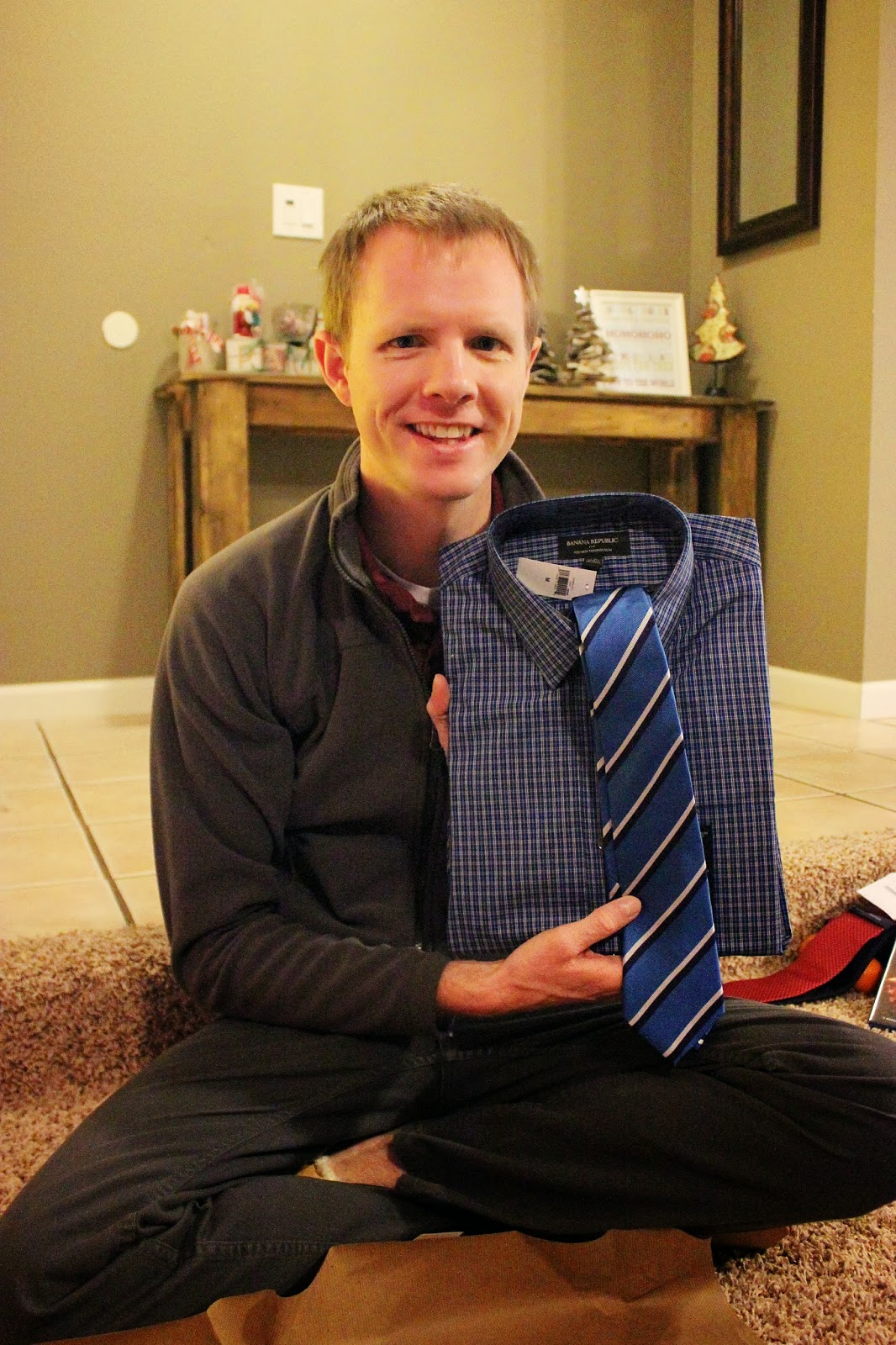 I think the present that absolutely takes the cake is what Jacob did for me very last. He told me for a few days before Christmas that I wasn't allowed in our spare bedroom. I figured he was wrapping back there, which he was, but oh was there so much more going on! 
I've been looking for a new purse for about 4 months now. Mine is falling apart after much love and use. This is usually an easy task, but for some reason I wanted one that was like the unicorn of purses. I had a simple request I thought- one big enough to hold the DSLR for blogging, a water bottle, my wallet, and keys and a phone but not much more. I didn't want a huge one, or a small one, just one that fit my needs. This was almost impossible to find! Everywhere we've gone I've checked out purses to no luck. The few that may have worked were way out of what I was willing to spend, so I've just dealt with it and hoped the right one would come along eventually. 
I opened that last box Christmas morning to find this: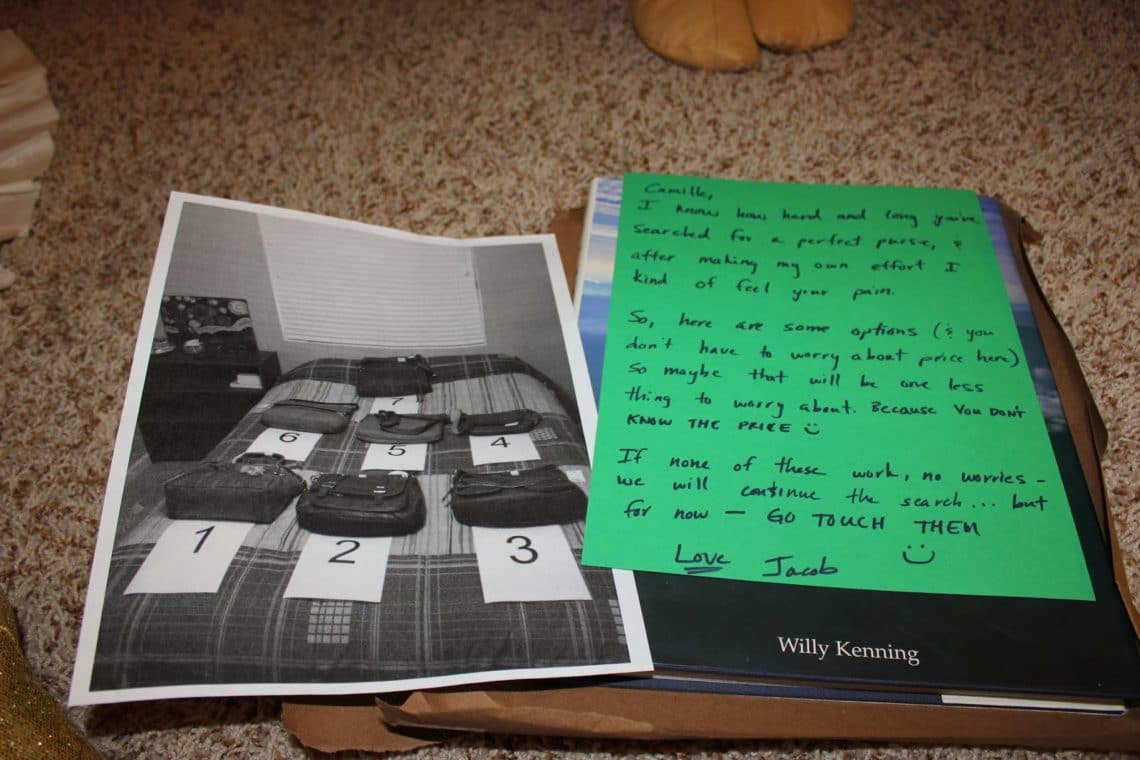 The note says 
"Camille, I know how hard and long you've searched for a perfect purse, and after making my own effort I kind of feel your pain. 
So here are some options (and you don't have to worry about price here) so maybe that will be one less thing to worry about because you don't know the price 🙂 
If none of these work, no worries- we will continue the search… but for now- GO TOUCH THEM
Love, Jacob" 
The picture to the left is our spare bedroom complete with Jacob's bachelor bed and bedspread. On this bed there are 7 purses he ordered ready for me to choose one! Here's the scene in real life, plus my giddy surprised self documented in video.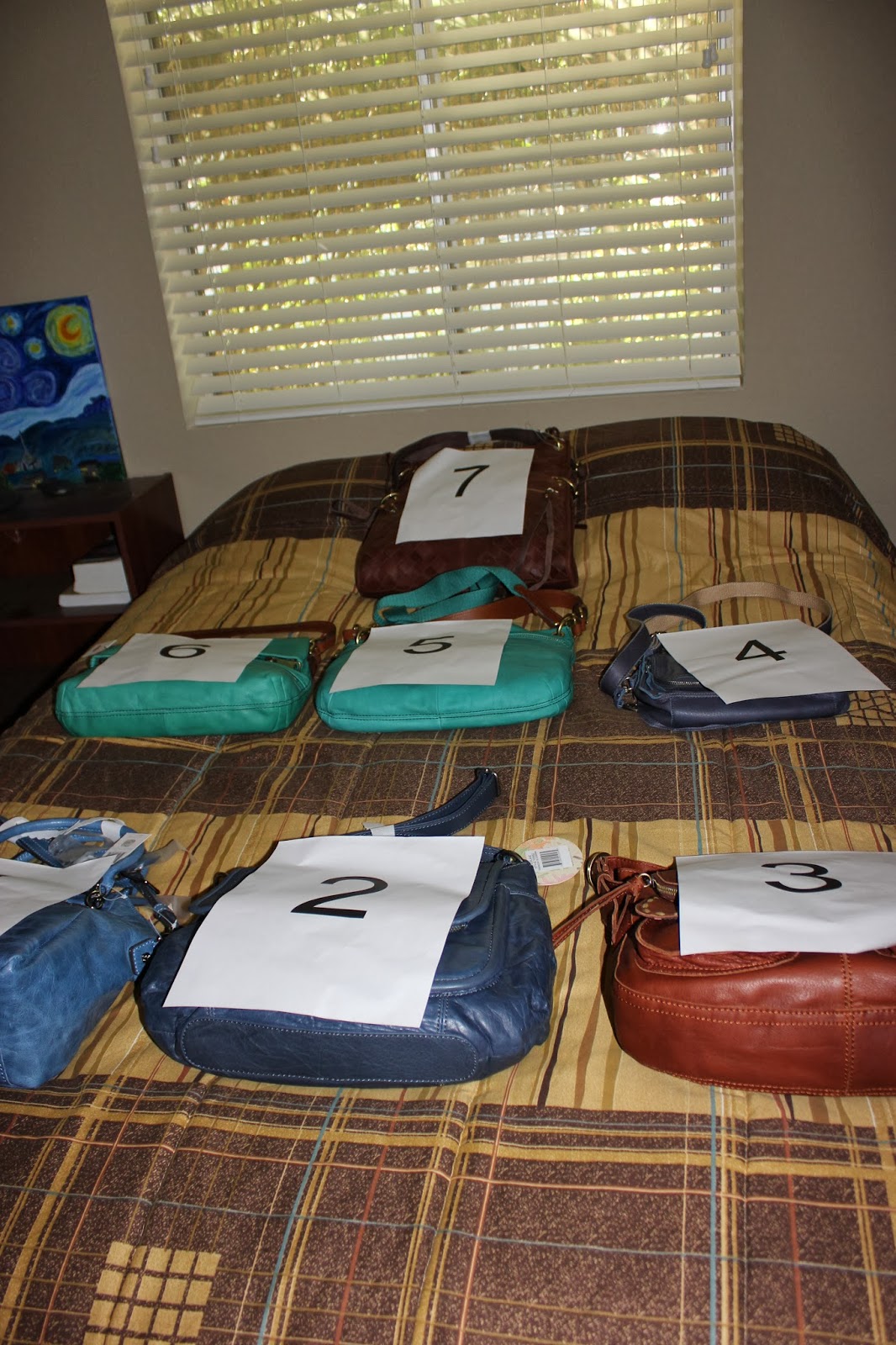 [youtube http://www.youtube.com/watch?v=cL0svbzo4E4]
We had an amazing Christmas, even with illness and a slow starting morning. We hope everyone else had a great one too- and has a happy New Year!
Get 365 Date Ideas!
We want to help you have the best date nights ever! Grab this FREE printable with 365 date ideas, a date for every day of the year so you never run out of ideas!