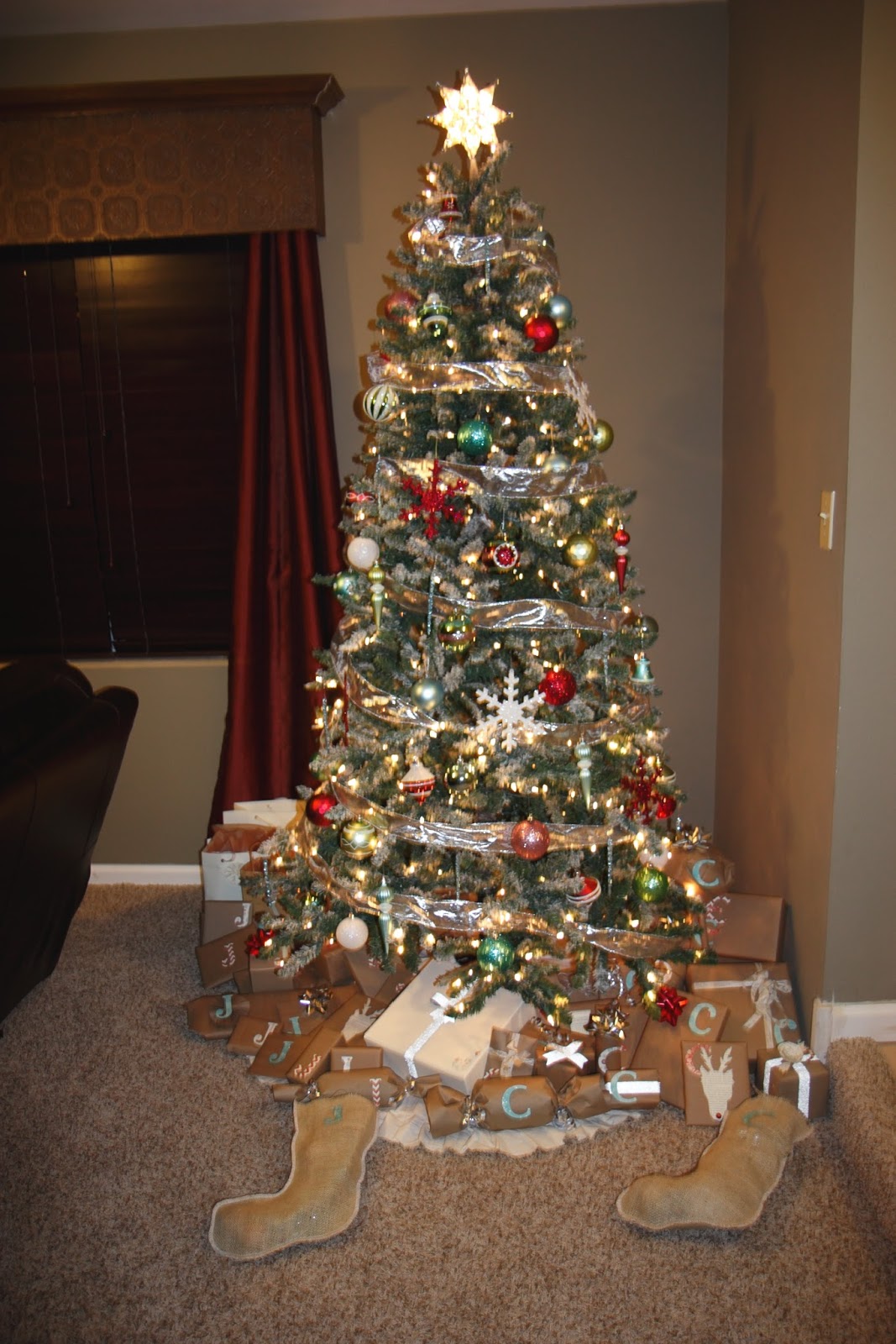 For all who celebrate it, I hope you had a very happy Christmas! We definitely did.
Is there anything more magical than Christmas Eve when Santa has just finished visiting your house?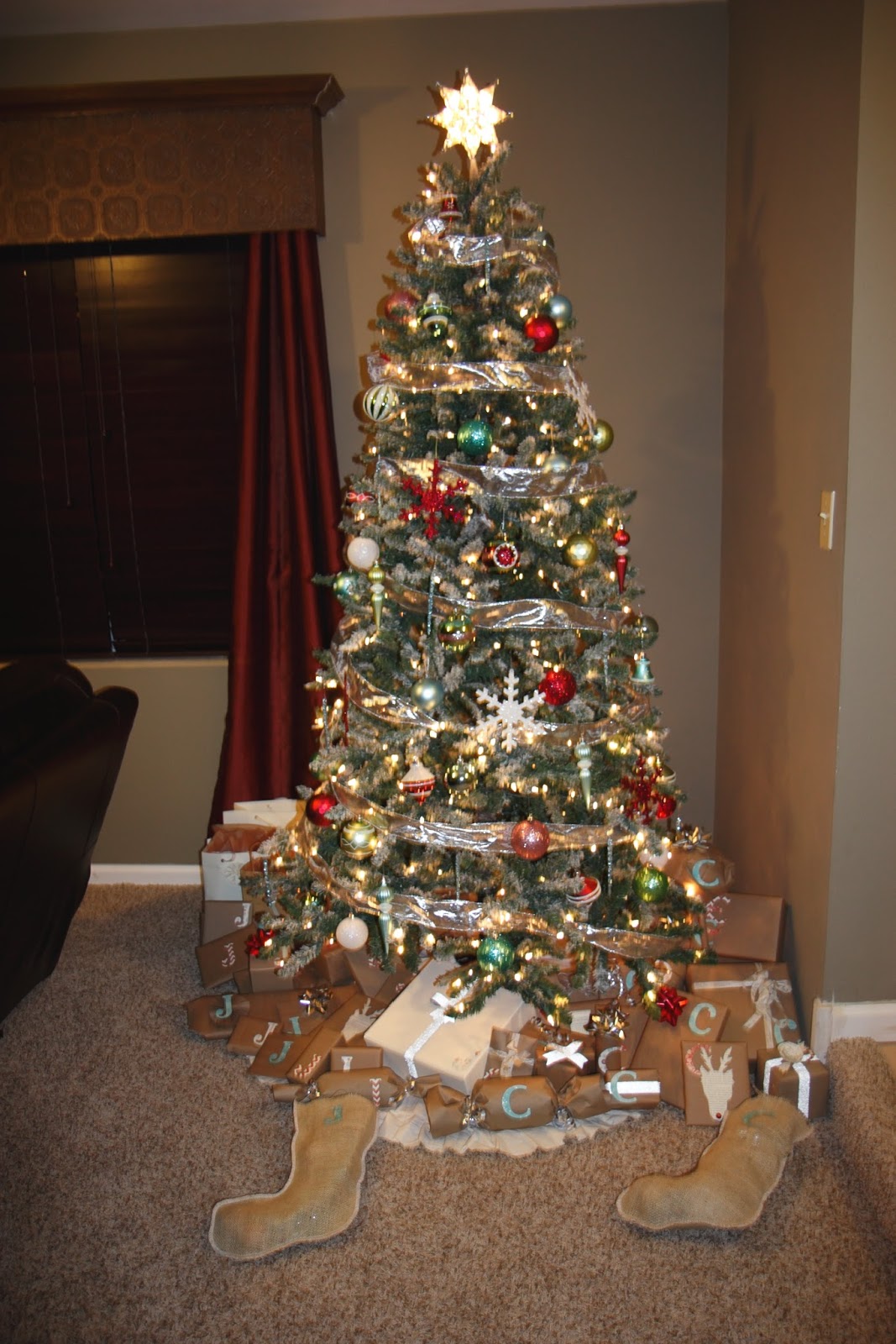 I have to keep it totally real here and admit a personal fact. I have undergone some fertility procedures the past few months, and we were really hopeful we'd find out good news just days before Christmas. I even had a grand plan to tell Jacob with a creative and special present. Low and behold, the timing just still isn't right for our family and I found out it didn't take a few days before Christmas. I thought of how sad I was, after hope being so strong for this new treatment. I was so worried this would be one difficult Christmas. Then it hit me after a day of sadness, why should this ruin Christmas? That would be focusing on what I don't have. That is the sure fire way to unhappiness in life. I looked around and decided that I would focus on what I do have. I never thought I'd get to be happily married at one point in life, and I never saw a way out of an abusive marriage with my ex husband. My current life is so wonderful, it's so happy! I have been given an awful lot, and I'm grateful this trial came before Christmas to remind me to focus on the blessings in my life.
This guy I count as my biggest gift God gave me, and I'm so thankful my perspective changed to remember to find joy in the life you do have.
Every year we say we won't spoil each other. I'd say we're honest people 100% of the time, but Christmas seems to prove us wrong and knock off that perfect record.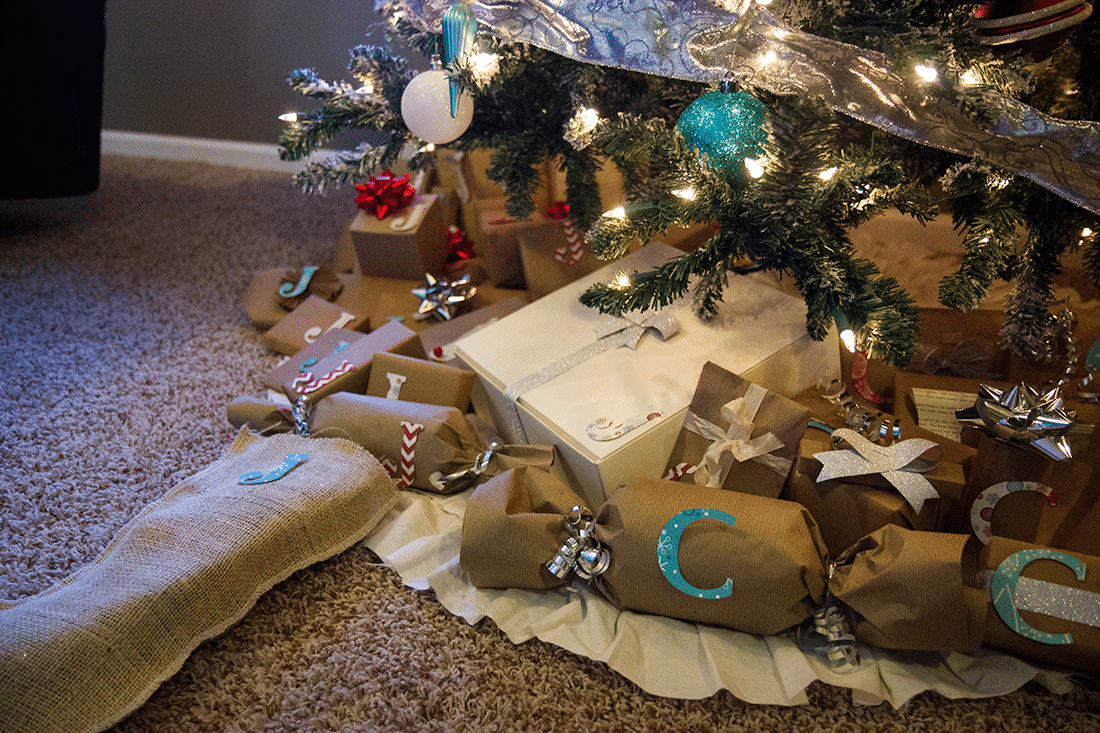 We identify with Julie Andrews on this one, brown papers packages tied up in string- one of our favorite things!
I mentioned last year that Jacob does something special with most presents; he wraps them to look and feel like something totally different than what they actually are. He's very clever with this and it has become my favorite part of Christmas morning. I find myself laughing my head off at most presents I unwrap.
Like a pair of earrings isn't a pair of earrings, there's always some hardware or random object attached to add shape and weight.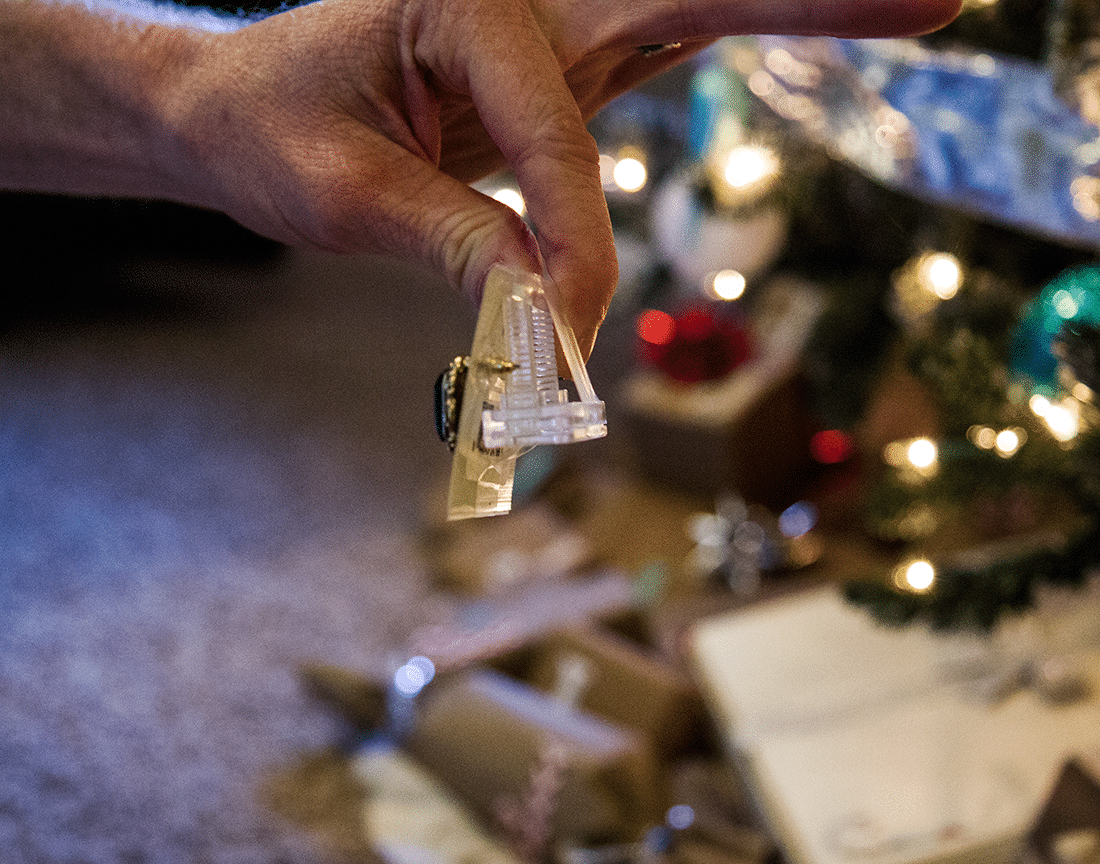 And when you think you're getting a heavy set of sheets from a soft, rectangular package, you may actually be getting your favorite protein bars wrapped in bubble wrap.
I laughed about this one for a solid five minutes. He made me guess, and I had no idea what could be so heavy. I had a hard time lifting the package at first. It was a t-shirt, wrapped with some extra packaging to prevent me from even coming close to guessing.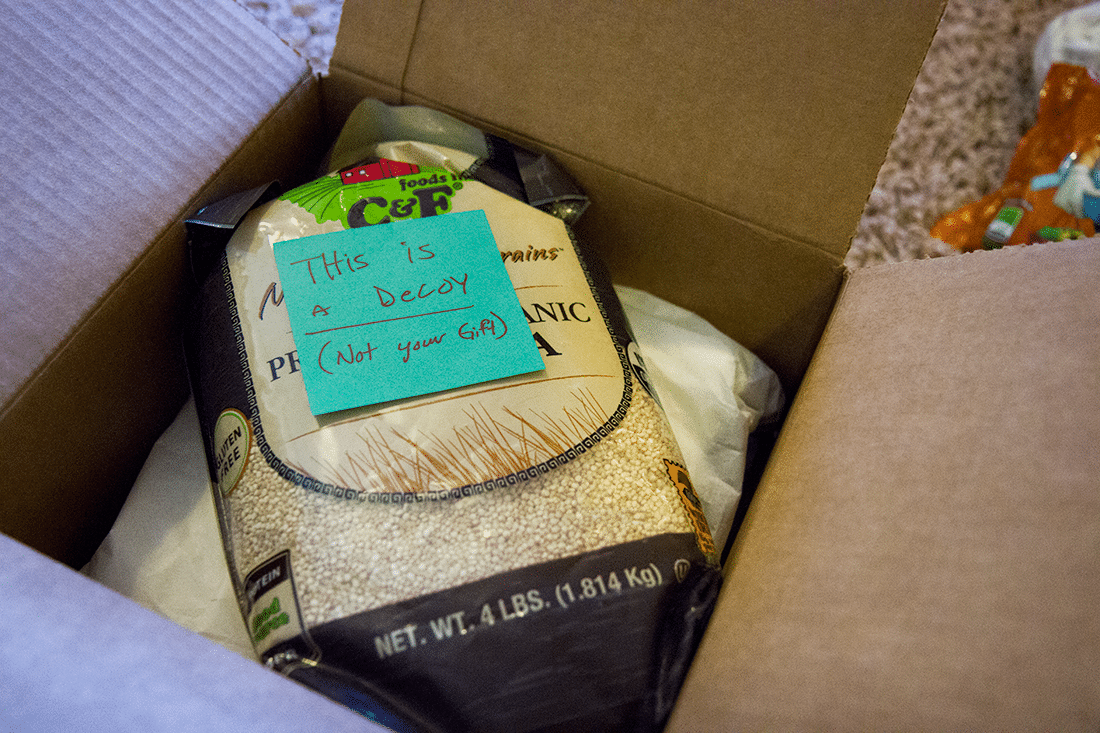 He told me this one was a giant sucker. It was a small plastic object.
I decided to try to get in on his game for one or two presents. It's much more fun to get a painting class that you think is a wooden sign instead of folded up paper with the gift card.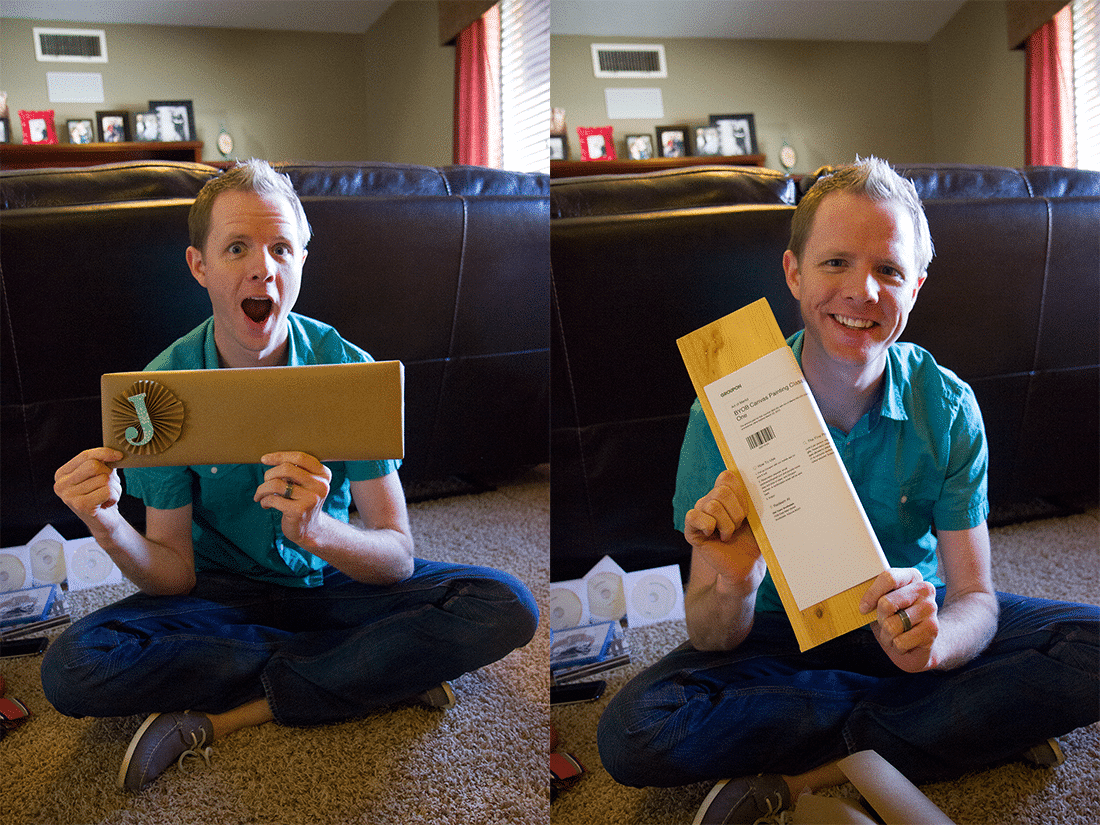 I'm also sure glad I didn't toss the frisbee from the garage.
Amid the laughter and wrapping pranks, there were some truly touching moments of sentiment. I think due to the extra sorrow of the failed treatment, we were extra tender towards each other, and extra grateful that our family is still a family, even if it's always just the two of us.
Every year Jacob prints our blog as a book for me. It's like our own personal family history and it's really fun to flip through each page and look at all the fun times we've had. I needed that a little extra this year.
Admitting fully, I choked up crying when I read his sweet message he had printed on the first page.
I love our adventure too! Life has been one sweet adventure with laughter every day thanks to this boy. I never thought I'd realize what a blessing would come my way in the form of a husband.
I also couldn't resist giving him some more adventures.
I had to change up the packaging to make sure it was a surprise, but I ended up doing what I did our first and second years married, I gave him a gift to enjoy all year round including 12 pre-planned, pre-paid dates- one to enjoy each month of the year!
I will share more about this gift and how I do it in a post later this week, so stay tuned! But for now, know that it meant the world to him too. We have a lot to be thankful for, and there's nothing more beautiful than the gift of love that Christ gave us, and that love we get glimpses of via our own families.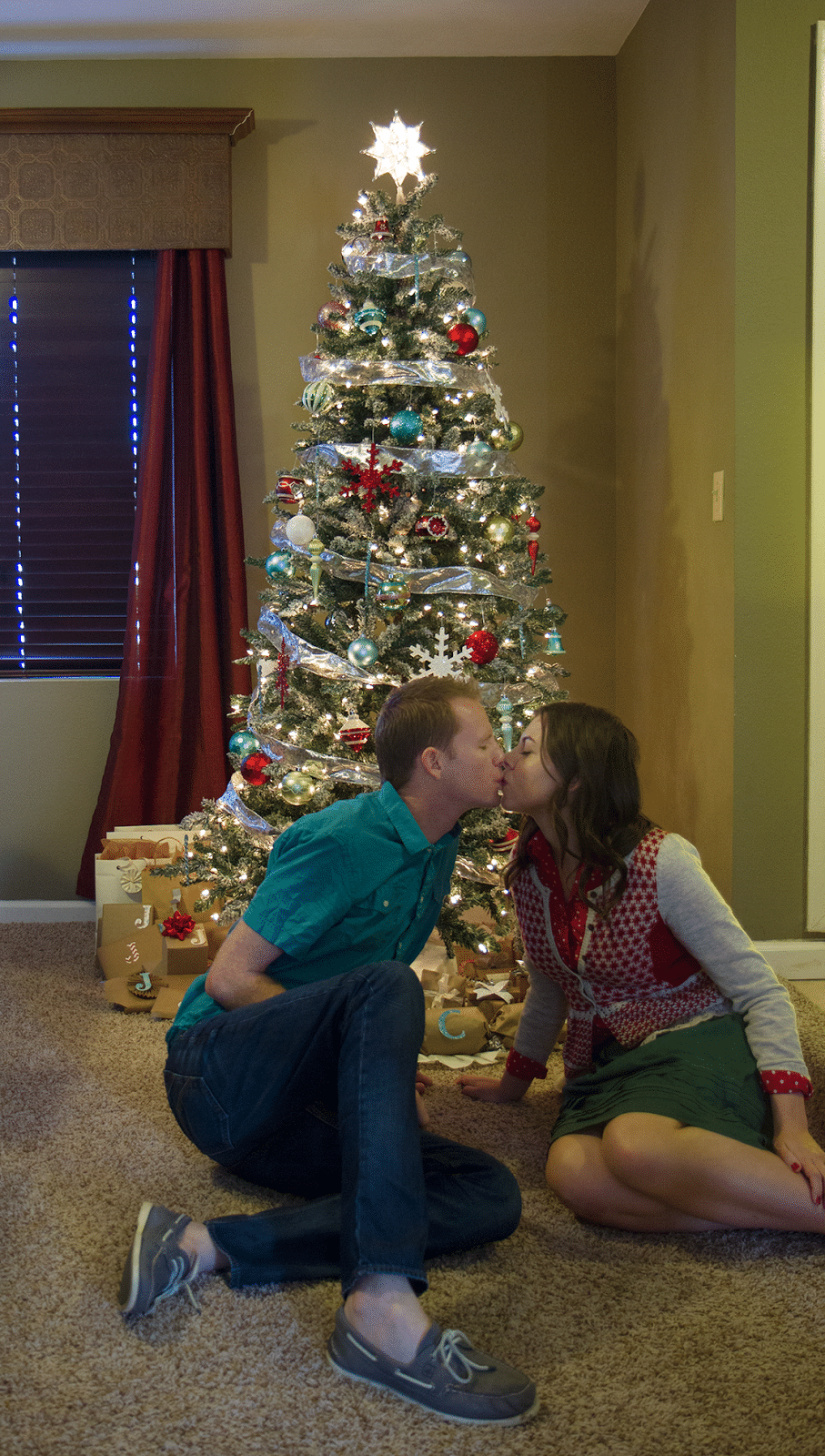 Get 365 Date Ideas!
We want to help you have the best date nights ever! Grab this FREE printable with 365 date ideas, a date for every day of the year so you never run out of ideas!