Co-parenting: Packing the Dad Bag
This shop has been compensated by Collective Bias, Inc. and its advertiser. All opinions are mine alone. #SuperAbsorbent #CollectiveBias
Co-parenting (verb): the act of equally sharing in the duties of a child.
One of my favorite memories of prepping for the baby was the day we went to a giant baby retailer and looked at diaper bags. Jacob very seriously said to me, "Can we not get a super girly floral purse? I'll be carrying it as much as you do, and I want it to look appropriate for both of us." Now in no way are we slamming the amazingly darling designer diaper bags out there, and give even more kudos to the men of this earth who let their significant other go with the girliest of bags and couldn't care less if they use it to. However, this day Jacob was expressing in no uncertain terms that he cared less about his own vanity in bag appearance, but cared a great deal that a bag look like it was purchased with clear intentions that it belonged to both parents and both parents would get equal use.
We did end up with a very generic bag we both like, but we've since come to see the light that maybe we should have just owned that it's okay for each of us to have our own diaper bags ready to go, and maybe I'll get lucky enough to own a super cute designer purse some day. Jacob has recently acquired a dad bag that a friend designed as a prototype, and we're loving the freedom of letting him have a bag with all the supplies he needs for himself and for baby without having to carry my extra pouch with lipstick and lotion in tow. This is one of our best parenting tips, make sure both parents are prepped! The more we experience co-parenting, the more we realize it's okay that we don't share everything or do everything the same, what is important is that we both are there for Mack and share in the responsibilities of parenting!
So we're utilizing the dad bag these days, and we're loving it! We've found that packing the dad bag with the best elements for both dad and baby has been a huge a success, and it's allowing me to have days where I can just grab a little clutch and not worry! So what do we put in the dad bag, let me share our list of items we'd recommend if you're ready to make the jump into the dad diaper bag!
1. Diapers.
Duh, I know, that seems obvious. Maybe it's just us, but when we try to switch around bags this is something we forget to reload. I love stocking up on Huggies at Costco so we have plenty for the changing table, my bag, and the dad bag. Buying a large pack of Huggies Little Movers Plus (only available at Costco) helps us save time and money- and always feel prepared! They are extra absorbent (hence the plus) and have Leak Lock® with up to 12 hour protection. Our little mover is set for whatever activity he wants to get into with either mom, dad, or both of us!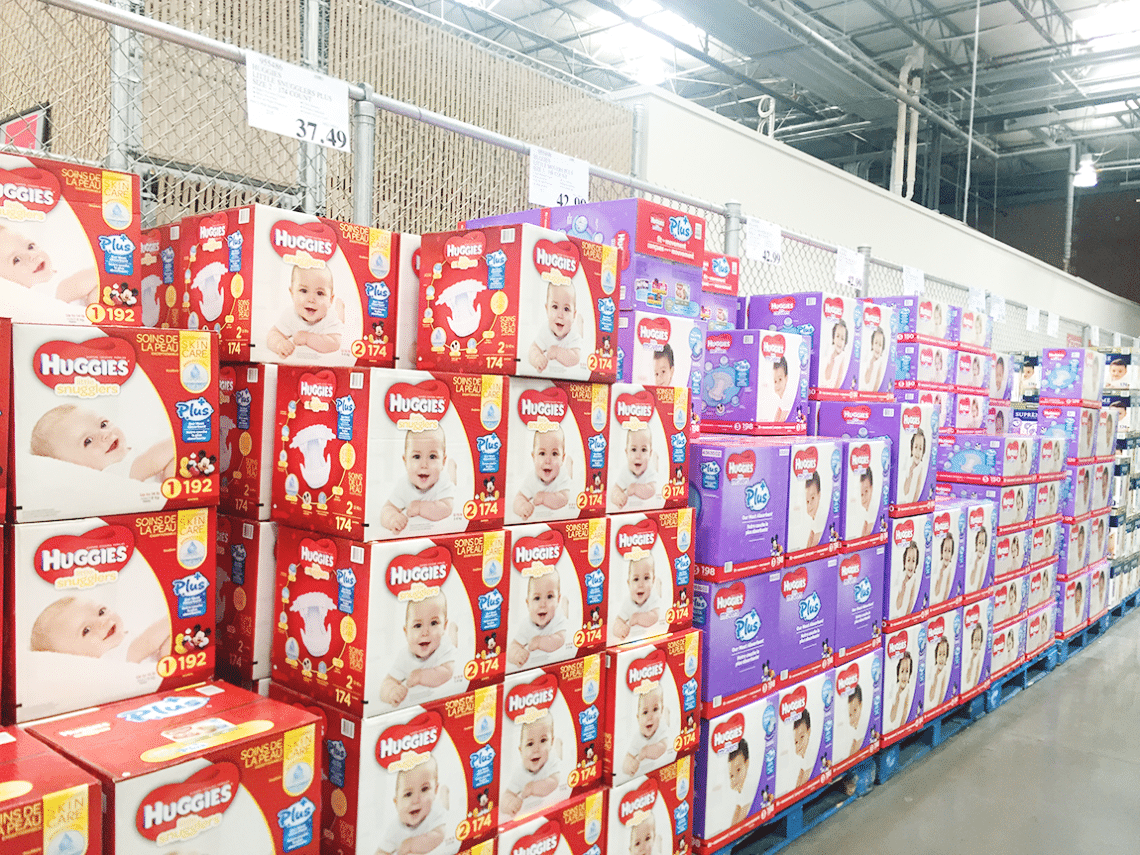 2. Wipes
We were discussing the other day how we're not sure we lived before wipes. We clean off tables at restaurants, we wipe off sticky food, we wipe down chairs, we clean hands and faces of more than just the baby, and spills or dust in the car don't stand a chance now that we have these in tow! I love the refillable pouches, and we have one for both our diaper bags ready for the obvious diaper changes, but also for the messes we encounter.
3. Spare Clothes
We're kind of minimalists with diaper bags, but at least an extra onesie for a blowout or mess is a must, and it's easy to tuck away.
4. Sunscreen
That precious baby skin we plan to keep in mint condition the best we can by using sunscreen. Not to suggest all belong in this stereotype, but we definitely do, baby tends to play outside more with dad than with mom. I love to have a kind on hand that works for both of them to lather up whenever they are out and about in the sun or just out for a walk or playground time.
5. Snacks
Once again, this is something most diaper bags have, but we like to make sure it's a snack both baby and dad enjoy. I may pack lower-carb items for me, but both my boys have high metabolisms and love their bread or crackers. Having a dad-bag snack makes it novel and exciting, and when Jacob packs it they both can take care of each other when they get hangry.
6. Books
Having books baby knows he only reads with dad goes helps create excitement and a special attachment to that book. Dad is fluent in Spanish and mom is only conversational, so books with Spanish words Mack really enjoys reading with dad more than mom for some reason. We're just playing that up and letting it be a part of dad's toolkit when he's out with the baby.
7. Laptop/iPad
We are seriously depriving our child of screen time and media, but we've been known to use it while traveling or when our little guy has to wait a long time and needs a little extra entertainment. We love having Jacob's laptop handy if he needs it for church or work on the weekend, and love it's an option for baby entertainment if we're in one of the situations we actually use it.
8. Toys
Similar to books, a couple toys novel to dad's bag helps create interest and makes it more fun for Mack to see new toys every time he's out with mom or dad.


9. Bib
We're big into baby-led weaning and letting him eat whatever we're eating. It's nice to have a bib for each bag and to know we're all set if one or both of us are ready to grab a bite to eat.
10. Creams/Ointments
We live where it's hot, and we know diaper rash cream and lotion need to be ready for our poor sensitive skinned baby. Making sure we each have it on hand makes a big difference in baby's comfort level!
11. Pacifier
Because if you ever find yourself short of one you just know a nap is impossible, and all hell may break loose.
So those are a few items we stock up and duplicate for both bags. We don't have to worry about grabbing items and switching them out each time we pass off the baby. We also have a baby who gets excited with the different bags and variety of items. But, most of all, we have a baby who has clearly learned dad takes care of his needs just as much as mom does, and no matter what parent he's with or what bag he's using, he's well adjusted and knows he's loved and cared for!
Happy stocking up, and happy co-parenting my friends!
Get 365 Date Ideas!
We want to help you have the best date nights ever! Grab this FREE printable with 365 date ideas, a date for every day of the year so you never run out of ideas!