Colic and New Babies: What's Made a Difference for Us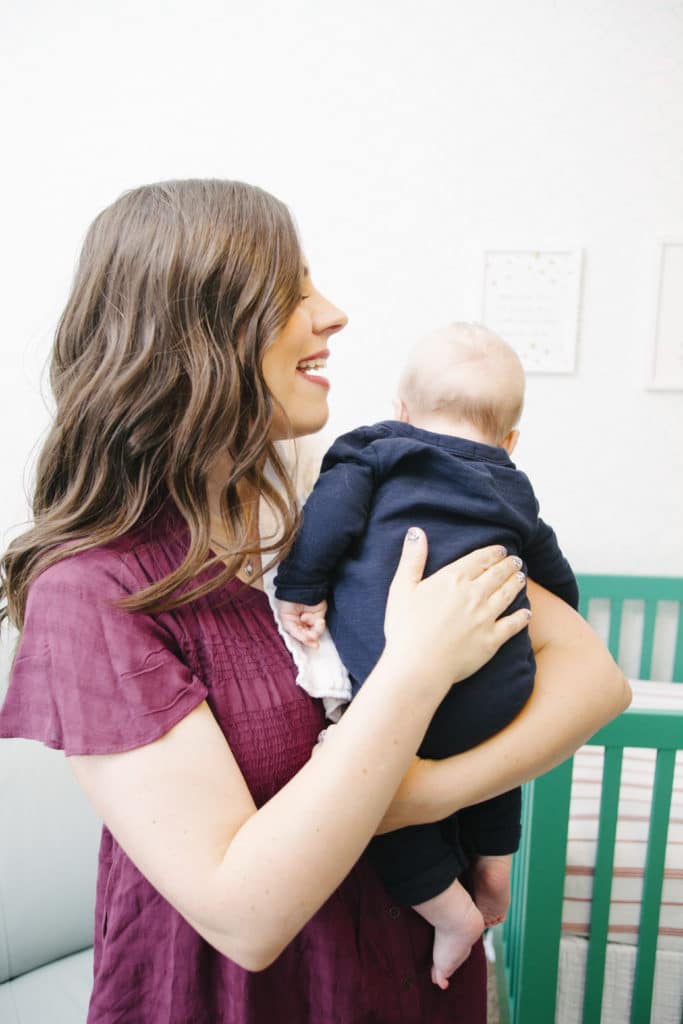 This post has been sponsored by Gerber®, but all thoughts and opinions are my own.
If you're a parent who is struggling with consistent crying with your baby, this post is for you! I'm sharing our experience with colic with our first child, as well as early interventions with our second child—including our methods we swear by, our favorite products that help and really make a difference (like Gerber Soothe® Probiotic Colic Drops), and our experience with colic drop relief for babies.
It's amazing to me how much easier everything seems with a second child, just by the fact that you've been down these roads before and know what to expect. Sure, every child is different, and new things come our way. However, babies have cycles and times and seasons, and it's just really nice to be able to recognize those when they come.
Newborn Colic
Nothing threw a bigger curveball than colic with our first child. I was sure I'd done something wrong. The hardest
part was watching a baby scream and cry for hours each afternoon and evening. I often sat crying along. It took a lot
of proactivity as parents to figure out what we could do the soothe our baby while this season ran its course.
Of course, I went to the doctor asking for help and read every parenting forum I could. We tried everything we could
and finally landed on a few solutions. Keep reading to learn the top things that worked!
Colic Remedies
I really learned to be patient and burp the baby well after every feeding. A little gas was the start of a lot of discomfort. Sometimes the traditional burp helped, sometimes it was an extra back rub, and sometimes it took what seemed like a half hour to get one out. Burping after each feeding is so important and truly helps baby!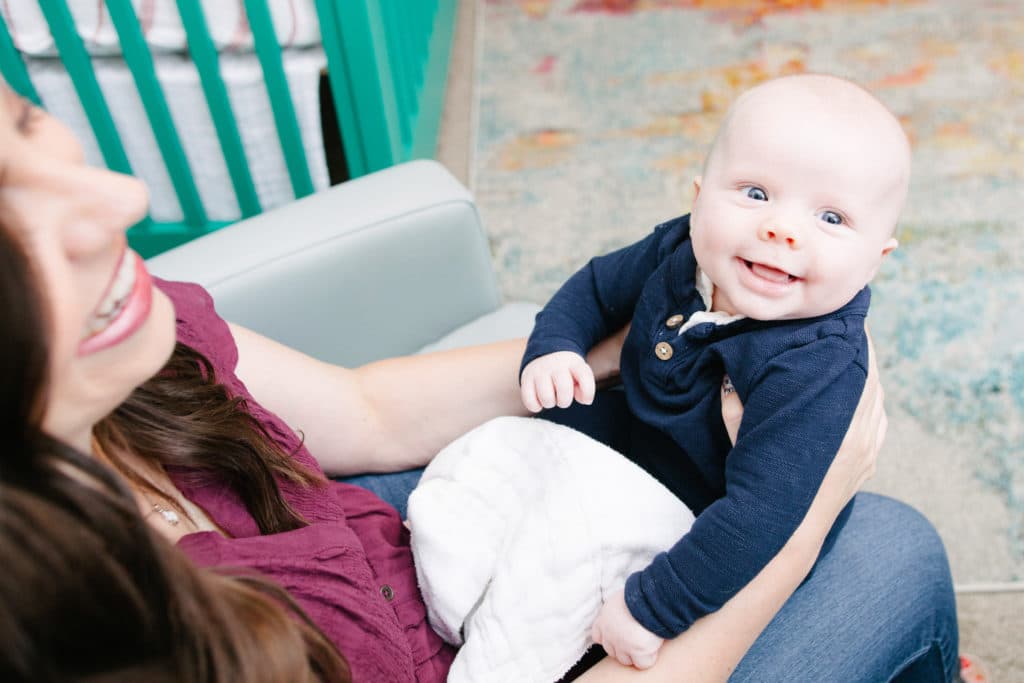 2. Get a high-quality large swaddle and learn how to swaddle the baby well! I am amazed how swaddling helps a baby feel better. At the very least, he was more comforted while we waited out the crying periods. As our baby grew, it was nice to have a large sized one that still helped him feel more comfortable while I held him during the crying. It was a little thing that really helped!
Colic Drops
3. Get some Gerber Soothe® Probiotic Colic Drops. We found these towards the end of this phase with our first baby, and we are so pleased this product exists and is easy to find online at Target! It's something we were sure to have on hand with baby number two. The Gerber Soothe® Probiotic Colic Drops are the #1 pediatrician brand for colic (Based on QuintilesIMS ProVoice Survey (2017)).
One of the potential causes of colic may be not having enough good bacteria in the digestive system. Gerber Soothe® Probiotic Colic drops are a probiotic supplement for breastfed babies or partially breastfed babies who are experiencing excessive crying and colic.
They work by providing baby with probiotic L. reuteri, which has been clinically shown to reduce crying time by 50% in colicky breastfed infants. Probiotic L. reuteri helps improve good bacteria in a baby's digestive system, and these non-GMO drops given once a day with a feeding really help to promote digestive comfort! Gut health for baby is really important, and this is such an easy way to help.
Any time we see colic symptoms with more than one fussy evening in a row, we pull out these colic drops and see changes pretty quickly. Either a dose with a nursing session or added to a bottle and we've started helping baby's gut health.
I'm amazed how the probiotic L. reuteri really works quickly and helps to soothe the baby. In our experience, crying time was significantly reduced, and it was one product I could so easily provide to help our first baby find some relief. They sure were named well because they are a soothing relief for both parents and baby! If you're experiencing a fussy baby that may soon be classified as colic, check out Target and add some of these amazing colic drops to your next order (or Target run). I'd be remiss as well if I didn't mention the other two Gerber Probiotic Drops (with added Vitamin D and an everyday variety) that exist on Target.com as well. All great options for new and seasoned moms-to-be.*
*These statements have not been evaluated by the Food and Drug Administration. This product is not intended to diagnose, treat, cure, or prevent any disease.
Head to MyGerber.com to meet Dotti, your on-call personal baby expert, or call them anytime 24/7 at 1-800-284-9487
How to Soothe a Colicky Baby
4. Put your swing to use! We'd read that holding the baby in our arms with a swaying or swinging motion would help. It really did! But I also found that my biceps couldn't last the entire evening. If you have a baby swing, particularly one that does swaying motions, it can be such a help to you and baby.
5. Talk to your doctor about your diet. I cut everything one at a time like he suggested. We eliminated each individually as being a problem. However, I have other friends who swear one diet change while they were breastfeeding really helped. Feel free to look up the common culprits and talk to your doctor about eliminating foods that may be a problem if they recommend it.
6. If you're bottle feeding, choose an anti-colic bottle. We do one pumped bottle each night so our baby has the skill of bottle feeding. The baby is used to the bottle so I can have some freedom if I need to work or we have a date night. Not all bottles are created equal! Make sure to get one with anti-colic technology so you eliminate air and issues while feeding.
Parent Advice When Dealing with Colic
7. Take care of yourself. It's amazing how eating right, working out, and being a healthier mom can help with baby's health, too! It gave me the strength to help with the hard nights. The baby also seemed to do better when I ate the right foods and had a calmer demeanor. Sometimes you can nip it in the bud quickly, sometimes it takes a little for baby to find comfort. Either way, take care of yourself so you can be the best parent possible in this phase and season. If you're a parent watching your baby cry, my heart goes out to you. There's nothing like watching your sweet baby struggle. But I promise there is hope, there are amazing colic drops that help. And best of all, this is just another time and season that will pass before you know it.
Get 365 Date Ideas!
We want to help you have the best date nights ever! Grab this FREE printable with 365 date ideas, a date for every day of the year so you never run out of ideas!