Double Caramel Apple Recipe: Easy Caramel Apples with a Crunch!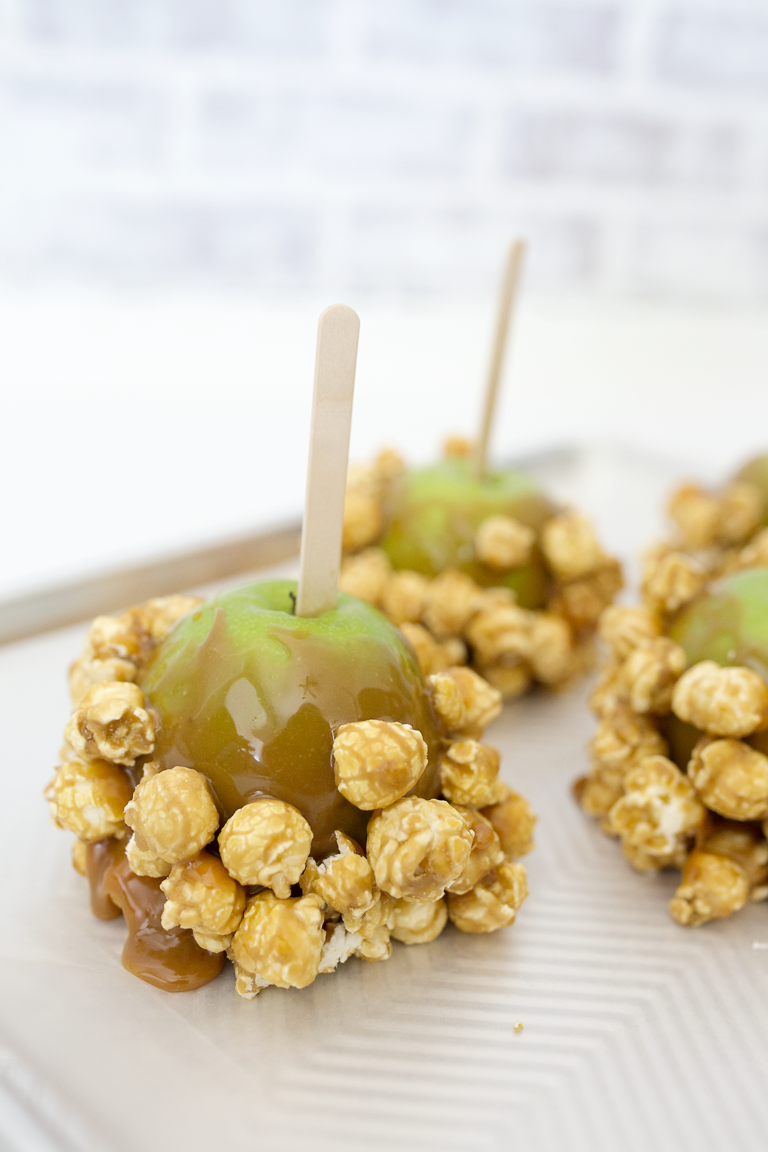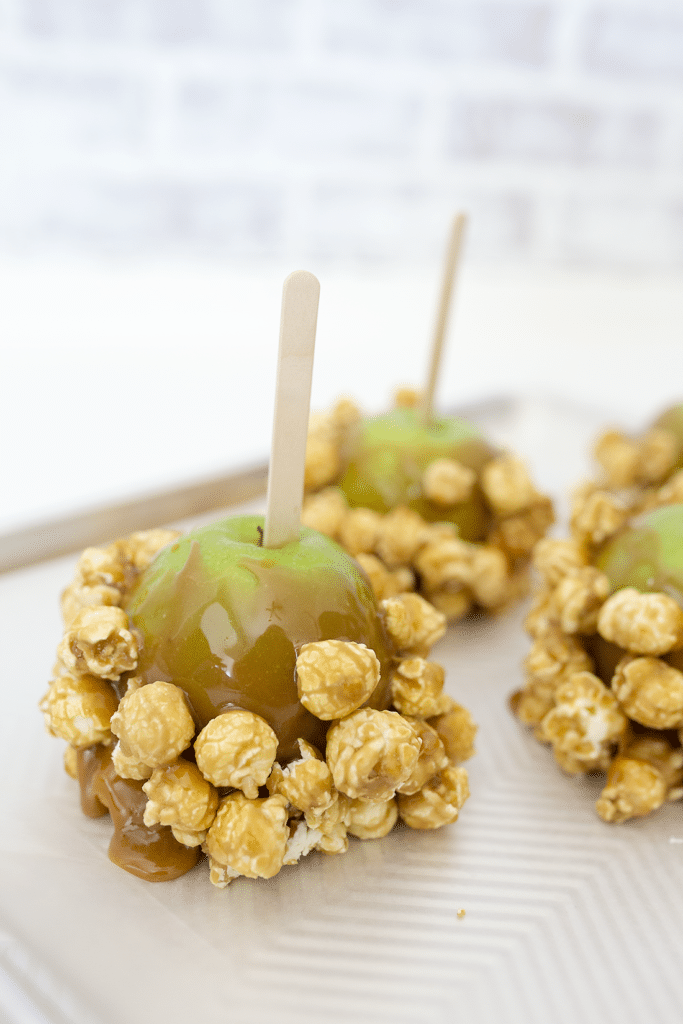 This post is sponsored by our friends at G.H. Cretors, but our love of caramel apples and amazing popcorn is all our own!
I could list a million different foods I love to enjoy during fall, but I think at the top of that list is my favorite food I always bring to Halloween and fall parties: caramel apples. I love the apple harvest season, and there's something about those fresh tangy green apples paired with caramel that just screams fall. Caramel apples are one of those items that everyone seems to love too, we've never been to a party that they haven't been consumed within a few minutes of our arrival. I love that they are easy, I mean easy caramel apple recipes are pretty much the only way to go, and they are always delicious!
This year I've been experimenting with a few ways to mix up this classic fall treat, and I couldn't be more excited about pairing my two favorite fall party foods together and I'm so thrilled to share with you how delicious and how easy double caramel caramel apples with a crunch are!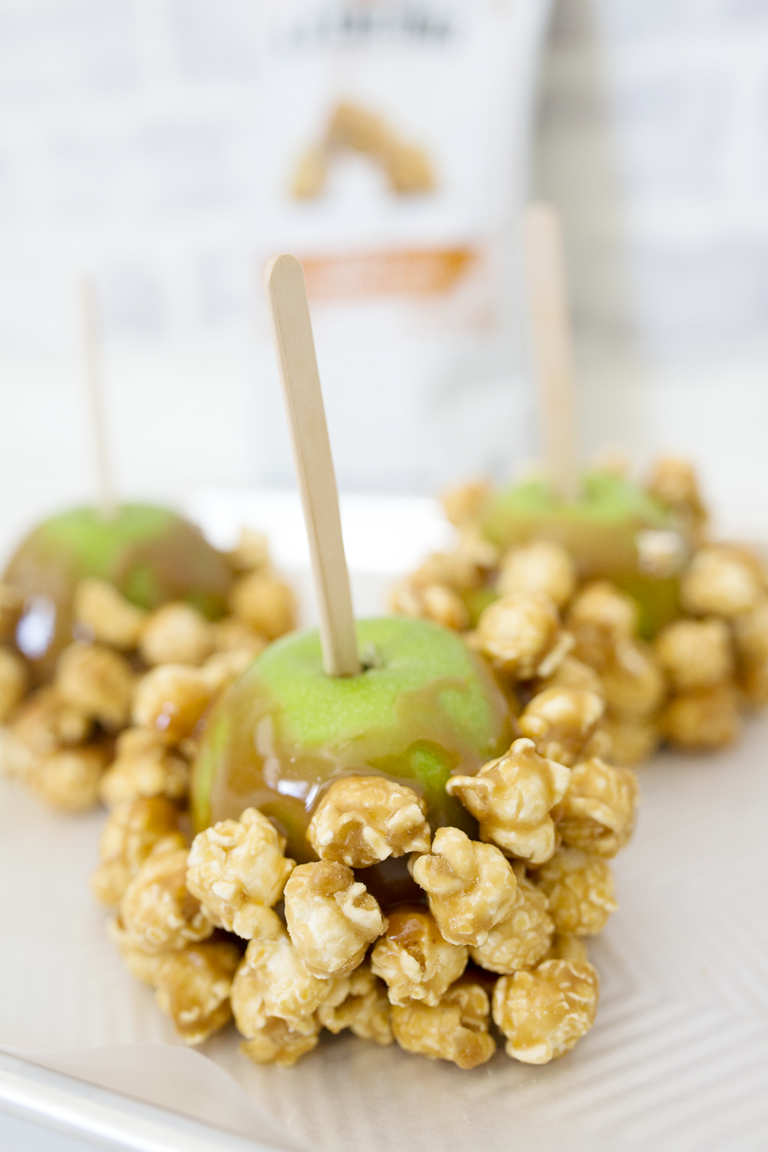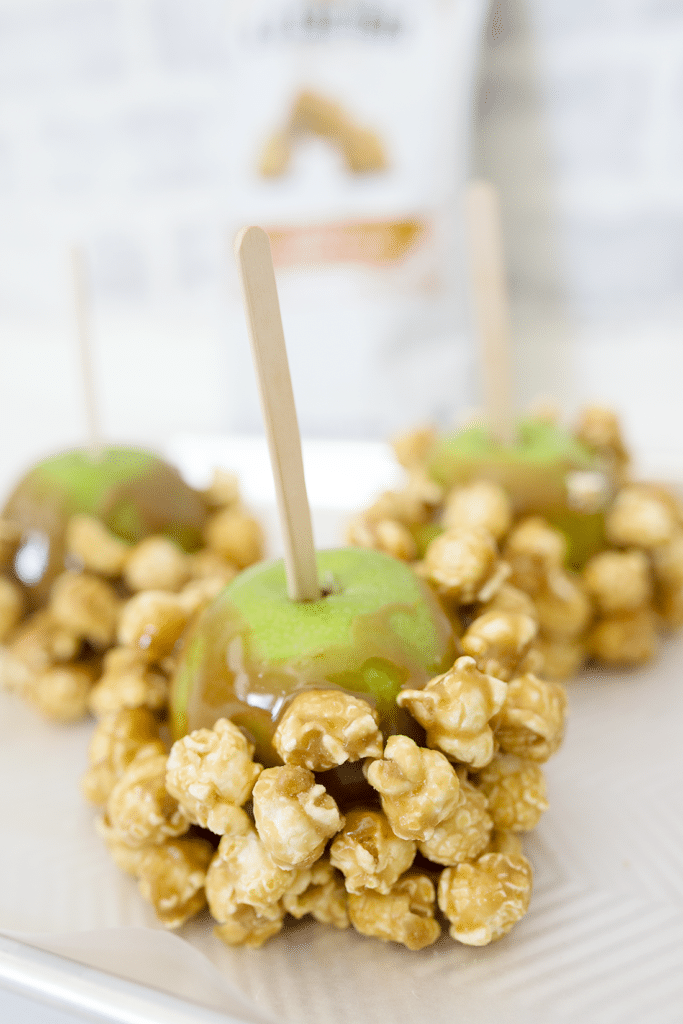 Easy Double Caramel Caramel Apples
Here's all you need to make these delicious morsels.
Ingredients:
6 green apples washed and dried
1 11-14 ounce package of caramel squares
2 Tbsp milk
1 bag G.H. Cretors Caramel Corn. We adore the limited edition flavors, particularly the Salted Caramel Popped Corn. But really the G.H. Cretors Pumpkin Spice Caramel Corn is just behind it. And if you're making this off-season, look at the G.H. Cretors Just The Caramel Popcorn as a good option too.
6 popsicle sticks
Waxed paper
Directions:
Unwrap the caramels, and melt in a medium saucepan on medium-low for about 5 minutes. Be sure to stir constantly so they melt evenly. When caramels are melted, add the 2 TBSP of milk and combine well.
Prep a station to assemble apples quickly. You'll want to get the waxed paper set up ready to place apples on, a shallow dish filled with popcorn ready to roll the caramel apples in, and the apples with stems removed and sticks inserted ready to go.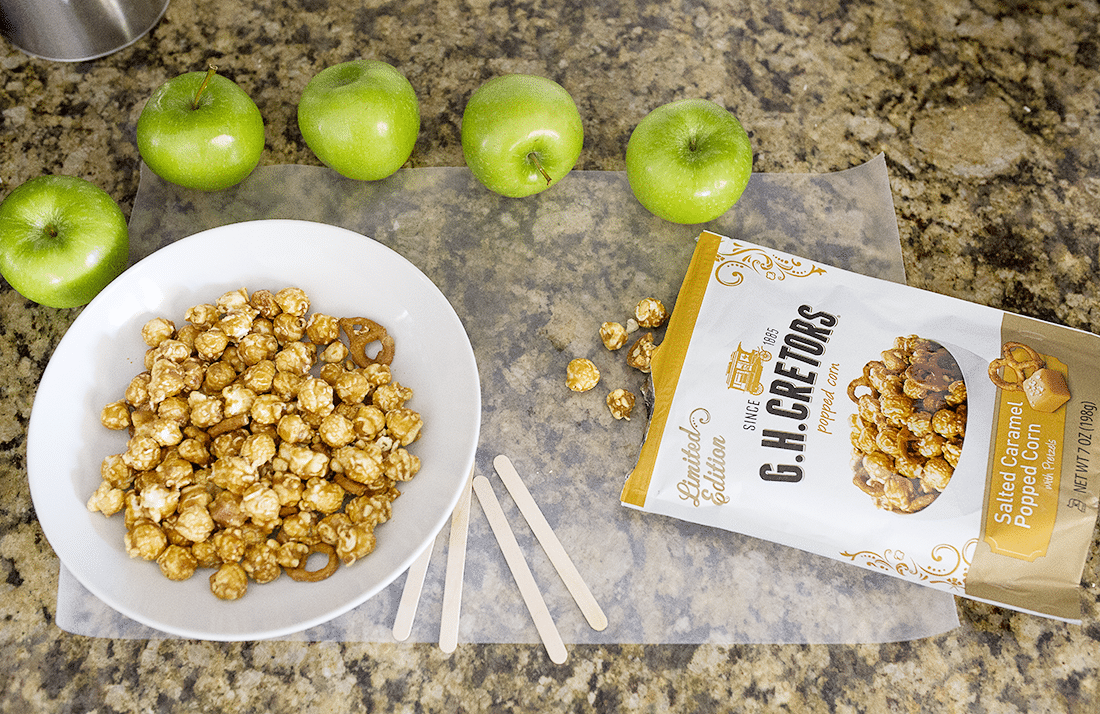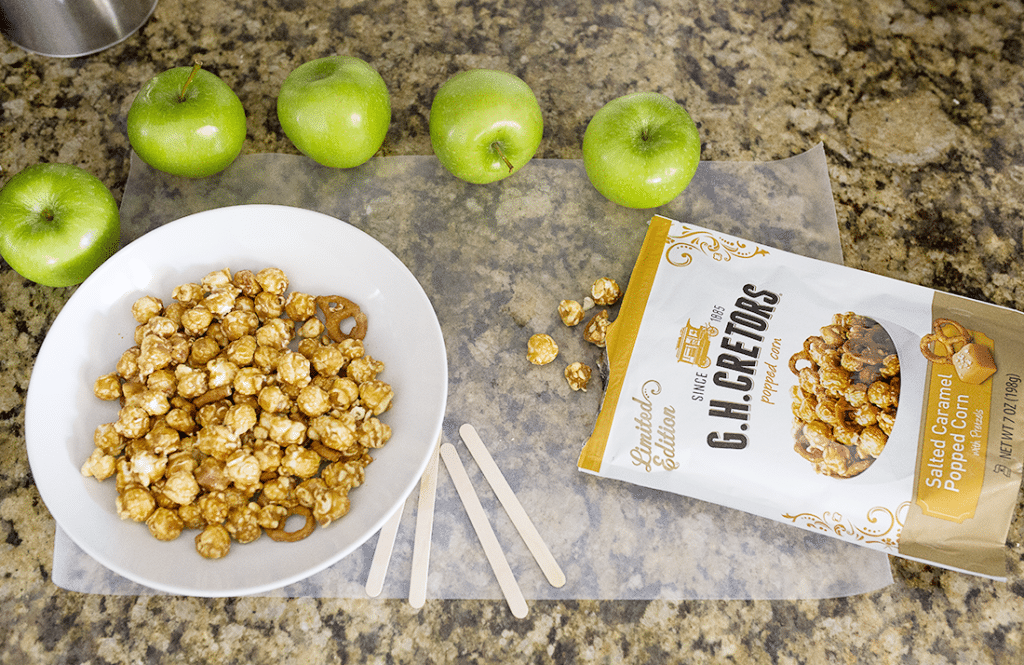 Once you have your station prepped, you're ready to make these delicious caramel apples with a crunch in no time!
Roll the apple in the melted caramel and be sure to evening coat. From there it's a quick dip in the G.H. Cretors Salted Caramel Popped Corn. I found it works better if you do less of a roll and more of a quick dip on each side. The good news is if you miss any parts it's easy to add a couple of pieces on by hand to make sure you get a fairly even coat and the aesthetic you're looking for.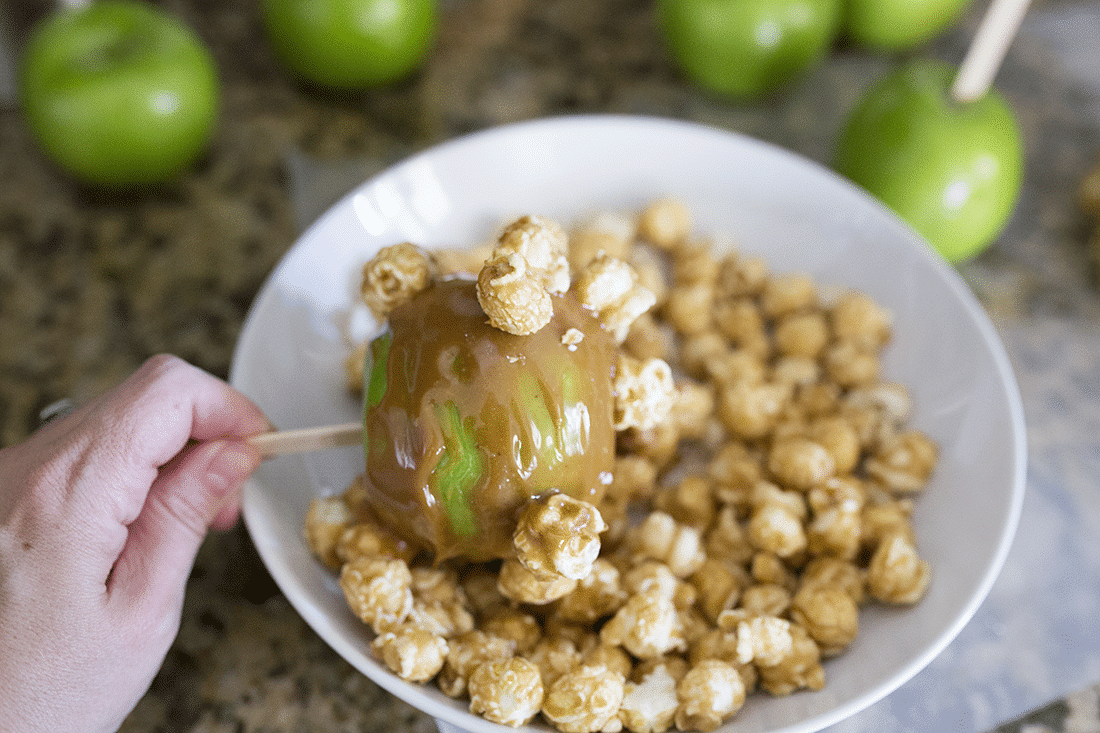 When apples are coated, place on the waxed paper and give about 10-20 minutes to cool and let the caramel harden. It may be hard to wait that long, the smell of both delicious caramel treats combining into sweet perfection yields just about the most amazing smell you can imagine. But it's worth it, trust me on this one!
From there you can enjoy on a stick, cut into slices for easier serving, or just admire this very easy and very beautiful fall work of art.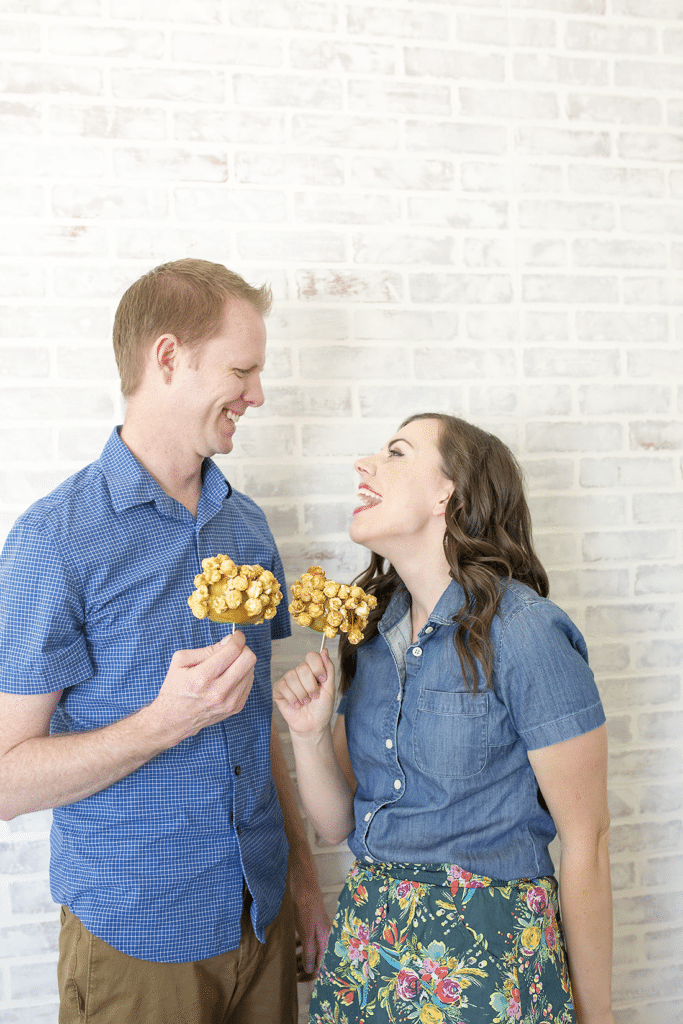 Get 365 Date Ideas!
We want to help you have the best date nights ever! Grab this FREE printable with 365 date ideas, a date for every day of the year so you never run out of ideas!