Lunch in a snap! An Easy Back to School Lunch Idea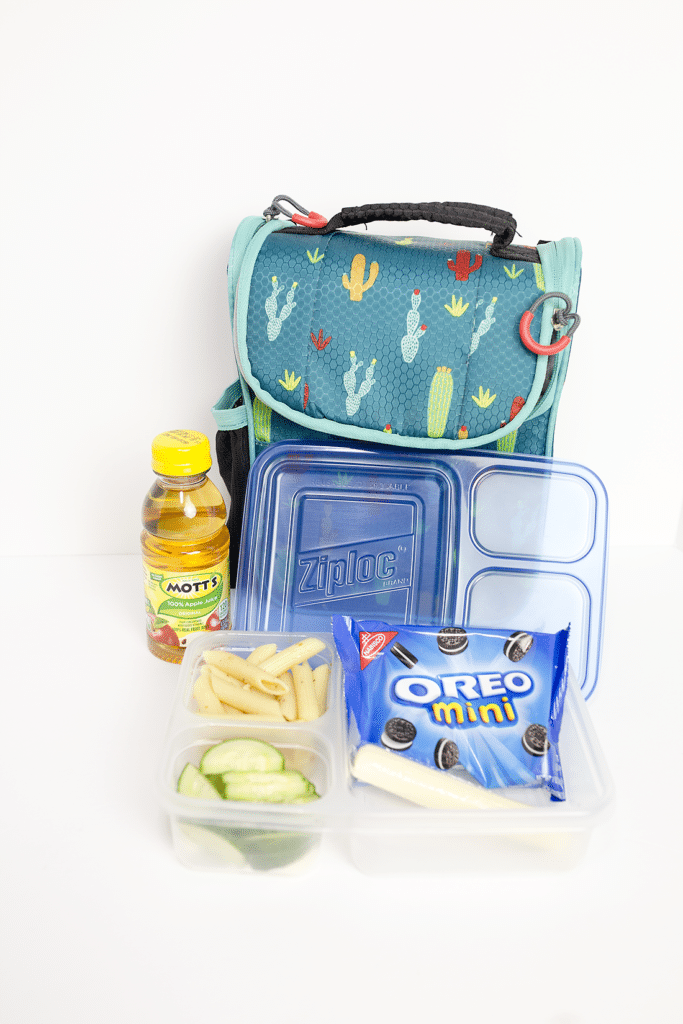 This post has been sponsored by Mott's®, NABISCO, and ZIPLOC® brand. All thoughts and opinions are my own.
The week after the 4th of July has always been a week of reckoning for me, it's when I realize the last big moment of summer is coming to an end and in a few weeks school will resume. Maybe it's my long-lost teaching career, but my mind immediately shifts from lazy summer days to starting to get things in order and prepared for the upcoming school year.
This summer marked a big shift for me in motherhood, even though my child may not be enrolled in school, he started attending regular field trips and museum days with his nanny once a week, and that meant investing in a lunchbox and planning and packing lunches for the first time in my career as a mother. And while the PB&J has been great throughout the summer, I can tell with each lunch box that comes back home that my child is ready for some variety and some more fun at lunch. So today I thought I'd share a favorite lunch idea that's lunch in a snap for any other moms prepping lunches and planning for the big days ahead!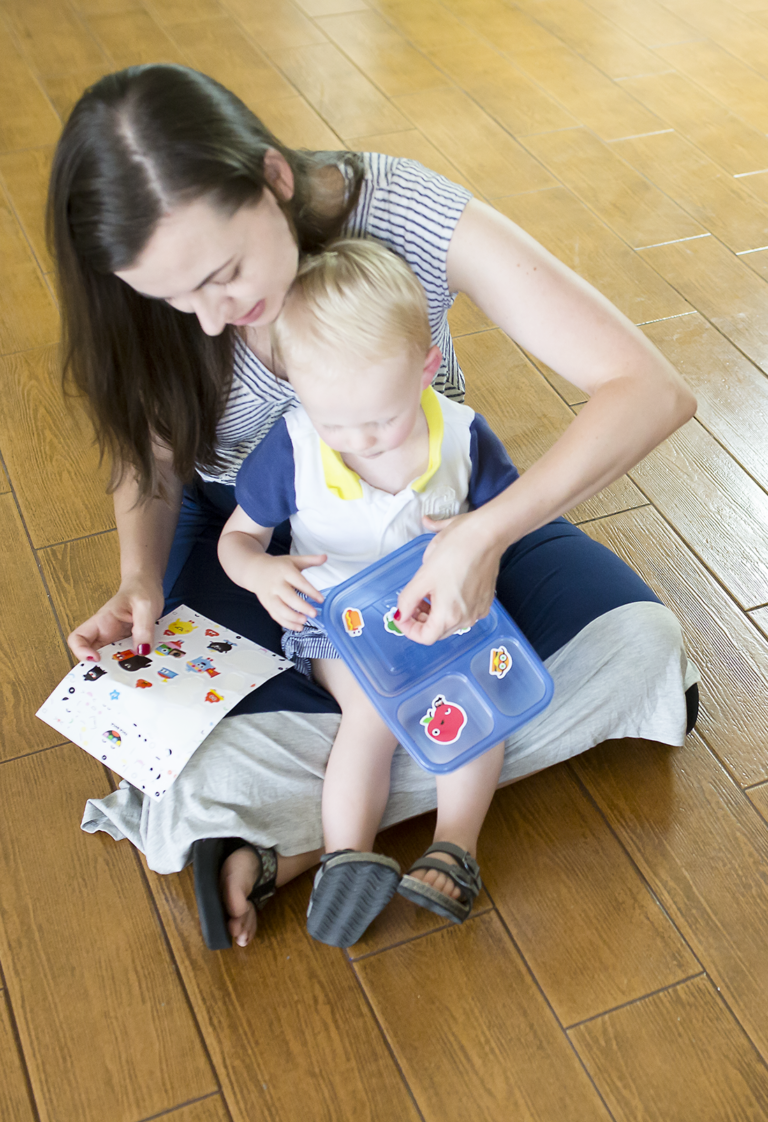 I've become a huge fan of using ZIPLOC® brand bento-style boxes with compartments, so no more squished items. Everything is compartmented and easy for even the littlest of hands to grab and see organized, and the presentation alone along helps me feel the triumph over life's chaos. Plus, we can make the box as fun and original as we want with any form of decorating. Since I have a sticker-obsessed child, placing stickers on the box is always a winning choice!
I like to start with a few ready-to-go easy items that make me feel like the lunch is coming together quickly, and helps me see the variety.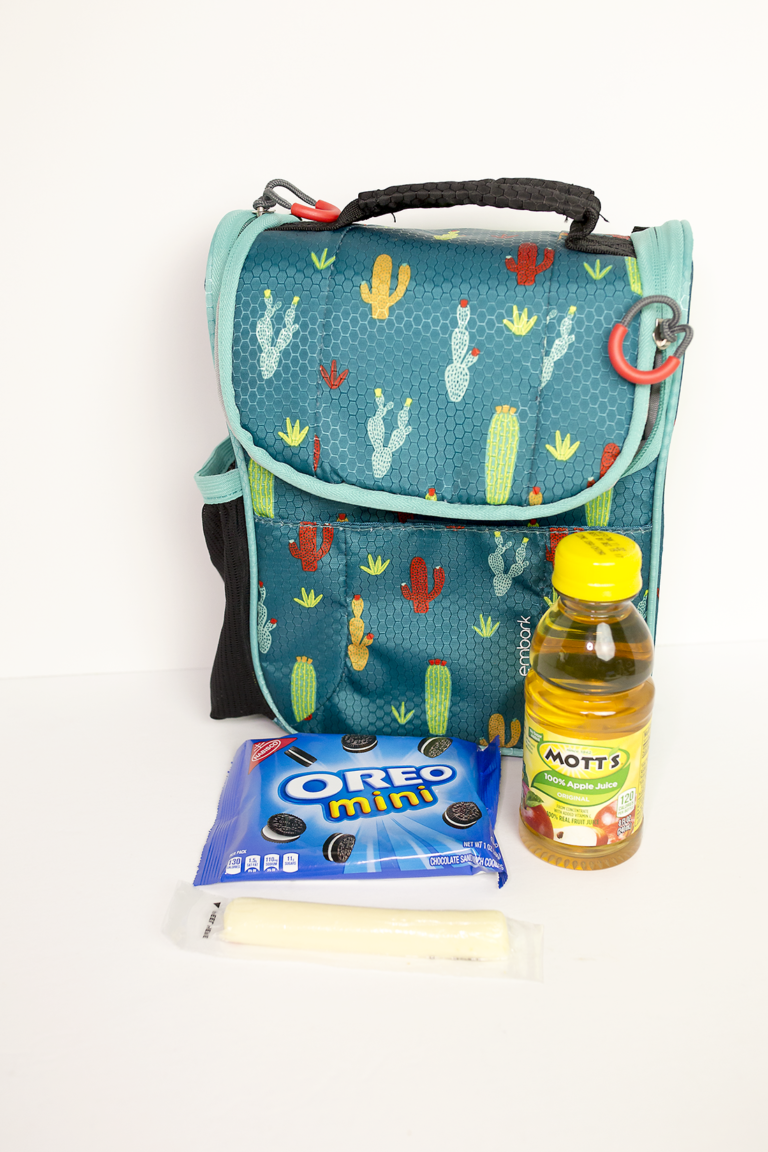 I grab a low-fat string cheese, a Mott's 100% Apple Juice in the 8oz bottles, and a delicious snack by NABISCO with their wide variety of snack options. Today's lucky winner: an OREO Mini Cookie multipack bag. And I should mention all these are available at Target, and you can save on Mott's on the Cartwheel app.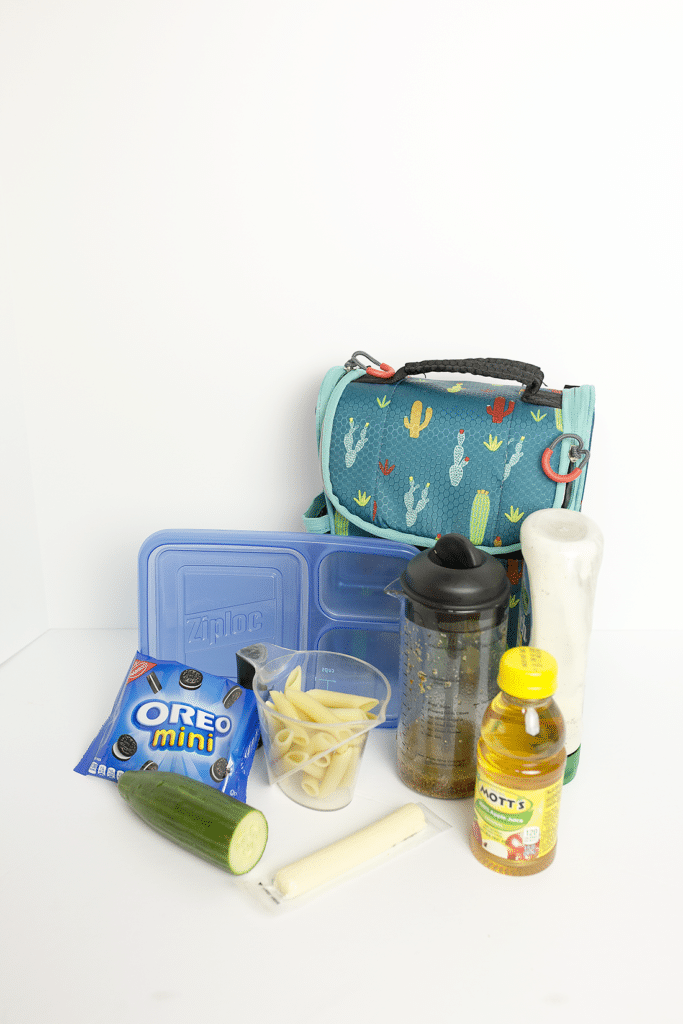 Okay, so I set these to the side and from there I do two easy prep items.
First things first, I like to pull out the vegetable of the day, which happens to be cucumber, and slice about 10 slices ready to go. I like to make sure there's 1 Tbsp. of light ranch dressing squeezed into the bottom of the box for dipping, and I place the cucumber slices on top.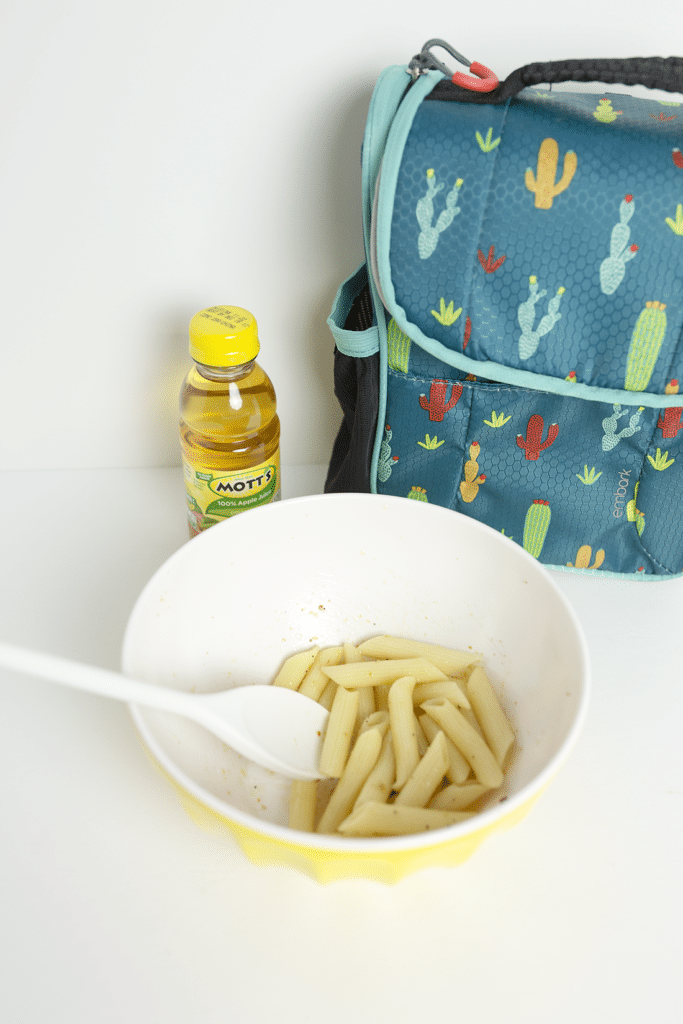 Next up is a little cold pasta salad that is absolutely kid approved.
Here's the easy recipe: 
1 cup cold pasta salad with 2 Tbsp. light Italian dressing
Stir it together and let it glide easily into your ZIPLOC® brand box.
Make sure the string cheese makes its way into the large compartment of the ZIPLOC® brand container, and the NABISCO snack of choice joins it shortly thereafter.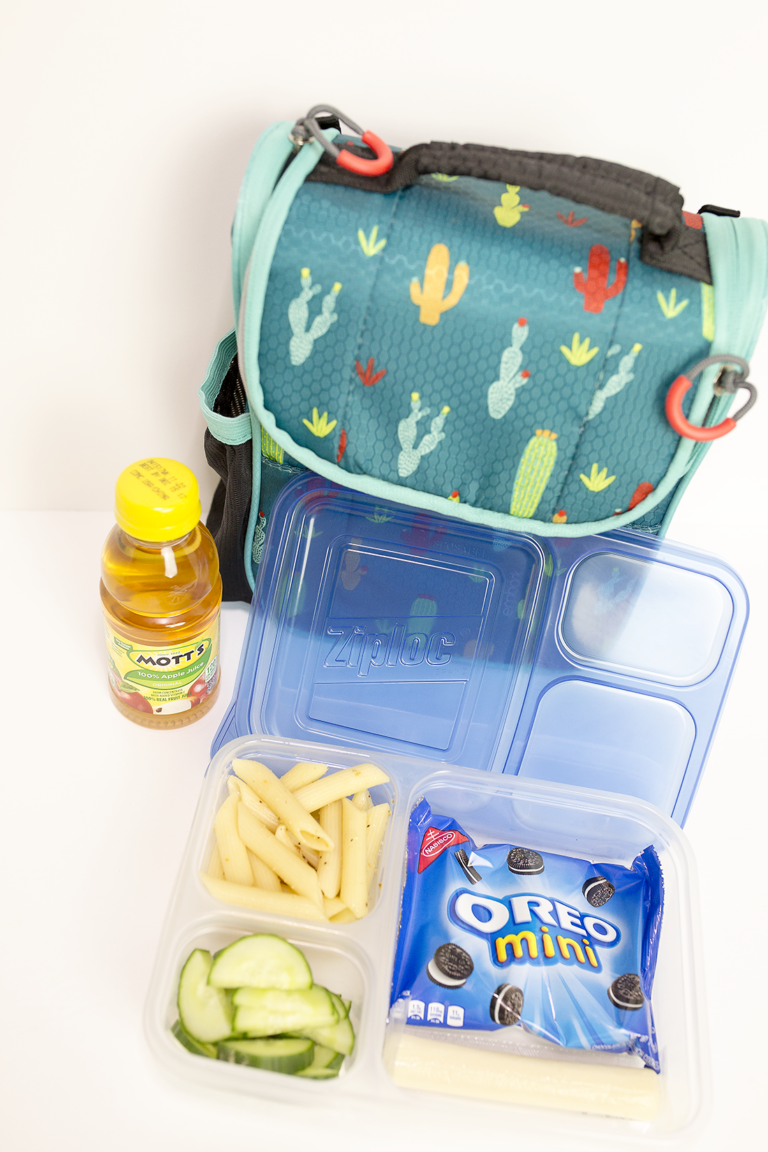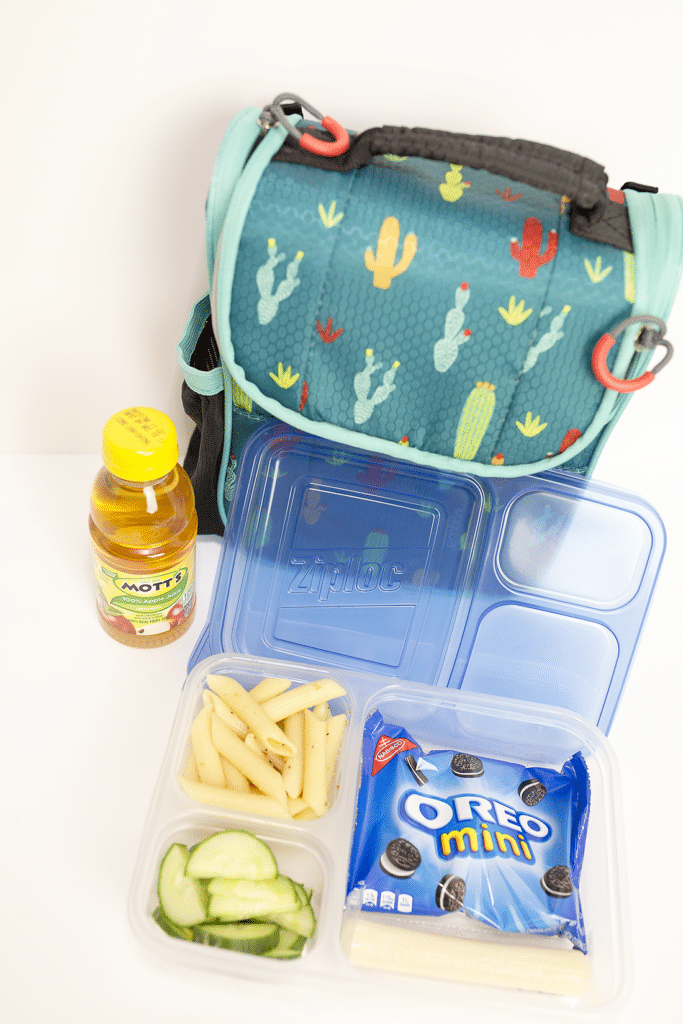 From there lunch is a snap! Snap the lid on top and let the ZIPLOC® brand container easily dance its way into the lunchbox. And don't forget the Mott's! The 100% Apple Juice can either join the lunchbox crew inside the lunchbox or be added to the drink area on the outside. For additional Bento Box Lunches Made Easy, click here.
Get 365 Date Ideas!
We want to help you have the best date nights ever! Grab this FREE printable with 365 date ideas, a date for every day of the year so you never run out of ideas!