Easy White Chocolate Popcorn
During the most wonderful time of the year, we find ourselves booked with activities, work and church festivities, holiday dates and plans, and a lot of busy days and nights! Because we seem to fit in so many activities and family dates, if we happen to have an open night on the weekend, we often seize the moment and decide to spend some quality time together on a date night we can relax and just cuddle- which typically ends up being movie night. We aren't always the biggest movie watchers, and you can see they don't appear too often as our date ideas, but we're big fans of it during our cold months and during the two major release times: holiday season and summer blockbuster season.
Sometimes this means going out to the latest exciting release, and sometimes this means cuddling on the couch and making a delicious treat. Because really, food should always be involved in a date! Lately I've been a huge fan of white chocolate coated popcorn- it's easy and so delicious. If you're a fan of salty and sweet, this is the perfect movie night treat for you!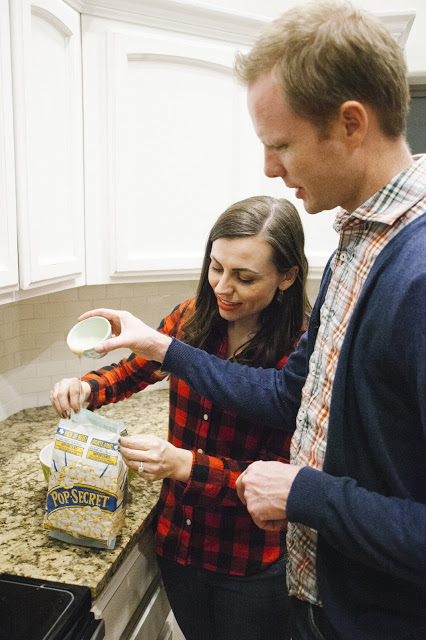 Easy White Chocolate Popcorn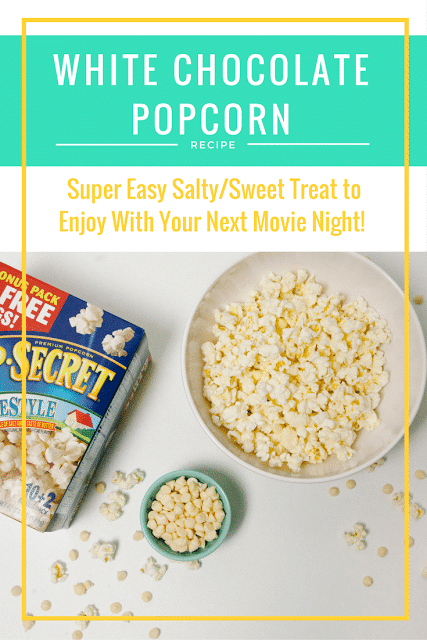 Ingredients: 
– 1 bag of Pop Secret Homestyle popcorn. If you really love butter you can get a butter flavor, but I think this offers the perfect amount without overstepping the white chocolate.
– 6 ounces of white chocolate chips
Optional Items:
– 1 TBSP shortening (you may or may not need this, depending on your white chocolate)
– 1/2 can sweetened condensed milk. If you want it creamier and sweeter, this can help make sure every piece has some sweetness to it, but technically you can make this without it!
Directions:
Start by melting the white chocolate chips in a microwave-safe bowl. I'd do this at 70% power for about 30 seconds at a time watching carefully so they don't burn, and stirring between each 30-second interval. It should only take about 1-2 minutes total. They don't have to be 100% melted, they can be clumpy and just on their way, the bag and the steam will help finish them off and this is delicious with chunks in it! If your chocolate is struggling (sometimes older chocolate chips and certain brands do) you can add in the shortening and let it melt with the chocolate. This will help with a smoother consistency. I know it sounds a bit gross, but the chemistry is different than regular chocolate where you'd add butter, so shortening is the agent that will help make it smoother.
Once it's mostly melted, go ahead and pop the popcorn.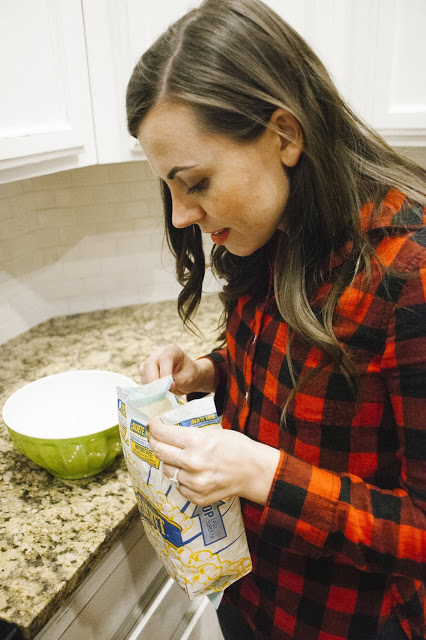 Be ready as soon as it's done to open and quickly pour in the melted chocolate chips. You'll want to close the bag at the top with your hands and shake the bag to let the chocolate chips coat the popcorn and spread more evenly. It's okay if it's clumpy, they taste great and work just fine! If you're going for extra sweet and using the sweetened condensed milk, you'll re-open, pour in the sweetened condensed milk, and close and shake for another minute.
After a minute of shaking and when you feel the bag cooldown you can go ahead and pour it into a bowl.
You can stir if you need to, but hopefully, it's fairly evenly coated at this point and you can see the goodness all over your popcorn.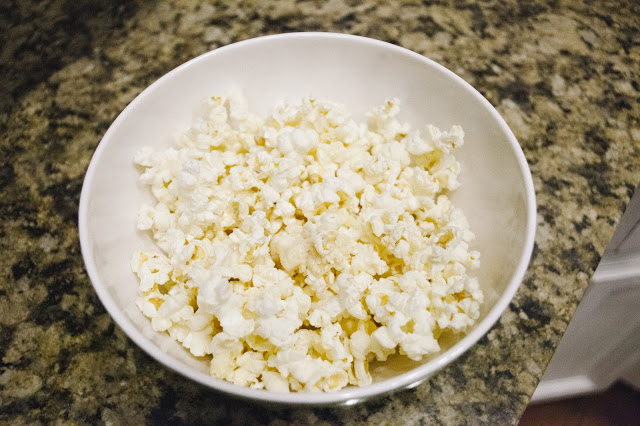 And that's it! You can enjoy a super easy, super yummy treat with ingredients easy to find at Walmart that makes movie watching all the more delicious.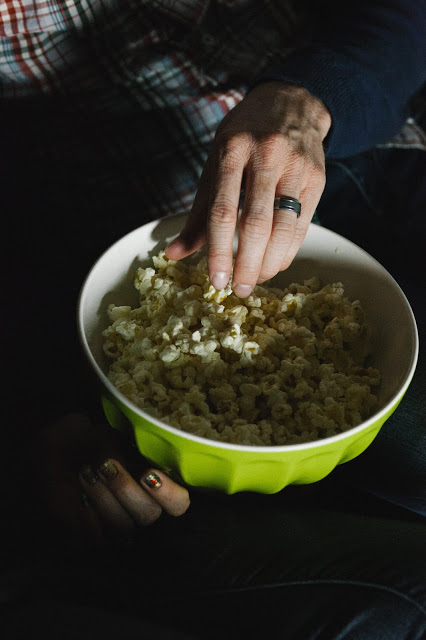 Get 365 Date Ideas!
We want to help you have the best date nights ever! Grab this FREE printable with 365 date ideas, a date for every day of the year so you never run out of ideas!