European Chocolate Date Night
This European chocolate date night is the perfect way to spend a romantic night in an inexpensive and delicious environment that will make you feel like you've flown to Europe.
Date Info: 
European Chocolate Date Night
Price: $15 per couple should cover treats for two
Location: Creme & Chocolats in Mesa, AZ
First of all, if there's a romantic date idea that involved a chocolate date night, I'm already in. But when we're talking a European chocolate date night, I'm downright giddy. Which is why when were invited to try a Creme & Chocolats, a new date night spot in Mesa, Arizona I was beyond excited! It's a Belgium chocolate dessert and crepe shop with a lot of Parisian influence.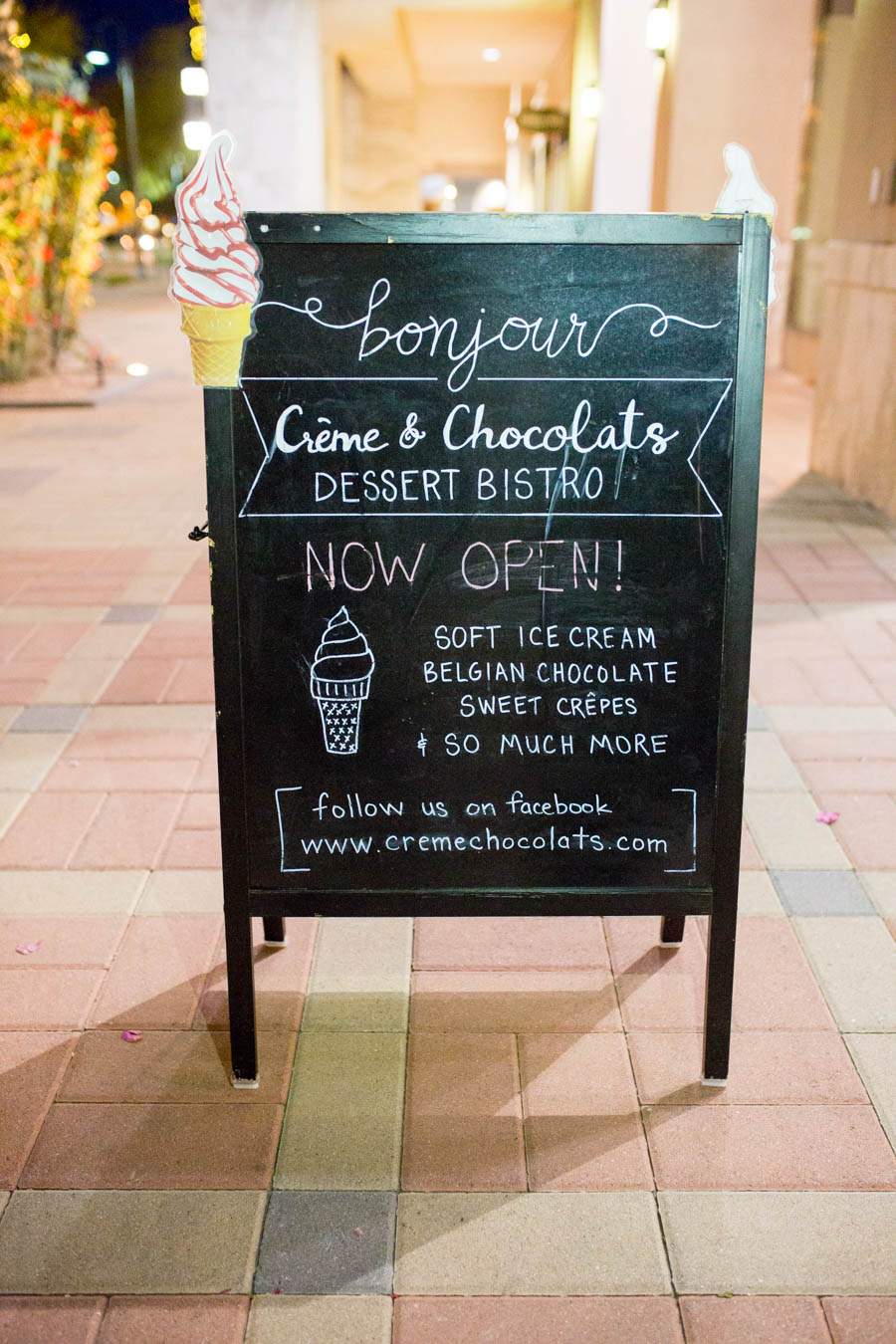 The owners are the cutest couple with a French background (it's their first language!) who wanted to bring more Europe to Arizona. They also saw the need to have an upscale dessert place in Arizona. That's where they really won me over. There are a few really amazing ice cream shops in Arizona, but as residents of the East Valley, we have to drive at least 30 minutes to get to any of them. Having one in the center of the East Valley at Dana Park that's super accessible right off the freeway is like a dream come true. And I can't believe I've already said that before I've shared the amazing food!
The ice cream is a true ice cream but comes in a soft serve form. It's rich, it's Belgium style, and it comes in so many amazing flavors. You can definitely enjoy amazing ice cream as is, but the real treat, in my opinion, is Belgium chocolate. This European chocolate is rich and doesn't include the wax and additives American chocolate does. It's a flavor unlike anything else, and we were lucky enough to try each of the flavors.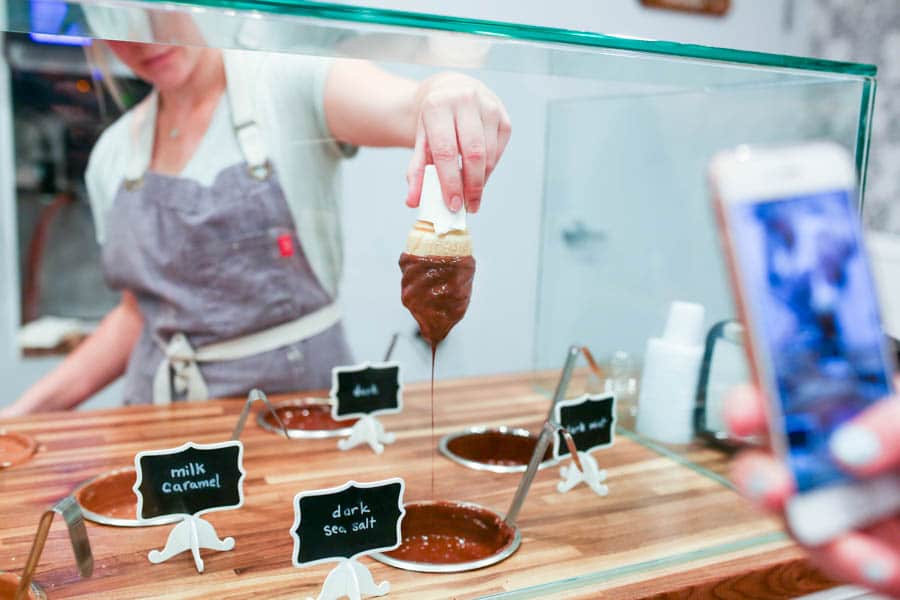 Whether you're a dark chocolate, a milk chocolate, or a white chocolate fan, there are lots of flavors and options for you! I'm usually such a fan of dark chocolate, but the milk peanut butter was a close runner-up to the sea salt dark. The magic of the chocolate is you can have your ice cream cone dipped in any flavor of chocolate you like. You can order fondue with any flavor. You can get an ice cream cookie sandwich dipped in this amazing chocolate. You can also do crepes with fruit and chocolate. For the hot chocolate fans, they do a steamed cream with your favorite chocolate melted and mixed together.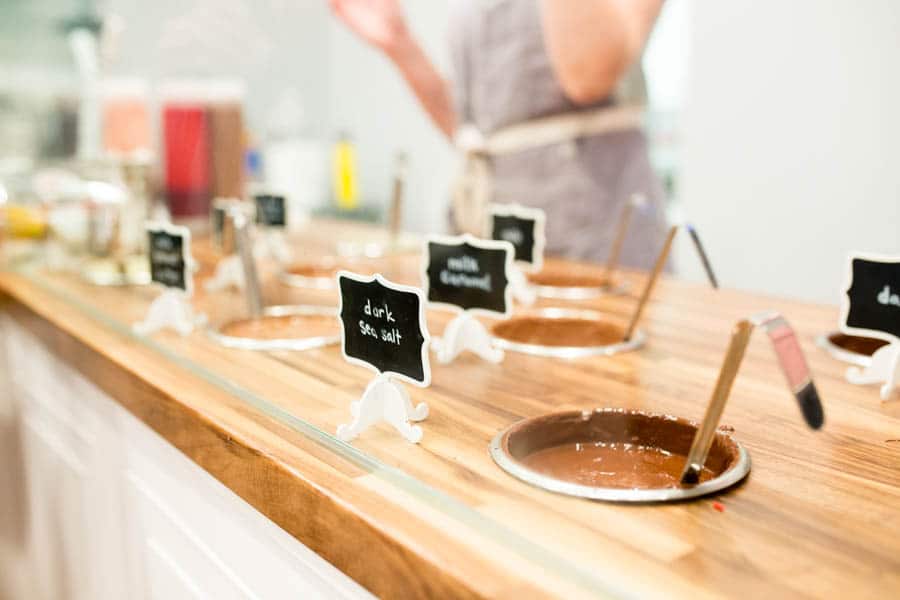 We were so thrilled with our choices! We had a pistachio ice cream cone dipped in dark sea salt European chocolate. It was incredible! I went right back to Italy and my favorite dark chocolate pistachio gelato combination.
It was a bit chilly at night so we also went with the hot chocolate. I'm such a sucker for dark chocolate sea salt that I chose that again, and it was such a good choice! I have a new hot chocolate love, and next time I just need a warm treat I know where I'll be heading.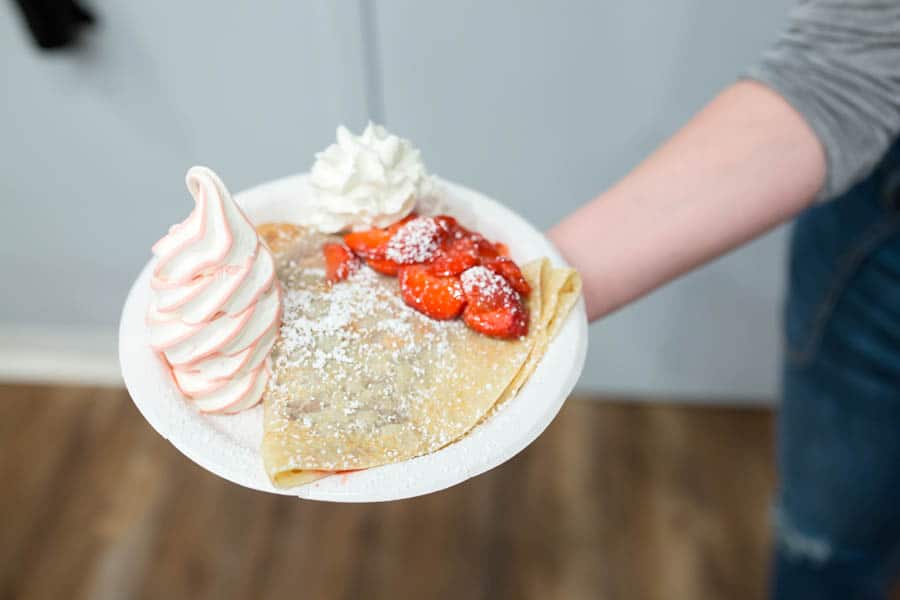 We also went with a crepe to share. Most European crepes put the fruit on top only, so we requested it American style and went with American classic flavors. A banana and hazelnut milk chocolate crepe topped with strawberries, cream, and raspberry soft serve was probably our favorite part. Combining this treat with the outdoor patio on cobblestone bricks with a fountain outdoors made us feel like we were back in Paris.
I love that this was such a great environment. I loved that there were so many delicious treat options! I love that I could find the European flavors I've loved so much traveling and that I can get them at home. But I really love that there's such a cute date spot in Arizona for those who need an easy date idea, or a really quick date idea, or a let's find somewhere we can just talk date idea, and really enjoy a fantastic and delicious place!
Get 365 Date Ideas!
We want to help you have the best date nights ever! Grab this FREE printable with 365 date ideas, a date for every day of the year so you never run out of ideas!