11 Fall Activities to Do with Your Toddler
This post is sponsored by Huggies Plus and Pull-Ups Plus at Costco, but the content and opinions expressed and love for the 10 Fall Activities to Do with Your Toddler are my own!
It's my favorite time of year, there's just something about fall that gets me so excited to wake up each day. Maybe it's how much I love holidays, maybe it's the pumpkin obsession, but I think it's likely the ability to go outside again after another very hot Arizona summer where it's often triple digits, even at night. Oh how that first week of temps under 80 at night make me so happy, that's the threshold for me to be able to run outside again, go for walks, and enjoy playing outside with my toddler.
This is his first year he's really old enough to enjoy outings and activities and to really soak up fall, and you'd better believe I have plans to help him realize why this is the greatest season! I've been brainstorming all the things I want to do with him, and how I'm going to make it work with just me and him for most of these activities, and I can't wait to share our plans!
11 Fall Activities to Do with Your Toddler
Park Days! It's a perfect time before it's too cold to enjoy the swings and slides and our community parks. We're planning a lot more park days!
A trip to the pumpkin patch. He's already asking to hold the pumpkins on our neighbor's porch, so we're going to enjoy looking at a lot of them and picking one to bring home.
Pumpkin chocolate chip cookie baking. There's nothing like planning time to be patient and let your little one help dump the ingredients in the bowl while you make something together. It's something toddlers adore, and that joy is always worth a little more clean up and time!
A field trip to look at the leaves. We only get so many changing leaves in Arizona, but let me tell you that they are exciting for not only me but my toddler to look at and enjoy! He's all about identifying colors right now, and a little lesson in seasons and leaf gathering is a fun adventure.
Make a craft with gathered leaves. It's so fun to color and work on fine motor skills right now, and adding some leaves to create a picture makes it even more fun!


Toddler Activities for the Fall

Go on a hayride. There isn't anything vehicle related my toddler doesn't love, and a hayride would pretty much feel like Disneyland in his book!
Decorate the house. There's Halloween, Thanksgiving, and some general fall decor in our home, and including kids in the setup of these items can be so fun!
Carve a pumpkin and play with pumpkin guts. Oh, the sensory fun you'll have!
Bake pumpkin seeds. Who knew he'd fall in love with these when I last bought them as a snack? Once again, a little patience and a lot of learning happen with these activities.
Buy different varieties of apples and taste test each. He's learning to love apples, applesauce pouches have kept him alive at some point in his life, and it's a fun experience to learn there are different colors and tastes.
Try one of these gratitude activities. They may be small, but it's never to early to get them started learning to give thanks and appreciate more!
I am feeling the need to get these on the calendar, and to get life prepped as the busy holiday season always comes fast and focusing on quality time and memory making with my little person is definitely the top of my list.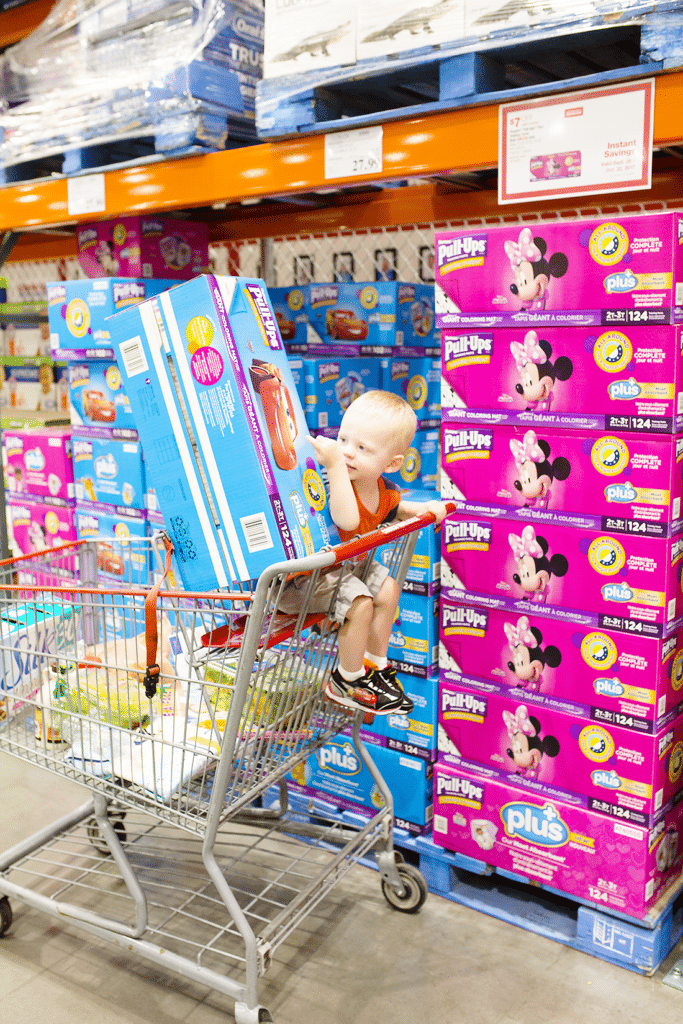 One of the ways I prep and make sure these things happen is to get as much together early in the season as I can! This includes stocking up on what my little man will need for the upcoming season and that usually means stocking up on diapers, but this season we're changing gears and stocking up on Pull- Ups Plus Training Pants at Costco. So, we're prepping to continue potty training without missing a beat while we're out enjoying all the fall fun!
I love having Pull-Ups Plus on hand should any accidents happen, I love that my little guy gets excited about seeing his favorite character, and I really love that there's an awesome instant savings at Costco right now of $7.50 off through 10/22 which make them such a great deal! We will be utilizing these perfect potty training helpers all fall and holiday season long while we're out making memories, and focus on enjoying a little more mom and me time with a lot of peace of mind!
Like these fall activities to do with your toddler? You may like these posts too:
25 Fall Date Ideas to Make the Most of Fall
Get 365 Date Ideas!
We want to help you have the best date nights ever! Grab this FREE printable with 365 date ideas, a date for every day of the year so you never run out of ideas!