Family Group Dates- And a Niece Old Enough to Start College!
We are big fans of meeting up with our siblings for group dates. We love trying new places for dinner, meeting up the play games, and just sitting and talking about life. It's amazing how much more fun siblings become the older you get.
What is really crazy is to see our older siblings reaching the age where their kids are in high school and are starting to officially plan for college. We even have our oldest niece graduating from high school this week, and we are both wondering where that little girl went. I can hardly believe so many of our siblings are entering this phase of life while we're still seeing some of Jacob's younger siblings in college and several of our siblings trying to figure out the best way to finish off student loans from doctorate and professional degrees. It was interesting to sit and chat about the different loan options and pros and cons to what's available.
Of course there's nothing like good pizza to bring out the financial geeks in all of us!
We are both big planners, and the moment I found out I was pregnant you'd better believe the talk of if we can pay for college and how much we hope to pay came up pretty quickly! I'm already doing all I can to help save for Mack's education (which once again, thanks for supporting sponsored posts so I can do this)! Options are start saving young, hope for a scholarship, offering living situations to help your student pay for tuition on their own, hope to win the lottery (half kidding), and really education yourself on the student loan options and what each mean for long-term and short-term repayment. We talked about a lot of different options, but we all agree, more and more these days, loans are becoming a big necessity for more people to be able to pay for college.
I was lucky and able to pay off my MBA relatively quickly, but I was lucky to go in the days of subsidized loans and work while I was in school to avoid Federal Plus Loans. In finance classes we talked about loans changing and the interest rate calculations for new loans- it was even a practice question for our final. I was amazed how crazy loans were becoming, and how many people don't know all the options out there. I love helping people figure out how to minimize their debt, it's one of the things that drew me into grad school in the first place. That's why when I was given the opportunity to partner with College Avenue and talk about some of their loans and their options I was more than happy to share!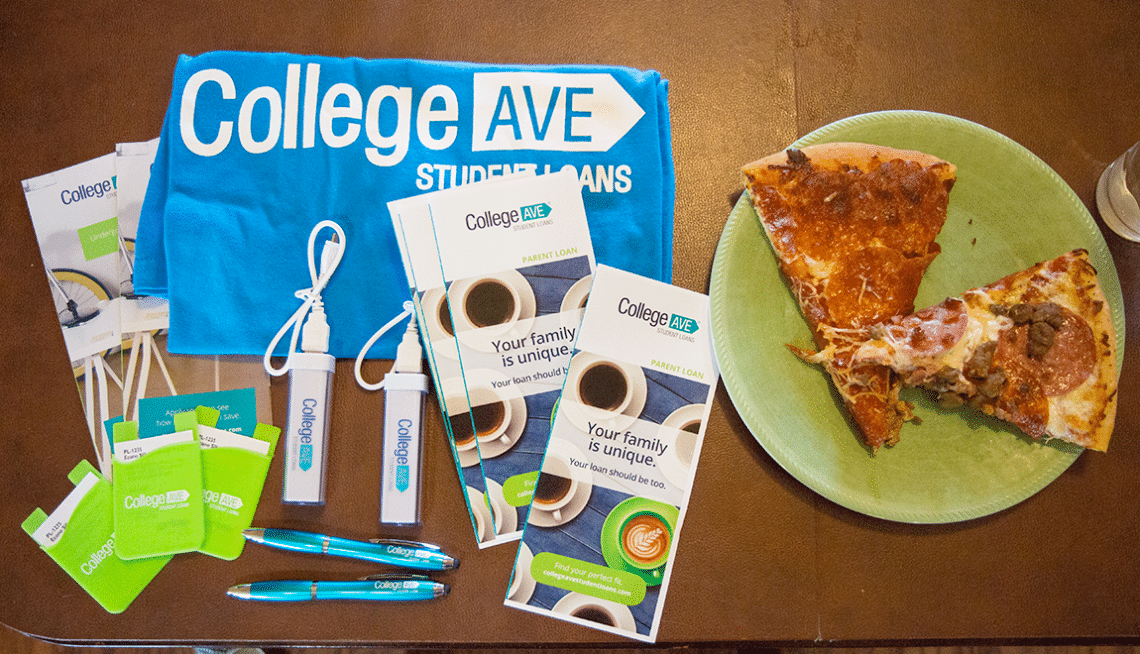 College Ave Student Loans first of all, have a great website and are super easy to find more information about- so a pro off the bat! They launched a new Parent Loan, which offers savings over Federal Plus Loans- the loans most students take out to pay for living expenses and the ones that really add up fast with interest! They are different- no origination fee and a lower fixed interest rate than the federal program, College Ave Student Loans new parent loan offers qualified parent borrowers an average savings of  $1,000 vs. the Federal Direct Parent Plus program. When you start looking at interest it really is true that every penny counts!
College Ave Student Loans are more flexible, and offer an option to have up to $2,500 deposited directly into parents' bank accounts so they can help control spending for students who need help learning to budget. There's an option to start paying in full right away, or limit monthly payments while the student is in school, and to pick their own repayment terms from 5 to 12 years.
Parents can take on the loan responsibility or they can cosign a loan with their student instead. That way the student also shares the responsibility for repayment. They really try to make repayment easy so the student and parent can move on with a bright future after college.
College Ave Student Loans and Experian® are offering a limited time joint offer of a credit health check — a complimentary, personalized credit education session with an Experian Credit EducatorSM agent — to help families preparing to pay for college. This is all in effort to better support parents who may need to consider borrowing or cosigning a private student loan if savings, scholarships and federal aid fall short of higher education costs. If you have a student heading to school this fall, now is the time to explore private financing options, which you may need after savings and federal options. The personalized credit education session offers an in-depth, one-on-one, 35-minute phone call with an Experian Credit Educator agent. During the session, parents will receive a copy of their Experian credit report/score and a personalized, step-by-step walk-through of the report, as well as examples of actions that may improve their credit score and insights for future credit management decisions. That's a pretty great offering for anyone trying to decide if it's a good fit for them. You can get more information about how to access the free credit education session at: https://www.collegeavestudentloans.com/crediteducator.
So there's a lot of great info about an awesome resource to help with the college bills. Which, Heaven help me, we're only 17 years away from paying!

I was selected for this opportunity as a member of Clever Girls and the content and opinions expressed here are all my own.
Get 365 Date Ideas!
We want to help you have the best date nights ever! Grab this FREE printable with 365 date ideas, a date for every day of the year so you never run out of ideas!