Friday We're in Love Gets a New Look
One of the craziest things about blogging is all the behind-the-scenes items we do. The goal is to make content really easy to find, the website super fast, and essentially the user experience are seamless and simple as possible.
I'm an analytics nerd at heart, and it's something I actually speak about at conferences. Before blogging/content creation became my job, I worked as a project manager in web development. I helped several Fortune 500 companies hone their digital strategy online through website updates. It was such a fun thing to do, and something I absolutely love!
Two years ago I made some serious site changes in hopes that people could find desired content a lot easier. The goal primarily is to help others find great date ideas. I know many come looking for something to do for date night, and then really need to filter down to a budget and an activity that fits their weekend. So navigation changes happened and a new platform happened too- hooray!
Now, two years later, I'm taking it even further so you can find what you need faster. Friday We're in Love's new look is all about making it faster and easier to get to what you're looking for!
Friday We're in Love Website Changes
Here are a few changes I'm so excited about!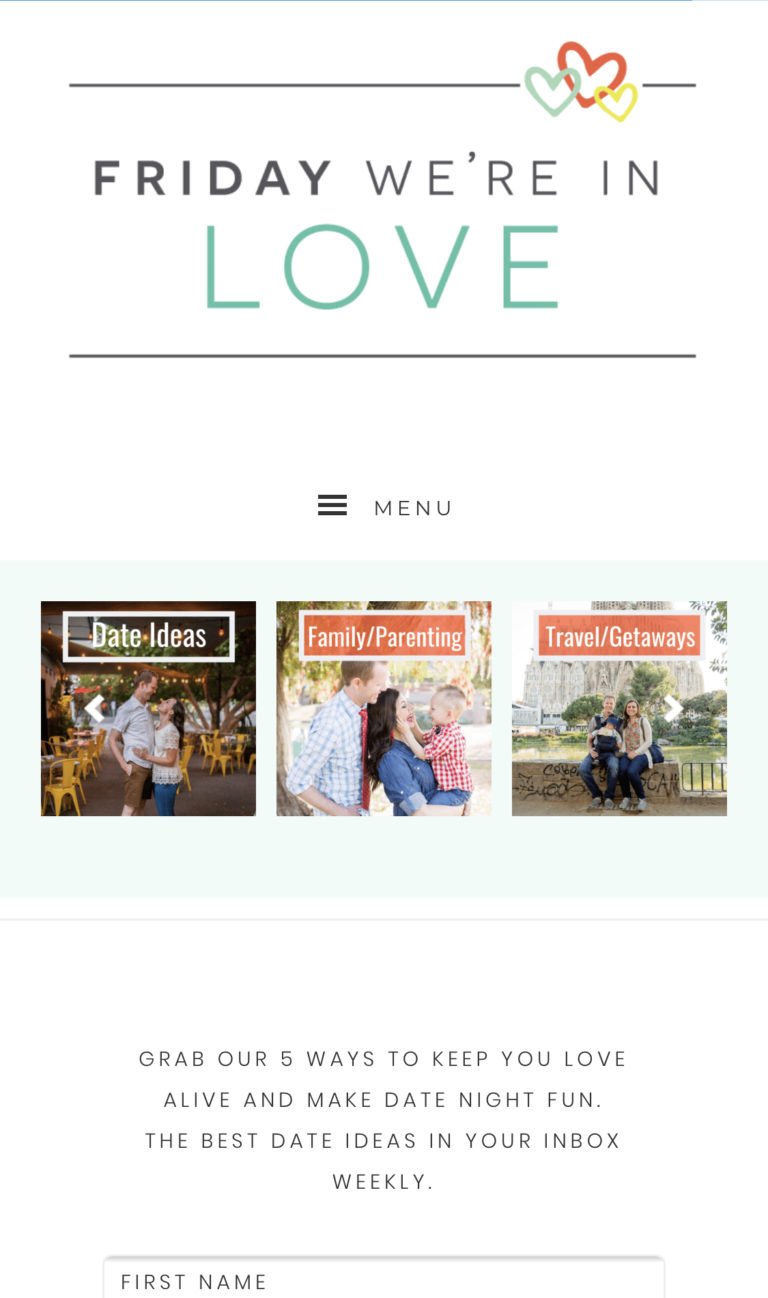 So Much More Mobile Friendly! Two years ago about 50% of my traffic was on a mobile device. Today about 75% is. That's a big jump friends! As the site owner/creator I sometimes had a hard time finding the right dropdown menu, amongst other things. I'm so excited about this update that makes the site work mobile first and desktop second. It should be so much easier to navigate and read on mobile!
Search is easy! the search bar used to be in the sidebar and was hard to see. It's not right up top with the menu. On mobile you can see it in the dropdown three lines (called a hamburger menu icon) and on desktop it's in the top right corner. Yay for faster searching!
Your favorite content comes first. I had content pulled dynamically when you drilled down to categories you wanted (i.e. travel-US-California-Disneyland). Now there are landing pages with links to the top content, which you can see in the home page slider. Plus there's still an easy link to still see the old dynamic view with newest posts first. It made the journey to content a lot easier, and there are better options to find what you want.
Navigation updates. I never thought I'd be a parenting blogger, but low and behold it's become one of our pillars of content. I had it hidden in a dropdown. I know many users come looking for parenting tips, our infertility journey, and pregnancy content. I pulled up the family content and made it easier to find. After all, we are a family blog with marriage and family activities first.
Landing pages. I know some of you are here for dates. Some are here to dig through archives. And bless those of you who read at least most the posts I write and follow along with our lifestyle! I changed up the slider with images at the top to help you go right to the top posts and pages so much easier. I hope you find just what you're looking for a lot faster! And hey, if you want to see more than dates, it's a heck of a lot easier to find!
There's going to be more landing pages added to help with user experience in the coming weeks. Also, I have an exciting announcement coming in another month or two that will also be a fun new addition to the website. This new look made it possible, and I can't wait for the big reveal!
I'm happy to say Friday We're in Love's new look that I've spent a lot of time in the background updating is live! I hope what you're looking for is even easier to find! And as always, feel free to comment or email any other thoughts or ideas, I always love hearing from you guys!
Get 365 Date Ideas!
We want to help you have the best date nights ever! Grab this FREE printable with 365 date ideas, a date for every day of the year so you never run out of ideas!