Huge Announcement! Friday We're In Love Shop is Open!
I have a huge announcement that has been four years in the making!
Why a Shop? Let me Tell You the Backstory
Almost four years ago I was invited to speak at Pinner's Conference about dating your spouse. I was amazed as my presentation ended someone raised their hand and asked where they could buy our book. I laughed and said, "Oh I share dates totally free on the blog, I haven't made a book, and I haven't made a printable just yet." Then, she immediately shouted, "You should!"
Taken aback, I asked the hundreds of attendees who would want and buy a printable version of our date lists or would be interested in a book. I was amazed to see every hand in the audience go up.
I've always viewed my business model as providing free content and ideas, which I plan to always do! You're all the best for supporting and giving love to sponsors, my ad network and affiliate links. These are the ways I'm able to keep this blog running! I've always figured you support these so, well, the least I can do is offer the best content I can produce, totally free! Plus, I sincerely want every couple to have amazing date nights. I'll always want to share ideas to help inspire those!
However, I also saw there was something I was missing out on. Maybe lack of time, or lack of design talent on my part, but it didn't happen immediately.
Creating and Sharing the Products People Keep Asking For
Pinner's wasn't the only time I've had people ask if we have printables and/or products. I am always so flattered. As someone who is a bit of paper minimalist, I've always been cautious about adding things that don't really add value. I have wanted to make sure they were what people really wanted and would be useful and helpful!
I've listened to the request, and I try to make note of what people keep asking for. The printables and tools requested have been something we've slowly been adding. If you've followed us for years, you may have seen us offering some of our best content as freebies on the site and to our email list. Which BTW, you should definitely join if you haven't!
Date Nights, Parties, Printables, Oh My!
In addition, I clearly cover date nights as our main focus, but I cover a lot more lifestyle content too! Each time I share a party, a custom design for our home, a cake topper, a quote or decor item, I have people ask if how we made it and how they can make it too. Just last week we shared our son's Peter Pan Birthday Party. I had instant messages asking if we had an SVG file for the cake topper we'd be willing to sell. Good news, we certainly do now!
I've never meant to keep all these things to myself, so it was just time to do something I've thought about ever since Pinner's Conference four years ago.
So today I'm so excited to announce…
The Friday We're in Love Shop is open!
We're starting small, but we'll continuously add new products all the time!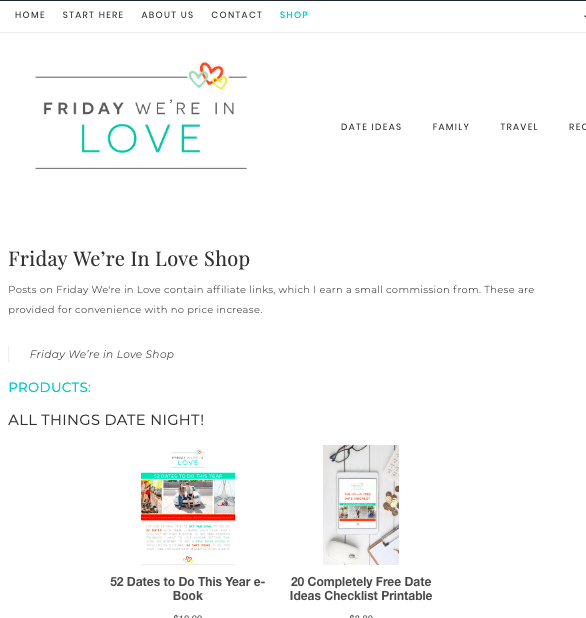 Here's what you can expect to See In the Friday We're in Love Shop
All Things Date Night 
We've designed several printables so you can have a concrete place to find the best date ideas to keep by your calendar! Many are added content that hasn't appeared anywhere on the website before. Also, I took to heart the book request, so expect date night e-books
In Love Prints
There's something magical about YOUR SONG, or lyrics that remind you of the one you love. I love how many people decorate their homes with the song they danced to on their wedding day. We have tons of In Love Prints with lyrics and love quotes to print and decorate with. Or, you can photo print them and give them as a surprise card with a sweet note.
Party Decorations and Printables
I love to throw a good party, and we often create our own designs for themes. I'm so excited to share SVG files, printables, and decorations we've made ready for you to use in your parties too!
Home Decor Designs
I've had so many ask about our The Wonderful Things You Will Be Nursery, and we're so excited to share some of the designs with custom quotes that are now available.
So Much More Coming Soon!

I have big plans for so much more in the pipeline. Big things are coming to Friday We're in Love Shop! But for now, I'm so excited to share that we're giving you the products you've been asking for, and plenty of extras to make you feel a little more love in your married and family life!
And if there are any posts you remember thinking, I'd sure love to have that as a file or printable, shoot me an email ([email protected])! I'd love to continue to make the products you're hoping to see!
Photos: Brenda Eden Photography
Like this post? You may like these too:
Getting Things Done: Outsourcing Pieces of Life to Increase Productivity
Making Date Night Happen When You're Out of the Habit
Get 365 Date Ideas!
We want to help you have the best date nights ever! Grab this FREE printable with 365 date ideas, a date for every day of the year so you never run out of ideas!