Best Ways to Support a Friend Dealing with Infertility
How can I help a friend struggling with infertility? What can do in their time of struggle? I'm sharing my personal experience and 14 of the Best Ways to Support a Friend Dealing with Infertility.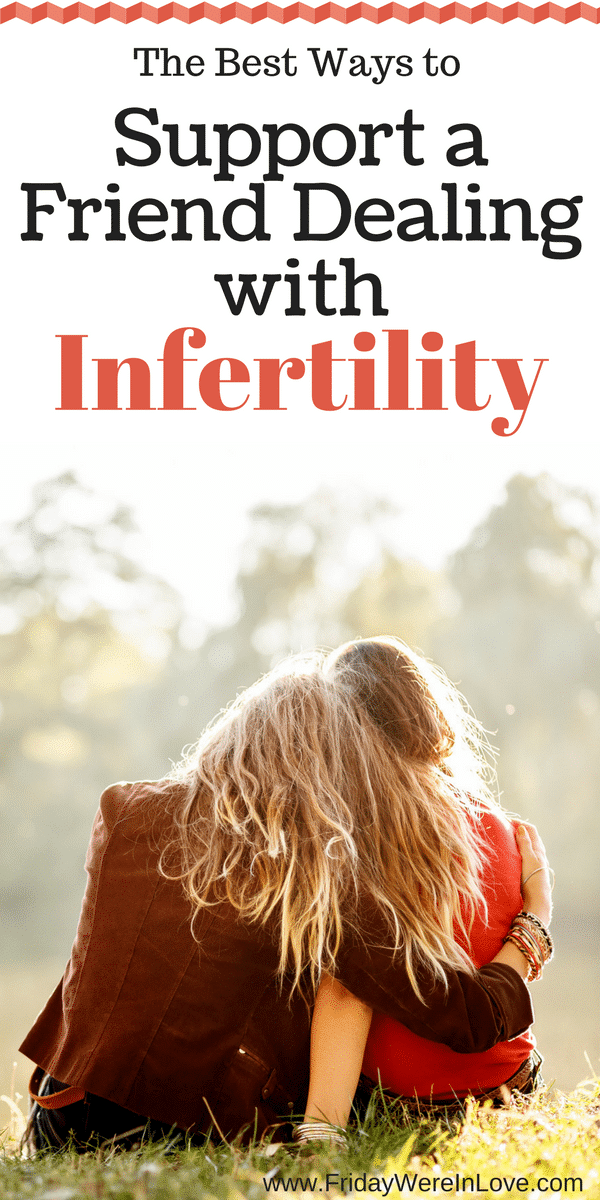 I had an email from a friend that sort of surprised me and left me thinking for a day how to thoughtfully answer. It was one of those deep-feeling matters of the heart that I really wanted to try to do justice to. She asked, how can I help a friend dealing with infertility? What's something I can do to honestly help at this hard time?
Helping a Friend Struggling with Infertility
I thought long and hard about the moments that really made a difference for me. Those moments someone really cared about helping a friend struggling with infertility that made me feel a lot of love. When a friend is going through a hard time and you really don't know where to start, it can be so hard to know how to support them.
I wanted to share my personal experience and some experiences of friends with things you can do to support a friend dealing with infertility.
Best Ways to Support a Friend Dealing with Infertility
Infertility emotional needs
Don't exclude them in the name of being sensitive. I've heard from almost everyone struggling that even if a pregnancy announcement made them cry or feel jealous, friends or family keeping it from them felt a million times worse. I feel pretty lucky that I've never been saddened by anyone else's announcement. I take that back, one teen pregnancy when I was a teacher did make me cry later and think WHY HER?!?! But as an adult, I've felt joy in everyone else's excitement! Yay! Others can repopulate! Thanks for not excluding me from your joy and celebration.
Be sensitive if they need space. This may contradict #1, but sometimes an announcement or certain experience is rough and just needs some space. They may not want to go crib shopping with you- but they may. They may need a day completely alone to mourn a miscarriage and a baby that never happened. Just know that everyone mourns differently, and at different times. Be sensitive.
Keep your birth stories to a minimum. In my church, we visit other women to check in and make sure they're okay from time to time. I can't tell you the hell it was to visit some people and have all the women share birth stories for HOURS! I sat there in awkward silence. One particular time I sat there with a failed treatment that was costly holding back the tears and feeling completely isolated. Don't exclude them, live your life, talk about your kids. But you don't have to only talk about pregnancy, kids, and childbirth.


Infertility support

Do more listening than talking. I've had friends who seem to have everything to say about infertility whether they've been through it or not. I've come out feeling like I had a lecture over something I had so little control over. At the same time, I've had friends just listen. If I didn't want to talk about treatments at all, they asked me about work and listened. If I wanted to share every detail of every pill I had to take any shot I had to give in one day, they listened. I count my best friends those who were ready support no matter how little or how much I wanted to talk.
If you're privy to specific dates and big milestones, check in, do an act of kindness, and let them know you're cheerleading them on. The day my best friend did her IVF embryo transfer I sent as many funny GIFS as I could to make her laugh on a stressful day. The day I had the ultrasound to see if this billionth attempt and new drug FINALLY caused ovulation, she texted me all day to make sure I was okay and to hear results with me. We were the only two aside from our husbands privy to this. But if you're lucky enough to be in that inner personal circle, really be in it!
Don't be afraid to reach out. I was more private about infertility than anything else in my life for the first few years. Only my husband knew the details. When I started letting a few friends in, they were all amazing! They had no problem texting just to see if I was okay. My best friend started texting to help me chart cycles and schedule appointments if I needed support. They all backed off if I wanted, but there are three friends who knew I was pregnant even before parents. They were all there to reach out when I wanted to go in a hole and remain mute. They also let me go mute, but still reached out when they knew I needed it again.


How to help a friend with infertility

Random acts of kindness go a long way! Oh, the days a friend who drops by with a random baked good. Or when a text was sent just to let me know someone prayed for me from another state. Infertility struggles can feel like the most isolating thing. I love those friends who said, I have no idea what you're going through, but I wanted you to have a few minutes of joy today and sent a funny card or some flowers. Don't be afraid to just send a gift and let them know you love them. Any friend dealing with infertility knows these gestures make a huge difference.
Don't be afraid to help them help themselves. I've seen friends host fundraisers for other friends to raise enough money to pay for treatments. I've had friends offer to drive me to appointments for support. I had one procedure so painful I wish I'd taken the friend up on the offer to drive me there and home. Another infertility struggler told me it would feel like labor with contractions and all. Now that I've had a baby I can tell you it did. Driving home from Downtown Phoenix in city traffic having contractions wasn't optimal. I should have asked for help! If you're the friend, don't be afraid to offer it, to step in and give it, and to help pick up your friend's needs when they need you most.
Help them deal with grief. I read a study about infertility causing similar feelings to losing a loved one. Only this time it's a loved one you never got to meet or create any memories with. I remember often feeling that way, I was mourning and crying about a life I dreamed of that I wouldn't get. I'm grateful for those who offered love and support and didn't diminish the pain. Acknowledge it's hard, and it's okay and normal to feel grief and pain. My husband often asked if I wanted to see a therapist, and there were times I really considered it for grief counseling. For our baby we lost, we still pay a little homage to on the anniversary, the pain was so real. Many try to just cheer up, but it's helpful to acknowledge it isn't fair and that it's okay to be sad and grieve. Ask how they are doing and don't ignore there's a problem. It really makes them feel more isolated when no one is there to offer support.
I asked a friend the best help, and she said another super healthy friend offered to go on the same diet with her. Infertility often leads to specific diets, needs to lose weight and a lot of hormone imbalances that can make these exceptionally hard. There's nothing like an amazing friend who will go out for a low-carb no-sugar salad with you! If you are up for it, see if you can commit to a few weeks at least, it's so helpful to have a diet buddy.


Infertility support systems

Connect them with other friends who have been through this journey. It's hard to find that network, but it's an important one to have! I'll forever be grateful for a Facebook support group someone allowed me to join. I'm so grateful for friends who asked I wanted to talk to their friend with a success story. Those always gave me hope, even if it meant 10 years or a million procedures more, or preparing for adoption. If you know someone who can support who has been in their shoes, offer to make an introduction! If you don't, offer to help find an online support group!
Remind them it's okay to be selfish right now. I really hated it when people told me to enjoy it because kids are the worst and proceeded to complain. I really appreciated when wise friends would remind me if I couldn't have motherhood right now, I deserved to find some other sources of happiness. Buy those expensive shoes! Go on that dream trip! Take up a new hobby! It's okay to invest in yourself right and find some other venues for happiness and self-progression during the struggle.
Don't question when they need leave or miss events. Did they leave an event with a bunch of kids early? Did they not make it to a baby shower? Just talk about other things and give that space if they need some private time. But there's no need to bring it up and talk about it if you have a hunch. Sometimes they just need a moment to be away from something that is reminding them of the pain.
Offer distractions. I'm saying this within reason if they want to talk and mourn let them. But if they're sad and just want to have a night off from the stress or grief, be their distraction. I loved those girls nights where it felt like college and no one was worried about kids. I love the friends that shelved talking about kids for a few hours in the name of distracting girlfriend fun. For the record, it was good for them too and now that I'm a mom I still enjoy these moments of debating the perfect nail color at a salon or laughing about other things.
Girls trips can mean the world. Vacations and shopping and whatever else you're into that doesn't involve analyzing life or talking about adulthood too much can be such a breath of fresh air. Be that happy distraction and give each other a break from adulthood now and then.
More posts about our infertility journey:
Mother's Day and Thoughts on Infertility
National Infertility Awareness Week: Signs You Might be Infertile
What to Say When Someone Tells You They've Had a Miscarriage
Trying to Conceive Health Tips
Get 365 Date Ideas!
We want to help you have the best date nights ever! Grab this FREE printable with 365 date ideas, a date for every day of the year so you never run out of ideas!