Garmin's babyCam: Making Driving with Baby a Breeze Since 2016
Disclosure: I am part of the Garmin Influencer Program and I receive special perks as part of my affiliation with this group. The opinions on this blog are my own.
Phoenix is an interesting place to live. It's one of the largest cities in the country, but it's also full of new developments and so many suburb cities it can be hard to keep track of what part of the valley people are in, and just how far away they live. This makes almost the entire valley have a commute- either to work, to meet with friends, or to get to the heart of several of the major cities for events.
I never thought much of it before having a baby, I just jumped in the car, plugged in the address into GPS, and went wherever I wanted to go- clearly we love exploring our city and finding dates all over the place. However, now that the little man is here it's another thing to think about, worry about, and do my best to prep for to make sure he's okay on long car rides- particularly on freeways where I have a hard time pulling over. I always wonder if he's okay, what he's doing, and hope the squawks I hear are happy ones. 
Until now my best solution was a mirror on the back of his seat, which helped some, but had a lot of limitations. There's a lot of sun in Phoenix, and sometimes the glare is terrible. There was so much I couldn't see, and it put my eyes on the review mirror instead of on the road like they needed to be. Also, nighttime and dark parking lots cut out any ability to see the baby, and we were always forced to turn on a light to check him, which usually woke him up.
Queue a really awesome new product that I'm so thrilled I got to try- the
Garmin babyCam
. It's an in-vehicle video baby monitor that works with your Garmin navigation device (yes, only with Garmin products). You keep your GPS running and can push the camera button to switch to the babyCam view and get on-demand video of your little one live from the backseat.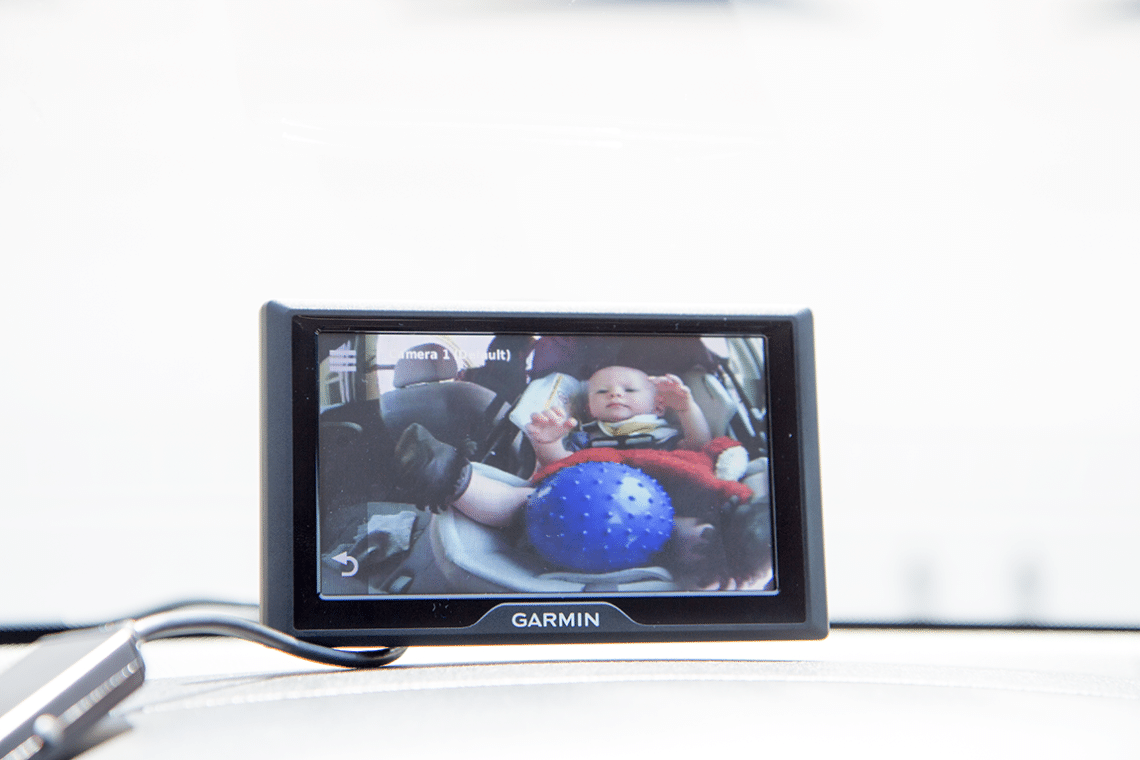 It's a small camera that easily clips onto a headrest and works great for rear-facing or front-facing car seat monitoring.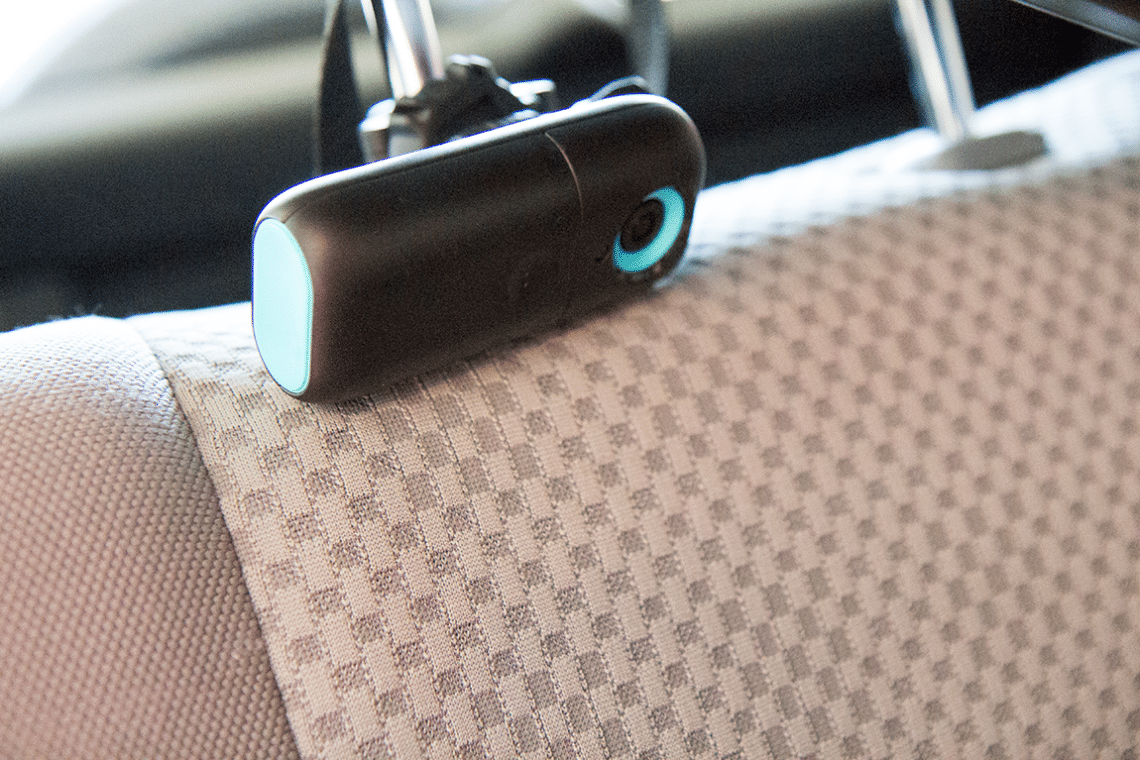 I love the quick checkup while we're out and about, and I love that I can easily identify what is wrong. Our little guy is at the point where he understands a lot of instructions and can help some, so I love being able to say, "Your pacifier is on your leg" and he can just grab it without me having to pull over.
There's two features I particularly love. I know people say they will never forget their kid in the car, and I've yet to experience him not being my first priority, but I do know these things happen! The babyCam has a built in message that pops up when you park to remind you to check for other passengers. In the hot heat of Arizona there's always a few infant deaths every summer because someone forgot their baby in the car, it's just so sad. What a great thing to have- instead of jumping to what's next on your to-do list you can be reminded to think of baby's safety first and get them out of the car with a nice little nudge from your Garmin.
My other favorite feature solves our nighttime and dark places problem. The camera has night vision that gives a clear image in bright and low-light conditions. We don't have to turn on the lights to wake him up, we can actually see what he's doing. Should his afraid-of-the-dark panic set in, I can see it early and start talking him through it which can save us a lot of tears on the trip.
Did I mention this is helping with naps too? He often falls asleep on long drives, and I love that I can pinpoint the time he fell asleep without having to guess. If it's been too long, moving him to his crib will wake him up, and I love that I have a really good idea whether we need to keep driving, put him inside the house in his car seat, or if it's best to get him to his crib when we get home. He's so much happier with his sleep being disturbed less, and I love how easy it is to catch if and when he sleeps so this can be possible!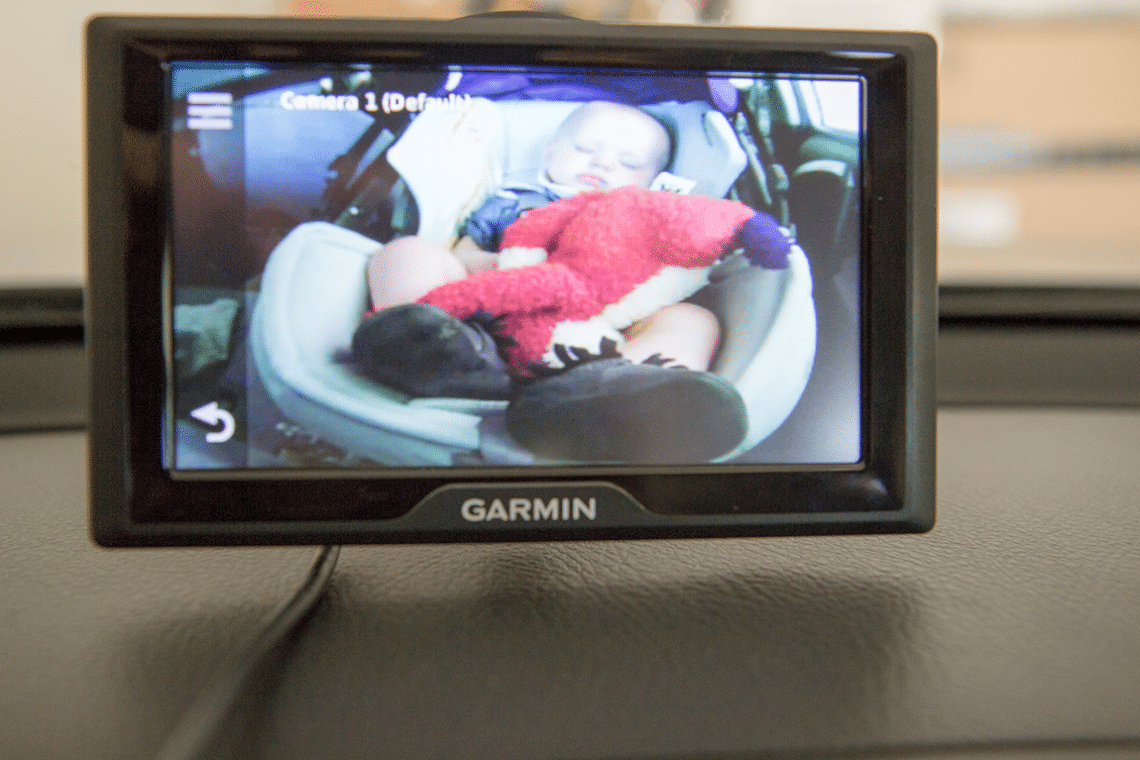 Clearly I'm a fan, and when I heard I could be a Garmin Ambassador to try this product I jumped at it. They wanted honesty in a review, and I have to say I honestly love it and think it was such a brilliant invention! If you want to try it too they are currently available through the Garmin website.
I'm also curious about your thoughts. This is pretty new to the market stuff, are you excited about a babyCam? Would you buy one for yourself or a loved one? What feature would you be most excited about. Tell me in the comments, I'd love to hear! 
Get 365 Date Ideas!
We want to help you have the best date nights ever! Grab this FREE printable with 365 date ideas, a date for every day of the year so you never run out of ideas!