Gifts Your Wife Really Wants: A Gift Guide for Her
Looking for gifts your wife really wants? If gifts for wife are on your list, this gift guide for her will help you nail the perfect gift that she'll adore!

As we enter the holiday season, and as birthdays abound, I always have the hardest time making a wish list for myself last minute and sometimes I feel bad asking for specific big-ticket items I really want when I know they are at their max price before the holidays.
Sometimes it's just really hard to know what you want let alone what gifts your wife really wants, which is why I'm making my list early to help those looking for a gift guide for her out so you can make sure that you gift and receive gift items you really want!
Here are some of my favorite "gifts for wife" from the past, and some of the things my friends have remarked were their all-time favorite items to get anyone shopping for their wife/girlfriend/mom/sister a little easier.


*This post contains affiliate links
Gifts for Wife
Home cleaning services. Oh, what a romantic gift it is to unwrap the gift of getting a week off, getting deep cleaning done, and having the house professionally cleaned! If you want to go big give one a year (check Groupon) or hiring someone long term. Or, hire a floor cleaner or deep cleaner a few times for the year. Trust me, she will thank you!
A quality handbag. Now this a case of know-thy-wife. Is she a small bag person or a big? Does she like bright colors or is she a classic fan? I had the hardest time spending money on myself in this way until I was gifted a Kate Spade purse by my husband for Christmas. It was my color, the perfect size, and I've used and loved it for years. It's definitely an investment piece. I don't know many women who don't love the idea of a really nice, really high-quality bag they will use for years.
3. Robot vacuum cleaner. This may seem a bit unromantic as well, but this is what I'm asking for this year, and everyone I've ever talked to has said this was a game changer for them! The thought of going to bed and knowing my toddler crumbs, the dirt from outside, and general debris are all going away while I sleep is music to my ears.
Gifts for Your Wife
4. A spa gift card. This can be as simple as a pedicure, but trust me when I say a little pampering and a gift that's just for her goes a long way! I'd look into a massage, mani/pedi, a facial, or all of the above.
5. A shopping day without children. My birthday is shortly after Christmas, and I usually ask for a shopping day with a pre-paid gift card and several hours to myself. Before kids, I always enjoyed finding new work or date night outfits, and as a mom, it feels like a legit vacation to be alone for a while and have money to spend specifically on myself. This deal is sweetened even further by the post-holiday sale prices and how much further your money can go!
6. A Vitamix. If you like smoothies in the slightest this gift is a game-changer. A gift I was given years ago that I use pretty much every day. I've ate so much healthier, I've had the smoothest of smoothies, and enjoyed this gift so much more than I ever imagined! I know you risk a Father of the Bride moment with this, but trust me, a quality blender is a game changer for healthier living and amazing cooking.
Best Gifts for Wife
7. A quality piece of fine jewelry. Let me warn you that you can go wrong quickly with this one. You need to know what she likes and her taste is. I'd walk by a store and get her opinion window shopping. Jacob is a pro at this! It's how he knew a simple pearl necklace was the perfect gift over something much more expensive at one point in our life. Now he knows what styles and colors I love. He's great at simple to splurge items in this department. He's also great at finding pieces that match my wedding band, or have a deep symbol. They have all been big hits!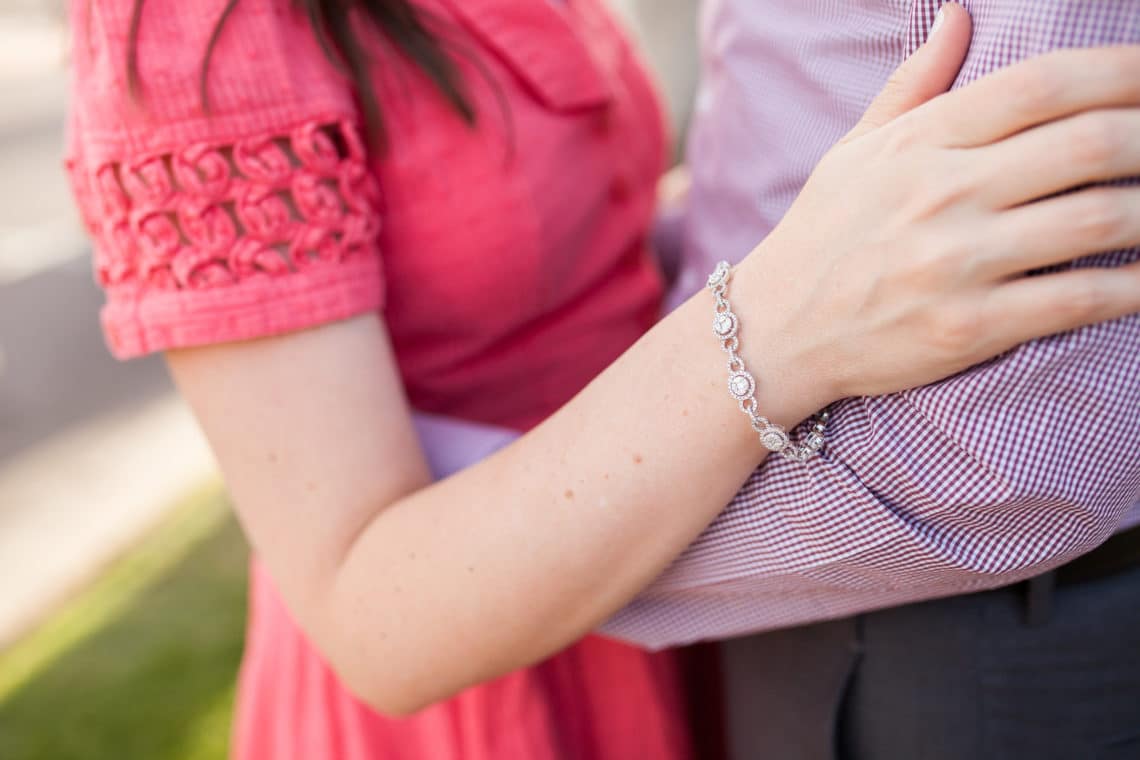 8. Personalized hand-stamped jewelry. I love that I have a necklace with my baby's name and birthday. It was the best Mother's Day gift! Anything with my husband or baby's monogram is sentimental and sweet, and most of these pieces are classics that go with everything.
9. A night on the town. First, plan a really nice date. Book the reservations, print the tickets, or even find a staycation hotel for the night. Also, there's nothing wrong with gifting an experience you can both enjoy in the coming weeks/months.
Gift Guide for Her
10. A trip. Go all out, grab a vacation package, book a resort, book airline tickets. Let her open up a really exciting trip that you've already planned and paid for that she'll get to enjoy this year.
11. A nice dinner you don't have to clean up after. There's something about a restaurant gift card that means a date night already planned and paid for, or just a nice night without having to cook or clean. From fast food to the nicest of restaurants, this is always something I love!
Photos by Chrissy Blake
Like this gifts for wife post? You may like these posts too:
Gifting Experiences Instead of Just Things: Experience Gifts Ideas
Couples Getaway: 5 Reasons You Need an Annual Getaway Without the Kids
Get 365 Date Ideas!
We want to help you have the best date nights ever! Grab this FREE printable with 365 date ideas, a date for every day of the year so you never run out of ideas!