Happy Mail Mission From Let Me See You Sparkle
Just so I can clarify upfront, Chrissy Delacy= The Nicest Girl in the World!
I was lucky enough to meet Chrissy from Let Me See You Sparkle at our first AZ blogger meetup last February. She immediately said hi and handed me a thank you card- this girl is for real people! Always thoughtful, always kind!
I started reading her blog after she left me the nicest message on the group wall before the meetup! Let me tell you why you should read her blog- she will make you believe there is good in the world! The premise of her blog is spreading happiness and service throughout the world. She does random acts of kindness often and blogs her wonderful ideas for others to duplicate. She is an amazing photographer and captures the good in everyone. She has a constant smile on her face and it's so contagious! But maybe my favorite part of her blog is her Happy Mail Mission.
Bloggers can sign up to be a part of this, and if your name is drawn she will read your blog, figure out some of your favorite things in life, and mail you package just to spread some love and happiness in the world. Guess what guys, I was the luckiest girl in March- I was drawn!
This huge box showed up on my porch with a wonderful letter full of sparkly stars.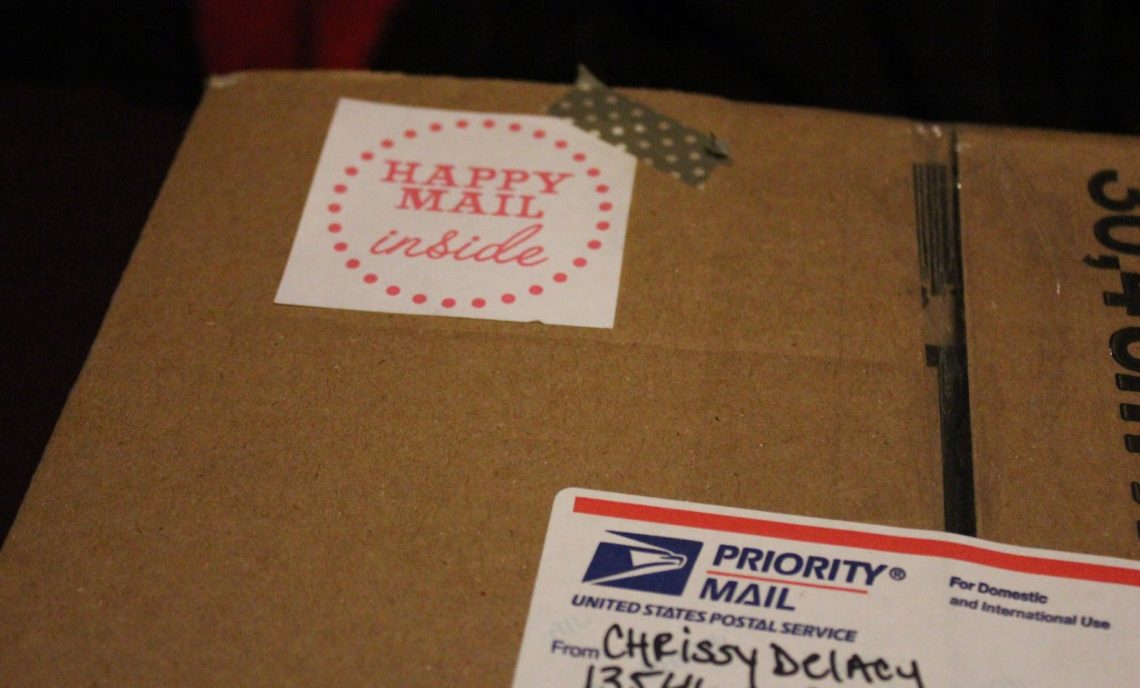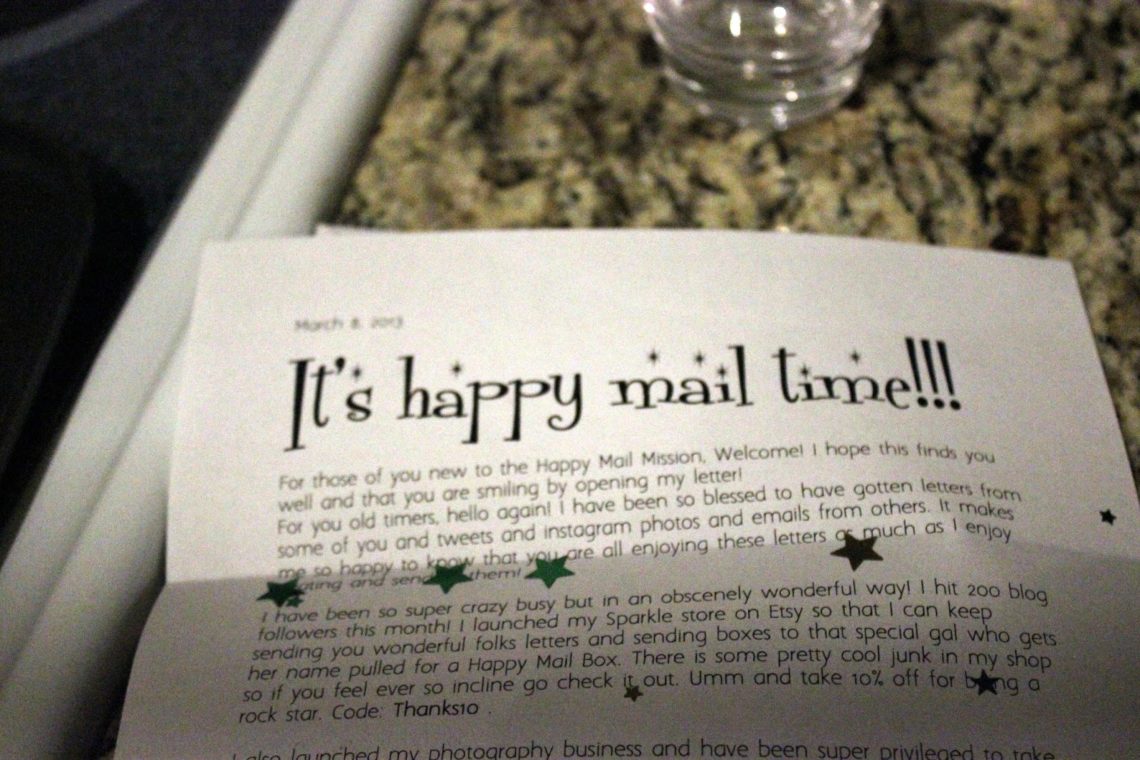 And I opened the box to find things that I absolutely loved and represent me and my interests so well!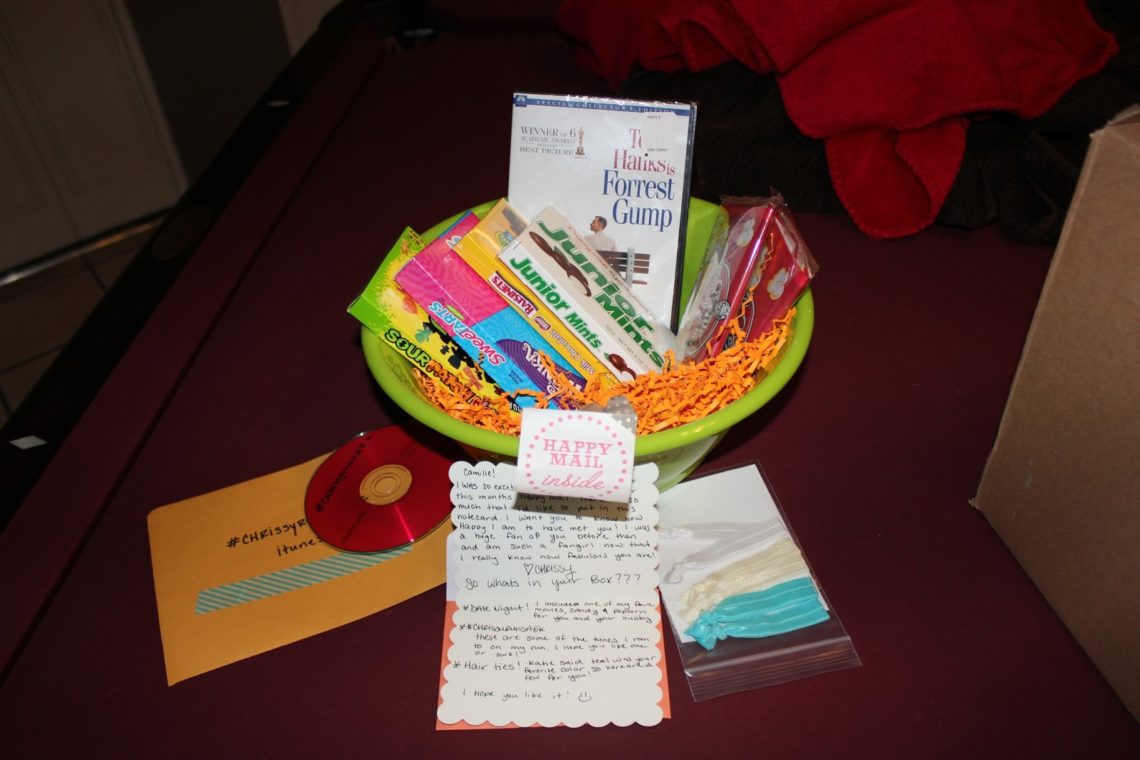 1. A date night! Candy, popcorn, and Forrest Gump to watch at home- good call!
2. A 5k running mix. I plow through running music pretty fast these days, and I'm loving Chrissy's mix!
3. Elastics that Chrissy sells in her Etsy Shop. My hair actually looks better in a ponytail these days- a feat I didn't think was possible!
But maybe my favorite part was the sweet card Chrissy sent. That girl has a way of warming hearts and seriously changes the world one smile at a time!
If you aren't reading Let Me See You Sparkle I would remedy that, because there just aren't many people as special and amazing as Chrissy! If you need any more convincing, you should read this post, about her reactions to someone bullying her online- you may want a tissue while you read it!
Thanks for the happy mail girl- you totally nailed it! And also, thanks inspiring me, and all your other readers to be a better person- Chrissy you really are The Nicest Person In the World!
Get 365 Date Ideas!
We want to help you have the best date nights ever! Grab this FREE printable with 365 date ideas, a date for every day of the year so you never run out of ideas!