Heading to Alt Summit – and 10 Conversation Starters When Meeting Bloggers
This time last year I was pouring my soul writing possibly my favorite post "In My Next 30 Years" until all hours of the night.
One year later I am realizing that close to midnight on the 21st of January is just my time to write!
Tomorrow is a big day for me. I'm not only celebrating the day I woke my mom up bright and early (always been a morning person), ready for her to bring me into this world. I am also celebrating a big life dream I've always wanted to accomplish.
I don't think there will be a single item relative to my birth, and you know what, I'm just fine with that! I'm realizing tomorrow isn't about it, it's about the amazing people I get to meet. Tomorrow I'm jumping on a plane and heading to Alt Summit in Salt Lake City.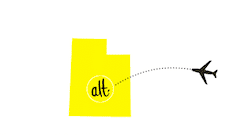 This is something I have wanted to do since I first started blogging, and first entered the digital marketing profession. I am beyond excited to go, and I can't think of a better way to celebrate my special day than to do something I've always wanted to do!
As I've connected with so many awesome people online and met a bunch of other attendees I realized that I'd way rather spend my day meeting others I admire and those I have yet to admire/meet than have all attention on me. I've been thinking about what I'll say, who I'll meet, and it just makes me really giddy. All my blogging friends I've met in person have become some of my real life best friends, and I have high hopes to continue this trend!
But can I tell you one thing that has shocked me? Most bloggers aren't super outgoing people! They are great online and after a few meetings, but very nervous their first encounter with new people. I totally get it, it can be intimidating. However, for some reason I have just never cared about that and usually get excited to walk right up and start that friendship! I feel really lucky to be outgoing, and I know for many the excitement is masked by the fear of the unknown or the fear you'll be alone.
So for those fellow bloggers who are shy I am making a list of 10 conversation starters that I hope will help you walk right up to someone at your next blogging event and strike up a new friendship! Whether it's Alt, Elevate (eek, going to that one too this year), or just meeting a blogging friend for lunch, here are some questions to get your conversation started.
1. I really enjoy reading your blog! My favorite post I've read so far is ___, and I was wondering what inspired it? 
2. Do you blog as a profession? If not, what else do you do for work? If so, what else do you think you'd be doing if you weren't a blogger! 

3. What's the most valuable thing you've gained blogging, and how do you think you gained it? 

4. Where are you from originally? Where do you live now? Do you think your location plays a role in your blog posts? 

5. If you could go back to yourself in your first month as a blogger, what words of wisdom would you give yourself? 

6. Tell me about your most valued relationships outside of the blogging community. 

7. Unfortunately, I haven't heard of you before, but would love to be your next follower! Can you give me your 2-minute elevator pitch of what your blog is and what you write about? 

8. What inspired you to start your blog? 

9. What are the top 3 blogs you read regularly- word for word, every post? 

10. What inspired you to come to this conference? What's the greatest thing you're hoping to gain from it? 
Any others I've missed? What have you done that has or hasn't worked as you've met bloggers in person?
P.S. I'll likely be over-gramming this whole thing on Instagram, so feel free to follow me at @fridaywereinlove
Get 365 Date Ideas!
We want to help you have the best date nights ever! Grab this FREE printable with 365 date ideas, a date for every day of the year so you never run out of ideas!