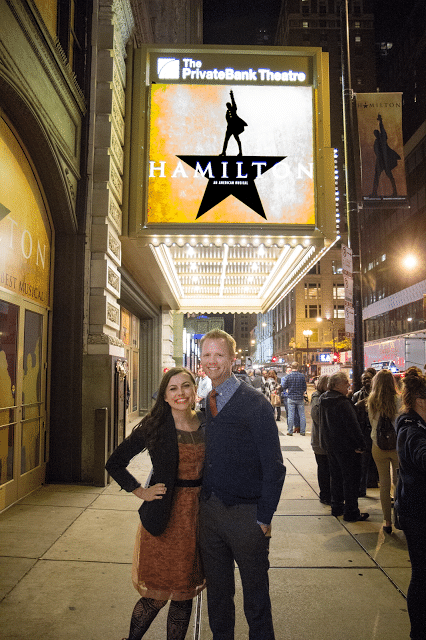 This is one of my favorite posts to do every year. It's so fun to remember our favorite dates, our favorite family experiences, and the moments each year that change our lives. I love to break it down month by month and share our personal favorites from each.
January
I've been thinking a lot about this time last year, and I'm still amazed I survived life on that little sleep! Our worlds were still pretty rocked as new parents, and with me working full-time in an office, part-time blogging, and juggling new mom life, it was a pretty chaotic time! We had a good talk about getting more creative with dates, and we decided that brunch dates were about our perfect fit in that crazy time. Finding a few sweet moments to date and be together as a family was definitely the highlight of this busy time, and sharing our favorite brunch location and how we juggled dating with a newborn are my favorite posts.
February




This was the last crazy month where I made the hardest decision of my life and decided to leave my full-time job I loved and focus on blogging and consulting part-time and spending more time with the baby. I wish we had more date highlights, but we basically learned a lot about navigating date night at home, and it took another month or two to get our groove back. Jacob ran his second marathon, but my favorite post was finding the movie we took of the day we shared our infertility miracle news with my family, and posted it one year later.
March



We celebrated our fifth anniversary with an amazing dinner, and it was just one of those special dates we kept to ourselves. Sometimes that happens, but it was a moment we got to reflect on our lives and talk about all life changes that had happened that month. We loved our annual anniversary pictures we do as a date, and as always, our friend Annie nails it and captures us in ways we couldn't have dreamt of. We also enjoyed letting Mack join us for several in his cute baby blazer!
April




As theater lovers, we learned a huge trick to seeing some really awesome shows on the cheap and even making it possible to bring an infant with you. It was so fun to feel like we were getting out again and finally finding our dating groove as new parents. We must have felt ambitious because we booked our trip to Europe for the following month with a baby in tow!
May
I may still be finishing up the travel guides and posts from Spain, but we were there in May and it was the perfect time to see the most underrated country in Europe! I can't believe we did it with a seven-month-old, but we did and we're so glad he got to come along for our travels! La Sagrada Familia was probably our favorite part, but this whole country is spectacular!
June



We learned that sometimes babysitters fall through, and we started becoming pros at having a plan-B family date. I love that our little date-night crasher is sure cute! Our National Donut Day plan-B family date is a very sweet memory for me now!
July



The best thing one living in Arizona can do in July is get-the-you-know-where out of Phoenix for a few days to escape the 120-degree temps. We love heading to the White Mountains and staying in a cabin for the Fourth of July as a family retreat. We were also super lucky that Toyota sent us on one of our first sponsored dates to see Darius Rucker!
And as a side-note, it was our first long date night away from the baby. And it was a long drive from home, where we decided we'd let being new parents control us for too long and it was time to just pay for better babysitters who can stay out longer and spend a little more time and cash on date night again. I'm so grateful for such a fun night to really help us start to make more time for each other.
August


A wise pregnant Camille bought Jacob tickets to go see Newsies the Musical for his birthday almost a year in advance, knowing we may have a hard time justifying long dates and expensive dates in this phase of life. After our realization in July, we were all the more grateful for a fun night out with a fancy dinner and an amazing play that lasted all night.
Oh, and I should definitely give honorable mention to one of our favorite double dates that took place this month too!


September



September is my favorite month because it celebrates the birthdays of my two favorite boys. I can't believe our little baby boy turned one, that year flew by! We enjoyed great meals and parties for both these special guys. Mack's Donut Grow Up themed party was one that still makes me smile, and the montage I put together of his first year still makes me cry thinking of the joy we've experiencing being parents after such a long wait!

October




I'm pretty sure October was my favorite month of the year! We were lucky enough to get the nearly impossible-to-find tickets to see Hamilton in Chicago during the opening weeks. It was more than we even hoped it would be and we still have to pinch ourselves that this dream became a reality!
I love Halloween, and my new favorite family Halloween costume made it's debut. This little Rodent of Unusual Size is my screensaver and every time my toddler grabs my phone he says "Squeak squeak" and reminds me of that darling costume all over again.
November



I'll never forget The Lantern Fest as long as I live, it was such a magical night and felt like a dream! We're already laying plans to repeat this date in 2017!



But an honorable mention has to be said for a great date night in. We love when we find excellent dates nights we can do at home, and it's been so fun to double with my sister and her fiance. We've done an escape room as a date, but Escape Room the Game is even more fun, and it was our favorite date night this month!
December
There's nothing we don't love about December, except maybe the stress and head colds. But holiday parties are at the top of our list, and this year we felt extra grateful to dress up and attend Jacob's work party.
We've had a wonderful year, even with ups and downs and some major changes. We are so grateful to all who read and follow along with our adventures!
We hope you've found some highlights of 2016 and are ready to ring in an even better 2017!
*This post may contain affiliate links