Holiday Entertaining Favorites
If you're like my family, you don't waste a minute after Thanksgiving jumping right into holiday festivities! Black Friday may be my second favorite holiday, and the post Thanksgiving family party the next night is always a perfect time to enjoy each other! We love to have some new treats for get-together and after feeling a bit burnt out from cooking for Thanksgiving, I love to find some help to make it quicker and easier.
Here's two of our favorites to bring to holiday parties that are quick and easy to put together!
Holiday homemade Oreos, and Chex Mix Muddy Buddies!
 1. Homemade Oreos
You need:
Devils Food Betty Crocker Cake Mix 
1/2 cup shortening
2 eggs
Mix together, roll in 1 inch balls, and bake at 350 for about 8 minutes. Remove cookies and let them cool.
Mix your frosting together while they are baking/cooling.
Here's what you need:
1/2 package cream cheese softened
1/2 stick butter softened
4 1/2 cups powdered sugar
Then you simply add a spoonful of frosting to a cookie, find about the same size match to that cookie, and boom, you have the perfect cookie sandwich.
Speaking up kicking it up a notch, I like to get a little-crushed peppermint candy from the Winco bins and roll some cookies in it to add a little more holiday cheer and color.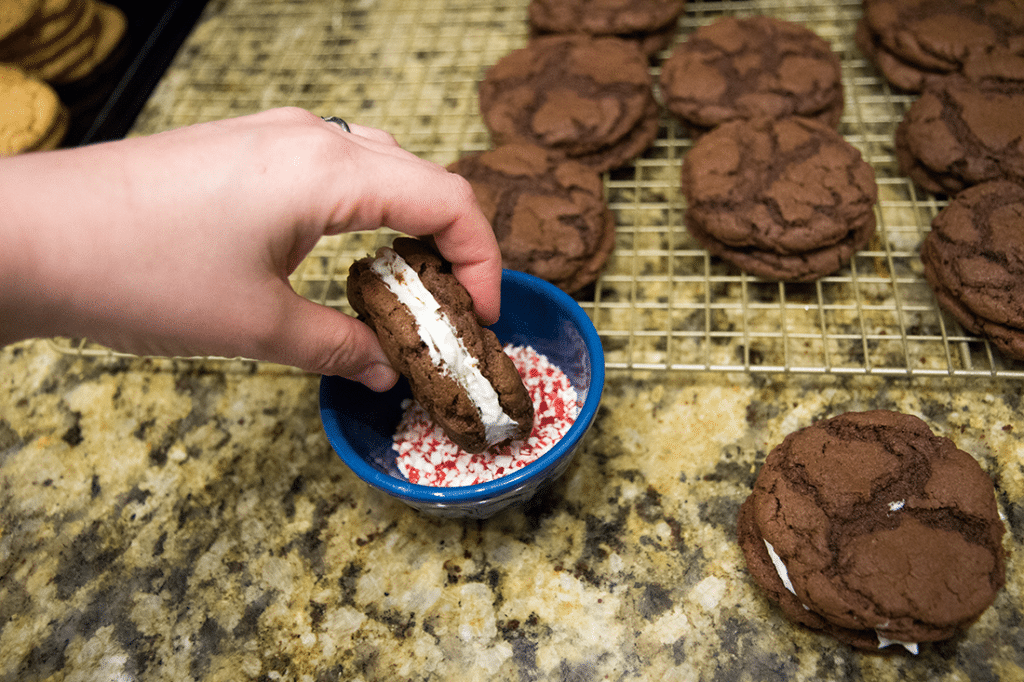 About 20 minutes a few dishes later you have the perfect holiday entertaining treat, and it really looks like you went all out!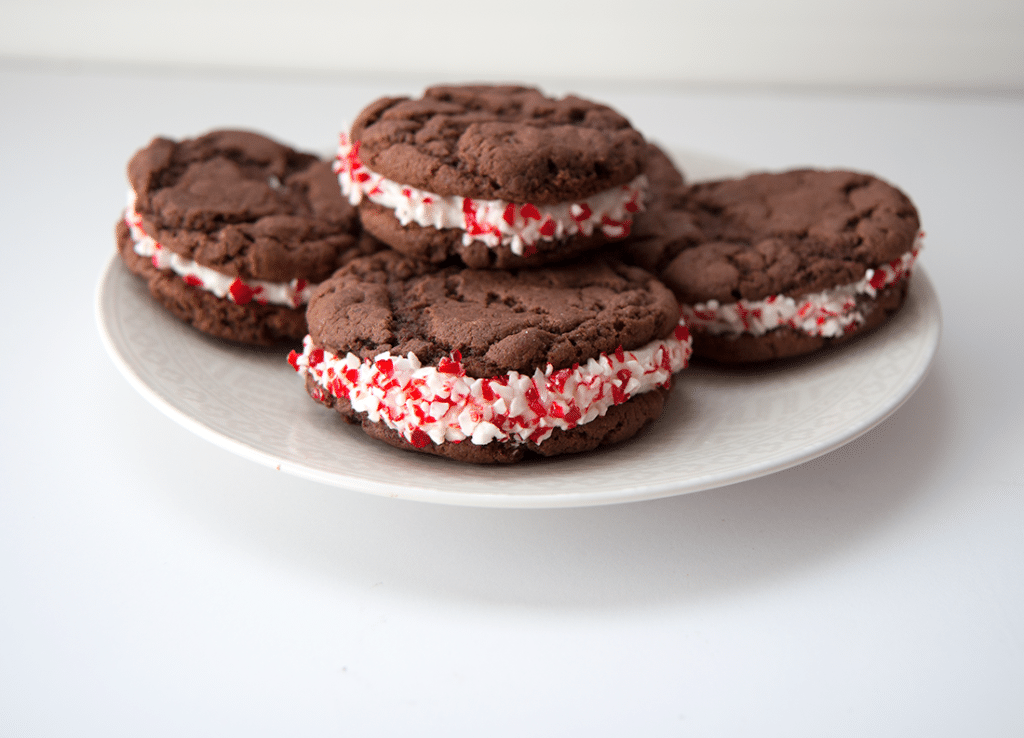 If that's a bit much for you, don't worry, #2 is so your bag!
Holiday Muddy Buddies
This has many names, but all equal sheer goodness. I have to only let myself make this for a party because I will consume a whole batch without even blinking they are that good!
Here's what you need:
9 cups
Chex
in any variety or combination (I like to do half corn and half rice)
1 cup chocolate chips
1/2 cup butter
1/2 cup peanut butter
1 tsp vanilla
1 1/2 cup powdered sugar
Measure your Chex and put them in one large bowl. Set aside.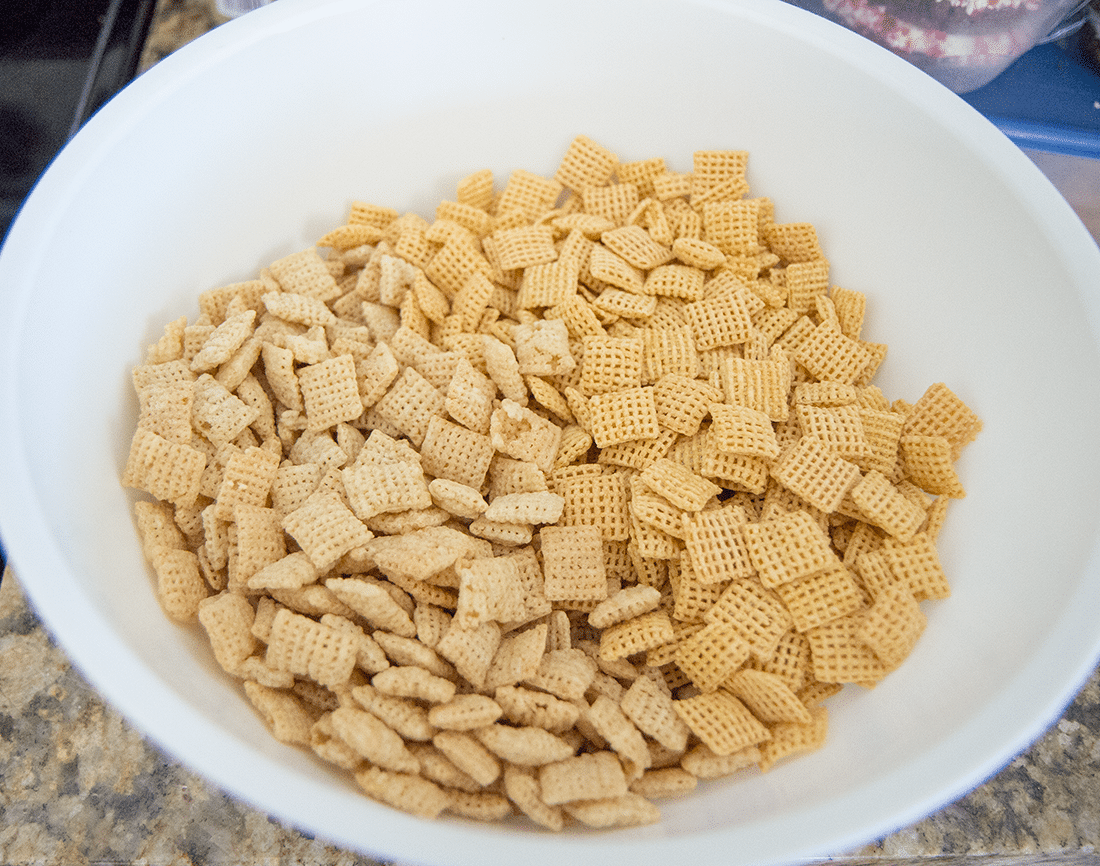 In a microwave-safe bowl melt the butter, chocolate chips, and peanut butter together. That's about a minute on high, taking out and stirring, and then going for another half minute more. You just want it smooth and creamy and not burnt. Add in vanilla once it's melted. Stir it all together and add it to the Chex bowl.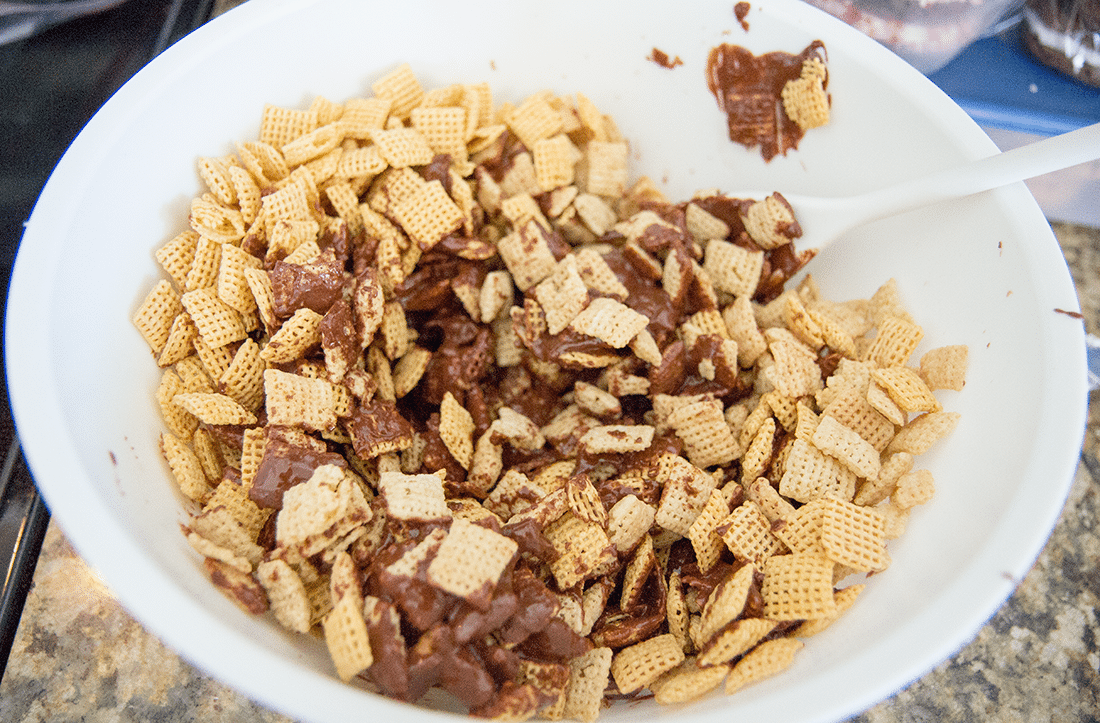 When they are evenly coated put them in a gallon bag that seals, add the powdered sugar, and shake it up, preferably while singing "Shake It Off" and dancing so you can burn a few extra calories and justify one more handful.
That simple, that good, and these holiday entertaining favorites that popular at holiday get-togethers.
Like these ideas? You may love these posts too:
Lemon Poppyseed Pancake Brunch
Get 365 Date Ideas!
We want to help you have the best date nights ever! Grab this FREE printable with 365 date ideas, a date for every day of the year so you never run out of ideas!