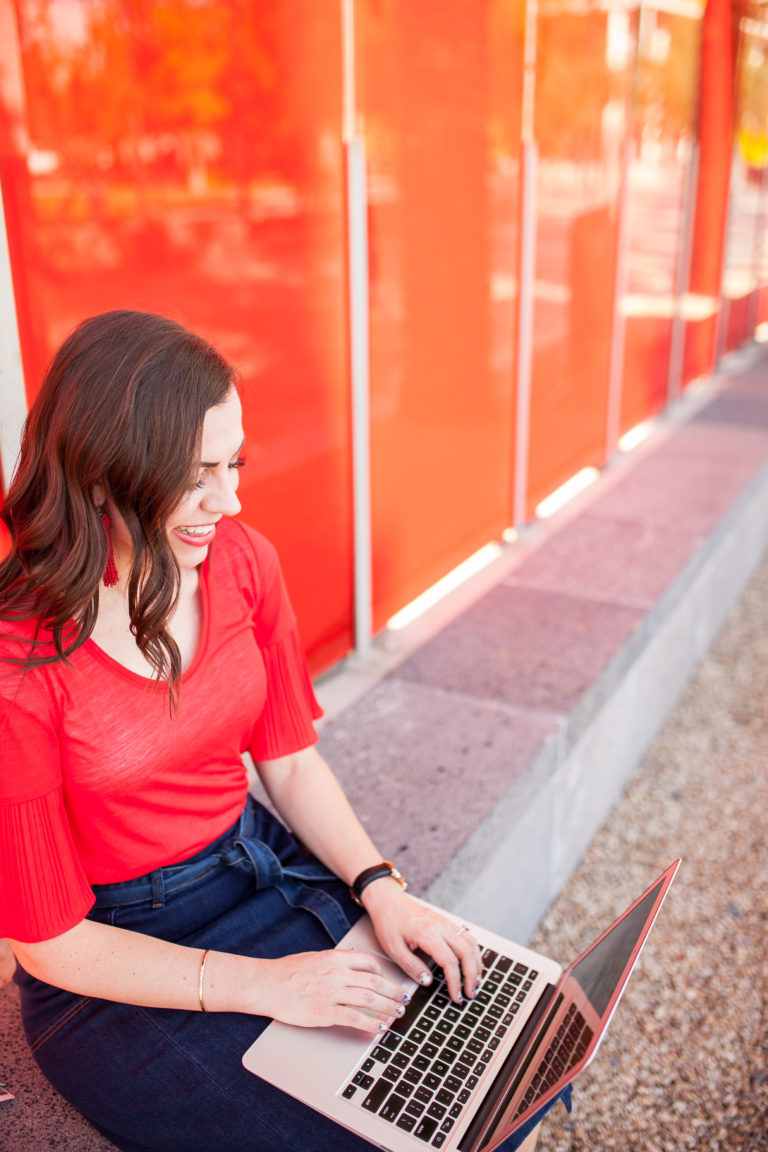 This post is sponsored by Find Your Influence, who loves helping bloggers and influencers figure out how to monetize a blog and create winning partnerships! 
I still have pinch me moments that this is my job. I get to share fun date night ideas, our parenting journey, and some fun pieces of our life and call it my career. That doesn't mean it isn't a lot of work, a lot of time, and a lot of learning. But I really love this industry and it's so cool to get to work hard in a space I love and on content I believe in. Helping long term relationships thrive and families bond really is a cool thing to call your mission and your job!
Without a doubt, the most common question I get is how I actually make money. I'll even admit Jacob gets asked this question quite a bit too when people ask what his wife does. How to monetize a blog can feel like a mystery to those who don't work in this space, or are trying to break in.
The beautiful thing is there are always new exciting ways to monetize a blog. Most smart bloggers/content creators/influencers I know have multiple ways they make money. They diversify and are always looking for new ideas for blog monetization. But with that said, there are a few standbys.
How to Monetize a Blog
For anyone wondering how to monetize a blog, and how to get started with monetization, here are the most popular ways that typically welcome newcomers.
Ads. This is the first thing I ever did! I signed up for Google Adsense and put an ad on my sidebar. It wasn't a ton of money in the beginning, but when payment would come in I'd get excited and run tell Jacob "We can go get ice cream for a date night thanks to Google!" I'd sign up for AdSense if you aren't already doing this. Most people don't mind a few ads in the sidebar or footer.
I've moved through different ad networks as I've grown and new opportunities have arisen. But I'll always be thankful I could add a few ads back in the Blogspot days to monetize at least a little. No matter where you are with your blog, look into some ads!
My favorite: Sponsorships.
Sponsorships are essentially a brand partnership where you're paid to include a product, link, or message in a post. I always disclose sponsors at the top of a blog post. On social media, you'll see a #ad or #sponsored showing a sponsorship. I love sponsorships for several reasons.
First of all, it's really fun to include products in my posts. I content plan months out, and when a product works with something I want to share, it's really fun and easy to include! I also love trying new products and services. Many of these turn into date nights. It was a message on a pack of gum that inspired us to do some random acts of kindness, which turned into a date night. It's really fun for me and sparks a lot of creativity.
I only take on products I support and believe in. And of course, I try to make sure the post has value for everyone whether it's sponsored or not. I hope you get something useful out of each post! And if you happen to find a product you love in the mix, that's just a win-win for everyone.

How does one get started with sponsored posts?
It took a friend pointing me the right direction to help me get started with sponsorships. She let me know even when you're brand new there are several agencies that will take on new bloggers. If you see networks in the sidebar or footer of a blogger's site, those are great places to start!
There are some that have minimum requirements to be accepted, some that will only do invitations to join, and some any blogger of any level can join.
The good news is this is a continuously growing space! Last year I read a study about how companies are running out of places to advertise, with most people paying for streaming entertainment without commercials. Consequently, more brands are turning to social media and blogs for sponsorships that make sense. So if you're looking to start, you should feel very encouraged!
So for example, this post is sponsored, and it's kind of an interesting one, it's sponsored by one of my favorite places to find sponsored posts. I've been working with Find Your Influence for most of my blogging career.
Find Your Influence connects brands of all sizes and types with influencers/bloggers of all sizes and types. And the FYI platform makes it really easy to use and find all the campaign information and communication tools a blogger needs to decide if something is a good fit and follow through with a campaign they've been chosen for. I also love that payment information is easy to find too. They have a great site and a great platform to make it easy for everyone!
FYI has a dedicated influencer team ready to help with any and all questions, no matter the campaign. You actually have friends on your side that takes care of communication and payment, as well as negotiations and brand guidelines.
I've stuck with them for a long time because they've been a relationship partner, but also help you grow into new campaigns and payment structures. It was easy to work with them when I was starting out, and it's been easy to grow and have them help me find new campaigns at new levels.
If you're just starting out, or have done this a long time, I'd highly recommend signing up with Find Your Influence! The give access to educational resources for those looking to refine their content and reach a wider audience. Also, you're part of a bigger community who is here to cheer each other on throughout each other's successes.
I love to work with sponsors who keep this blog running and I love how many of you show sponsors love and support to help keep me going. It's a cool way to monetize a blog.

Affiliate income. Affiliate income is simple. It's like getting a referral credit when someone buys something you recommend. The price stays the same for them, but a small cut of the profit comes back to you.
This is really big for fashion bloggers and those who try new products regularly. But it's also something that most people can do whenever they are ready to get started on monetizing a blog. Search for some networks, there are several that take beginners and several bigger companies who take regular publishers of any size.
Sell a product. This goes beyond affiliate. If you can teach a course, make a book, or create a physical product that matches your brand, it's a great way to monetize! I love supporting recipe bloggers and buy their cookbooks. Financial blogs often have the best spreadsheets for download. Get creative and make something helpful to those who like your genre!
There are a lot more, but those are the basics and great places to start! It's never a one-size-fits-all, finding which venues work best for you is key! I'm grateful these exist so blogging can be a dream job for so many. And I'm really grateful to agencies likeFind Your Influence who have made it really easy and really fun for me to do just that!
photos: Chrissy Blake
Like this how to monetize a blog post? You may like these blogging posts too:
7 Ways I Turned Blogging Into My Official Job
12 Investments That Paid Off and Helped Me Grow My Blog
Where I Am on Social Media and What to Expect on Each Platform
Get 365 Date Ideas!
We want to help you have the best date nights ever! Grab this FREE printable with 365 date ideas, a date for every day of the year so you never run out of ideas!