There is something special about a date where you know you need to carb load as much as you can at dinner for your big run the next day, and you are going to see your current favorite band in one night. I think I couldn't wipe the smile off my face or take the extra spring out of my step even if I wanted to.
We went to dinner before the concert at one of the greatest restaurants in Arizona, Oregano's. It's some seriously amazing Italian food, and there's always at least a 30 minute wait despite the fact they've opened like 5 new ones in the East Valley just this year. Seriously the best place to carb load!
Not to mention portions are huge, so if you're feeling cheap a $12 dish will definitely feed two, often with leftovers. Our favorite is Alfredo the Dark- Alfredo with some polano pepper in it for a slight kick. Whatever you do, get the chicken on top of it. It's to die for!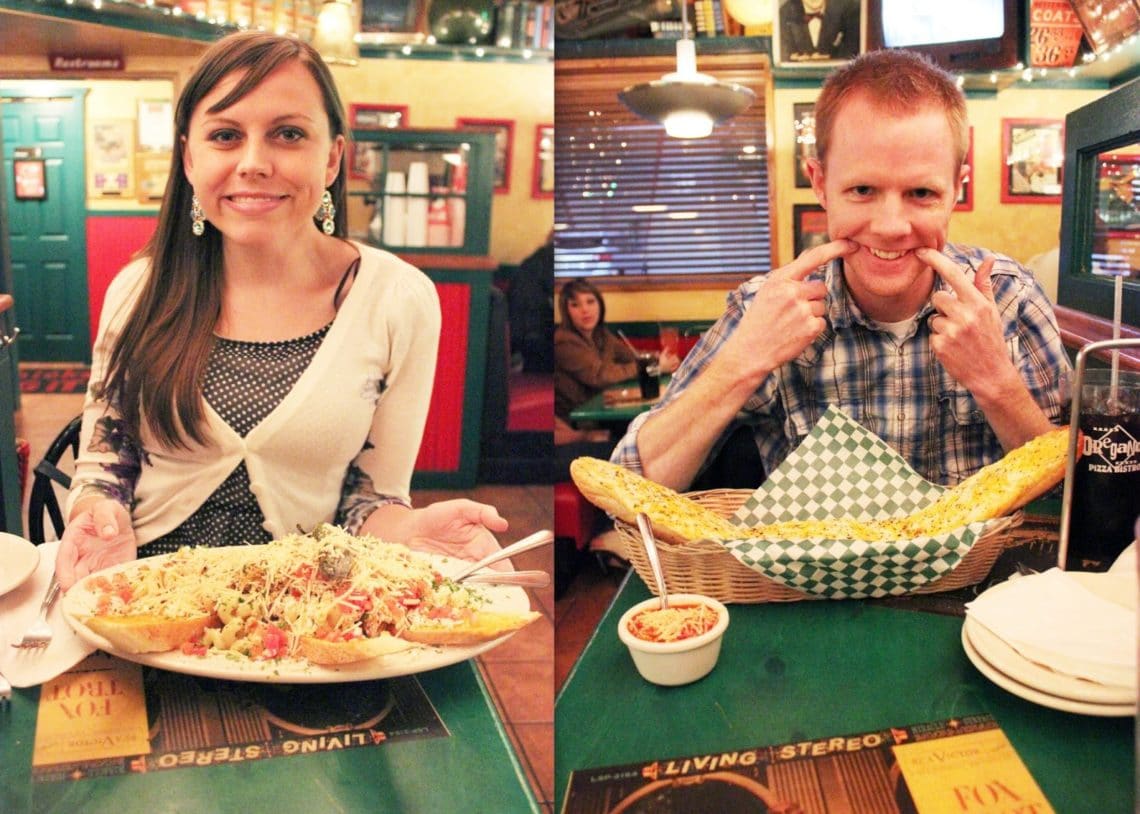 After dinner we blasted the Imagine Dragon's album in the car as we psyched ourselves up to head to the Marquee theater in Tempe. It was seriously hard to contain myself at this point and there were likely some giddy squeals as we walked to pick up our tickets. Frisking me twice didn't even get me down!
And then there was the wait, but we were happy to do it to save our great spot right in the middle. 
The opening bands kept us mostly entertained. The first, Nico Vega, spoke to my teenage punk-rock loving soul, and we both thought the lead singer was amazing!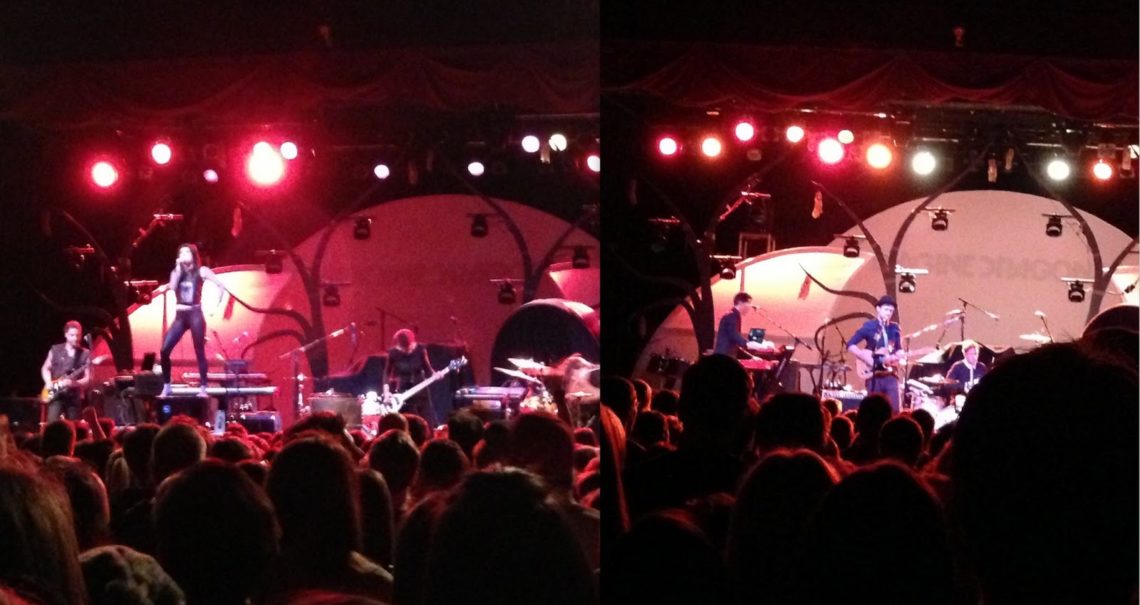 The second band, Atlas Genius left us pretty bored playing a lot of Draw Something on our phones. I'm sure there are many who love them, but we thought all their songs sounded the same. At least most the teenage crowd in the audience loved them, and there were Australian accents, I'll so give them that!
And when we had to wait a measly 15 minutes for
Imagine Dragons
to take the stage, it felt achingly long, we were just so ready to listen to this band that we love every single song they sing live.
We watched as so many drums were brought on stage, one that could have supported a monster-truck it was so big! The stage set was mystical and fit perfectly with the album theme of "Night Visions." Also I noticed 3 lighting people take their places, and I knew for sure this would be an awesome show!
And since you've made it this far in the post already, I think you deserve the movie Jacob took while they sang their most well-known and popular song "It's Time" while you continue on.
[youtube http://www.youtube.com/watch?v=f2clMtAOqFg]
A few awesome things before I picture unload on you: 
1. This was their first stop on their first headlining tour. They repeatedly thanked everyone for coming and for their support, and it was seriously so genuine, and so cool to see artists so happy to have made it after all their work and remain humble about it.
2. The drummer pulled out his phone after the first song and took a picture of the crowd. They seemed almost as start-struck as everyone else there. Like you don't have 3 songs on the Billboard top 100 right now, you amazed and grateful soul!
3. I recently found out that the lead singer is the little brother of one of my good friends in college (BYU days). I was in deja vu as they look exactly alike. I also have to admit I am not shocked. The Reynolds family is a family with a ton of boys and they are all awesome and talented souls! I couldn't be happier to watch a great family like that produce a wicked-talented rock star!
4. Even the security guards were singing along to every song, and I noticed the police seemed a little more into the concert, not so much scanning the crowd. Can anyone blame them?
Brace yourself, it was hard not to take pictures since every song had cool lighting and effects to help with their overall feel and album message. I hope you can get even a small idea of how sweet each song was visually as well as audibly, even though all photography happened on phones, with an ever-moving lead singer, and a whole lot of dancing was going on!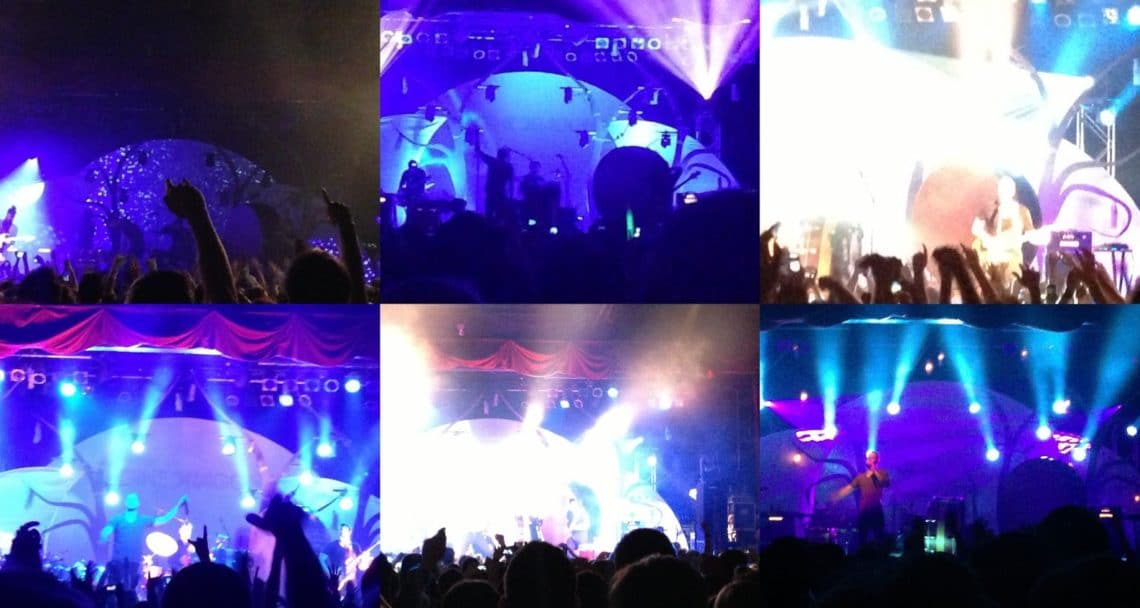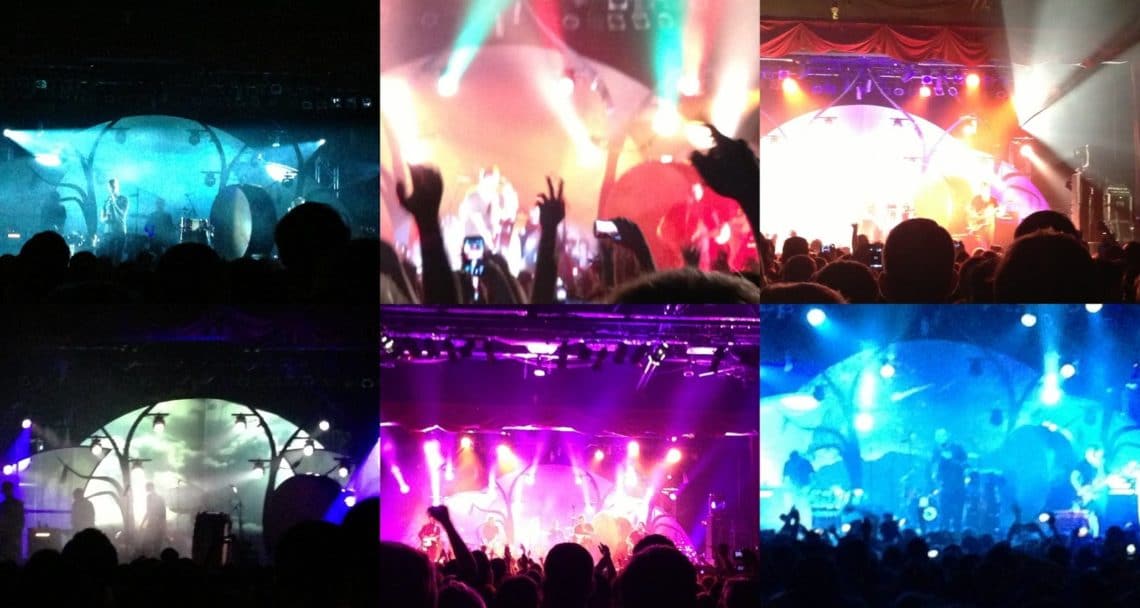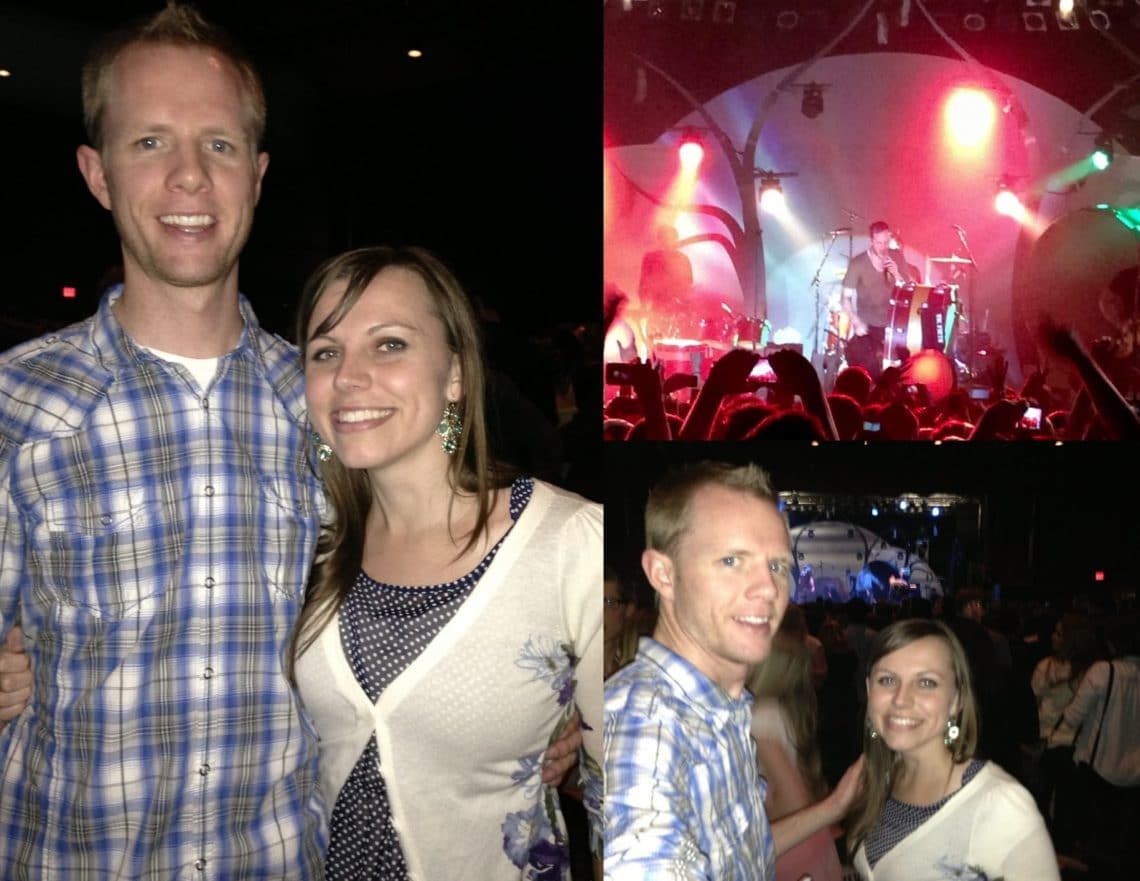 There is just something about live music that you can never experience in the recorded versions. We had such an amazing time at this concert and are excited we'll get to tell our kids someday that we went to the very first headlining concert of this band I have no doubt will be completely legen……wait for it…..dary in the future.
And if the first movie wasn't enough, here's a few more:
[youtube http://www.youtube.com/watch?v=iXenLZhc-9I][youtube http://www.youtube.com/watch?v=ZZN3SrRzSoQ]And a personal favorite that gets me through the hardest part of many of my long runs… [youtube http://www.youtube.com/watch?v=_u1bkgQEsvI]
Get 365 Date Ideas!
We want to help you have the best date nights ever! Grab this FREE printable with 365 date ideas, a date for every day of the year so you never run out of ideas!