Jacob's Birthday as a New Dad
I'm not going to lie, when everyone tells you having a kid changes everything, they are 100% right! Jacob and I had many conversations about how we would still date, how we would keep love alive, and what our concerns for our relationship were throughout the pregnancy. I'm glad we were proactive in making plans, but even with plans and effort we knew the first few weeks in particular would be hard.
As luck would have it, Mack was born exactly one week before Jacob's birthday.
I knew Jacob wouldn't care if I did nothing for his day, after all we did kind of count this fancy dinner the weekend before the birth as his fancy birthday meal (he would rather have amazing food and the experience than stuff). He also kept telling me every time I'd ask what I could get him that the only present he wanted was a baby. I knew that he'd be okay just coming home and getting hugs and baby snuggles, but I wouldn't! It's impossible to not show the person you love most in this world how much they mean to you, even when you really can't walk one week postpartum or leave the house or even shower!
So I solicited the help of my mom after she got off work to help us get a few things together. Jacob ended up having clients from work in town and went to a fancy dinner after all, just not in celebration of him. I knew it just gave me some time to try to be a fun wife and to make him feel special when he got home.
We started with grandma picking up a onesie for Mack to let his daddy know he thinks he's great. I'm typically not a logo/word/character person with clothes, but for dad's birthday we make an exception.
I took a few pictures of Jacob's second biggest fan and posted them on Facebook and sent them via text so he felt loved. He's been present for the clothes purchasing/washing so he knew we'd gone out of our way to make Mack into dad's cheerleader.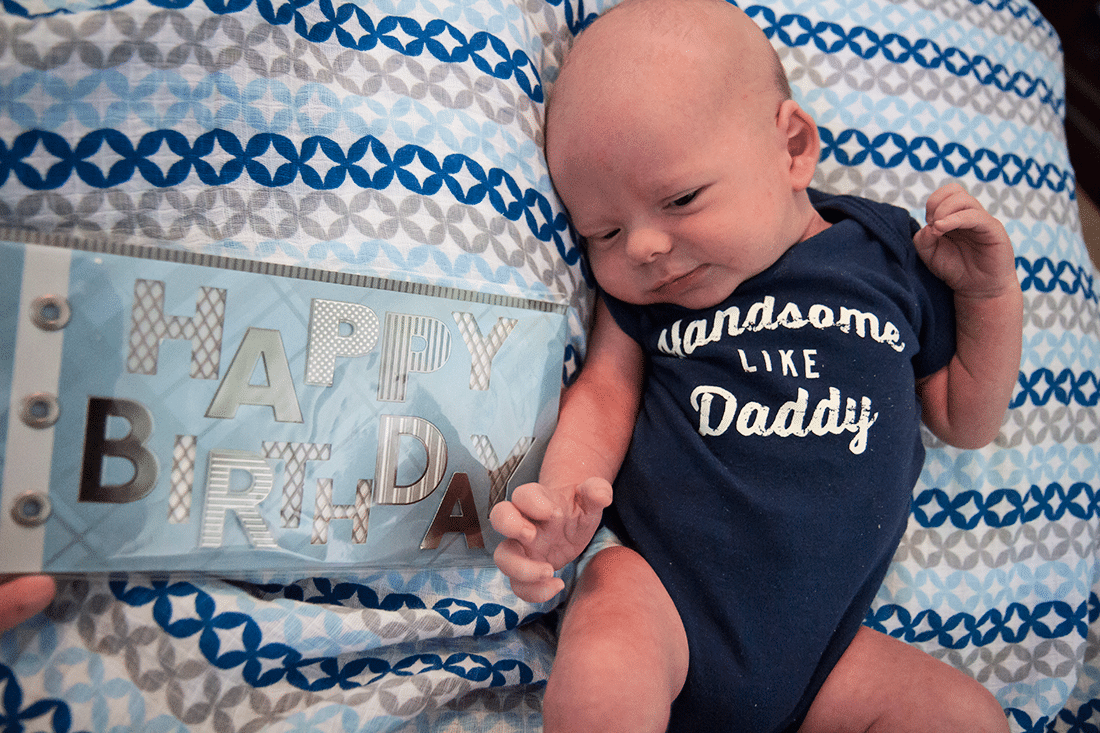 We then had grandma help us run a few errands. I knew I couldn't bake his favorite cake- it takes hours and a lot of prep work. I did however, know I could run to our favorite bakery and get his favorite cupcake, favorite cakebites, and favorite sugar cookie.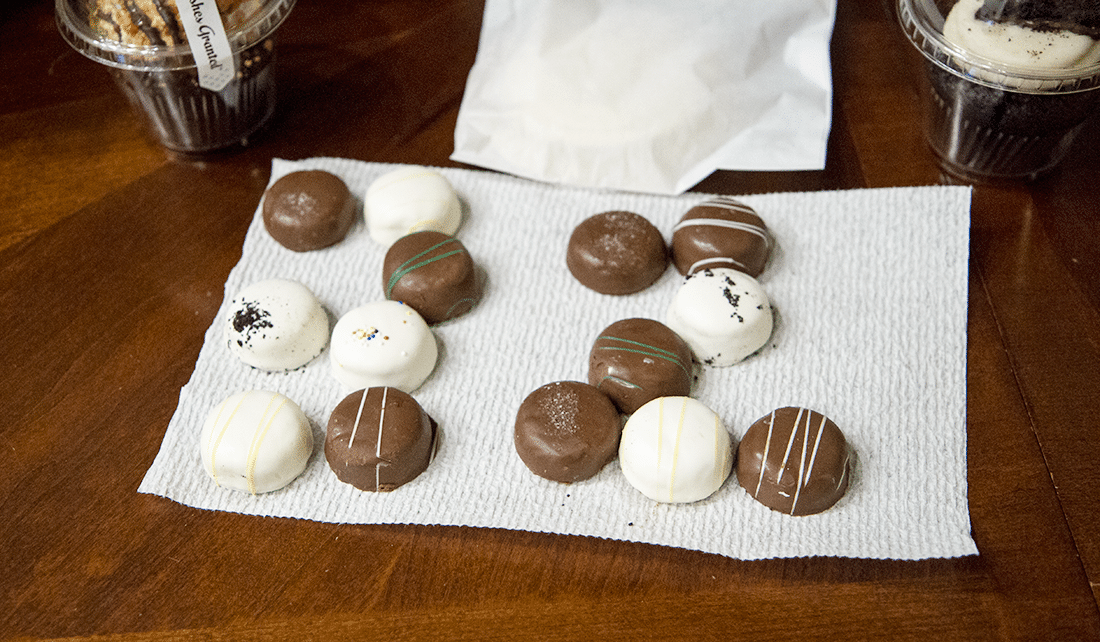 Fortunately I'd already picked up a few presents in advance. For anyone having a baby I'd highly recommend buying any gifts you'll need to give before the little one comes- it makes life a lot easier!
My mom is also a celebration junkie and has an affinity towards the dollar store. There's always a fresh banner for any occasion, and I won't even mention how many baby banners are still hanging in my house weeks after the birth (you can see one in the reflection of the picture below). It's just one of the cute things about my mom! Naturally, a quick trip to the dollar store to get some candy Jacob loves and a banner was called for.
But I'll admit, it did definitely make it look like a celebration!
Jacob came home late from his business dinner and ran right to the baby. He typically gives me a quick hug and kiss and finds wherever Mack is and picks him up immediately- even if that's from my arms! Few dads are as obsessed with their kid I swear!
He missed the birthday spread at first he was just so happy to see the little guy and commented on his onesie. This lasted about five minutes until spit up came and he needed to be changed. When he got up to change him, he noticed the birthday spread, and I'll never forget the smile and look of surprise on his face. That let me know my frantic hour and a half of errands that should have taken 30 minutes (thanks to new baby and new mom who has to pack the whole nursery) were totally worth it!
Jacob changed the baby and took care of him, and went to change himself. I went to find them and found Jacob wasn't going to change shirts yet because he would have to put down the baby. So please smile with me at the pics of him in basketball shorts and a dress shirt.
He came out to celebrate, once again not putting the baby down for a minute! He opened gifts one handed, and included the little guy in the singing and blowing out of the candle, and sang "Happy Birthday" to Mack to celebrate this birth that week too.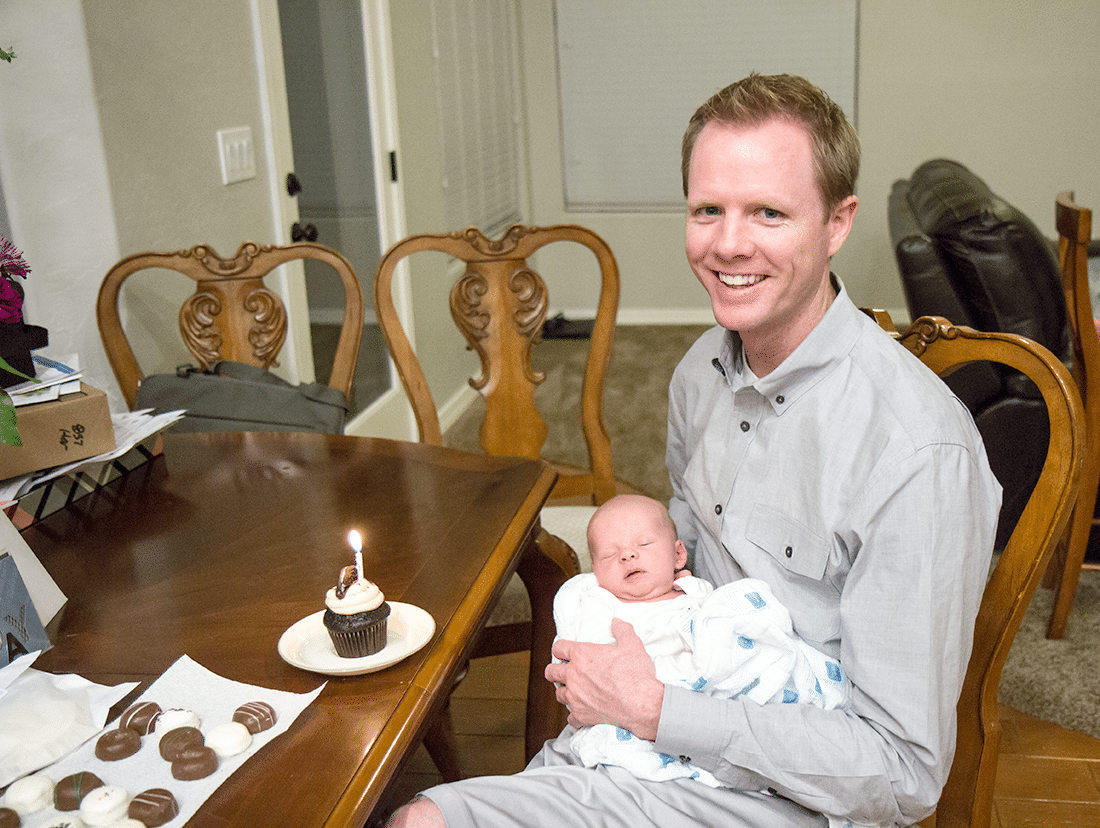 It was simple, it was easy, and it meant the world to a very surprised husband and father.
For someone whose slogan is "If it's worth doing it's worth overdoing" I had the sweet reminder that life doesn't have to be over the top or complicated to be wonderful. A small gesture to let your spouse know you are thinking about them and quality time together as a family is what really counts in making someone feel loved and special.
Happy Birthday Jacob, thanks for being our favorite guy!
Get 365 Date Ideas!
We want to help you have the best date nights ever! Grab this FREE printable with 365 date ideas, a date for every day of the year so you never run out of ideas!