Kids Table Christmas Activities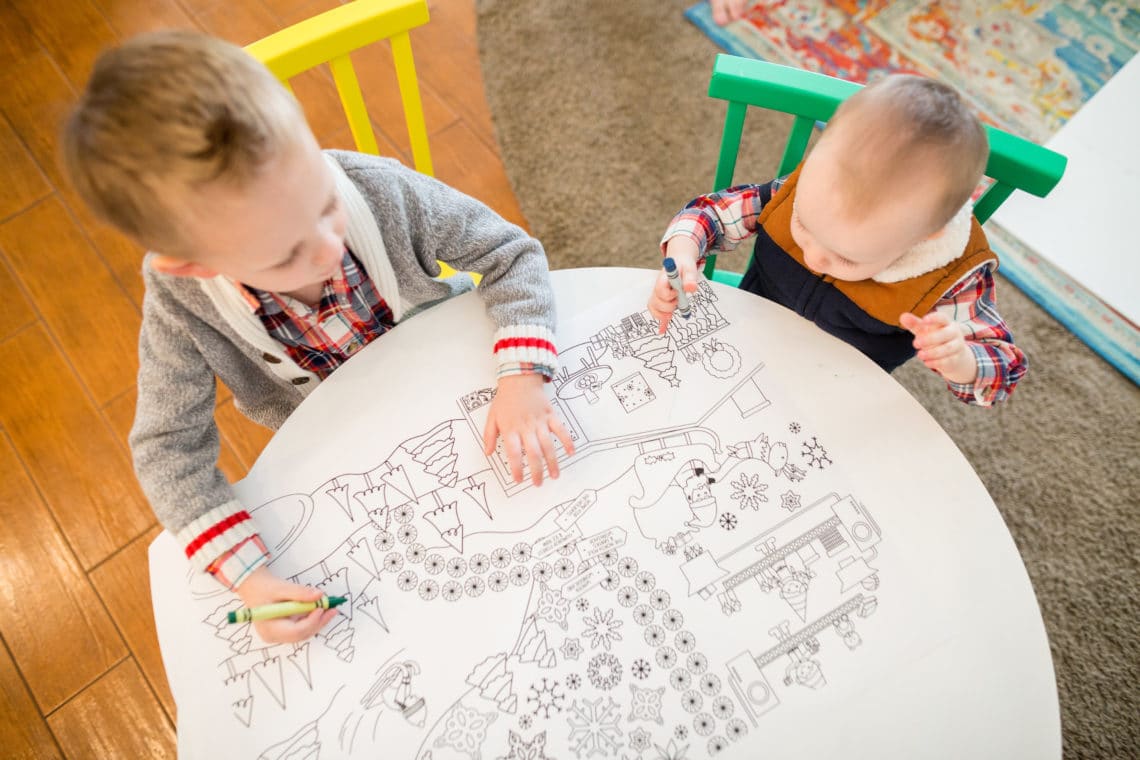 Kids Table Christmas Activities: A list of Christmas Activites (several completely free) to include at the kids table during holiday parties and holiday dinners. More fun time for kids means more adult time to enjoy the party too!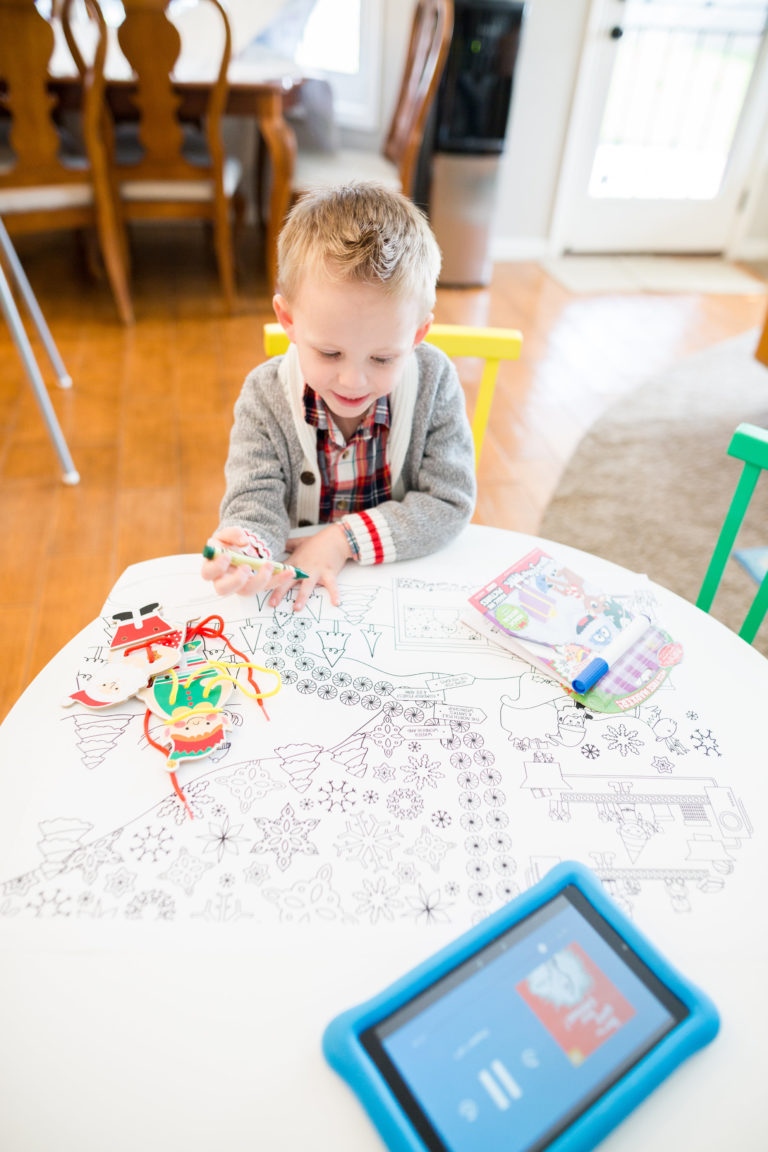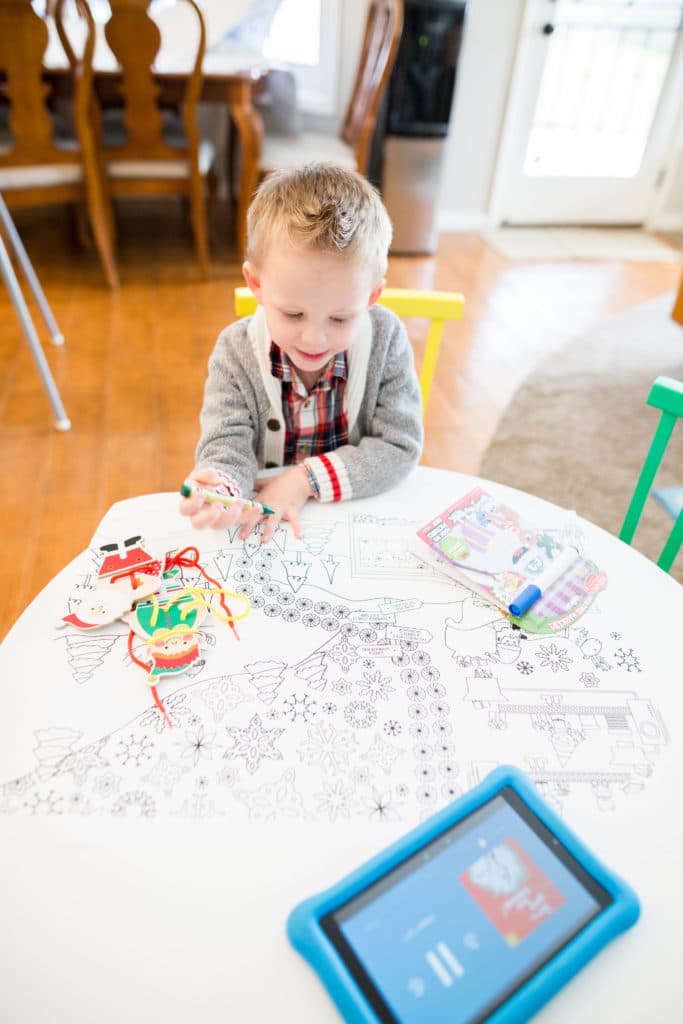 We love having a big Christmas Eve dinner followed by a big Christmas dinner the following day. The feat is a family tradition! But in a family filled with children, we've learned the kids' table is a necessity to fit everyone.
One other thing we've learned, the kids' table can be a place where kids stay and have fun or a place they abandon as soon as they eat (if not sooner)! When they roam off uninterested, they need more adult supervision. That instantly shortens our feast and enjoyment time.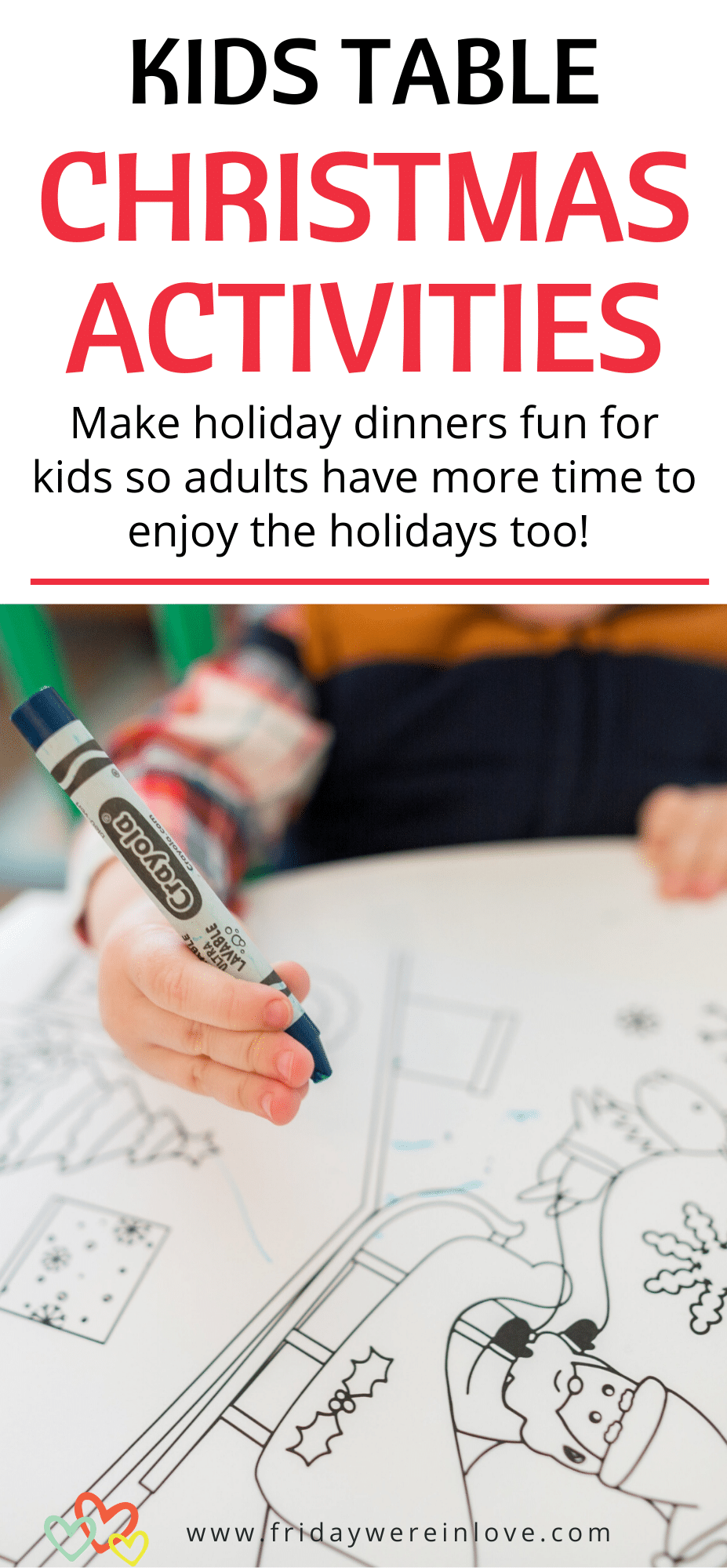 So, we've decided to extend the kids table time with some fun Christmas activities. It doesn't take much to prepare any of these, and they all make a huge difference in helping kids enjoy their pre and post-meal festivities.
10 Kids Table Christmas Activities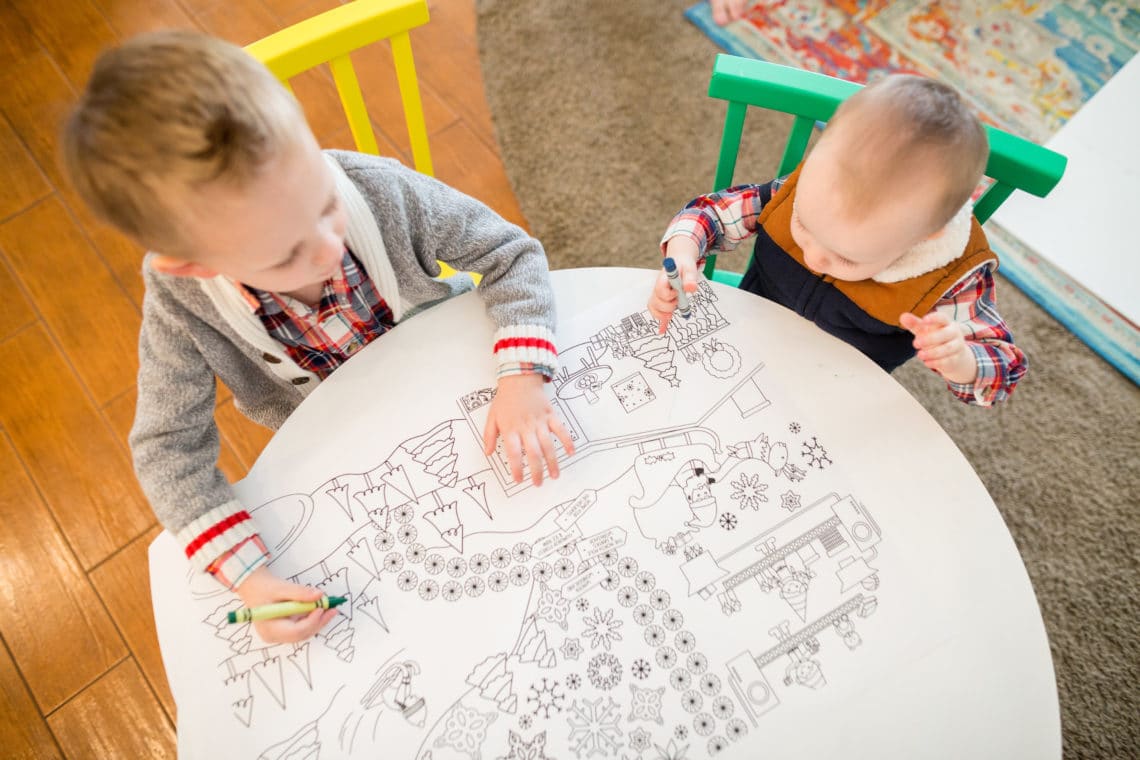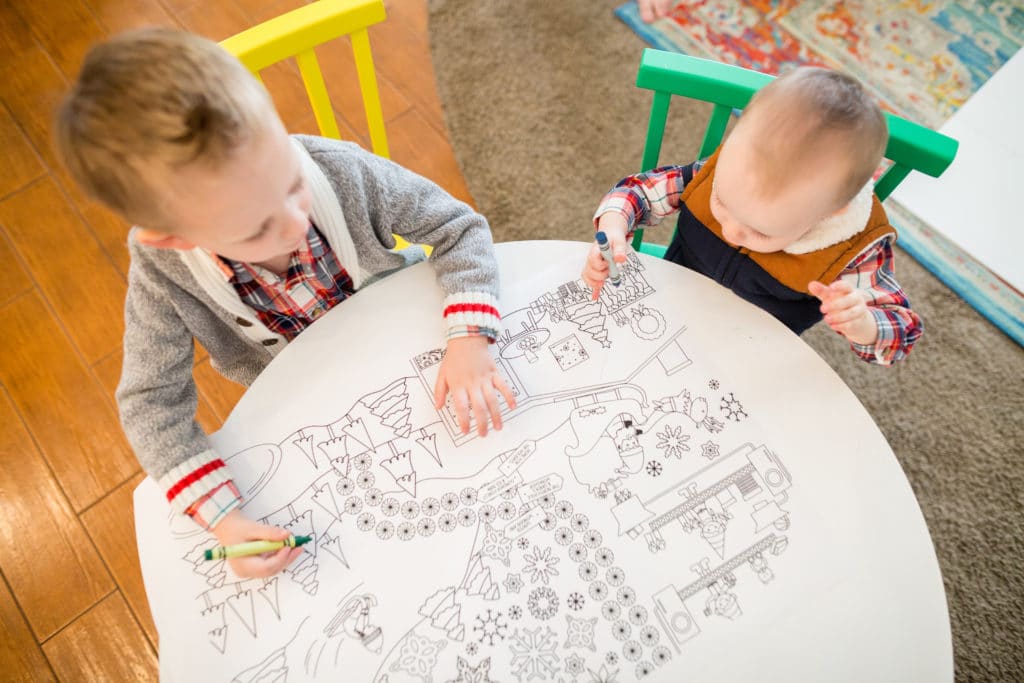 A Giant Coloring Page/Playmat
Good news friends, we have a free one for you! If you missed it, head to this post for the free download! It's easy to send to Staples, Office Max, Kinkos, etc. and have printed in only a few hours! Plus, it was designed for HOURS of fun!
We also created it with four quadrants to you can easily divide different sections easily for four kids to collaborate on and color together.

You can grab your download here!

Coloring Placemats 
Once again, you can print our Christmas coloring page on a standard 8×10 or you can do a legal 10×12 size for a true placemat size. Throw a pack of crayons or two on the table, and let them enjoy their time coloring their own placemat scene.

Holiday Puzzles
I have the fondest memories as a pre-teen tackling puzzles with my siblings. It's fun for kids that are probably too big for the kids' table! But you can also include toddler puzzles and preschooler puzzles to keep younger children occupied as well!
Table Topics Cards
We just learned about these and fell in love! It's a great tool for families to open up a conversation. If there's even one child who can read you're all set! Also, if an adult or two gets stuck supervising, they can lead the conversation with questions.

Imagine Ink Pads
We found one of these books in a Target bin. But they're easy to order on Amazon in time for Christmas too! It provided hours of quiet time fun with a holiday theme for my son! I love that they can enjoy it before, during, or after their Christmas dinner for kids.

Kids Christmas Table Ideas and Activities

Lace and Trace
Another One Spot find we knew would be a hit! I love that we found a Christmas themed lace and trace. But truly any work well!
Even our baby loves to try his chubby little hands at these! It takes time for them to focus and trace. It's also something older kids can get creative with.
Add an Audiobook
I haven't met a person who doesn't love being read to. It's even more fun with a professional actor! We love turning on a holiday title and letting kids enjoy audiobooks while they participate in Christmas activities for kids at the kid table.
Also, if you haven't invested in a Fire HD Kid's Edition tablet, I'd highly recommend it as a family Christmas gift! We use it exclusively for audiobooks, and it's our secret to a preschooler addicted to audiobooks who has the vocabulary of a 4th grader.

Christmas Dinner Activities for Kids

Include Board Games
Watch Ya Mouth is a hit for any age, right down to Trouble or Candyland. It's a great time to put out a few age-appropriate games and let them enjoy some family bonding time.
Have Them Decorate Their Own Dessert 
I've learned to be patient with little hands who want to decorate a cookie. I've also learned I can let them do this as an activity! If you're serving anything with frosting, grab a few plastic baggies and cut off a corner. They let kids pipe their own frosting and create their own dessert.
Christmas Madlibs 
The best part of Madlibs is they are fun for the littlest kids through adults! I love these free holiday Madlib printables. They would keep my nieces and nephews laughing for hours
Like these Christmas activities for kids to enjoy at the kids table? You may like these posts too:
Best Christmas Picture Books: 15 New Christmas Books We've Added to Our Library
Christmas Gift Exchange Ideas: Gifts They'll Actually Use and Love!
Customized Christmas Cards: The Easiest Custom Holiday Cards!
Get 365 Date Ideas!
We want to help you have the best date nights ever! Grab this FREE printable with 365 date ideas, a date for every day of the year so you never run out of ideas!