London Day 3: Historic Hyde Park Chapel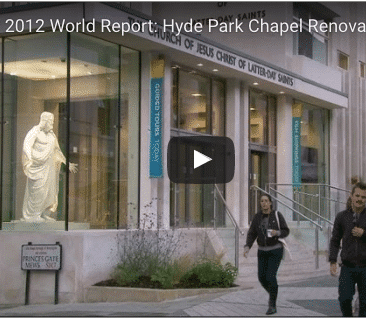 Historic Hyde Park Chapel 
Cost: Free
Time: 30 minutes for a visit, 1-3 hours if you want to attend a service
If you're new around here let me inform you that Jacob and I are Mormons. But really, you can read about us and our beliefs here and here.
Consequently we really wanted to attend church in London. There is something really cool about going to church in another country and feeling the same spirit and hearing the same truths. I love that truth is universal across cultures and countries! We didn't know much about the historic building that is the LDS Hyde Park Chapel until a few days after we went to church.
Long story short, Exhibition Road housed some of the aristocratic families of London until WWII when a bomb destroyed most the buildings in the area. The LDS Church decided to buy a piece of this land years later and build a church. It's just up the street from the famous Albert and Victoria Museum. They have a visitor's center and invite anyone who wants to come in and learn more, get out of the rain, attend a service, etc.
What's probably even cooler about this location is the fact that there were chunks of street and sidewalk missing that were intentionally left that way post WWII bombing to show the history and to help people remember the impact of WWII. Jacob kept asking me if I thought missing pieces were from a bomb, but I told him I doubted it. Boy was I wrong!
I wish we had taken pictures, but I was so focused on the fact we were off to do one of my biggest bucket list items right after that we didn't even stop to think about it. Good news though, the LDS Church has put out a video explaining some of the history, and I'm going to include it for all of you to enjoy! If you want the historical part start about 1:00 in. But really, the whole movie helps explain why it is such an amazing place and why so many love to come visit!
Get 365 Date Ideas!
We want to help you have the best date nights ever! Grab this FREE printable with 365 date ideas, a date for every day of the year so you never run out of ideas!