Lunch Date: Short Leash Hot Dogs
Date Info: 
Family Lunch Date to Fun Downtown Lunch Establishments
Price: Plan at least $13 for two, $20 is probably about right
Location: Downtown Phoenix, Roosevelt Row
I had a co-worker many years ago who used to do date night as date lunch with his wife. Their kids were in school, they worked close by, and they could extend a long lunch once a week to go have some quality time together without extra babysitter costs while on a very busy schedule. I often covered for him while he was out, and I was thrilled to do so. They were one of those marriages I admired greatly, and such a good example of making dates happen even in some of the busiest times of life!
Jacob and I have both worked in a few different locations throughout Phoenix, and in some of the best foodie locations, but unfortunately never at the same time. We'd lament that our Downtowns had to be different cities and just far enough away to make a lunch date very hard.
Now that I'm a work-at-home-mom and have a lot of flexibility, we're trying harder to fit in lunch dates near Jacob's office. He's actually had an assignment in the heart of Downtown Phoenix lately (which never happens), so many days he's there and we recently decided we have no excuse not to hit up many of the excellent places there while he is! We're bringing Mack who is great to tag along at this phase, and loves seeing dad during the day before the witching hour strikes, so it's a win/win for us right now! It's easy enough and fun enough that it works great as a family lunch date. Plus, anyone this excited really deserves to come along!
Okay, that was a lot of back story, it's probably just time to talk about food! Short Leash started as a food truck that everyone fell in love with quickly, and it became a stationary restaurant in the very hip Roosevelt Row area of Phoenix. We love the art, the murals, the hipster vibe, and of course the food of this area. Apparently Short Leash did too because they set up their permanent location right in the heart of this neighborhood. Seriously, it's a cool place and one of our favorite to hang out in and to go find amazing murals in. This beauty was in one corner of the parking lot.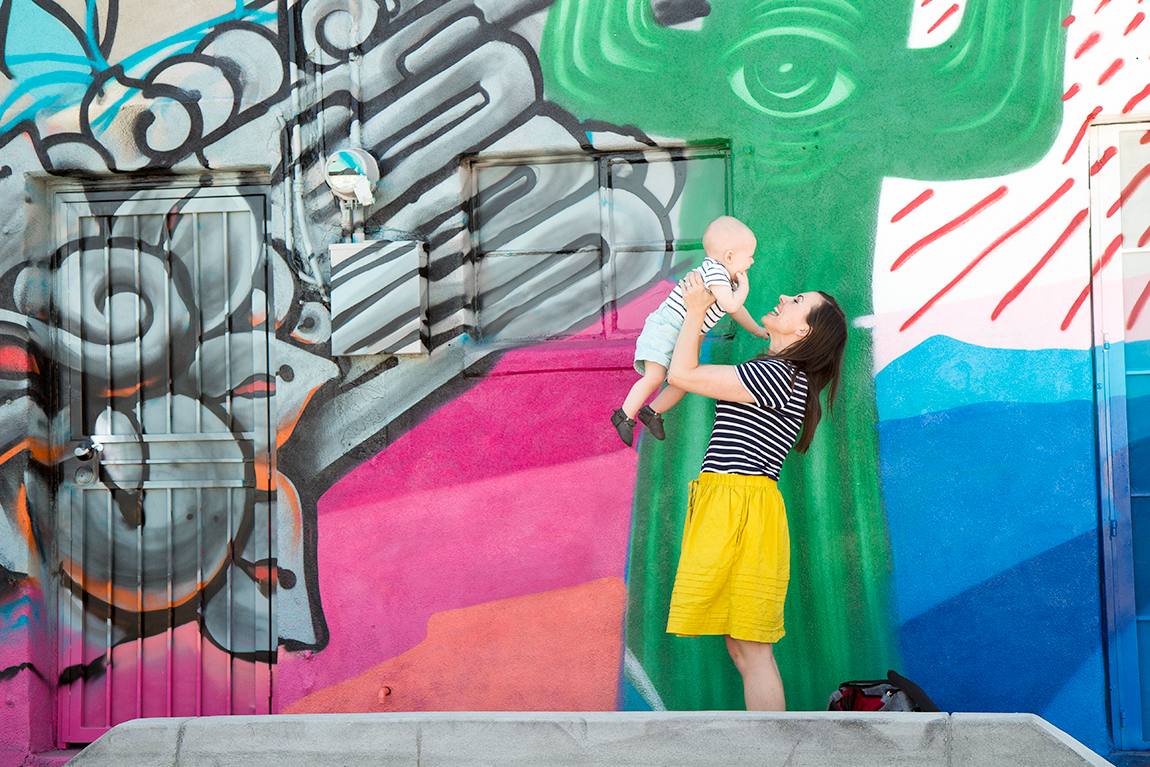 Short Leash does hot dogs in ways you wouldn't think. They make their own naan as the bread base, and offer gourmet toppings and a lot of unique flavors.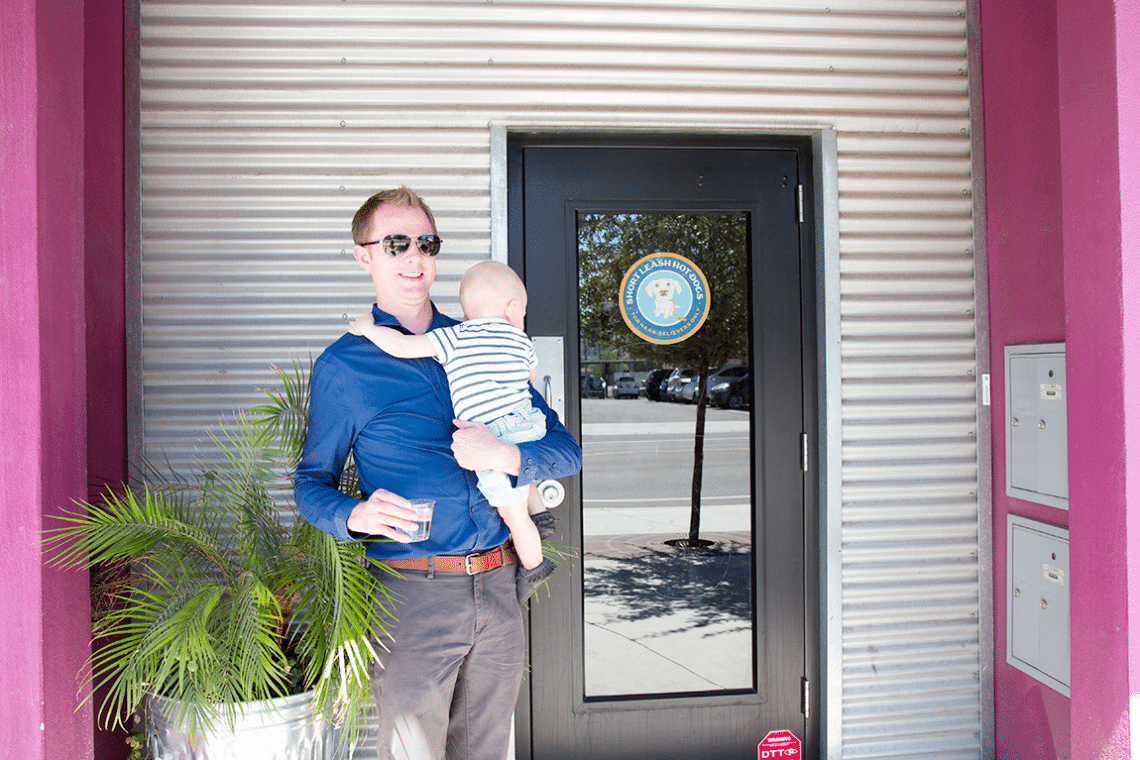 Here's what we got:
The Warm Pretzel
Homemade pretzel bun with dipping cheese and mustard sounded amazing, but we knew these are two of Mack's current jams right now, so the flavor combination was going to make for one happy baby. It did, he ate about half of the bun by himself!
The Mac Daddy
If you follow me on Snapchat (camillewhiting) you know Jacob chose this one just because of the name. I had heartburn on my mind, but I have to admit it was so good and my favorite part of lunch!
Mac and cheese, chili, an all-beef dog, and naan made for a very delicious hot dog!
The Lady
Beef hot dog, naan bread, fried onion, fried pickles, and chipotle mayo top this unique number off. I have to say it was my first time with a fried pickle, and it's the stuff stereotypical pregnancy cravings are made of! If I get to have another child I have a feeling we'll be back often! But on a serious note, the combination was really unique, and really good, and I think any non-pregnant individual is capable of just as serious cravings for this beauty.
I love those places that use local sourcing, make everything from scratch, and believe in quality. I was a little shocked to hear a hot dog place was on this list, but they certainly are, and I think the thank-you hug taking during this self-timing pic really speaks to the quality of this place.
Get 365 Date Ideas!
We want to help you have the best date nights ever! Grab this FREE printable with 365 date ideas, a date for every day of the year so you never run out of ideas!