Making My Life and Hair Easier and Better with eSalon
This post was sponsored by eSalon, asking for an honest review, and all opinions and experiences are my own. 


It's funny how you swear you'll never be something and you grow up one day to realize you are exactly that person. "I'll never wear ____", "I'll never eat___", or in my case, "I'll never be that frumpy mom!"
Although I'm keeping true to not chopping off my hair right after having a baby, wearing make up most days, and caring about style again, I have become that pony-tail mom who is trying to pretend that awful postpartum regrowth isn't sprouting out, and that I've made time and myself a priority in going to buy the hair products I've run out of. Why is finding an hour to take care of hair or other beauty needs such a rough one? Taking tiny grabbing hands to beauty stores, fitting in the time between work and naps, and also avoiding chemicals at nail and hair salons just make it something you can't typically do until late hours when they are all closed.
Enter a really great concept that saves so much time and so much money for busy women (and men) everywhere, and keeps you looking absolutely fantastic!
eSalon reached out and asked if I'd like to team up for a post, and the moment I heard the concept I was like- YES! I NEED you in my life!
The premise is this, hair color options come in either a $100+ salon visit, or a generic boxed color at the drugstore. Believing customers deserved better, they created a digital service at eSalon.com, where you provide your hair details and upload a photo. Then, expert colorists review the order and create a unique, individually blended hair color formula using professional ingredients that are typically only available in salons. Finally, the color, along with personal application instructions, is mailed to the client, ready to apply at their own convenience- and ready to use on their timeframe (which new moms we know may be 9:00 pm or later!) What makes this even cooler is the price- only $19.95 (£14.00) (they ship to the US, UK, CA, and Europe), and offer a money-back guarantee that they will reformulate or refund your product price.
I had to be totally honest when they approached me about a partnership, I love this concept and I know readers would too, but I only partner up with brands I believe in and would use myself, and I'm a hair dye virgin. I lucked out with a color I really like and bless my mom's genetics that women in my family don't go gray until their 50's.
But guys, here's the beauty if you're like me and don't dye, or if you're not quite a DIY person. They have amazing salon products that offer at great rates! Because there's no storefront overhead they can really pass over savings are some awesome products, and they do one-time orders and subscription orders. HELLO helping me actually purchase that leave-in conditioning treatment I've been meaning to get since I had a baby. And HELLO not having to go out and select items with a baby in hand- or avoiding it altogether and running out of products. I can just have what I need shipped to my door on a subscription base. I'm loving the convenience and concept, but let's talk about the products!
Here's what I ended up trying, and my thoughts on each (and spoiler alert because I'm terrible at keeping a deal to myself, they are giving half off to Friday We're in Love readers through each product link I'm including):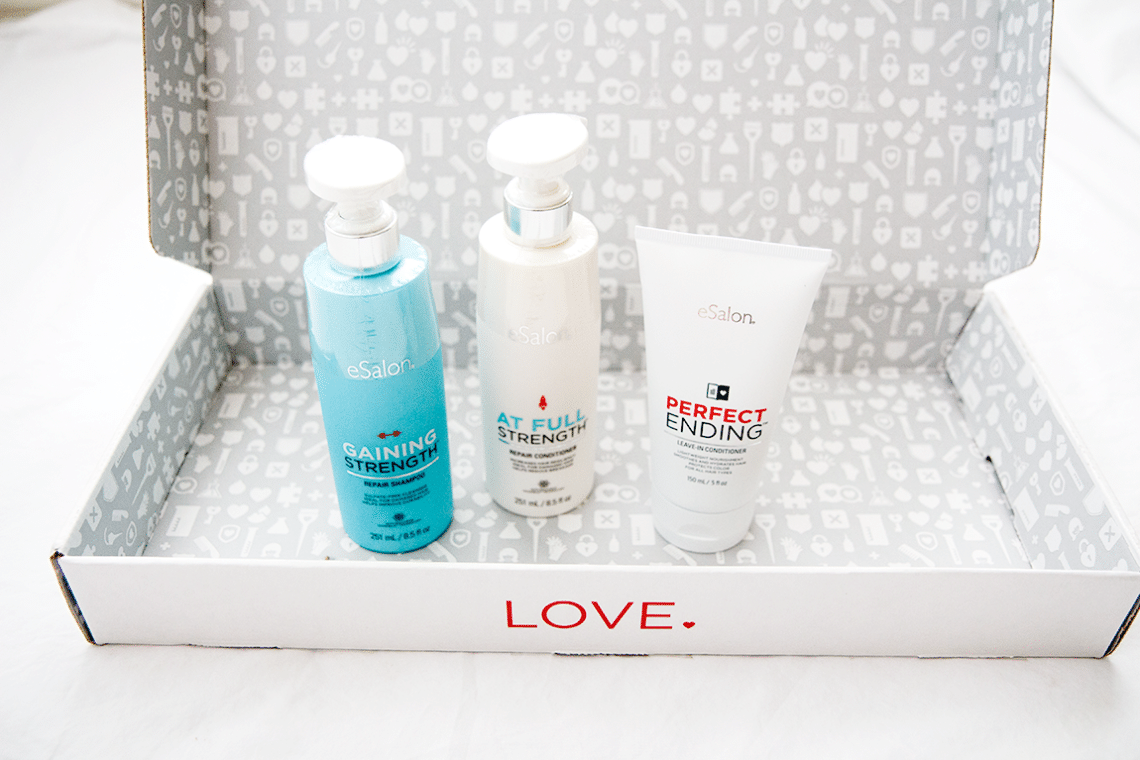 Great, thick consistency- really gave me a good clean and it smells fantastic! Maybe I don't know enough about shampoo to tell you it's super different, but it seemed to do the job and that's what I look for in a shampoo.
I could feel my hair drinking this stuff! After neglecting to switch conditioners post baby and having a brand no longer work for my hair, my hair just loved this! I love that it claims to detangle to help prevent damage, and I've absolutely seen that feature ring true in my hair! 
This was my game-changer! My hair went from brittle to so much softer and stronger in only a few washes. It had great ratings, but I have to add my rave review to it too- my hair really is so much better with this product! It's smoother and healthier and I'm seeing vitality again!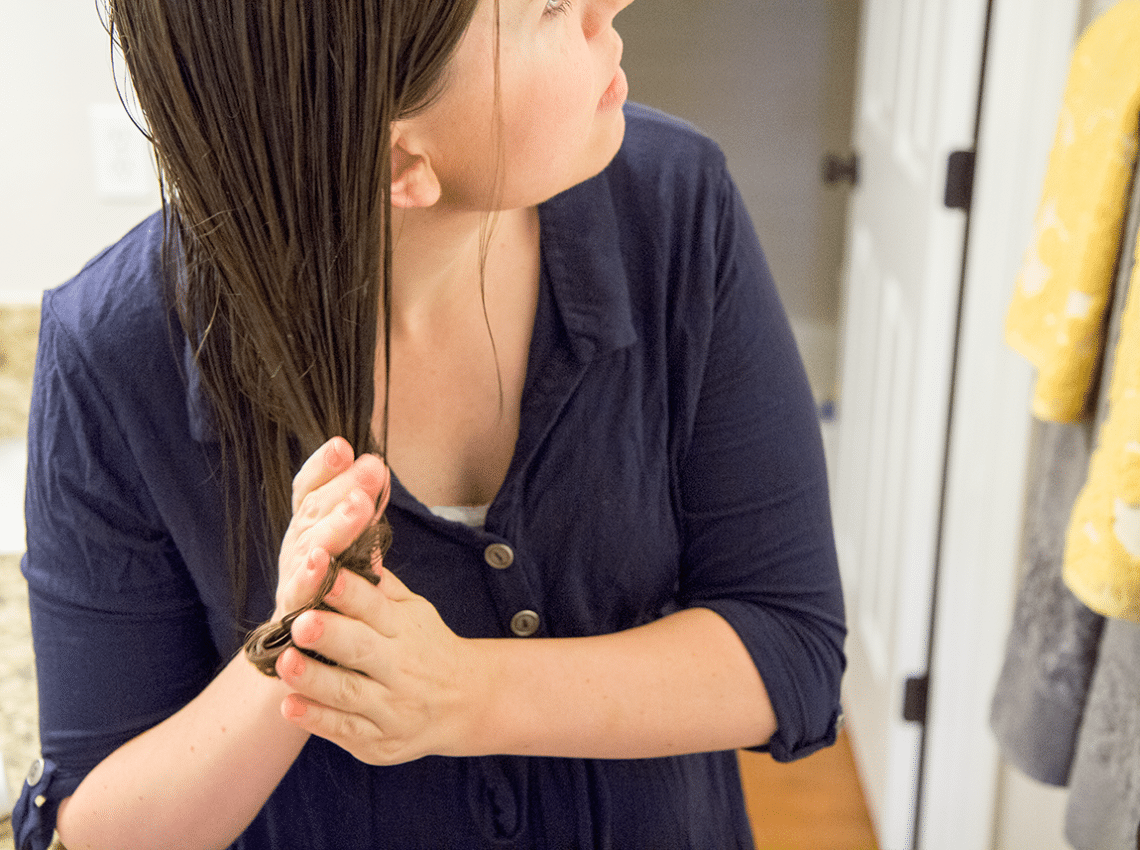 I am picky about dry shampoo. I have a dark head of hair and I hate when I look like I have white streaks in my hair which sometimes happen no matter how far away the bottle is when I spray or how much I brush! Gray hair up top isn't a look I'm going for, so when I read this product claimed to be "An invisible finish/doesn't leave any residue/safe for color-treated hair I was still skeptical. However, I am sold- these are all true! It's the first I've found that doesn't deposit color and doesn't leave any residue in my hair. I'm in love with this stuff, and love that I can continue to avoid washing my hair all the more with confidence it will still look great!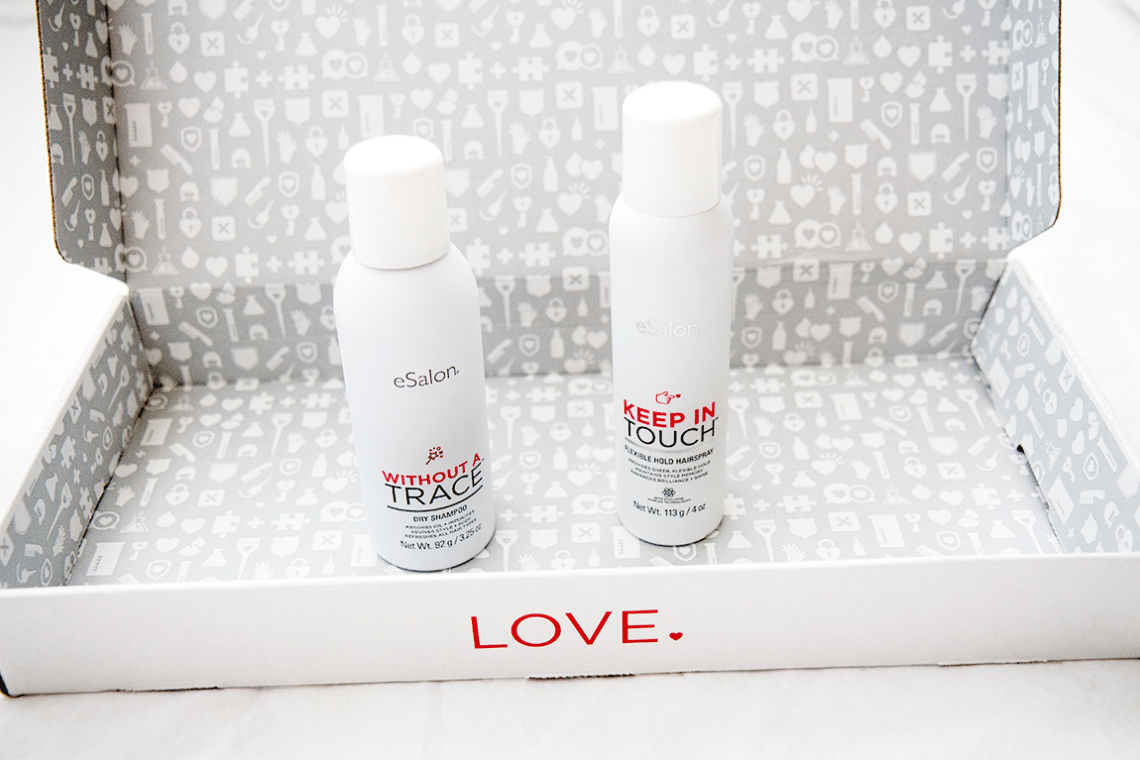 I'm a fan of flexible hold, hair was meant to move around when worn in loose curls like I style mine. It has keratin, vitamin B5, and it's designed for color-treated hair. It holds my curls fantastic, and it isn't sticky. I love this stuff! 
All products were worth their price tag and then some- and a few I clearly adored! And did you notice the cute packaging? That's always an added perk too!
They are all affordable on their own, and clearly the half off each product really makes it hard to pass up, but they have an even better deal that's hard to beat, even for most drugstore generics!
Salon quality, affordable, and convenient- all the things that busy women (and men) need and have a hard time finding, so they often fall into the ponytail slump like I do! That's probably why Allure, the New York Times, Cosmopolitan, and several other major publications are raving about this new idea too! 
Okay guys, honestly I'm in love, and I'm so grateful for chances to team up with great companies and share their stuff with readers. 
Now, someone just needs to solve the how do I get a haircut this easy at home! 
Get 365 Date Ideas!
We want to help you have the best date nights ever! Grab this FREE printable with 365 date ideas, a date for every day of the year so you never run out of ideas!