Embracing Messy Kids and Enjoying Summer Break More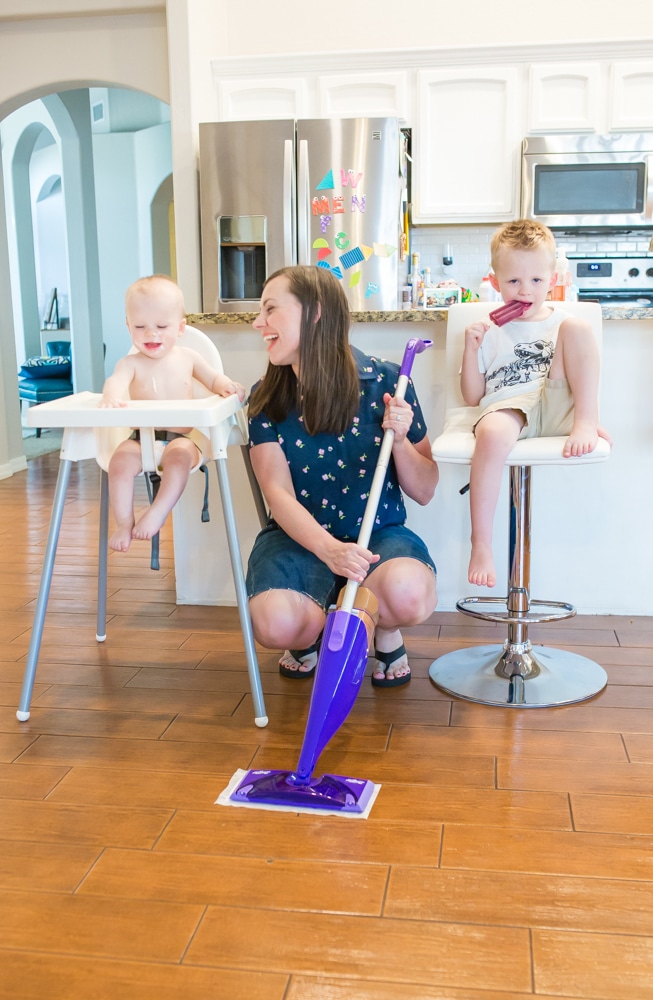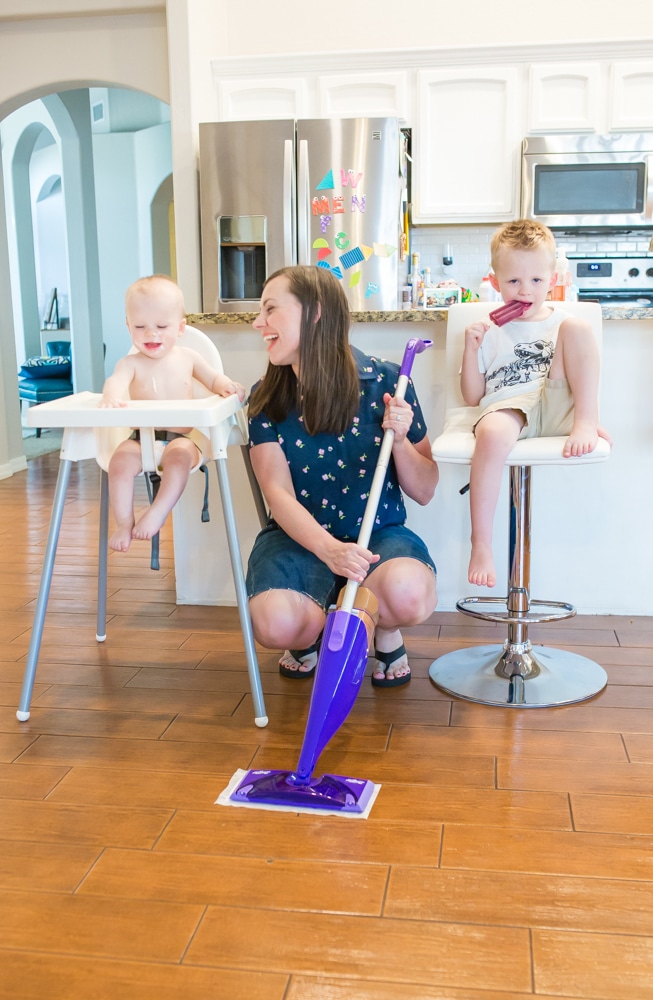 This post is sponsored by Swiffer. But all thoughts and opinions are my own.
This is my first full summer with two kids, and let me tell you, I'm in awe how anyone stays on top of messes with more than two children! Maybe it's just the ages: a preschooler and a crawling baby who loves to explore. But whatever it is, I have messy kids and I'm finding a room can be torn apart in only minutes!
One week into summer I found myself stressed and feeling like the expression "Life is messy" was invented by a mom with a preschooler and a toddler! But something snapped one day. My three-year-old asked me if I was stressed out as he picked up on my energy and he started getting tense and worried too.
I stopped myself dead in my tracks. This is not how I want my kids to remember summer breaks! This is not how I want them to remember me in general! And perhaps most of all, I never want my energy level to negatively impact my children.
I decided perspective shift and some routine changes were in order to help keep us all feeling better.
Easy Shifts for a Better Summer with Messy Kids
Embrace some mess! Kids are messy. Messes usually mean they've had fun or are currently having fun. I'm letting my kids pull out way too many toys if it builds their imaginary play. My baby is happier exploring these safe items over areas of the house that make a bigger mess. And if they want to have set play times that I don't say anything, more power to all of us!

Plan some mess! I love watching my preschooler experience new things and create. I'm not normally one to pull out messy crafts or do activities that require a change of clothes. But, I'm letting myself let it go and intentionally plan some! We expect mess to come, and it makes it feel fun instead of stressful. I'm winning fun mom points for sure. So go ahead and pass the finger paints!
Manage mealtime.
I know my toddler will likely spill. I know my baby definitely will! Either a quick shirt removal, bib addition, or plan to wear clothes that can get messy makes all the difference! I want them to enjoy summer popsicles. I love that baby-led weaning has been my baby's jam!
I'm just planning for it and having my Swiffer WetJet Wood ready to save my floors!

I spot clean throughout the day so I don't feel the same overwhelm at night. Kids have a way of making even the foods I think are mess-proof messy. There is always a mysterious smudge wherever they've played or had a snack. And I used to wait until bedtime to clean them all up, feeling very overwhelmed.
This summer, I'm giving myself a few minutes a few times a day to just spot clean.
It's easy to quickly wipe down the kitchen chairs and counter. And with the right tool, even the floors are easy!
Swiffer WetJet Wood makes spot cleaning a breeze! It literally takes me seconds to spray, clean, and not worry about the mess. Plus it transitions easily between keeping wood floors looking great and tile too. One amazing tool to help me stay afloat with all the little floor messes!
Even though there will always be life lived on your floors, Swiffer WetJet Wood makes cleaning quick and effective allowing you to spend more time enjoying life's messiest, most smudge-inducing moments. And also life's messiest, most smudge-inducing people too!

Ask for more help. I told my husband I was feeling a little overwhelmed last week. Guess what, he's now helping do more dishes at night and kitchen cleanup than normal. He's wiping counters and spot cleaning where I didn't get. He also believes in keeping a cleaner home and still letting our kids be kids. It just took asking for a little more support!
Involve the kids in the cleanup. My preschooler is the best helper these days! And lucky me, he's always eager to learn more and help! We're making games out of picking up toys and lunches. He's learning how to do a few more simple jobs. He's also becoming a pro at handing his baby brother something to keep him occupied while I pick up things he can't quite help with. As he grows older, I know he will continue to do more and more. It's so worth it to include him and help him learn valuable life skills!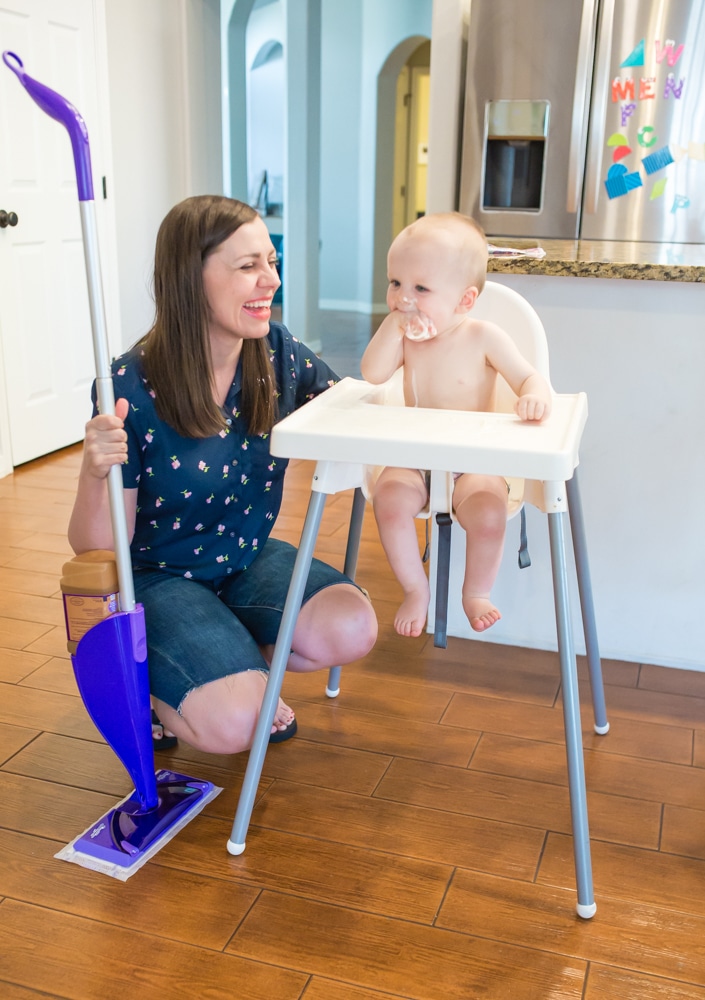 I'm pleased to report that a few mental shifts, protocol changes, and the right tools are making a huge difference! I'm becoming less of a stress case when I see life's messes. Truly, I'm enjoying summer time with my boys even more! And I know my kids will remember a mom who said yes more than no and spent more quality time with them as a result!
Like this post? You may like these too:
Fun Family Activities: 52 Family Date Ideas to Do This Year
25 Beat-the-Heat Summer Activities to Do With Your Kids
Toddler Messes and My New Habit of Stashing Wipes Everywhere
Get 365 Date Ideas!
We want to help you have the best date nights ever! Grab this FREE printable with 365 date ideas, a date for every day of the year so you never run out of ideas!