Date Info: 
Fort Night and a Movie
Price: Free
Location: At Home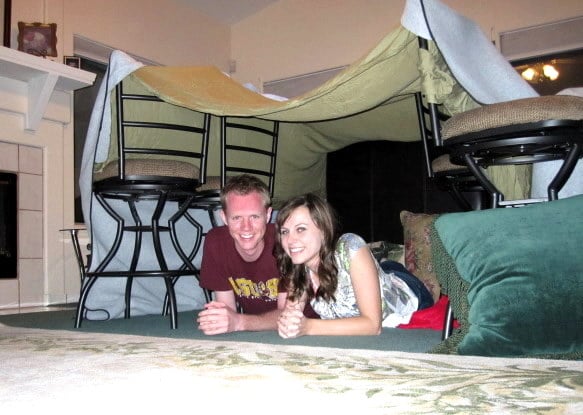 We have been feeling a little nostalgic lately discussing meeting and thinking about how lucky we are that we found each other in this world. This has lead to some discussion on some of our first hang outs, first conversations, first dates, and even the first kiss. So here's a

flashback date

that was referred to in the Ikea date post, but truly deserved a post all its own. So please excuse the few nostalgic flashback posts that may or may not be heading your way.
Our first Friday dating we decided it would be fun to make dinner together at Camille's house. All alone for the weekend, we had a lot of space and freedom to do what we wanted. Some of our favorite food, grilled pizza was prepped and consumed, and then we were down for watching a movie. In the it's fun to cuddle phase (who are we kidding that phase doesn't end unless it's over 100 degrees but was especially exciting for the first week) we decided to set up a great place to cuddle-

build a fort

!
Yes, our 5-year-old instincts came out as we put bar stools, ottomans, pillows, sheets, and blankets together to build a fort. You would think as adults, and one of us being an engineer we would come up with something amazing. Well, it was amazing to us! I mean here's one more glance at that awesomeness.
Then we watched 500 Days of Summer. 
Movie review from us: Jacob liked it, Camille loved it. As an English teacher it's hard not to critique the plot and characterization of movies. Let's be honest, there are a lot of bad ones out there which is probably why we spent very few dates watching movies or going to movies. We're firm believers in reading critic reviews before going to movies or renting them at home. We love Yahoo movies and try to stick with the B- or higher movies. 500 days of Summer got a B+, wahoo! It is such a funny movie that I think everyone can relate to. Everyone is either a Tom or a Summer with their theory on dating and love. If you were wondering, we're both Summer, but found the person that we "just knew" like she describes can happen one day. If you're in a relationship or trying to get it going it's particularly a good view to spark the discussion of your level of hopeless romanticism. We're two thumbs up on this movie and even bought it to view again.


Great movie, great dinner, great fort, and best of all, we had our first kiss in this fort this night. How is that for nostalgia?


Dinner and a movie has been a standby for a reason, no argument there. However, adding a little twist like a themed date, a romantic make your own dinner and stay at home scene, or even a fort addition really can add some fun variety to the standby.
Get 365 Date Ideas!
We want to help you have the best date nights ever! Grab this FREE printable with 365 date ideas, a date for every day of the year so you never run out of ideas!