Movie Night: Pitch Perfect 2
Date Info: 
Movie Night 
Price: About $10 a person 
Location: Anywhere
Tip: Find a recently remodeled theater with recliner seats- they will change your life! 
Discount tickets can be found at Costco and many grocery stores. Take advantage and save a few dollars. 
If you've been around these parts for a while you know we're not big movie-goers. It's an awesome date, and a standby for a reason, but it's something we typically only do for date night during the summer blockbuster season, the holiday season, and occasionally when a one-off movie gets the best of us. What can I say, the first time I saw the first Pitch Perfect was due to being trapped on a 9-hour flight from Paris home, and I figured I was sleepy and it would be a no-brainer I could sleep through. I was laughing SO hard the whole time that Jacob kept looking over at me and asking me what I was watching, there was definitely no sleeping even after a pretty tiresome 10 days in Europe. 
Shortly after I finished he decided to start it, and I found myself leaning over his shoulder to watch and laugh again. I decided it was time to re-start it and watch it with him for my 2nd time- in a row! 
We've since purchased the movie and watch at at home during down-time and whenever we need a good laugh. When we heard a Pitch Perfect 2 was in the works, we were so excited and put it on the date night calendar for opening weekend, anxious watching for the date to finally come!
We also made sure to go to the recently renovated theater with recliner chairs. Oh how my pregnant feet were thankful! I think we'll be fitting in a few more movies for dates before the little man makes his debut.
I have to say we LOVED this one! I think it's tied with the first in my book. We laughed so hard that I could feel the baby moving around from me constantly waking him up. I also laughed so deeply I felt the long-standing bronchitis cough return. That's a great date in our book!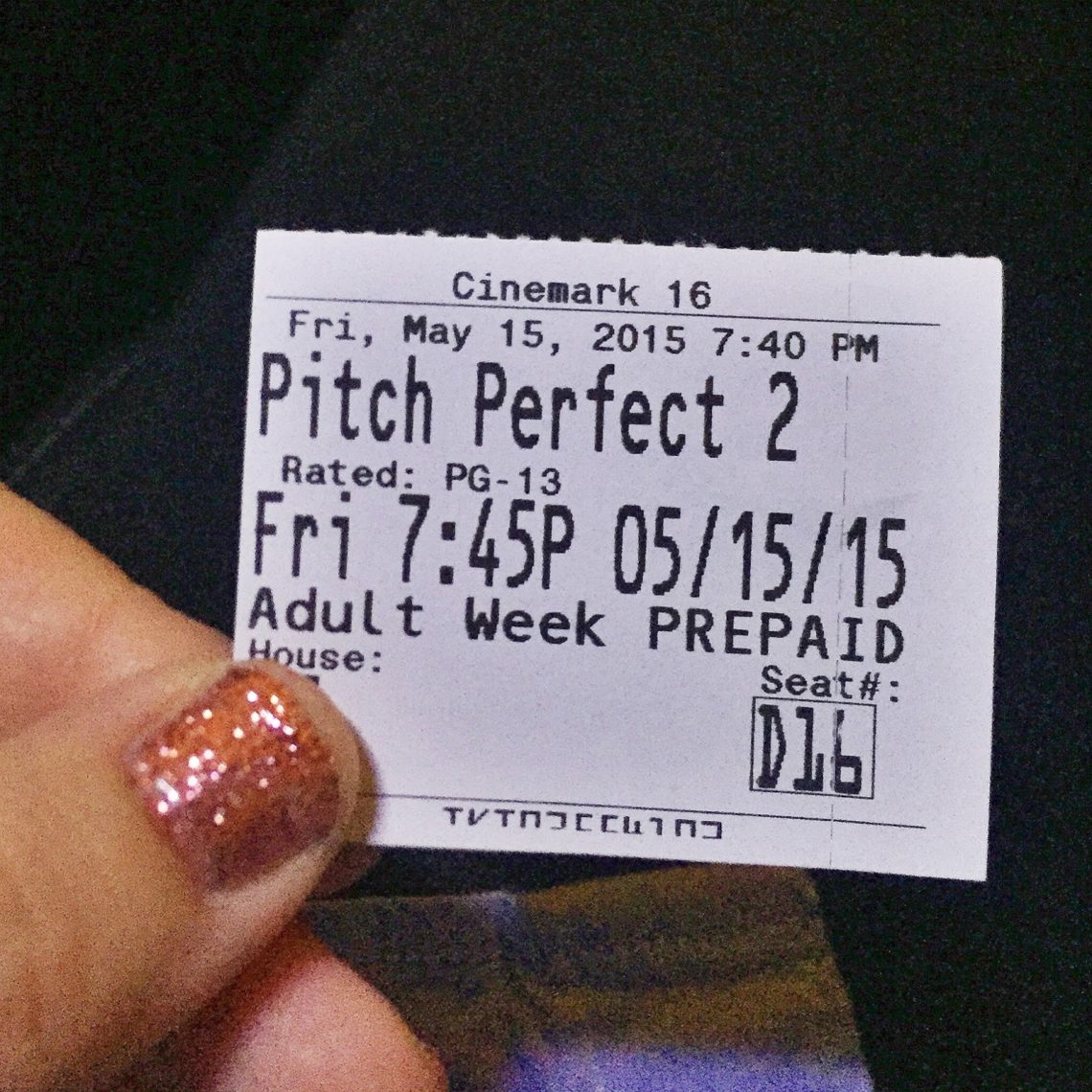 We've also had an uncharacteristically cool May in Arizona- I think it's God's gift to the many pregnant women! We left to find ourselves in a downpour, sprinting to the car, getting caught in the rain, laughing as we splashed through puddles, and fulfilling my never-satisfied romantic need to kiss in the rain.
Get 365 Date Ideas!
We want to help you have the best date nights ever! Grab this FREE printable with 365 date ideas, a date for every day of the year so you never run out of ideas!