Muse: The 2nd Law Concert
In early January a textersation was started with some friends about the Muse concert in March. I love Muse so much, they have provided many theme songs for marathon training, and races in general over the past decade of my life. My former English teaching heart loves their deep lyrics, intelligent political rebellion, and pure talent musically. I mean "Rebellion" being based on 1984, you had me at hello!
However, I have a really hard time dishing out the cash for concerts, particularly for 2 people. It's like our whole month's dating budget on one date, so sometimes hard to justify. I was at a business conference the day of the textersation, so was in and out. I met Jacob for lunch, since that was the first time I've ever worked within 20 minutes of him, and he let me know that I should maybe count an early birthday present as the Muse tickets he'd just purchased. I was super stoked!
While we waited by this sign for our friends to all show up we had a very drunk man come up and ask us how stoked we all were. He made everyone go around and say their favorite Muse song. I had no problem saying "Uprising" without hesitation. Then we got to Jacob, who has a sort of disability where he can't remember artists, lyrics, and especially names of songs. Really, it's a struggle for the poor guy. He turned in his moment and pressure and just honestly said, "I'm excited to be here, but honestly, I'm here for her," and pointed to me. I know I got a winner, but I love those moments when I'm really reminded of that.
We went down to the ground floors early, and were psyched to have pretty great spots!
(Warning, concerts = phone photos only, sorry for poor quality!)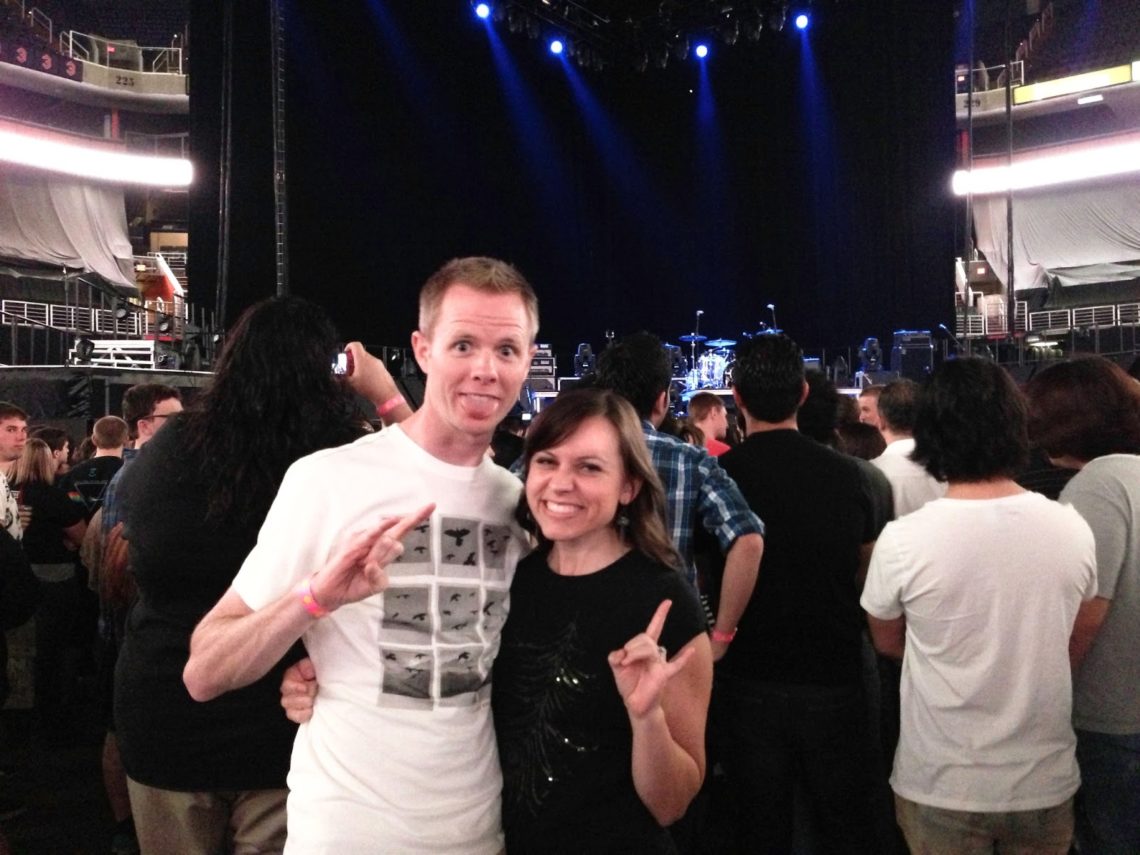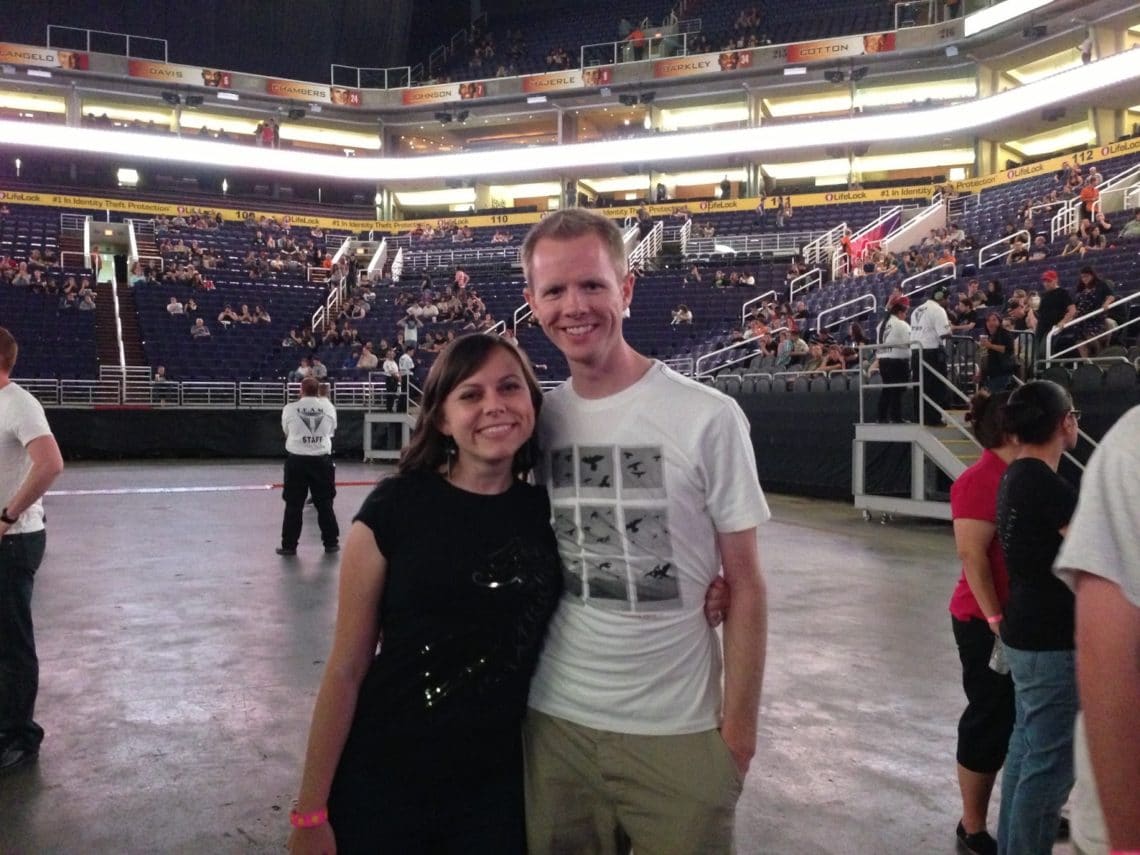 We waited and waited, and suffered through a not-so-amazing pre-show, but it was all worth it when we saw about 6 guys strap into harnesses and do a reverse rappel into the stage lighting structure.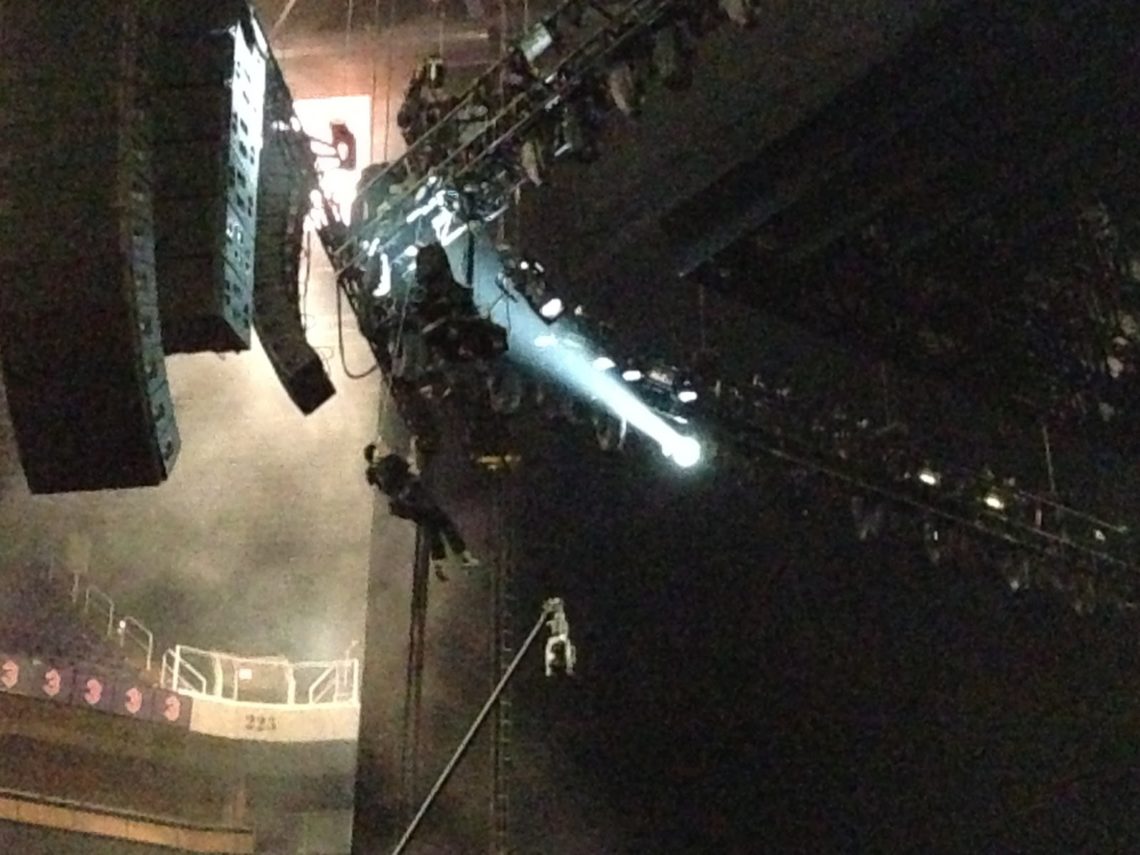 And then a pretty magical stage setting with an LED screened pyramid structure that could rotate as a pyramid, inverse pyramid, row, multi-row, and box queued one of the greatest bands to ever take stage.
[youtube http://www.youtube.com/watch?v=yGbAbkIdI94]
When song #3 happened, the crowd starting going pretty crazy, I'm not sure how Jacob felt about watching his short wife mosh to "Supermassive Black Hole", but sometimes you just gotta feed your inner teenage rocker, you know?
[youtube http://www.youtube.com/watch?v=D1p1yJgWPbk]
After 2 more songs a funny thing happened, someone got up on someone else's shoulders and security went to throw them out. That's when the lead singer Matt told them to let them back in, and that he loves that America is a free county. He played "The Star Spangled Banner" on his guitar with a version that would rival Jimmy Hendrix, and then proceeded with my favorite song to listen to when I'm angry and need to get the rage out. You can watch the video of it HERE.
I don't think we'll see more amazing lighting at any other show, it was truly remarkable!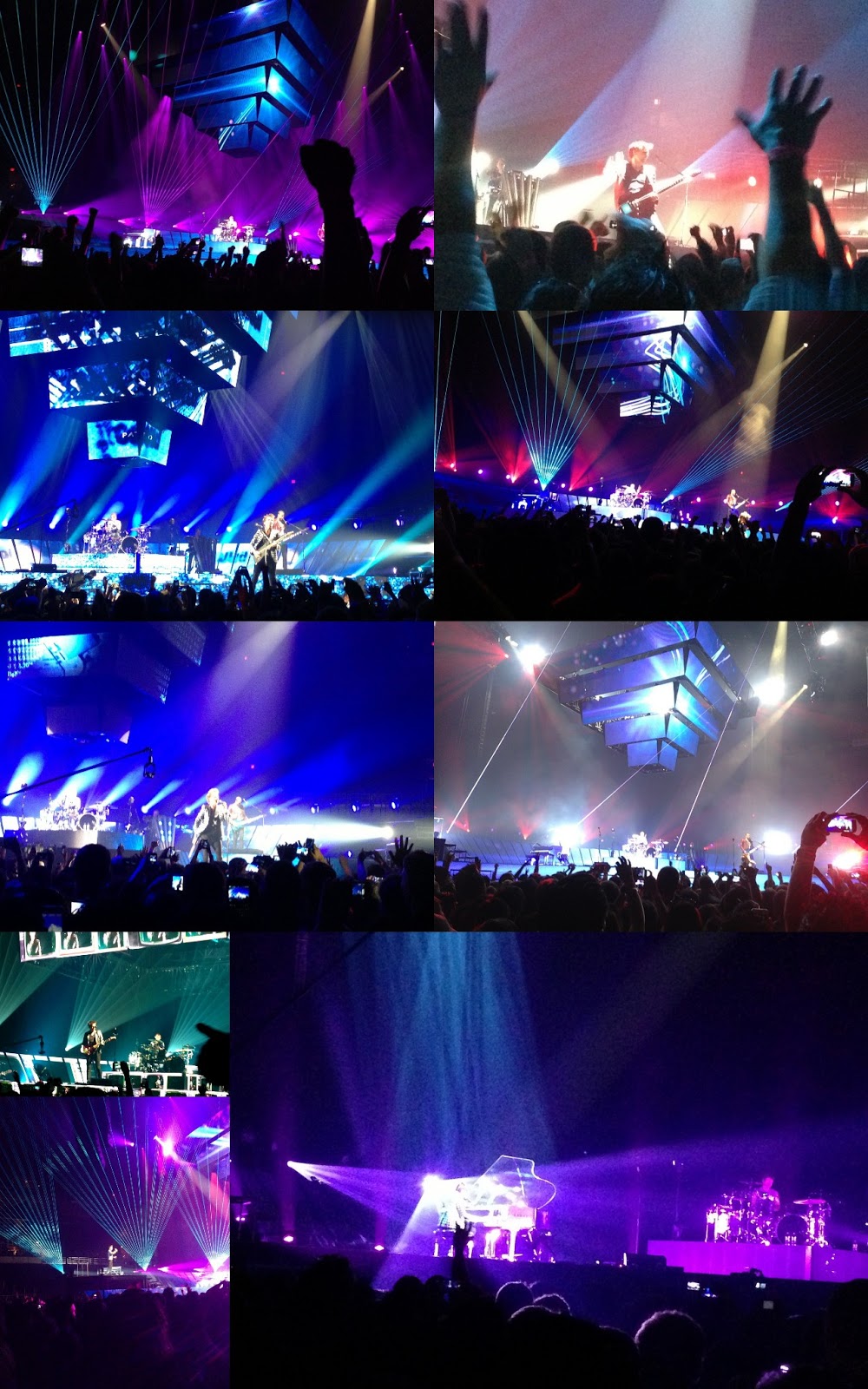 I was so happy to hear an amazing mix of old and new stuff. My favorite new song came in the middle.
[youtube http://www.youtube.com/watch?v=KhomaZHQNEs]
And just when I was a little sad to know I probably wouldn't hear my favorite, they closed with Uprising. Warning here, Matt drop an F-bomb in the first chorus that isn't in the original. Just that one, but if you watch it, you can now have fair warning. Guiltily admitting still loved this live!And I have to add one more for my sister Hillary who is a Muse obsessed soul, and who made me feel  guilty for attending a Muse concert before she gets to- it's like the 2nd on her bucketlist. Hillary, the encore included your absolute favorite "Starlight", so this one is for you!
[youtube http://www.youtube.com/watch?v=M2JHTtHe4fc]
I also couldn't get over how insanely close we were to the band by the end of the concert!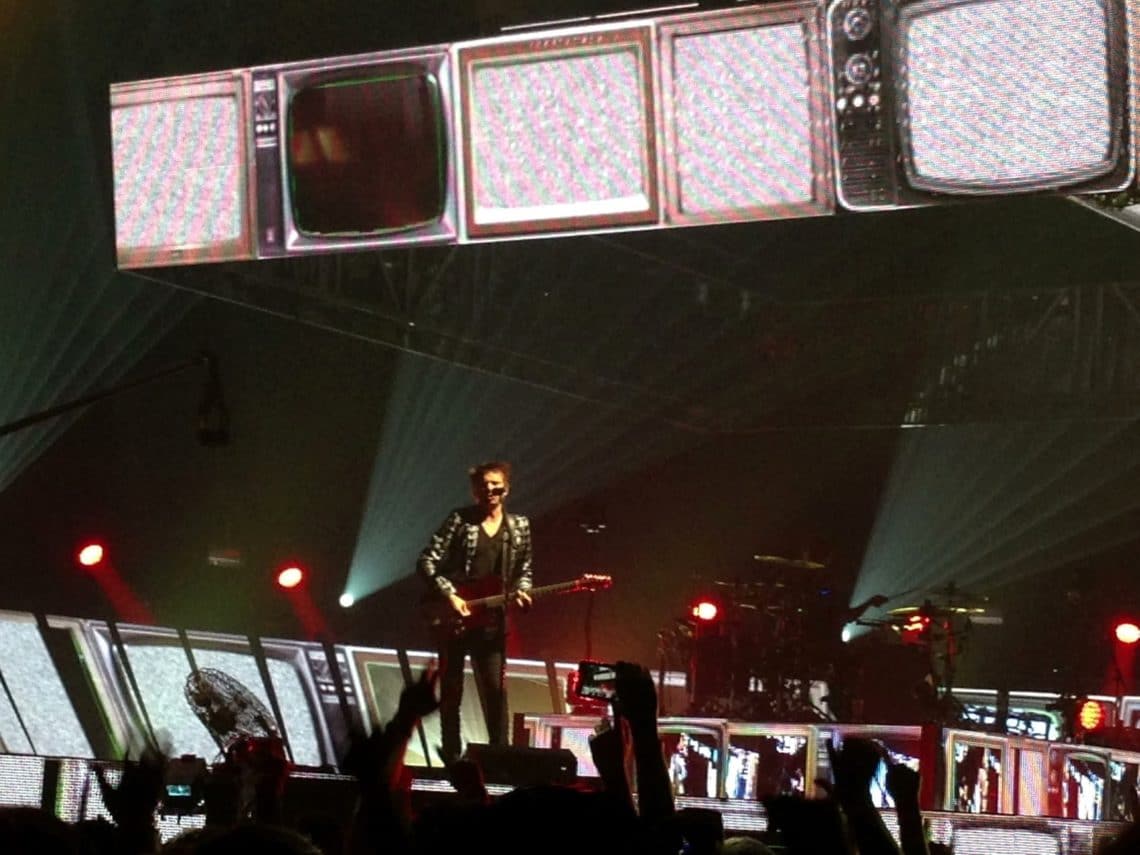 Such a great concert! Thanks to Jacob for the tickets, to our BFF's John and Marisel for encouraging us to go, and of course to Matt for being one of the most musically gifted souls to ever walk the Earth!
And I cannot accurately document this night without letting you know someone right next to me smoked a joint during the concert (which I didn't see, but Jacob let me know about after). My itchy eyes did not thank him for that, BUT, I will thank him for the munchies which encouraged us to finally try the amazing Slickables ice cream sandwich shop on Mill. We don't do late nights like this often, but when we do, there's nothing like a midnight chocolate cookie with mint chip ice cream Slickable!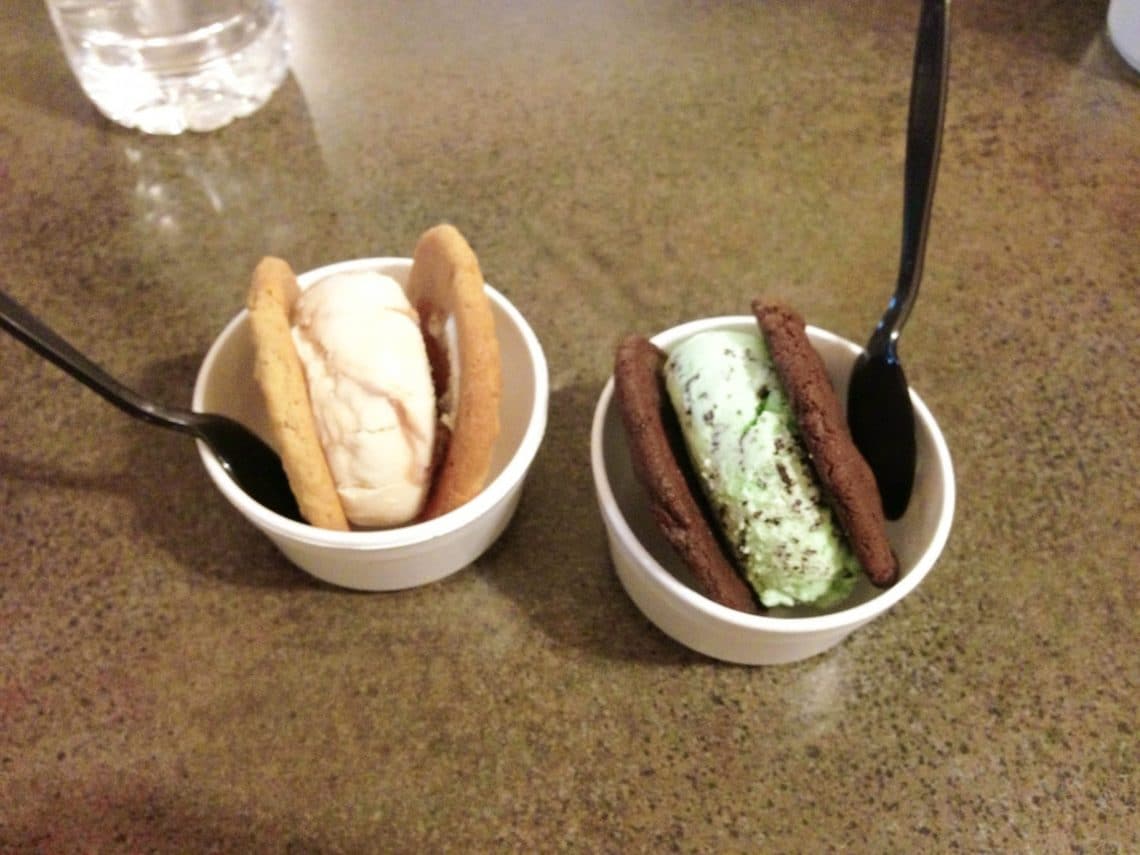 Get 365 Date Ideas!
We want to help you have the best date nights ever! Grab this FREE printable with 365 date ideas, a date for every day of the year so you never run out of ideas!