National Marriage Week: 5 Dates to Do at Home
Thanks to PREPARE/ENRICH for sponsoring today's post, but as always, all opinions are our own. 
It's February 8th, which means it's National Marriage Week (Feb. 7-14th)! Add this onto Valentine's Day and it makes for a very love-filled week! Clearly that's something right up our alley, and we'll be spending this week with some fun marriage and love themed posts. Basically we want everyone in a serious relationship to have a love-fest of their own sometime this week, and we're hoping to spark a few ideas of dates and concepts to keep you motivated.
Today we're focusing on the people who have a harder time going out to paint the town red for date night. Maybe you are like us and have a tiny baby at home who is hard to leave, maybe your budget for dating is pretty slim, maybe you're in a small town without many options; whatever the reason may be sometimes dating at home is the reality of the situation and sometimes creating a special date can be tricky to do. So today we're sharing five dates to do at home this week to help spruce up your marriage!
1. Romantic dinner for two
It's hard to beat grabbing something a little more fancy than the norm for a well-planned meal and either cooking together or allowing one partner to make and serve the other. A few candles and low lighting later you have a perfectly romantic experience in the comfort of your home.
2. Romantic fort/movie night
It's not hard to grab a few blankets and pillows and turn a seemingly ordinary night into a memorable one with a romantic fort and a movie. An air mattress and some twinkle lights are a big bonus, and set the mood for a special evening in. When you add a mushy movie it's hard not to have the sparks fly and create a special moment.
3. Splurge on an expensive cheese plate and pair with your favorite wine or sparkling drink
The key is to make something feel special and new, and most grocery stores have a decent cheese section to choose from. Try a soft, an aged, a sweet, and savory (or nutty) mix. Fine pairing and fine company make you feel like you're out at a fancy restaurant, particularly if you dress up a bit for the evening.

4. Buy a large box of chocolates and blind taste test each guessing the flavor 
Have you seen the scene from The Vow when Leo makes Paige relive their dating experience and try an entire box of chocolates together? It's darling, it's hilarious, and it's actually a lot of fun in real life! Play the guessing game, try to find each other's favorite flavor, and indulge in the best natural aphrodisiac out there!
5. Take The Marriage Checkup 
I love being able to discuss the elements of our relationship that are going well and the ones we could improve on fairly regularly- it keeps us on our toes and always moving forward! What better time to really checkup on elements of marriage such as communication, intimacy, finances, romance, etc. than National Marriage Week?
The Marriage Checkup is a great resource, it's an online assessment powered by PREPARE/ENRICH and is used by clergy and counselors to help couples answer questions and find areas of their relationship to set goals and work towards improving. Each partner takes their own portion of the assessment (it takes about 30 minutes) and after completion couples can download/print their results and follow a full discussion guide that's like a workbook for talking points. It's tailored to each stage of relationships, so fun to do whether you're dating, engaged, or married. It's also a really enlightening date! I love that we can sit and set some goals together and uncover anything we could use a little work with.
Its normally $35 to do, but this week they are running a promo for $19.95- which is less than you'll pay for two movie stubs these days!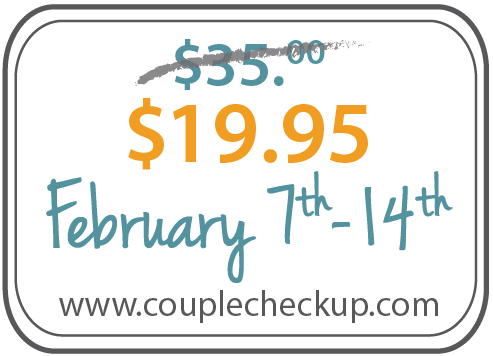 So there you have it, five dates you can do at home that can create a wonderful Valentine's Day (or any other date night) to kick off National Marriage Week!
Get 365 Date Ideas!
We want to help you have the best date nights ever! Grab this FREE printable with 365 date ideas, a date for every day of the year so you never run out of ideas!