New Mother's Product Roundup with BabbleBoxx
This post is sponsored by BabbleBoxx.com on behalf of Single Edition Media
When I stepped foot in my first baby specialty store as a pregnant woman I was overwhelmed by how many products are on the market, what I needed, and what may work best.
I think as a first time mom there's always a list of items you need to get for the baby, or items you'd love to try, and I'm so excited to partner with BabbleBoxx for a roundup of some of the best selling products on the market that are perfect for new moms. Several of these are absolutely perfect for Mother's Day gifts for anyone trying to decide something they want/need. I'm excited to share some info on some fun products and my experience with each!
Arm & Hammer Truly Radiant Clean & Fresh Toothpaste
If a shower doesn't happen at least your mouth will still get a deep clean and feel clean & fresh. Plus hey, whitening can happen now, and it starts whitening immediately!
Mustela® Maternity Stretch Marks Prevention Cream
I love that unlike other creams that help prevent the appearance of stretch marks this one is non-greasy and hypoallergenic for sensitive skin. I also love I can use it breastfeeding- it's a great one of expecting and new moms! It was clinically tested on 26 pregnant women using the product during pregnancy and 30 days after delivery and 96% agreed it helped prevent stretch marks. I definitely like those odds!
***Special Offer: Receive 20% off your entire purchase at www.MustelaUSA.com using the code MustelaBabbleBox. Offer expires May 15.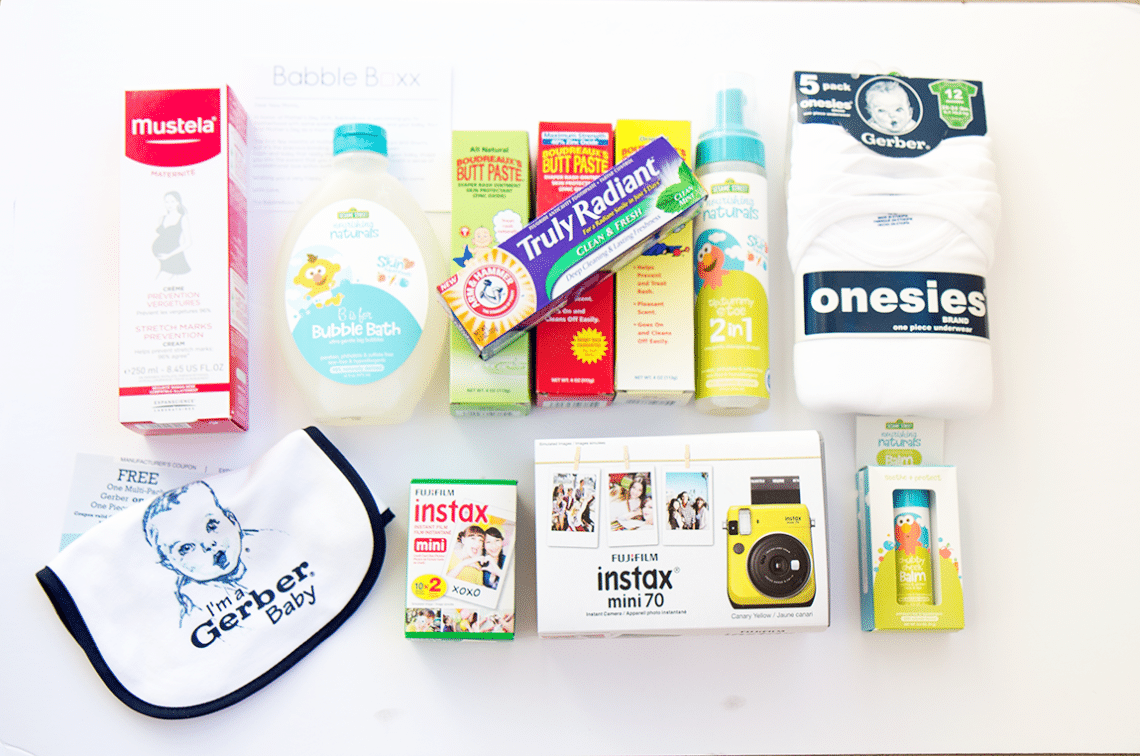 My Personal Favorite, the Fujifilm Instax
I love that you can photograph your baby and get pictures immediately with the INSTAX Mini 70. The images are sharp, you have an instant print, it's fun and easy, and you can share pictures immediately! I also love the idea of making crafts with your INSTAX pictures- like a baby mobile or adding instant pictures to a baby book. These are so fun and trendy right now, and with good reason! I'm loving that I own one now, and can do some fun projects with it!
B is for Bubble Bath – tear free and soft bubbles makes the bath extra fun with a 98% naturally derived from plant-based ingredients product- perfect for toddlers!
Tip, Tummy & Toe 2-In-1 – tear-free cleanser  with a gentle instant foam cleans and moisturizes delicate skin and hair, leaving it feeling soft and smooth. It's an excellent baby shampoo- plus it has Elmo so you know kids will love it!
Chubby Cheek Balm – A soft formula that glides on easily to babies' lips, cheeks, and other trouble areas. Coconut, avocado and almond oils, plus Shea Butter offer extra moisturizing benefits- and 100% natural ingredients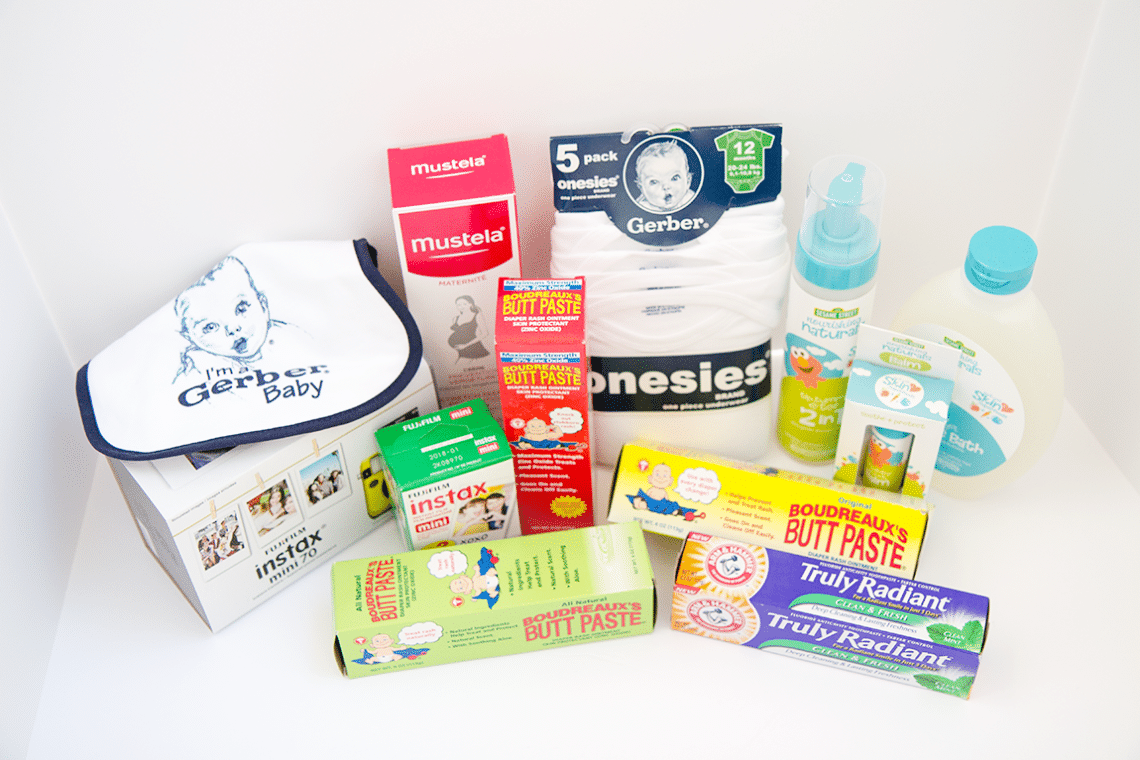 Boudreaux Butt Paste
We have tried several diaper rash creams and we actually loved Butt Paste the best when Mack had a rough patch after starting solids- we saw a difference after the first use. It really is fast acting on diaper rash without the harsh ingredients. We had a great experience with the Original, but I'm excited to try the Maximum Strength, and All Natural too!
Gerber's Childrenswear
It took us a few months and sadly too many blowouts to learn what a great item solid white bodysuits are for layering! Gerber® Onesies® are super soft and comfy, and they are great as a layer or worn alone. I really like that the snap closures are positioned higher in from for quick access to make diaper changing easier, and that they go from newborn to 24 months so you can use them throughout the diaper phase! Plus have you seen how many posts I have about spit up and reflux? Any soft bib will be put to good use in our household!
***Special Offer www2.gerberchildrenswear.com/SpecialOffers/LatestCoupons/tabid/116/Default.aspx
So there you have it friends, six brands we got to try and learn about some great children's products on the market! Have you used any? Which are your favorites? Let me know in the comments!
Get 365 Date Ideas!
We want to help you have the best date nights ever! Grab this FREE printable with 365 date ideas, a date for every day of the year so you never run out of ideas!