My Newfound Intimate Relationship with My Floor
This post was developed in partnership with Bayer, as part of an Influencer Activation for Influence Central. I received the  Aleve ®  Direct Therapy  TM  TENS Device and compensation to facilitate my review.
One of my biggest surprises in motherhood has been how well acquainted I have become with my floor. I knew I'd sit on the floor and play, I knew I'd bend over to pick up my child, but I had no clue what toddlerhood would have in store for my relationship with my floor.
I love the independence my baby is learning at 12 months old; he can scoot/crawl to any location he'd like, he's almost walking with steps and scaling furniture, he can pull himself up on pretty much anything, and he's mobile in every sense of the word. He's also mastered feeding himself. If he can grab it and distinguish it as food, he will eat it. Lately he's all about holding the spoon himself, so that's added another layer of independence. Along with these things comes a lot of mess! I can mop and feed him one meal and it immediately looks like a food-fight war zone. Naturally with this comes a lot of time spent on the floor.
My mom called me a few weeks into motherhood and inquired how things were going. I let her know I was scrubbing clothing after an extra terrible blowout. She laughed and warned me to brace myself, because as new parents we have no idea how much of our lives would now be spent cleaning just in the name of maintaining a house and keeping a child alive. Countless hours are now spent scrubbing and picking up in addition to chasing that tiny person around trying to restore order to his little Tasmanian devil wake. My mom as always, was 100% right.
I think of this conversation often and just smile after I bend over to pick up the chunks of food thrown on the floor after every meal. It also comes to mind when I'm down on my hands and knees scrubbing milk from the sippy cup that he still manages to spray across the floor and get in cracks mops don't quite cover as well. It comes to mind when I bend over to pick up each toy thrown across the floor, load the next pile of his laundry, or pick up whatever object he just wants to play the game of "I'll drop this and you get it".
I really had no idea how much of my life would be spent bending over just to keep a tiny human alive and amused! I feel like me specific areas of the floor are on a first name basis!
In addition, I've learned I have to work out and weight lift just to keep up with my baby and his fast growth! He's currently about 22 lbs with a 12 lb car seat. I can definitely feel it every time I go anywhere. I even have had several elderly people giggle and make comments how my child is the same size I am. It does make me feel a little better to know I'm not the only one feeling this way! Each time I bend down to pick him up it's much like weight training at the gym. And as much as I'd like to skip a set every now and then, when he's about to get into trouble or throwing or just needs some comfort when he's crying, I really need to pick him up. My arms and my back are often throbbing and feel like jelly before nap time.
But you know what, I wouldn't trade it for the world! I'm a part of his world, I'm acquainted with his views, I'm seeing the world through his eyes, and I'm lucky to work from home and not miss much. There's only one thing I'd trade, and that's the lower back pain!
I woke up a few months ago experiencing back spasms, and my lower back just hurt from all the up and down and heavy lifting that comes with motherhood. It started hurting almost every night, but when it began to impact sleep and I could feel the spasms I knew it was time to get a little more serious about my lower back pain. Which is why when I had the chance to try Aleve Direct Therapy,  I was all about it!
I love options that are designed for sore and aching muscles, and this is just that meant for lower back pain from normal household and work activities. Aleve Direct Therapy  uses TENS (Transcutaneous Electrical Nerve Stimulation), a therapy that uses electrical stimulation to relieve pain. It's a deep penetrating treatment that feels like a gentle tapping sensation. It's adjustable too, so you can make sure it feels right for you. There are two clinical theories of how TENS can relieve pain: by blocking the transmission of pain, and by stimulating endorphins. You essentially place it on your lower back, turn it on with a wireless remote control, and you can wear it discretely throughout your 30 minute treatment.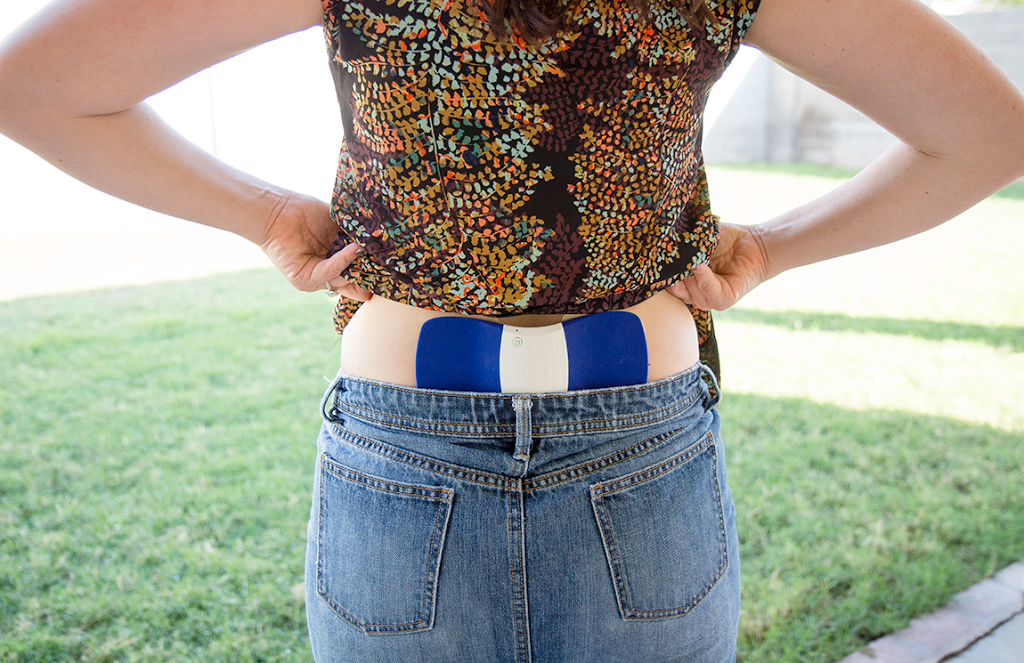 (Sorry for my very white lower back, that's not an area that sees sun very often!)
If you need a second treatment, it is recommend you wait 30 minutes between sessions.
Results- definitely! I love that my muscles felt more relaxed and less stressed. I love that I can do it while getting ready for bed and go to sleep with my muscles feeling less achy. It relieves the lower back pain I've experienced in my life likely due to so much time hunched over on the floor. Best of all, it's easy to find nationwide at major stores near other topical pain relief products. It is also available at online retailers for all moms out there who live for online shopping like myself.
But maybe what I like best of all, is I now I can spend more time on the floor, in my son's world knowing there's another great option for some lower back pain relief!
Get 365 Date Ideas!
We want to help you have the best date nights ever! Grab this FREE printable with 365 date ideas, a date for every day of the year so you never run out of ideas!